'I will not say that the AIMIM is a 'B' team of the BJP. But due to the AIMIM, the the BJP benefits for sure'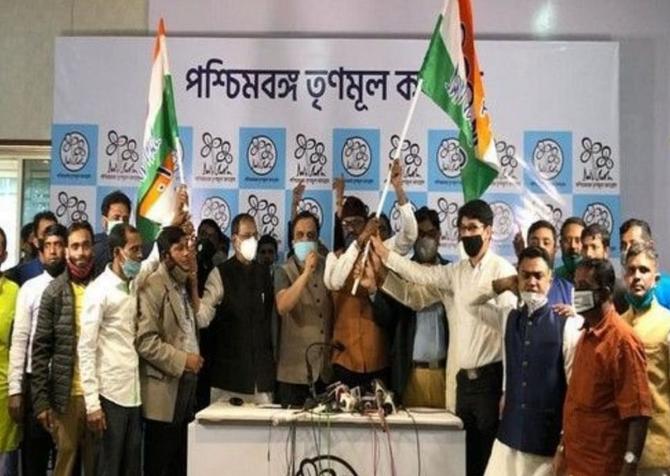 After a stunning debut in the Bihar assembly election in which it won five seats, the All India Majlis-e-Ittehadul Muslimeen has made no secret of its intention to contest the West Bengal election due next year.
However, even before it kickstart its election campaign, the man who established the AIMIM in West Bengal, Anwar Pasha, resigned from the party to join the ruling Trinamool Congress.
Explaining the rationale behind his move, Pasha tells Rediff.com's Syed Firdaus Ashraf: "Owaisi speaking is a danger to India because what will happen in future is that Hindus will speak in one voice and Muslims will speak in another."
Why did you quit the AIMIM after Asaduddin Owaisi's party performed so well in Bihar?
After the secular front of the Rashtriya Janata Dal alliance lost in Bihar, I understood the fact that it (the loss) was due to polarisation of voters.
I don't want the same thing to happen in next year's elections in West Bengal.
Therefore I quit the party.
I will not call Owaisi as vote katua (vote-cutter) but he will polarise the communal situation in Bengal.
Even if his party contests a single seat in Murshidabad or Malda, then all the surrounding areas of those places will get polarised.
I don't want that to happen as I do not want Bengal to be divided between Hindus and Muslims.
Why did you see such an outcome only now, and why not before the Bihar elections?
I have been working for the AIMIM since 2013.
I am the only person who built the AIMIM in West Bengal.
I struggled a lot and last year I was jailed for 48 days while protesting against the NRC (National Register of Citizens) and the CAA (Citizenship (Amendment) Act).
I am out on bail now.
When I joined the AIMIM, Hindutva politics was not so strong.
After the Bihar results, I realised that this could repeat in West Bengal too.
Don't you think the AIMIM won five seats in Bihar due to its hard work?
They won because the people of Bihar were feeling helpless as the Congress party's MLAs were not standing up for them.
These Congress MLAs were in power for the last 25 years and yet did nothing for Muslims.
Therefore, Muslims were looking for an option.
Now Muslims could not go with the JD-U (Janata Dal-United) because they were in alliance with the BJP (Bharatiya Janata Party).
Therefore, they had no option but to vote for the AIMIM.
If you see the history of AIMIM's winning candidates, they always win in a new seat, but can never repeat their victory.
Take, for example, Waris Pathan, the legislator from Byculla in Mumbai.
He won in 2014 but could not win again in 2019.
Therefore, Owaisi is going to other new Muslim areas and winning from there.
Is it not true that many Indian Muslims feel that Owaisi is their voice and speaks for them?
He only speaks.
It is okay to speak in Parliament and tear up the Citizenship (Amendment) bill, but could he stop that bill from being passed?
The answer is, no.
Muslims do give a chance to his party but then he never works for them on the ground and ends up losing the next election from the same seat.
Go and check the history of the seats from where the AIMIM has won.
People of Bihar gave him votes because there was no option.
Nothing happens by tearing up bills in Parliament, true, but at least he speaks up for Muslims. On the contrary the so-called secular parties are completely silent, isn't it?
Owaisi speaking is a danger to India because what will happen in future is that Hindus will speak in one voice and Muslims will speak in another.
This is the real danger to India.
Even today, there is a huge population of Hindus which is not in favour of the BJP.
They don't vote for Modi.
They don't like him.
In future, they too turn to Modi and the BJP, where will this country head?
This is very alarming.
Even if Owaisi wins one or two seats in Murshidabad or Malda, he will pave the path for the BJP.
If Owaisi's party had not contested the Bihar elections, then the RJD could have come to power.
The question that arises is, how could Owaisi give a free hand to Kejriwal and not contest in Delhi?
He supports Kejriwal because he does not want a secular vote division.
In Karnataka, too, he does the same thing as Owaisi supports the JD-S (Janata Dal-Secular) and even campaigns for them.
So, why can he not do the same thing in West Bengal?
I want to know from Owaisi in what way are the Muslims of Bengal being ill-treated.
The answer is, none.
So why is he coming to West Bengal to contest elections?
On the economic front the Muslims of West Bengal are in a bad shape. They had been used as a vote bank by the CPI-M for 30 years and now Mamata Banerjee too did the same for the last 10 years.
In this scenario, don't you think the AIMIM is an option?
If that is the case, then why don't his MLAs get re-elected in other parts of India?
I just gave you the example of Waris Pathan.
One Muslim member of Parliament cannot make any difference.
If Muslims think this way, then they are wrong.
Now just wait till the December 1 local elections of Hyderabad and you will find that the AIMIM will not do well.
By making one hospital (in Hyderabad), Muslim problems will not get solved.
Owaisi says he does not contest in a state like Madhya Pradesh, so why does the Congress lose in those places where the AIMIM is not even present?
Why blame the AIMIM for the Congress losing elections?
The Congress is a useless party.
People of India know this fact and therefore the BJP has become so powerful.
Rahul Gandhi does not step out of his house and is busy with his pet dogs.
You tell me what wrong Mamata Banerjee has done to Muslims.
She is already being blamed that she plays appeasement politics for Muslims.
See, the irony is when Mamata Banerjee puts a dupatta on her head and prays in a dargah that photo becomes hugely viral, but when she does puja in a temple that photo will never become viral.
When she gives doles to imams it becomes big news, but when she gives doles to temple priests nobody discusses it.
You see her schemes of Rupashree or Kanyashree.
It is beneficial to both Hindus and Muslims, but nobody discusses these things.
Show me one chief minister of India who has come on the roads wearing rubber slippers to protest against the CAA and the NRC.
None, except Mamata Banerjee.
TRS chief (K Chandrasekhar Rao) whom Owaisi calls a friend, supported the CAA.
My joining the TMC has come more as a shock to the BJP than to the AIMIM.
Owaisi, when asked whether he would contest elections in Bengal, said he will discuss it with his party members.
I being an ex-member of the AIMIM want to tell him that he will not win a single councilor seat in Bengal if he contests elections here.
At best Owaisi will polarise Bengal society and do satyanash (disaster).
Do you also feel the AIMIM is a 'B' team of the BJP?
I will not say that the AIMIM is a 'B' team of the BJP.
But due to the AIMIM, the BJP benefits for sure.
If the BJP is walking on some road and across a nullah on the road with dirty water in it, then Owaisi makes a bridge so that they can cross easily.
The rise of the BJP and Asaduddin Owaisi is parallel.
As the BJP's Hindutva politics started working, Owaisi's name too started working.
But in Bengal he is nowhere.
When Owaisi won five seats in Bihar, why were there no celebrations in Bengal among their cadres?
The answer is, Anwar Pasha was silent.
Owaisi did not like this.
Another thing happened in my life, I got arrested on December 3, 2019, for protesting against the CAA and NRC.
I got bail in March 2020.
My wife called Asaduddin Owaisi so many times that he must do something for my release, but he did not do anything.
He did not say a word.
After winning five seats in Bihar elections, he started saying Mamata Banerjee put his cadres in jail in Bengal.
Isn't it true? Mamata Banerjee did put you in jail, but you are taking on the Modi government in elections by joining her.
That is a different matter.
If I am guilty the court will decide my fate.
I was Owaisi's man in Bengal and he did not even provide me with a lawyer after my arrest.
Now imagine, I am the leader of the AIMIM in Bengal and if this is my plight, then what will be the plight of other small-time workers of the AIMIM in Bengal?
Owaisi will never stand by them.
Syed Asim Waqar, national spokesperson of the AIMIM, says that for the last one year you have been sitting at home and not active in Bengal politics.
I was arrested last year and after my release there was a countrywide lockdown.
Owaisi never received my phone calls though I have been trying to get in touch with him constantly.
Even today, many AIMIM members are calling from Hyderabad and telling me to re-join the party but I said now it is not possible.
Owaisi wanted a yes man and I was not a yes man like he got in other states.
I am a leader who has come up from the ground and have struggled for the AIMIM in Bengal for the last six years.
I have stayed among the people and worked for them.
Today, I feel Mamata Banerjee is the strongest candidate who can take on the BJP in Bengal and defeat the communal forces.
Therefore I decided to join her.
The BJP won 18 Lok Sabha seats in West Bengal in 2019. Why didn't
The BJP was not that strong in Bengal in 2019 and I expected in Bihar, the BJP would be defeated badly.
If Owaisi had not contested the Bihar elections, Tejashwi Yadav would have become the chief minister of Bihar.
The total number of vote difference between the RJD alliance and the BJP alliance was only 12,000 votes.
Moreover, in Bengal last time the CPI-M diverted their votes to the BJP.
This time that won't happen because the CPI-M and the Congress are contesting elections in alliance.
The BJP is under the illusion that they will do well in Bengal, but they will have the worst performance.
Even if the AIMIM comes to Bengal, their candidates will lose their deposit.
I request Owaisi that he should not contest in Bengal.
What were your hopes when you joined the AIMIM?
I joined the party because Owaisi was speaking for Dalits, Adivasis and Muslims.
I went to Hyderabad and met Owaisi.
He had told me then that the people of Bengal do not understand Deccani Urdu so there was no point of him coming to Bengal.
I said they will understand and convinced him.
Therefore he gave me the green signal to start the party in Bengal.
I started work because the Muslim community is economically very backward in Bengal.
But now, the situation has changed because the election has become a Hindu-Muslim issue in West Bengal.
Hindus and Muslims of Bengal have lived together peacefully for decades and if you start 'Allah O Akbar' politics in Bengal then 'Jai Shri Ram' politics too will begin, which is not good for Bengal and India.
Are you expecting a ticket from the TMC?
I have given unconditional support to the TMC.
I want to strengthen Mamata Banerjee's hands.
Do you fear that the NRC will be reality in West Bengal if the BJP wins?
Today, in West Bengal, one Muslim woman in burqa with her four kids can leave Malda or Murshidabad district to Calcutta on a night journey and reach safely.
Do you think the same is possible in Yogi Adityanath's Uttar Pradesh?
See the atrocities on Dalits and Muslims in UP.
If they (the BJP) win Bengal, the same atrocities on Dalits and Muslims will happen across West Bengal.
After they won the Bihar elections, mosques came under attack.
This can repeat in West Bengal and that will be very dangerous for the state.
Thirty per cent of West Bengal's population is Muslim and many of them are young.
How will you control them and tell them not to resort to violence if they are attacked?
This is the future I see if the BJP comes to power.
Therefore, I am saying that there should be no Hindu-Muslim vote divide.
As far as the CAA and NRC are concerned, it is for sure the BJP will implement it and it is only Mamata Banerjee who can stop them.
She is openly talking against it.
She was criticised for her stance and she does not take any sides.
She is neutral and secular.
I foresee that she will be become the prime minister of India as she takes everyone along.