'We have finished that fear.'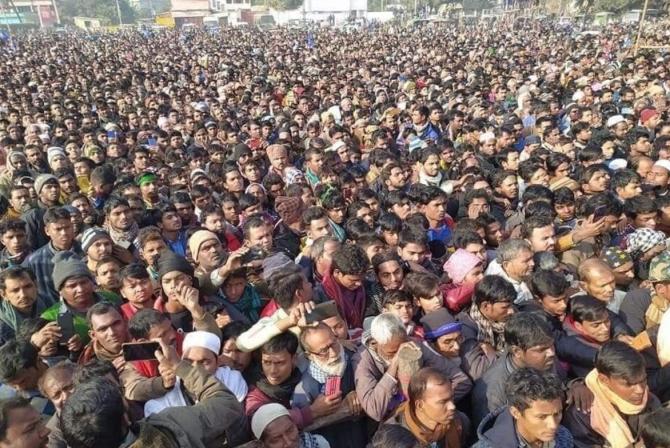 After the All India Majlis e Ittehadul Muslimeen won five seats from Seemanchal in the Bihar assembly election, the Mahagathbandhan wasted no time in blaming the AIMIM for 'splitting the secular votes' and helping the Bharatiya Janata Party-led National Democratic Alliance win.
On Tuesday night, as it became clear that the NDA would win a simple majority in the Bihar assembly, Congress Spokesperson Pawan Khera accused AIMIM leader Asaduddin Owaisi of 'radicalising' Muslim youth.
Owaisi rubbished that allegation and praised the AIMIM's Bihar unit president Akhtarul Iman for working hard on the ground in Bihar to achieve the result. Any decision on who the AIMIM will support in Bihar, he said, would be taken in consultation with Iman.
Iman -- who won from Amour, defeating six-time sitting Congress MLA Jaleel Mastan and securing 55 percent of the votes -- spoke to Syed Firdaus Ashraf/Rediff.com about how the AIMIM won five seats in Bihar.
What was your strategy for the election because you were fighting formidable foes in both the Mahagathbandhan and the NDA?
To speak truth in life one does not need planning and scheming. You plan and scheme when you lie. We didn't do that in this election.
In Seemanchal we just highlighted the fact that this was the most backward area of our country even after 73 years of Independence. The entire Seemanchal region was kept backward intentionally by different ruling parties in Patna and Delhi.
There is extreme poverty, floods, lack of medical facilities in this region. We just highlighted these facts in our campaign.
We told the people how the big parties just keep you permanently in fear of communalism to grab your votes, but never do any development work.
We just told the voters that if you have the power to vote and elect your leader or throw him out, then you also have power to vote and solve your own problems.
People liked this fact about us and Alhamdulillah (by the grace of god) they voted us in big numbers.
You were facing a big challenge as the Rashtriya Janata Dal was known for Muslim-Yadav unity.
Even in darkness one jugnu (firefly) lights up the surrounding.
The AIMIM was like a jugnu that challenged the RJD. And we lit up like a bright lamp.
Why is Seemanchal so backward?
It is because this is a Muslim and Dalit area.
People who ruled from Delhi showed the fear of communalism to the people of Seemanchal. And they never got any development projects in the region.
Before Independence it was one of the best regions of Bihar, but after 70 years it has turned out to be the worst region of Bihar.
What about the allegation that your party is splitting Muslim votes to help the BJP by defeating the secular parties?
This is just an allegation. They are threatening voters with communalism and asking for votes, but we on the other hand are telling voters that we will give you justice.
Secular parties cannot rule forever by showing fear of the BJP to Muslims. We have finished that fear.
We told voters that they have to fight for their own rights. You can change your own destiny with your hands and this is what democracy says to voters.
We just appealed on those lines to the voters.
Certain section of Muslims in UP and Bihar say that the AIMIM is finishing off Ganga-Jamuna tehzeeb (culture) or Hindu-Muslim unity by spreading the polarisation of Muslim voters and only speaking of Muslim issues.
We are the biggest supporters of Ganga-Jamuna tehzeeb.
Ganga and Jamuna should flow together and only then Sangam will exist.
If Ganga flows and Jamuna dries up, then there will be no Sangam.
Our party never speaks against any community or caste. We only speak for those who are downtrodden and oppressed.
And since in the Seemanchal area Muslims are more in numbers and they are downtrodden and oppressed, so we speak about them.
It is like saying, 'Hum aah bhi kare toh ho jaate hain badnam, woh qatal bhi kare toh charcha nahi hota (We are defamed when we only sigh, but even when they kill there's no issue).'
The lowest income group people stay in Seemanchal region, the highest infant mortality rate is in that region, flood devastation is maximum in that area, health system is non-existent. And our decency to overlook these problems for the last 70 years was considered as a weakness by these parties whom we voted.
There is no proper university in our area, no medical college, no proper manufacturing units, no proper electricity and no medical facilities.
In Mumbai you have hospitals for dogs. but in Seemanchal you don't have hospitals for humans.
Our elders, sisters and mothers die without any doctor visiting them. In a population of two lakhs you will find hardly one doctor.
The migrant population who go out for work from Seemanchal told their families back home that they must vote for the AIMIM as they want to change the ground situation of their region.
We never spoke of communalism as a party, but you see, in 99 percent of the riots that happened in India, Muslims were affected in the worst way. Our people lost lives. We were put behind bars on false cases.
Has the change in Muslim society come about because people feel that after the anti-CAA riots the secular parties dumped Muslims and so they see the AIMIM as their only hope?
Muslims should have dumped the secular parties long back, but they had no option. Now, we are emerging as an option so people are trusting us.
Check out history and see after the Babri Masjid demolition, don't you think Muslims should have charted some different course democratically for themselves?
Be it the Gujarat riots or other riots in the country where Muslims were beaten up badly, post those riots they should have found their own voice democratically but could not do it. Now, we have come as an option to them.
You are talking of counter-polarisation but that's not the answer, isn't it?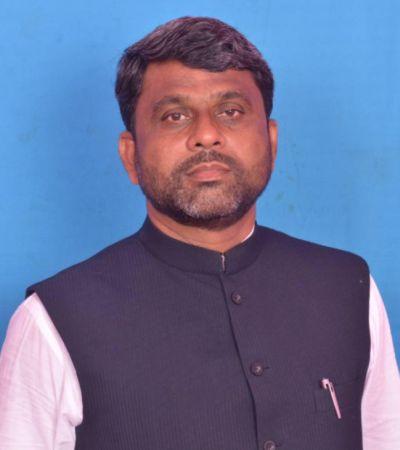 We contested 20 seats and we defeated all parties, RJD, Janata Dal-United and the BJP too. And at other places where we lost, the Congress won against us and so did the RJD.
These kind of counter-polarisation theories, only secular parties make a false story as it suits them.
We talk of protecting the mosque and mandir in the same breath. We never play communal politics. We talk of justice and don't speak of religion ever.
Your party has Muslimeen in its name and yet you are saying you don't speak of Muslims?
The BJP speaks of Hindutva all the time. The Congress after the Supreme Court's Ram mandir decision supported it. We are only speaking of the downtrodden and poor.
Do you feel your party wants to emerge like the BSP for the Dalits, what Kanshi Ram did for Dalits you want to do for Muslims?
I am not talking about Muslims, but the downtrodden. The downtrodden in this country needs a leader. Be this downtrodden from whichever caste or religion, they need justice.
You were a part of the JD-U and RJD, but quit those parties. What was wrong with them?
These parties work on favouritism. And there is no independent thinking in these parties. If you go to these parties and get diluted, then your identity is nowhere.
You see the Muslims of Kerala had their own party (Indian Union Muslim League) so they always remained strong, and so is the case of Telangana Muslims where they had their own party (AIMIM).
Dalits did so under Kanshi Ram's leadership and found their identity. Lalu Prasad Yadav found that identity for the backwards of Bihar.
The downtrodden can keep their identity intact by doing coalition politics. And if you do that, your grievances will be heard and agreed upon.
But if you take a ticket from those parties and get elected, you will be a slave in those parties forever.
A Muslim leader from the Congress told me once that if Muslims start voting en bloc for AIMIM, then the secular parties would never work for the Muslims of India as they know they are wasting their time.
These are just fear tactics which Muslim leaders of the so-called secular parties play on Muslims. This is just a foolish statement. I just gave you the example of Kerala Muslims who have their own party.
Once Muslims stand on their own feet, everyone will work for them.
Let us be clear, we are not in the race to become the number one party.
We do not want to become the chief minister of any state or be in the top position.
We just want our Constitutional rights.
Other parties like the Congress or RJD or BJP want to rule the country, so let them fight over it.
We only want our Constitutional rights and live with dignity in India.
What future do you see for Muslim politics in India?
Muslims are looking for options in politics.
Lastly, what about the allegation that you work for the BJP?
This is a foolish statement. Congressmen are being bought by the BJP, be it in Madhya Pradesh or Gujarat.
On the contrary false cases are filed on our workers and leaders.
Go and check what the Congress did when the UAPA (Unlawful Activities Prevention Act) was passed in Parliament.