'The reality of this virus is that as long as it is circulating, it can mutate into new variants and by the time you realise that this is a new virus, which is more dangerous, and more transmissible, it is too late.'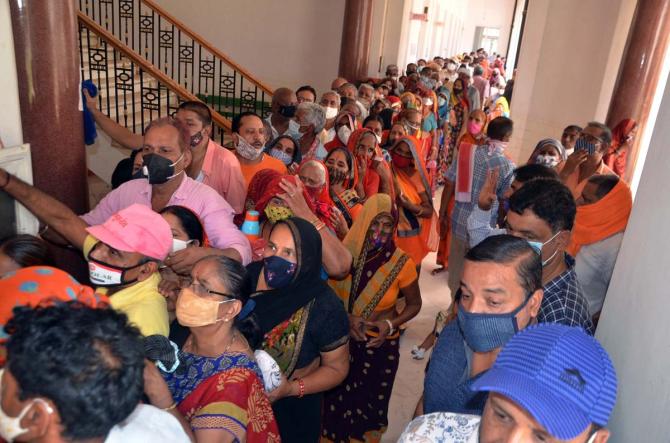 What's your social status, folks?
One COVID-19 vaccine dose down?
Or two?
It's not enough to cheerfully go home with your vaccine certificate in hand, shove it in the nearest drawer and face the world feeling like superman and resume a pre-pandemic life.
Not a chance!
Caution: Please do arm yourself with the right protection information, post vaccination.
Dr Chandrakant Lahariya, who gained his knowledge of vaccines from Institut Pasteur, Paris, and University of Geneva and his nearly two decades of experience from working on WHO vaccine programmes in India, addresses a range of concerns in Part II of a multi-part interview to Vaihayasi Pande Daniel/Rediff.com. Do read!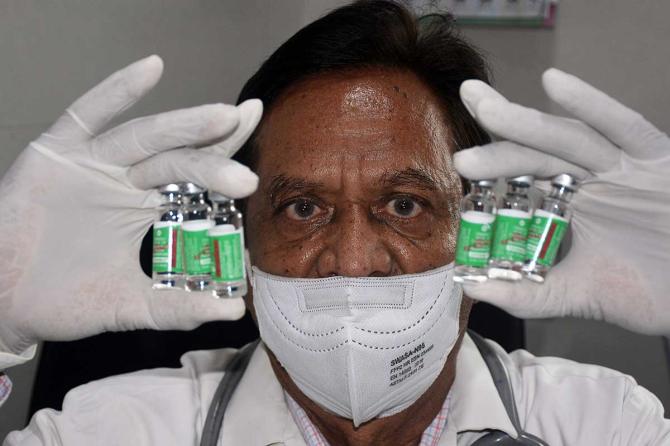 When they say that the AstraZeneca/Covishield vaccine has a 70 per cent efficacy, the efficacy refers not to your chances of picking up the infection, but refers to your chances of getting very sick or severe disease? Or which one does it refer to?
It varies for vaccines, but in these vaccines, the efficacy is against moderate to severe disease and mortality. So, they say like 80 per cent efficacy against moderate to severe disease or hospitalisation. 100 percent efficacy against mortality or death.
But efficacy is always in comparison of the non-vaccinated.
It does not apply to picking up the infection? It only applies to getting severe disease. So Astra Zeneca affords 70 per cent efficacy of not getting severe disease?
Yes. Seventy-nine per cent efficacy, after both doses, when taken at a gap of 12 weeks, against getting moderate to severe disease. We know the efficacy of this vaccine is lower if the second dose is taken after a shorter interval.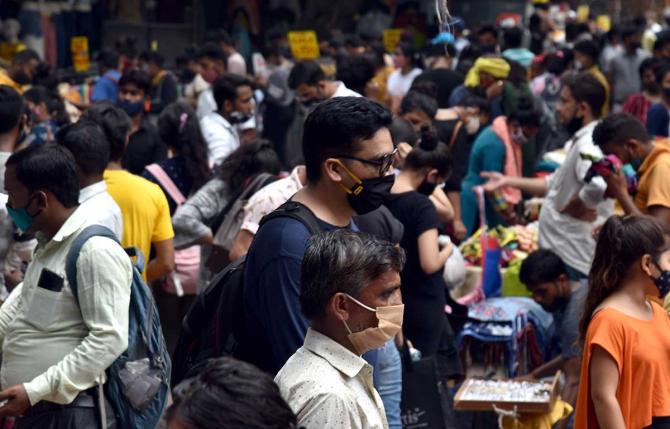 When you were speaking about the new normal, you said like 10 people, who have been vaccinated, can meet.
If, among the 10 vaccinated people who are meeting, some of them are constantly meeting or exposed to unvaccinated people, wouldn't they be bringing risk to this group of 10?
Because it's a cumulative risk, the risk of getting infected is still there, but their risk of getting severe disease is very low.
At the same time, we really don't know -- infection is definitely reduced by some of the vaccines. But, of course, there is probability. That's why it is always recommended that those 10 people should always follow COVID-19 appropriate behaviour when meeting non-vaccinated people.
If they don't follow that, there is always risk of getting the disease.
Even in the vaccinated, what we want to remember is that sometimes vaccines are not 100 per cent immunogenic. It's not a guarantee.
That's why some vaccinated people can still get moderate to severe disease. People need to remember that.
And they can still die?
Well, that is very rare. In this disease also. Majority of the vaccine trials have shown 100 per cent protection against death. But in real life, effectiveness is usually lower than clinical trials.
But we know so many people who have died. I know at least four people who have died post the first vaccine.
Yes, it's possible. I think it's very possible because that outcome is very dependent on whether the person is elderly, or if it is somebody who is 60 plus, has comorbidities.
The efficacy we are seeing is for the broader 18 years to 70 or 75 years (population), many of them being healthy adults.
The risks are very similar, even after vaccination -- when it comes to a healthy person, whose immune system is fairly balanced, of between 18 and 50 years age, probability of death is almost negligible.
But somebody of 60 or 70 years or more and with a comorbidity tends to die, because the vaccine is not 100 per cent immunogenic. That means the vaccine does not produce immune response in every single individual.
If there is a breakthrough disease in people who have higher comorbidities, they're more at risk? Correct?
Yes. People who have higher comorbidities, who have immunocompromised response, who are on the long treatment (for cancer etc), they should be vaccinated. But even after vaccination, they may not produce a sufficient immune response.
Since the pace of our vaccination is still very slow, our future is still difficult.
The possibility of returning to work from offices, like it was before, doesn't seem possible till there is a higher number of people vaccinated.
Travelling by train or flight can still be problematic.
It's still very hard to predict when things will normalise a little bit more?
It was difficult in April and May 2021, as it was very challenging and the second wave was very devastating in India. But it has a positive side to it also.
The positive side is that a large proportion of people developed asymptomatic infections. About those who developed symptomatic infections we know. But a fairly large proportion of population developed asymptomatic infections.
Now, emerging evidence indicates that people who develop natural COVID-19 infection have immunity or antibodies which last really long.
Even if the antibody declines, the production through the various types of cells can last long. So, people who have developed natural infections, even asymptomatic infections, might be protected for the future.
In that sense, if we start looking at second wave, the positive side was that a fairly large proportion of the Indian population has developed antibodies, which gives all of us a little protection.
It may not give protection against those newer, emerging variants or something which is unknown. But it gives protection against the circulating variant.
That way, if we can scale up vaccination -- which unfortunately is slow, at present -- the protection provided by natural immunity is a kind of saving grace, so to say.
If we can scale up vaccination then, slowly, we will come out of it. What we need to remember, in the end the virus circulation will only stop when everybody gets the infected.
In the end, the virus will not disappear completely and will not spare anybody who is at risk.
There will always be some new cohort. Like people whose immunity declined, for whatever reasons.
There are many unknowns.
But I personally believe that once the proportion of people vaccinated is fairly large -- we don't know the numbers, because the higher the transmissibility of any virus, the higher the proportionate number of people to be vaccinated.
So, for example, this delta variant is more transmissible, which essentially means that we need to have a bigger population, bigger proportion of population vaccinated to get protected as a society.
Essentially, in the end all the countries will be at the same level. Early vaccination, will ensure that you are there early; that's what happened in United States, Israel etc.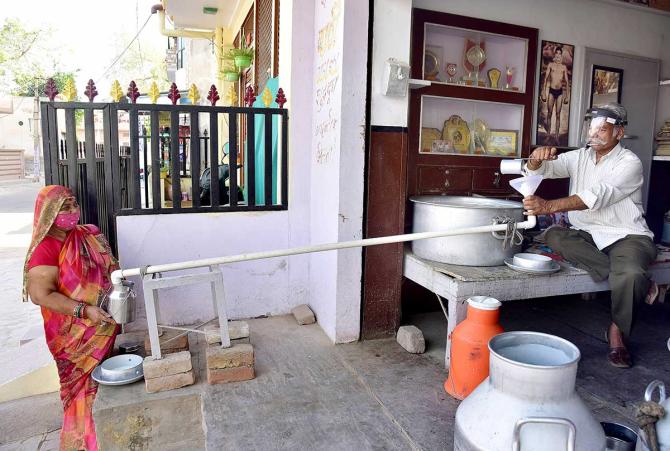 Because I have been working on COVID-19 stories since March 2020, I'm sort of very much immersed in it and therefore very, very, very cautious. This leads to arguments in the family and with my husband.
My contention is you cannot let your guard down at any point, because any one person can still give you COVID-19.
And one simply cannot assess the probability of who can give it to you or not. So your guard has to be up all the time.
Am I right, or am I wrong?
Well, that's difficult question to answer in the generic.
But there would be times when one could say that, okay, this is my family member and now this person is vaccinated and it is okay.
But in general, going into public, one has to always follow those behaviors.
Yes, I was referring to meeting somebody outside your family, of a different house? For them you have to follow the same rules of protection?
Yes. Yes.
Unless you really know that they are vaccinated fully, each one of them, really well.
Ultimately for the extended family members there will be a day when you need to relax.
With unknown people, strangers, different families in the same colony, you can never let your guard down, especially as long as the virus is circulating.
The reality of this virus is that as long as it is circulating, it can mutate into new variants and with the kind of Indian genomic sequencing approach we have, by the time you realise that this is a new virus, which is more dangerous, and more transmissible, it is too late.
So, it's important to maintain your guard.
Feature Presentation: Ashish Narsale/Rediff.com