'It is the moment where compassion and empathy must supersede our identity, politics, or our ambitions.'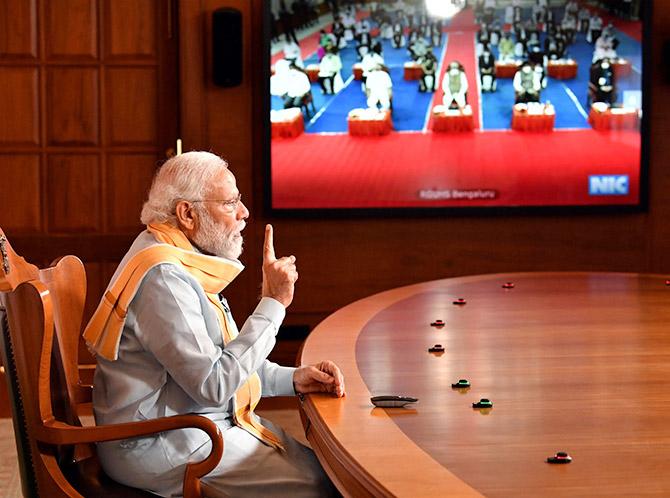 "I hope we were able to inspire confidence in our electorate because the job of a politician is not just to fight the elections," Rajasthan Deputy Chief Minister Sachin Pilot tells Sheela Bhatt in the concluding segment of a two-part interview:
Some officers argue that in the first week of April, there was no health infrastructure in villages in Rajastan. Also, no one knew then as to how many asymptomatic patients were there among the migrants.
The infection has spread through airports and large cities, no? It was never in the villages.
They should have been allowed to go, they would have been home quarantined in their own villages, and they would have been much safer today. Now, home quarantine is allowed.
What did you do exclusively in Rajasthan?
We have 46,000 villages. We got sodium hypochlorite spray done in 42,800 villages. In my department, I issued instructions to give every panchayat Rs 50,000 to buy masks and sanitisers in the village, and it helped us.
There was no blackmarketing of medical stuff. Also, people didn't run away from villages because we improved local conditions.
I changed the timings of MNREGA. Now, it is 6 am to 1 pm. People take their lunch around 1 pm.
The risk of infection increases because people eat together. But, we disperse them before lunch.
Also, we have changed their tasks. Now 80% of the job done is personal.
We tell labourers make your home, your toilets. Till your farms. People work with interest when working for their own good.
In community-level work many times it is left half done. They are making their own homes, and getting daily wages for it, too.
So, in the ministries under my charge we tried to change policies within this framework to make it more relevant to the people who are on the ground.
We have much-talked about the Bhilwara model. Unfortunately, some new cases have been found there.
We let the district collector decide strategy and I spoke to him almost every day. He had a super curfew, no vehicular movement, not even motorcycles, no individuals and no jaan pehechan ka pass -- zero movement.
Dal, sabzi, roti, chai patti, tel, cheeni, we delivered home.
As the movement stopped, spreading ended. And we were able to get zero cases at one point.
Few migrants have arrived there from Nagpur and Jodhpur so some infection cases are noted there.
Why did the Bhilwara model not work in Jaipur?
Because Bhilwara is a much smaller city, it is much spread out.
In Old Jaipur City, in the walled city, more than 40 people live in one building. Streets are narrow. Only two-wheelers can go.
So social distancing is not possible. It's not easy to impose super curfew over there.
Jaipur is a much bigger city, it is not possible to have rigorous confinement, containment here.
The Bhilwara model can't be replicated because of the demography, the geography, it's different for each city.
How do you see the leadership of the state leaders and Prime Minister Modi in times of crisis?
Everybody is putting his/her best foot forward. Everybody is talking things that people want to hear.
I just hope that the actions match what the leaders have said.
COVID-19 is not going away, this is now with us for a few months. people have become more relaxed and, you know, taking things lightly, which is, I think, wrong because now the spread of infections is larger than before.
But leadership, different state governments, Government of India, everyone has said the right things.
I hope we were able to inspire confidence in our electorate because the job of a politician is not just to fight the elections, it is also to come standing tall in times of crisis.
Has India reached its peak in Covid-19 spread?
I'm not a medical expert but my information is we have not reached our peak yet, because everyday the cases are increasing.
I think the peak is yet to come and that the numbers will show you, so we have to be ready to brace ourselves for a much larger, long term, solution to the problem as opposed to thinking lockdown 4 has ended and life will become normal.
That's not going to happen.
Do you think lots of politics is happening behind the crisis?
Well, not a lot, but some politics is definitely happening on the labour migration issue. There is politics happening.
In election-bound states there is more politics happening.
Do you think starvation is a real danger?
In India, there are some pockets of our country that are still suffering from malnourishment and, you know, food scarcity.
I can't talk about the country. In my state, of course, there is no such incident.
We have made sure nobody goes hungry in the state.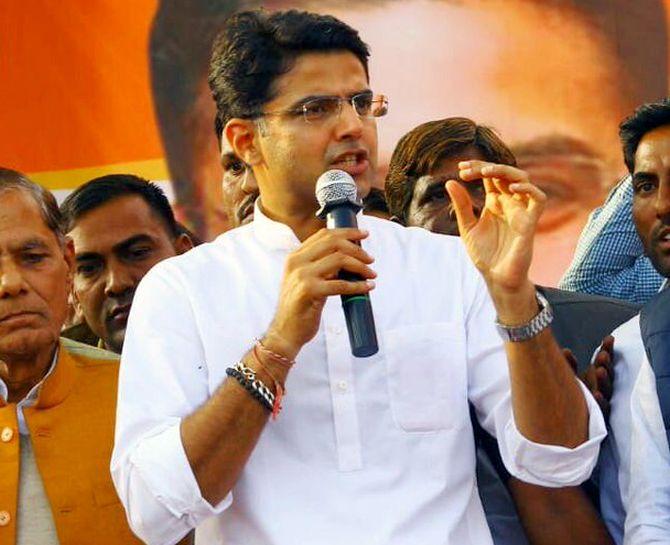 So you have a state-run meal programme?
We have, yes, of course we have.
So we are getting food packages of dry ration. As Congress party president, my party has distributed more than 1.2 crore (12 million as of May 20) food packets of cooked food.
Almost 40 lakh (4 million) ration packets have been distributed by the government, NGOs, MLAs have come forward with their MLA funds, MP funds, so we've all come together.
Does Rajasthan have a blue book to reset and revive the entire state in the post Covid era?
We have a task force that has given us some suggestions for economic revival.
My own thinking is that we must lead a reform-based revival.
There's no point in doing the same things which have lacunae which we know and still accept them.
We have to get new ideas and there are lots of spaces that we can take first mover advantage.
What do you think of Nirmala Sitharaman's stimulus packages?
The world has said it. I don't want to be sounding critical at this point, but as finance minister her first statement should have been towards farmers, migrants, poor people, the destitute.
The focus has been about giving out more loans. Of course, that will come, but the first thing is the poor should have money, only then they would purchase.
How will the poor buy roti, salt, tea or sugar without cash in hand?
So that is the Congress party's solution for demand-side issues? Give out cash?
No, give cash only to the poorest and then you look at industry-specific, state-specific steps.
Just to say that I will give bank guarantees for you to take a loan may not be sufficient.
Of course it helps the economy, of course it helps revive, but will it give you the desired results?
So what is the solution?
I'm thinking why shouldn't we focus on domestic tourism, why don't we think of that? There is not a word said on that.
The entertainment industry, we haven't focused on that. How can we help recreate that?
Who will be the agents of change, who will be the catalysts of change?
The finance ministry has not applied its mind.
All it's doing is numbers gaming and by sounding out much larger packages to compete among the world, but it is not important, I don't care what Germany does.
I want to know what my young, educated boy or girl of 21 years, what chance does she have to getting a newer, better job?
What is the current status of the entire migrant issue, inter-state, intra-state?
The Government of India has now said that for sending trains they don't need state permission, so that one problem is over now.
Some states have not accepted labour, I think Bihar, Assam and West Bengal if I recall, they were still in negotiations because they were not prepared to take all the labour back.
But we in Rajasthan have said anybody wants to go back, the government will foot all their bills to go back wherever they want to go.
And almost 19 lakh to 20 lakh (1.9 million to 2 million) people have registered on the official portal who want to come back or go.
I think 70% wants to leave and some 30% wants to return to Rajasthan.
We can't end the interview without asking if you have declared a truce with your chief minister, Ashok Gehlot, or not?
Truce toh tab hota hai jab koi jhagda hota hai (A truce is declared when there is a fight).
I am the head of the party in Rajasthan, he's head of the government; I'm part of the government.
We are working together because we have to rise above everything else because today, people expect us to deliver and in times of need and crisis, people judge every move that you make.
So my first and my top priority right now is to make sure that I deliver to the expectations that people have of me, the Congress party and this government in Rajasthan.
How credible are the rumours of you joining the BJP?
Why should I comment about some rumours?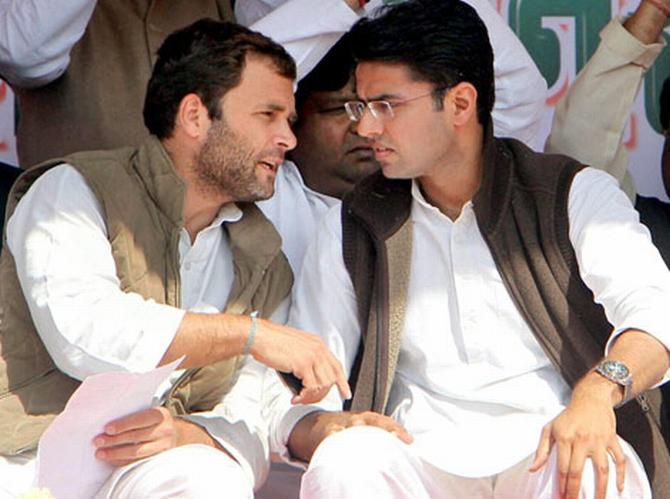 Because it is being written about you.
Well, people can write what they want, but I'm fully focused on making sure that my party and my government deliver to the expectations that people have of us and that is the only thing that we should be doing right now.
Rumour-mongering has happened before, it will happen in the future also.
Sachin, what was your low point of the last 50 days?
The low point were the instances of attacks on the police, the frontline warriors, doctors, nurses, ward boys, who were risking their own lives and going to test people.
When they were attacked and, you know, mishandled, that is something we should all be ashamed of, that's not becoming of a country like ours.
I also saw some instances where doctors were told they can't come back to their rented accommodation because they may be infected.
They were risking their lives and helping us, and these people who are objecting to them coming back, if they fall sick, they go to hospital, who will they depend on?
The same doctors and nurses!
So that is inhuman. It's not about religion or party, as a country, as a human race, how can you be so insensitive?
So the social stigma on them is unacceptable.
What was the most beautiful experience that you had?
I saw people from all walks of life setting up camps to help migrant workers who are travelling. I saw people gifting them shoes and chappals.
You know, it also brings out the best in us in one nation, one human entity.
And the people of Rajasthan and all of India, as humans, as Indians, have come forward to help the poorest of the poor.
People came forward, making small things, making two katori khichdi to give it to a poor family in their own neighbourhood or giving funds to the government.
I know a lot of people who have done whatever best they can.
It is the moment where compassion and empathy must supersede our own identity, politics, or our own ambitions, and that's something that has come out, and a majority of Indians, I know, think and feel like that.
Production: Rajesh Alva/Rediff.com