At a time when finding out who is paying for labourers' train tickets is a task for Sherlock Holmes, Hemant Soren's Jharkhand government has flown in stranded workers from Ladakh, and is probably the only state that has tried to give 'migrant workers' a modicum of respect, observes Debashish Chatterjee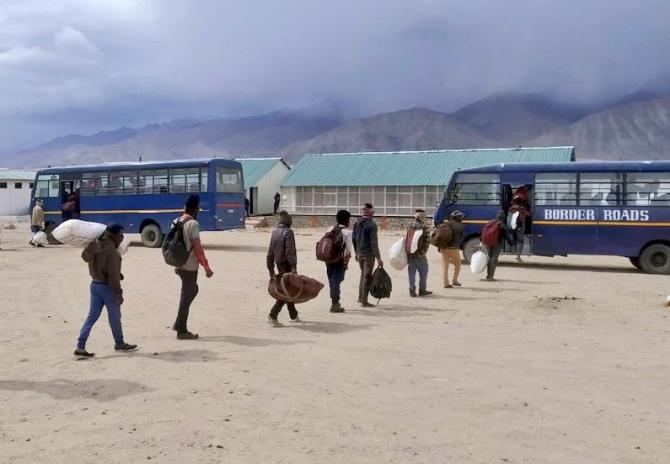 On Friday, Chief Minister Hemant Soren's Jharkhand became the first state government to fly back stranded workers.
The group that flew in from Ladakh was not even the first batch of 'migrant workers' to fly back home to Jharkhand.
A day before, alumni of the National Law School of India University, Bengaluru, had helped another bunch of Jharkhandis return by a special chartered flight from Mumbai.
The flight from Ladakh was significant and fitting for two reasons. One, Jharkhand, one of India's poorest states, notching up the milestone.
Two, because these labourers mostly work for the Border Roads Organisation (BRO) that keeps the massive military machinery rolling across two frontiers, one with Pakistan and the other with China.
Even the road through the Khardung La, the only road route to the Siachen glacier, is kept open through the year by these labourers of the BRO, who work often with nothing more than a shovel, a boot and a jacket for paltry money.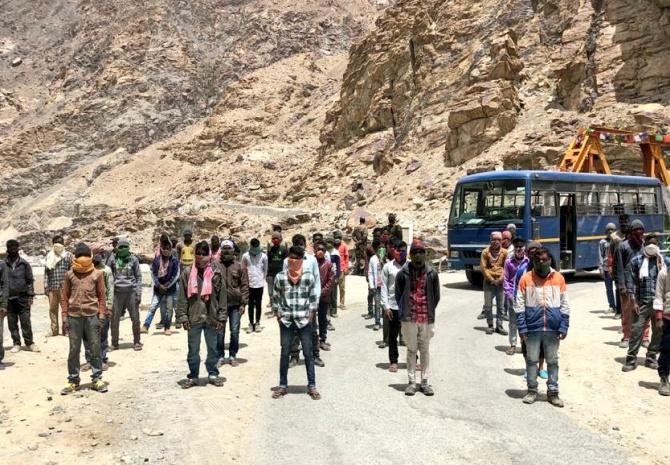 In an India where 'jawans are standing in Siachen' can silence any criticism, it is only fitting that those who help man those treacherous terrains be given an extra special salute.
The flight from Ladakh is also extraordinary in a country where the central government seems not to be paying even for train fares of workers trying desperately to get back home with their livelihoods destroyed by a lockdown announced with four-hour notice.
Solicitor General Tushar Mehta pointing to the states when the Supreme Court asked who was paying for the train tickets would suggest so.
Hemant Soren's government -- an alliance of his Jharkhand Mukti Morcha, the Congress and Lalu Prasad's Rashtriya Janata Dal unseated the Bharatiya Janata Party dispensation of Raghubar Das, Jharkhand's first chief minister to complete a full term -- has been among the states that have at least tried to give 'migrant labourers' a modicum of respect.
Jharkhand was the first state to bring back such stranded workers by train. That train had rolled from Lingampalli in Telangana to Hatia near Ranchi.
Whenever a Shramik special train rolled into Jharkhand, top district officials were present along with a medical team.
The labourers were each given a flower, a bottle of water, food, checked for COVID-19 symptoms, ad sent home on special buses.
In contrast when a special Rajdhani rolled into Ranchi, the better-off passengers rued that there was neither any welcome nor state-arranged transport from the station.
When the plight of the stranded workers began to knock on the black mirrors -- computer, TV and phone screens -- of privileged India, the Centre tried to pass the buck by saying that states were not allowing trains. Never mind that the railways is a central subject.
Hemant had shot back at Piyush Goyal, pointing out to the railway minister that not only trains, Jharkhand had requested for chartered flights to bring back stranded workers from Andaman and Nicobar.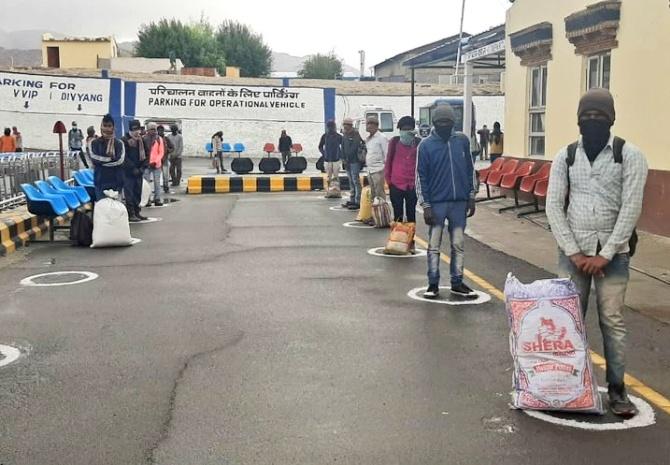 Jharkhand, one of India's poorest states, mostly blips on the national radar for starvation death allegations (which no state government including Hemant's has ever acknowledged) and lynchings.
According to activists like the former civil servant Harsh Mander, Jharkhand is the lynching capital of India. And hunger stalks the state, at least 27 per cent of whose 3.19-crore population is tribal.
The Jharkhand government has notched up a few other firsts in locked down India. It was the first state to put in place a army of contract tracers by deploying the roughly 40,000 sahiyas, panchayat-level women health workers, for the job.
It was the first state to open community kitchens along highways where labourers trying to walk back home can get food for free.
It was the first state to start community kitchens at all police stations.
It was the first state to launch an app for stranded Jharkhandis wanting to return home.
Its director general of police M V Rao has been perhaps the only top cop in any state in India to apologise for three deaths caused by overzealous enforcement of the lockdown.
And Hemant Soren's Twitter handle is among the most hands-on in the virtual world in addressing problems at the speed of the Internet.
It is not as if the Jharkhand model is free of glitches. Initially, labourers arriving by train said they had to pay their own fares. However, that was sorted out as more trains started running.
Many complained they could not get tickets to trains, to which the government cited the massive numbers in the queue.
There are, of course, the usual shortages of PPE (personal protective equipment) kits for frontline COVID-19 staff.
Government doctors have complained that only junior ones are being pushed forward to treat COVID-19 patients.
There has also been at least one alleged hunger death, of a five-year-old girl, and the administrative response -- finding public distribution system glitches and at the same time denial of hunger as the cause of death -- has been like previous state governments.
However, Hemant Soren has stood out as a chief minister who at least tries to show that he cares for the faceless 'migrant labourer' who powers with his plight the dreams of 1.3 billion Indians.
Production: Rajesh Alva/Rediff.com