'You can't make the poor rich overnight.'
'Nor can you fly millions in planes.' 'But remember that word: Empathy.'
'Who in the BJP is speaking in that language to these millions?'
'Someone putting an arm of understanding, warmth, comfort around them?', asks Shekhar Gupta.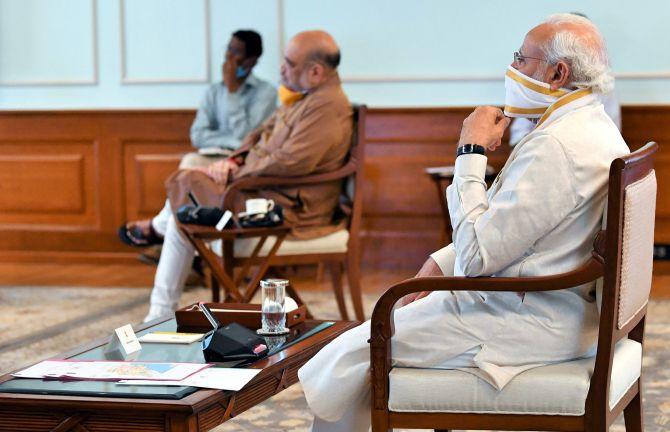 The Narendra Damodardas Modi government has no rival in its 'change the headlines' approach to politics and the brilliance with which it can move.
The latest example is this 'Vande Bharat Mission'.
A new excitement has been conjured up in the most glum air.
Coronavirus has broken the back of economic activity the world over. Almost every country has large numbers of citizens employed abroad, and students, tourists, and families stuck across the world.
Most have run some operations to bring them back.
Only India has turned it into an event.
As you'd expect from the Modi playbook, an event like this has to have a headline and a hashtag.
Multiple ministerial handles have to tweet in celebration. The BJP's own IT machinery joins in. As indeed the television channels.
The friendlier channels have already started ball-by-ball coverage.
Here is an example: A plane takes off to rousing music. A celebration that some 781 Indians have already landed.
As if they are returning victorious after liberating Muzaffarabad or Skardu.
Ministers are applauding as an achievement.
As if they've been snatched back from the jaws of death. And if you think that isn't ridiculous enough, check out the series of stories we've been watching all day on the quarantine facilities being set up in slick hotels for these honoured returning children of India.
We are reminded that they will pay for these.
Because they can afford them. They are, after all, children of a greater god, which all Indians can't be.
There are just so many of us, 1.38 billion. Spare a moment for our poor Gods.
How can they bestow their favours upon so many of us? They pick the more deserving.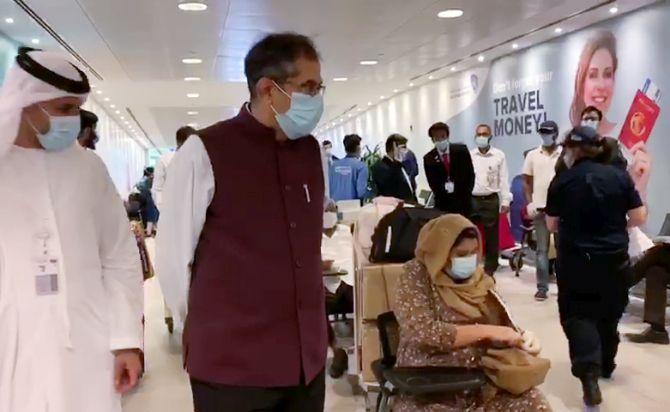 This is something all of us Indians should cherish.
The government is bringing back so many good Indians on its planes, and setting them up in comfortable quarantine centres so they can go home safe for their families, friends, and neighbours.
The first time India has carried out such an incredible feat since Akshay Kumar single-handedly brought back the lakhs from occupied Kuwait in 1990.
This is the spirit of a modern, resurgent, India.
Teacher of the world, or Vishwa Guru. All of you join together, click your heels, and salute the spirit of 'Vande Bharat Mission'.
And never mind the minor matter of fellow Indians, maybe a hundred times more than these, walking back home a thousand miles away, on blistered feet, empty stomachs, no reception committees, welcome tweets, no quarantine homes, no trains or buses for 45 days while they may have been even willing to pay.
They are not the same.
If they were smarter, better-educated, blessed with better horoscopes, and more successful parents, why would they be hauling bricks and mortar at our construction sites? They'd be working or studying overseas.
If God didn't make all Indians equal, go fight with God. Meanwhile, celebrate this great national mission.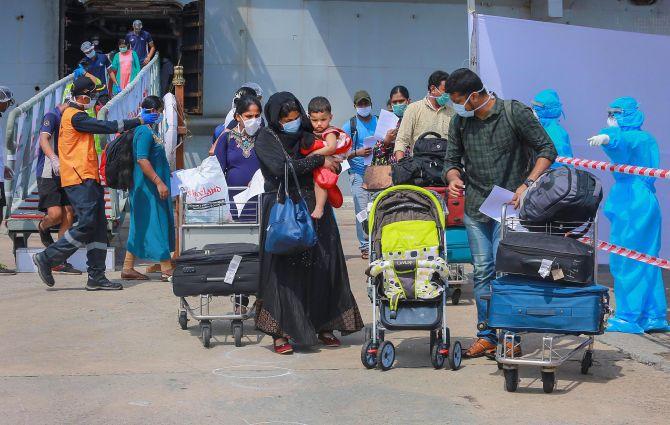 At this point we need to ask a question we wouldn't have imagined raising, and that too so early in this government's second term: Is Narendra Damodardas Modi losing his touch?
He hasn't reached this far, won two full majorities, and destroyed all opposition because he isn't smart.
He's the smartest politician we've seen since Indira Gandhi. And given that, unlike her, he came with no entitled legacy and is entirely self-made, probably ever in independent India's history.
His political brand is built on three key attributes, and I list these in the ascending order of importance: 1. Great oratory and messaging skills; 2. An aura of great personal power and decisiveness; and 3. The most important, the ability to identify with the common Indian so closely that the poorest Indians -- most of India's voters -- identify with him.
They prefer him because in him they see everything the Gandhis aren't.
Self-made, non-elite, working class (chaiwala), no privilege or fancy foreign education, simple, frugal lifestyle, empathy for the poor.
Underline that word, empathy. Because we will return to it soon.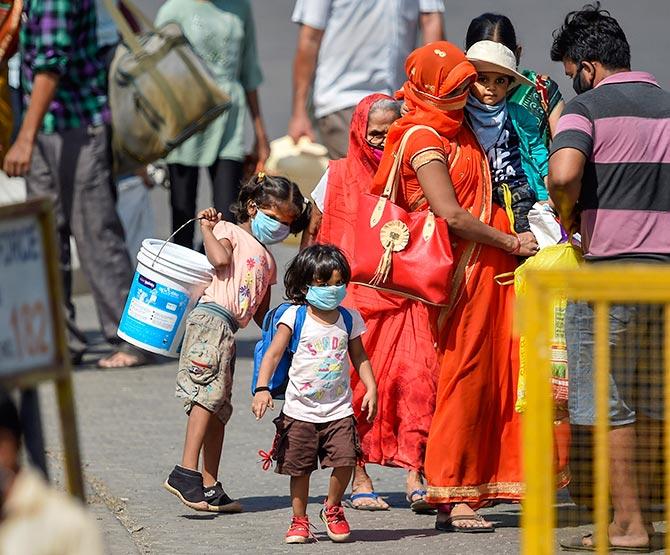 Mr Modi has masterfully crafted his appeal as anti-elitist (read anti-dynasty), as one who has learnt about his country travelling and spending time in each one of its districts (something he takes deserved pride in) instead of elite campuses and Lutyens' parlours.
If he lost power, it won't bother him too much, he's been reminding us.
He will simply pick up his jhola and walk back home. What's a 'fakir' got to lose?
It was this instinct that shook him the moment that 'suit-boot' description was flung at him.
This is why he made such an about-turn in his approach to the political economy.
The business-friendly Gujarat-model was dumped.
Schemes like MGNREGA were no longer ridiculed, but strengthened.
He knew the real VIPs in the life of an Indian politician who needed to win elections, not just for himself but 300 others in the Lok Sabha, were the poor, or the larger working classes.
Not the urban elites, or the middle classes.
How come then that all his messaging in the coronavirus season so far has been directed only at these middle classes and elites? Play back his speeches and 'Mann ki Baat' addresses.
He's mostly reaching out to them. Even when he's advising or sermonising. Our economy will pay a heavy price, he says.
Some Mr Shah or Mr Sharma or Mr Agrawal in the cities will keep that in mind when their fortune is wiped out on the stockmarkets.
What does it mean to the daily wage labourer who suddenly finds himself on the street, no better than a starving vagrant, pushed around by the police, until he begins his Biblical long march home?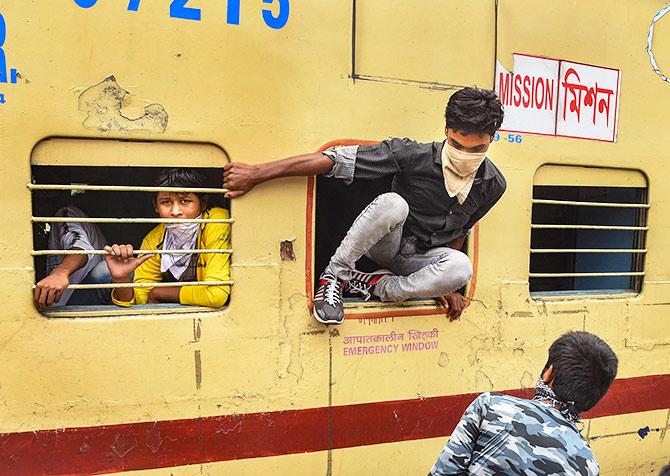 Check out all his invocations: Taali, thali, torches, lights.
Come to your balconies or verandahs.
It looks like in its sixth year, Mr Modi's politics has become so smug that it is confusing the 'balconied classes' for real India.
In which case, Resident Welfare Associations, the new dictatorial monstrosity of elite, urban India, are justified in their new-found arrogance.
Now, how many voters in India have balconies?
How many even have proper homes?
A non-leaking roof over their heads?
How many tens of millions stay away hundreds of miles from their families, 14 to a matchbox of a room with no window.
Then the home ministry says nobody should come out of their homes after 7 pm.
What percentage of Indians can physically make such a distinction between what is inside and outside their homes?
It's been eight weeks since this exodus began, and no one prominent has reached out to these millions with an arm of sympathy.
It is as if they do not exist.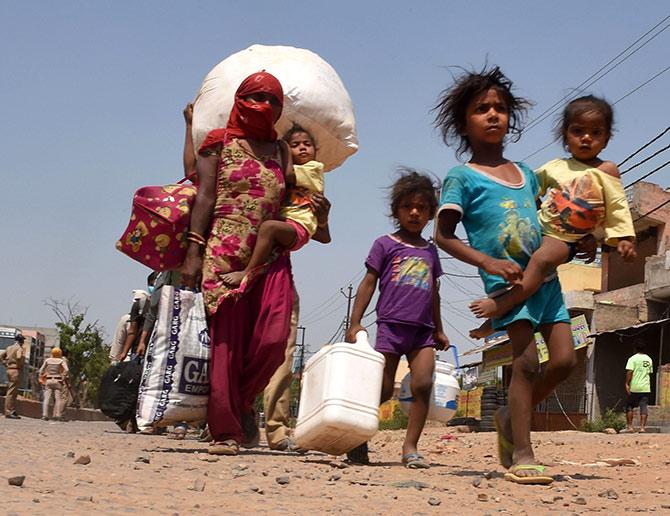 They are the problem of their state governments.
Good riddance from the big cities where the most valuable Indians live.
And if they take the virus to their villages, what can we do? They should have known better.
Of course, state governments, using the police, would try and detain them in temporary sub-human quarantine camps.
Even when, after weeks, a few trains are arranged for those still not halfway home on their feet, the Centre would pass the buck to the states to pay for their tickets.
And then start a tu-tu/main-main over who's at fault for the confusion.
You can't make the poor rich overnight.
Nor can you fly millions in planes. But remember that word we had said we will come back to: Empathy.
Who in the BJP is speaking in that language to these millions? Someone putting an arm of understanding, warmth, comfort around them? The chief ministers of Uttar Pradesh, Jharkhand, and Chhattisgarh are the only ones doing something.
They haven't lost their political instinct, ear to the ground.
It is tough to believe that Mr Modi might have.
By Special Arrangement with The Print