'This pandemic has given him a new platform to perform,' says a member of the government.
'He should feel lucky that he has got an opportunity now to demonstrate to the world his original talent.'
'He needs a visionary script to perform.'
Sheela Bhatt reports on the politics of the pandemic.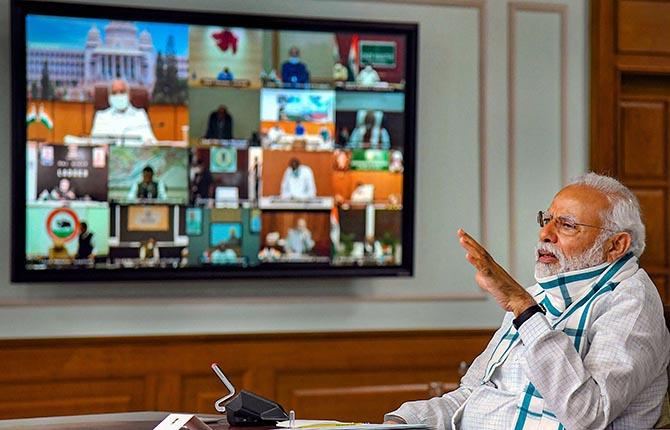 What about the economic crisis?
Difficult to decide if the coronavirus is more fearful or a sliding economy? Nevertheless, countries can't afford to lose hope.
For the sake of argument, one can say if ever India had a chance to throw its hat into the superpower ring, it's now.
But, let's also add that there are not many within and outside India who will bet on it.
Prime Minister Narendra Damodardas Modi has given the task of pondering over India's opportunities to six informal groups, to discuss the many aspects of post-lockdown issues including economic. These experts have been meeting daily via videoconference.
The post-COVID-19 world will look forward to seeing if India will take advantage of the huge battle about to start between the US and China.
The answer lies in the speed of India's economic recovery.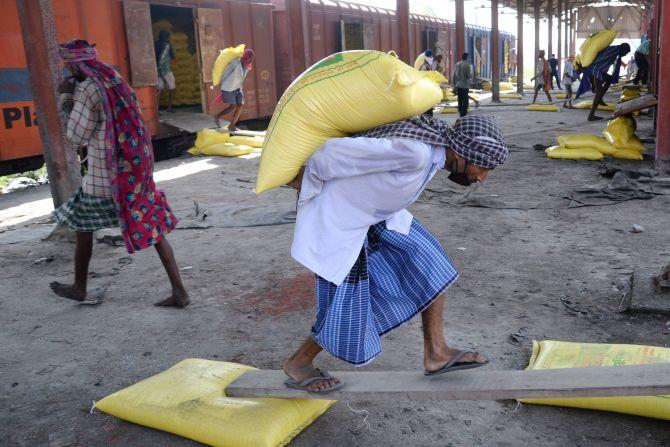 "Modi is the Muqaddar ka Sikandar (conqueror of destiny)," says one government source.
"This pandemic has given him a new platform to perform. He should feel lucky that he has got an opportunity now to demonstrate to the world his original talent. He needs a visionary script to perform," the government source adds.
If after August, Modi shows some sophistication "to reform and perform", then India has a rare chance to move to the next level, but very few are hopeful about it right now.
Inside the government, there is a new hope as Modi's grip over his saffron constituency has strengthened.
Confidence has never been in short supply in the Modi government, but now there is a feeling that India might come out with decent marks from the health crisis.
After the home and health ministries, the most active is the ministry of external affairs. Modi and External Affairs Minister Dr Subrahmanyam Jaishankar are "grounded" like everybody as air travel is closed.
Both men are using the latest technology to connect feverishly.
Modi and Dr Jaishankar have spoken to leaders of 80 countries around the world; after exchanging courtesies, HCQ diplomacy takes place.
India has promised to supply more than 80 countries with Hydroxychlroquine and many other drugs used to treat COVID-19 patients. Many of the essential drugs are a gift from India to small countries.
Many African countries profusely appreciate India's actions in their correspondence to the MEA.
Those who know the inside story of the management of the COVID-19 crisis state that the government is using to its advantage India's well-developed pharmaceutical industry to build bridges with nations in the middle of the current turbulence.
For India, this is the time when India can shape its diplomacy to enhance its economy.
India is looking with interest at the tensions between the Unted States and the World Health Organisation which will also play out, taking other United Nations organisations on an unchartered trajectory.
The increasing tensions between the US and China will give India fresh stimulus to take positions to suit its interests. Old issues can be re-negotiated under a changed context. Particularly, business-related issues.
At his fourth videoconference, Modi told chief ministers to make changes in their respective labour laws and undertake other reforms to make their states suitable for big-time investments.
A lot has been said about Home Minister Amit Shah's absence from the public sphere. Any particular reason?
Shah is the busiest minister today. There is almost a police raj in India. The home ministry is the nodal agency handling the administration of disaster relief. How can he not be active and busy?
One should read the Disaster Management Act, 2005. It is a potent Act applicable all over India and is in operation now. It vests tremendous powers in a few hands to deal with any disaster.
Modi and Shah should take some blame for not establishing a mechanism to check social media tattle, but even without official visibility one can easily surmise that Shah is at the centre of all activities.
Modi has done one thing that shows unambiguously that he is nominating Shah to handle governance of India's fight against COVID-19.
He chose to announce the national lockdown under the Disaster Management Act, 2005 on March 25 and not under the Epidemic Diseases Act, 1897. He could have chosen the latter, but he opted for the sterner Disaster Management Act, 2005 Act.
The Epidemic Diseases Act is routinely used by states to control malaria, cholera, flu, swine flu and dengue.
What this means is that although the Union health and family welfare ministry is the nodal ministry for biological disasters, it is the home ministry under Shah that is handling this epidemic.
And this has been duly noted in all state capitals by chief ministers and government officials.
The ministry of home affairs issues all guidelines to govern the lockdown and the lives of Indians as it is in administrative control of the disaster management authority.
Of course, many states have also invoked powers through state-specific health Acts too.
Modi has given the leadership in governance to Shah in his fight against COVID-19.
The powers and functions of the Disaster Management Act, 2005 are so wide that currently Shah is able to go beyond the home ministry's sphere of influence to take decisions for the smooth functioning of the administration that fights COVID-19.
Senior home ministry reveal that Shah attends his ministerial office at North Block from 4 pm to 11 pm so he can meet officials on both shifts. Various government ministries currently work two shifts.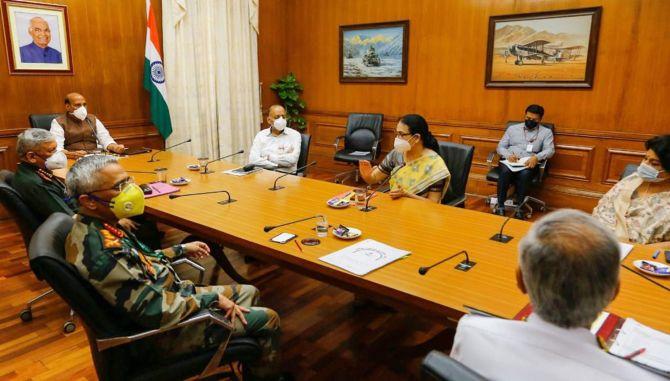 Defence Minister Rajnath Singh heads the Group of Ministers on COVID-19. Does it show who is number 2 in the government?
Correct. Defence Minister Rajnath Singh is Number Two in the Modi government. In the prime minister's absence in new Delhi he is the senior-most minister. There is no ambiguity about it.
But these things don't matter beyond a point because in the Bharatiya Janata Universe sky there is only one sun. Shah and Singh both know this well.
Publicly and privately, Singh's official position as the Number Two in the Modi government has never been questioned by anyone, not even by Shah.
What is not working well in the government's fight against COVID-19?
So far, not one economic stimulus package has been announced for small and medium scale industries that could inspire confidence.
Babudom will take its time to assess the financial losses and then some package will arrive.
Second, the government could have established better communication of data. For the first few weeks a joint secretary-level officer briefed people via live telecast.
Three, the underlying tension between states and the Centre is visible even at press briefings. More synergy and harmony between the states should have been visible in the public eye.
Four, when the Tablighi Jamaat in New Delhi's Nizamuddin committed the blunder of concealing coronavirus-infected people and let it spread all over India, it disturbed the social atmosphere.
It is true that some 40,000 people have been sent into quarantine following the blunder by Tablighi Jamaat managers, but in a crisis the country does not want old divides to surface. Political leaders should have come forward to handle it deftly.
Fifth, Modi's performance in conveying issues to a larger audience in major crises has been appreciated, but it also exposed his government's weakness for not investing enough in the most vital health sector in the last six years.
Result: A country with a $3 trillion economy went into a tizzy in March to get PPEs and testing kits, even masks! For which China, South Korea, Japan and even smaller countries of the world were contacted.