'Our honourable CM is so shameless that she will say the state is among the safest for women.'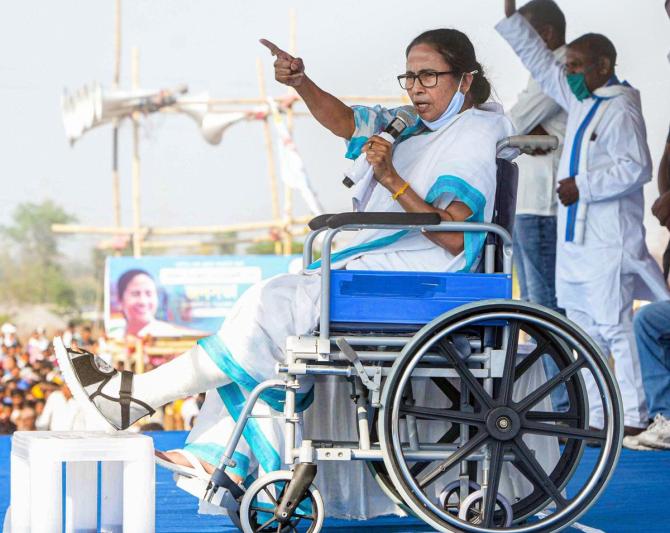 Agnimitra Paul is heading out to hold a meeting with women in a district a four-hour drive from Kolkata.
As the West Bengal president of the Bharatiya Janata Party's women's wing, the Mahila Morcha, her work is primarily to provide succour and then justice to women.
Most days begin at 7 in the morning.
"Paashe daarano, to stand with women in need, to commensurate with them, is what we do. Every day, for the last one year that I have been heading the morcha, there is a case of rape or sexual harassment. So I meet the victim, her family, get the police to file an FIR, ensure that the medical report is not manipulated. In Mamata Banerjee's Bengal, we have plenty of work," she says.
Paul, who has been a fashion designer for 23 years, began working with NGOs in 2009 to enable the Tiger Widows of Sunderbans become financially independent by teaching them stitching.
"Along the way I realised I enjoyed this work because I am able to reach out to so many people," she says.
Then came 2014 and the chief minister of Gujarat became the prime minister.
She was influenced by Narendra Damodardas Modi's work and in 2019 she picked up the phone and became a member of the BJP.
On June 1, 2020, she was made state president of the Mahila Morcha.
Paul is one of the 148 candidates named in the BJP's list for the last four phases of the elections.
"Whatever the party decides is fine with me. I am with Modiji. I have joined politics just to work for Modiji. A ticket is not why I am in politics."
Bengal has 35 million female voters who hold the key to the Trinamool Congress winning the assembly election.
It is also the only Indian state with a woman chief minister, and Mamata Banerjee has tried to ensure she keeps this vote base happy with several social welfare schemes.
In an interview with Rediff.com's Swarupa Dutt, peppered with the word dhorshon (rape), Agnimitra Paul says the truth about the state is vastly different from the TMC's projections.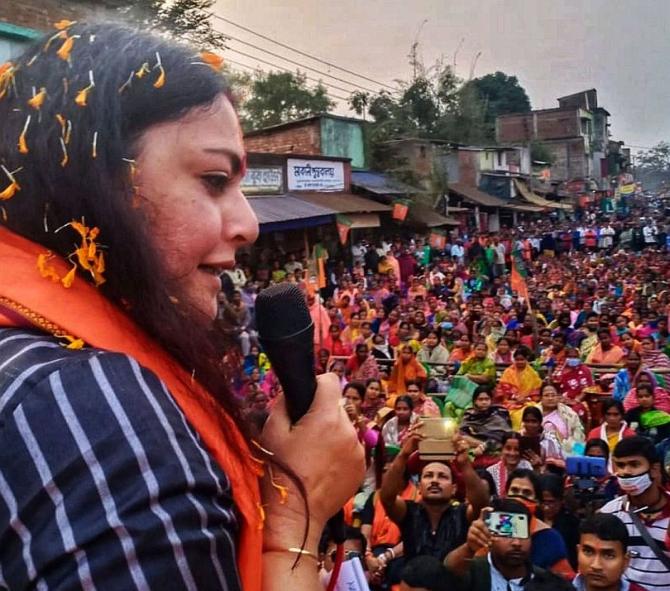 You have been working with women at the grassroots all over Bengal as the BJP's women's wing chief. What's the buzz?
We have spent the last few weeks, months, talking to the karyakartas, holding meetings and baithaks.
We are all working very hard, even if I say so myself.
From senior leaders to booth-level workers, the dedication towards winning the Bengal elections has to be seen to be believed.
There is genuine reason to believe that the BJP will form government in Bengal.
Our noble chief minister gives us ample opportunity to travel in Bengal because every other day women are being raped.
The police, who is in cahoots with the administration, will not register FIRs against the accused.
The feedback I have been getting from the people is that the BJP needs to come to power because after the Congress, the Communist Party of India-Marxist and now 10 years of TMC rule, people want real change.
Didi has completely fooled the people of Bengal.
In 2011, did you believe she would make a difference to the state?
Yes, she was voted in with such a huge mandate. She was gutsy and we respected her fight against the CPI-M government.
We thought she would be a different kind of CM, a woman who would stand with other women.
But the moment she ascended the throne, she changed. Or maybe that's who she was? When the Park Street rape case happened, she dismissed it saying, 'chhotto ghotona, shajano ghotona (a small incident, an orchestrated incident)', she transferred the police officer who said the woman had been raped.
The party's women leaders said the woman was in the flesh trade. So, does it give you the permission to rape? It was shameful.
Mamata Banerjee has put a bizarre rate card for rape victims.
A nabalika (minor) rape victim gets a compensation of Rs 30,000 from the government, a shabalika (married woman) gets Rs 20,000.
How can a woman fix a rate for rape? She did not say the accused will be arrested, or that a watertight chargesheet will be written and justice will be meted out to the victims.
I think Mamata Banerjee is mentally and physically finished.
She has also said that if you have a body, you will get fever. Similarly, if you have a body, you can get raped.
She blamed 'free mixing' for higher incidence of rape.
Well, BJP leaders are hardly the epitome of sensitivity. BJP leaders have said rapes happen in urban and not rural India, senior leaders have called out rape victims for being out 'late' at night.
Yes, there are statements given by our leaders, but they are not the official stand of the party.
Actress Saayoni Ghosh was trolled for saying she eats beef and posting a sketch of an AIDS worker putting a condom over a Shiv linga. My party called her a sex worker.
I have given a statement saying what my party said was wrong. We stand by the women of Bengal, irrespective of the person's political affiliations.
At the same time, let me say that our CM is clearly more bothered about the Hathras rape in Uttar Pradesh, but not rapes of young girls in her own state.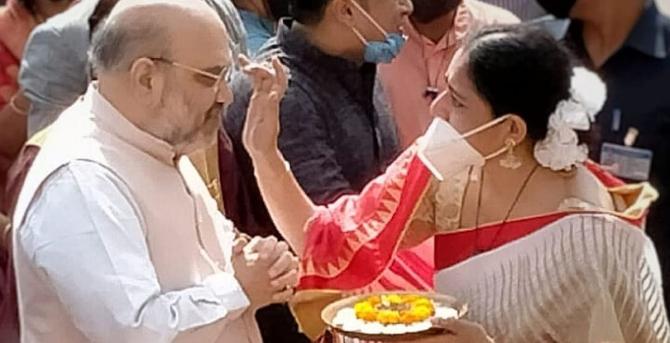 You joined the BJP in 2019. What has been your experience in that time?
There has hardly been a day when I haven't had to rush to help a rape victim because police don't register FIRs.
In Serampore, a tribal girl was raped, and her mother had to go from one police station to another to register an FIR.
The Mahila Morcha had to go to court and get an order and only then was the accused arrested. Is it possible for us to go to court for every case so that FIRs are filed?
In Diamond Harbour, Abhishek Banerjee's constituency, a BJP Mahila Morcha worker, Radharani Nashkar, was shot in the head by local TMC goons.
Miraculously she survived. She has a four-year-old son, they are poor. What was her fault? She's a BJP worker!
A month later, the same MLA's goons beat up a BJP worker and his pregnant wife. She had a miscarriage.
This is the condition of the state of West Bengal. But our honourable CM is so shameless that she will say the state is among the safest for women.
She's saying it because the NCRB 2018 report says Kolkata is one of the safest cities in India. Of the 19 metros in India, Kolkata has recorded the least number of sexual assault cases on women.
That's the 2018 report. What about the 2019 NCRB report? Why hasn't the government sent the data for the 2019 report?
I will tell you why. It's because the data will show the hugely spiralling graph of crimes against women in the state.
So, what you are saying is that the TMC is actively involved in every incident of crimes against women?
Yes, directly and indirectly. Rape victims have to be examined in government hospitals or the report is not accepted in a court of law.
Government doctors will do whatever the goons tell them because they fear they will be transferred or suspended or even sacked if they observe due diligence.
The same goes for the police; the FIRs will just disappear.
The message they are sending out is that if they have party connections nobody can touch them.
They believe Didi's blessings are with them. In 10 years, criminals have understood where Mamata Banerjee's affiliations lie.
However, you have to realise that generally victims come from the lower middle class or poor households. I'm not going into familial rape which is almost never reported.
So, when an incident happens, the TMC's local leaders will land up and brainwash the family against filing a case by saying the family will be shamed.
Compensation is handed out, land is offered. They are not directly involved, but suppression of a crime is indirect involvement.
But the CM has instituted schemes for women, including Kanyashree, that has won an UNESCO award.
How can Kanyashree be applauded? For the last one year all government schools are closed (due to the pandemic), but private schools run with online classes.
If you (Mamata Banerjee) are so concerned for the girl child, why didn't you facilitate e-learning in rural Bengal? All it requires is wifi connectivity at the centre of a village so that classes can be held.
Schools in rural Bengal have no teachers. Vacancies have not been filled up. There are no toilets in the schools. How will girls who are menstruating go to school?
Yes, she has given cycles, but what's the point?
Figures show that Bengal has the highest number of child marriages, highest number of missing girls, it's the state with the highest numbers in child and women trafficking.
There is a connection between education and missing girls, as you know, but unfortunately the state does not pay attention to this.
In Haldia, a girl and her mother were burnt alive. In Jaynagar, a woman was decapitated.
In north Kolkata, a young girl was raped, her teeth broken, her hair pulled out from the roots.
One would think that Mamata Banerjee's gender would make her more empathetic to women.
But we don't see any punishment being handed out to culprits in the last 10 years. Show me one case, one case, where the culprits were punished?
The solution is simple.
Mamata Banerjee has to go.
What are the five things you will change for women in a BJP-ruled Bengal?
Setting up fast-track courts so that justice can be meted out in two months.
Establishing women-only police stations throughout the state, so numerous that a victim doesn't have to hunt for a police station where she will be heard with empathy and not shamed and her FIR will be filed.
We will institute a system whereby police who help women victims are rewarded and those who deter justice are punished.
Ensuring every village, town in West Bengal is well lit.
Yes, Mamata Banerjee has put up Triphala (trident-shaped street lights) all over Kolkata.
Her two achievements for Kolkata are that she has painted the whole city blue and white (the TMC's colours), the colours came from her nephew's company; and bus stands with her picture next to Rabindranath (Tagore) and Netaji (Subhas Chandra Bose).
But in the villages there are no lights and so an ideal situation has been created for rape.
We will build bathrooms in villages so that when a woman has to answer nature's call after sundown, she doesn't become another victim of rape. We will build community toilets to start with and toilets in every home thereon.
We will increase police patrolling of highways.
We will make martial arts training compulsory for boys and girls in schools.
What responsibility has the party given you for the elections?
The Mahila Morcha is the frontline worker of the BJP.
Mamata has to face us first and then go on ahead. We have been given the responsibility of looking after the women of this state.
We make them aware of the programmes that Modiji has instituted like he Ujwala Yojana, Jan Dhan Yojana, Pradhan Mantri Awas Yojana, sauchalays.
We have started a programme called Kavach manned by women advocates, who fight cases for women pro bono.
Then we have Uma, the name of Durga, which offers a one-day training in martial arts for females from 12 to 30 years.
Unfortunately we don't have the budget for more.
We have Sarathi, a helpline number, that women can call whenever they are in trouble.
A Mahila Morcha team will be there to help them out.
We will hold in meetings in 250 constituencies, of which 95 are done. We can't go to minority-dominated assembly seats as we feel unsafe.
All this, despite the fact that the administration and the police are not with us.