'Mamata is campaigning hard and not giving the BJP a walkover.'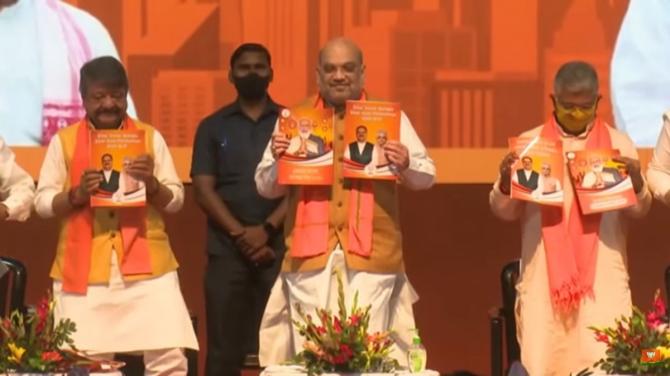 The Left Front government that ruled West Bengal for more than three decades had many flaws, but its achievement that no one can deny is that the state witnessed fewer Hindu-Muslim riots during Left rule as compared to the rest of India during the same time.
The Communists were able to keep the communal genie locked up in the bottle and ruled the state relatively peacefully, which had witnessed bloody Partition riots when East Bengal was carved out and made a part of Pakistan.
Things, however, seem to have changed in the 10 years of Mamata Banerjee's rule.
So much so the Bharatiya Janata Party, which had no presence in the state during the Left rule but grew by leaps and bounds under Mamata, is now trying hard to woo the 70 per cent Hindu electorate of the state, while Banerjee is confident that the 30 per cent Muslim voters will vote en bloc for the Trinamool Congress to keep the BJP away from power.
Rediff.com's Syed Firdaus Ashraf spoke to Neelanjan Sircar, assistant professor, Ashoka University and visiting senior fellow, Centre for Policy Research, about the coming election and the communal politics being played out in the state.
The Left Front ruled West Bengal for more than 30 years and we never saw communalism as an issue. What changed in the last 10 years that Bengal has become a tinderbox for communal issues?
If you look at Bengal's history, there have been several communal riots.
There were riots after Partition and later the 1971 War also created Hindu-Muslim tension.
So, it isn't that Hindu-Muslim tensions never existed to a very great degree in Bengal.
But yes, the CPI-M (Communist Party of India-Marxist) was very good at minimising those differences.
It's is not enough just to say (that it's a) Bengali culture thing.
Obviously, the Bengal version of CPI-M made its claim on some notion of Bengali identity, but it also did what was (necessary as an) institution.
People today forget that the CPI-M was quite against orthodox Islam as well.
For example, it was very difficult to register a madrassa with Gulf money which was not already registered with the state government.
Because they were Communists, there was intervention of the State in education especially, but in many other elements of society.
They did not allow outside funding either from Gulf or the RSS (Rashtriya Swayamsevak Sangh) in the state which could have a huge impact on local culture.
With the CPI-M gone, that level of State penetration in every element of society (has also gone). It is not something what the Trinamool Congress does.
And so, some of these other influences start coming in.
Some people think that polarisation of Hindus and Muslims is organic (in West Bengal) because of Partition and other reasons, but actually there are a lot of private actors with a lot of private money who have invested to create that division.
Since the CPI-M has gone, you see a lot of these actors pick up in West Bengal on both the Hindu side and the Muslim side.
Right wing supporters always highlight that Hindus were discriminated against during the Left Front government, which was never spoke about during the three decades of Left rule.
I will give you the academic perspective here as I am writing about religious voting in India.
Until the 1990s, it is not that Hindus didn't think as Hindus or Muslims didn't think as Muslims.
Even on the data that we have for Ram Mandir (movement), we see that Hindus don't care so much or that Muslims don't care that much.
These cleavages are created by political actors.
The idea that somehow (saying) the Hindu identity was suppressed is revisionist because that wasn't the way until the Ram Janambhoomi movement and the rise of the BJP, especially in the Hindi belt initially.
Until that (started) happening in great measure, that articulation of Hinduness does not exist in the Indian political system.
So, what do you even suppress? A lot of projects of modern Hindutva have been to re-litigate the history of India.
Like King Suheldev in Uttar Pradesh, who took on Muslim invaders, for instance?
Exactly. These are not the things that would have made sense even (then).
But now when you are allowing a certain revision of history that doesn't articulate which was history at that point of time, then of course you can say this happened or that happened.
I don't think there was a genuine attempt to actively suppress the Hindu population under the Left.
There were bad relations between the RSS and (then prime minister) Indira Gandhi as she wanted to keep them away from public life as opposed to suppressing the Hindu way of life.
Do Bengali Hindu voters think that they have been reduced to second class citizen in the last 10 years of Mamata Banerjee, which is what the BJP propagates?
There is a very interesting division and you see ulta (reverse) of what we see in the rest of India.
The upper caste population in West Bengal is not buying this (theory). In some sense, they are still (having) some version of Hinduism which was being practised during the Left rule.
And certain kind of Bengali culture icons and certain level of secularism.
And it is very difficult even today for the BJP to break that greater pool. That is very difficult to break in for them.
But in the hinterland, where you have much aggressive competition in Hindus and Muslims also on economic terms, and Dalits, tribals and Muslims living side by side, the aggressive economic competition has allowed certain political actors to come in and generate polarisation.
This polarisation is very real, but in certain kind of communities. You cannot necessarily call it the general Bengali phenomenon, but in certain parts of Bengal where you have direct competition among the scheduled tribes, scheduled castes and Muslims, like in areas of Malda, you see high levels of polarisation.
This is empirical phenomenon you see all over India.
If you see the (2017) Uttar Pradesh election results, the BJP's strike rate was highest where there is a moderate Muslim population.
Not too high or not too low. Because you are able to mobilise against Muslims and create polarisation.
You conducted a study where you said that extrapolating their performance of the 2019 Lok Sabha polls, it could be said that the BJP won 123 assembly seats. Is it a sure shot victory for the BJP in these 123 seats?
It is not a sure shot victory. The distance between state and national elections is very high. This is almost everywhere.
National election was about Narendra Modi and Rahul Gandhi. Rahul Gandhi is not that popular (unlike Modi).
Here you are voting for the state elections. And Mamata is popular in West Bengal and you see that in Nandigram.
The strategy of the TMC is not to give a walkover to the BJP in these areas.
You see the places in which the BJP won in 2019, Mamata is going and campaigning hard and not giving them a walkover.
The idea is that the BJP may have a lot of money, but their organisational resources are weak. So, you pin down their organisational resources to defend what they have, as opposed to letting them advance.
For example, Suvendu Adhikari is an organisational man. You don't want him to go and be able to spend time and build up the party. He has to fight his own political fight first (as Mamata Banerjee is contesting against him).
That is a very conscious strategy from the TMC.
The BJP has the power of money and power of State institutions, which is why eight-phase elections.
The TMC, on the other hand, has the power of organisation. People are making a big hue and cry over these defections from the TMC to the BJP, but you have to understand these defections are by design.
They are trying to minimise party cadres in the TMC that will actively work against them, that happened in 2019, and you are creating dissensions within the BJP ranks.
It is a huge problem for the BJP. Dilip Ghosh (state BJP president) has got a smaller role now which is weird because he is responsible for the success of the BJP in 2019.
I think they felt they could not take the next step without them (TMC rebels).
A lot of people (in the BJP) are very upset.
Suvendu Adhikari was a TMC strongman and you have been complaining against him all the time and now he comes to your party and you give him your starring role. This creates a lot of anger.