'If you behave like a nail, the adversary will behave like a hammer.'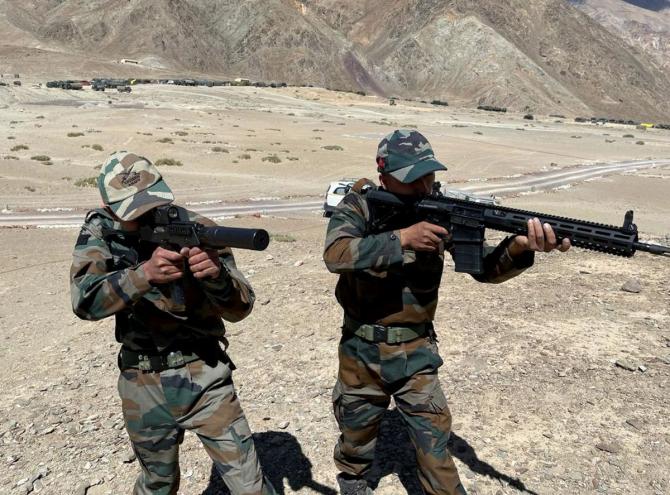 "We need to strategically comprehend and connect the dots over the past 20 months to understand China's strategic behaviour in the Eastern Ladakh impasse. Unless we understand this, I'm afraid we will respond tactically or operationally, but not strategically to our nation's threat number one," Lieutenant General A B Shivane PVSM, AVSM, VSM (retd), tells Rediff.com's Archana Masih in the first of a detailed two-part interview.
General Shivane -- a second-generation officer who served the Indian Army for 40 years -- was director general mechanised forces and previously commanded the 50 Armoured Regiment during Operation Parakram. He has also served in the Srinagar-based XV Corps and was GOC of the oldest Strike Corps.
The distinguished scholar-soldier has been part of many studies about the future planning, restructuring and rebalancing of the Indian Army.
Satellite images show that a new bridge being constructed by China to link the north and south banks of Pangong Tso lake. How do you see the threat dynamics over the last 20 months impasse?
I would look at the Chinese challenge through a larger prism to understand the strategic canvas.
The Chinese have undertaken a series of activities in the last 20 odd months. I will connect those dots and then give my impression of the recent activity.
Firstly, the Chinese transgression in April-May 2020 unilaterally disturbed the status quo of the Line of Actual Control and resulted in a major physical clash between the Indian and Chinese troops.
The Chinese got a bloody nose and were surprised by the Indian response both in intensity and speed of build-up of forces to deny any further gains.
Secondly, the Indian Army's counterstroke to dominate the Kailash range in August 2020 operationally dislocated China both physically and psychologically. It put them at disadvantageous position particularly in the Pangong Tso sector and their global military image got a dent.
Our lesson was that once again strategically and operationally we were taken by surprise by China in spite of indicators. Possibly, we had underestimated the intent and magnitude of the threat on the northern border. This could be because of our primary focus on the western border against Pakistan and counter-terrorism in Jammu and Kashmir.
What clearly emerged by the end of 2020 was the realisation by both sides that war was not the solution, yet there were flashpoints which could flare up. Hence there was a need to de-escalate.
The de-escalation had to be done so that it could be a face-saving exercise at both ends -- and that was a challenge.
More dots got connected in 2021 and as a precursor to 2022 to convey their strategic intent which I could convey in subsequent questions.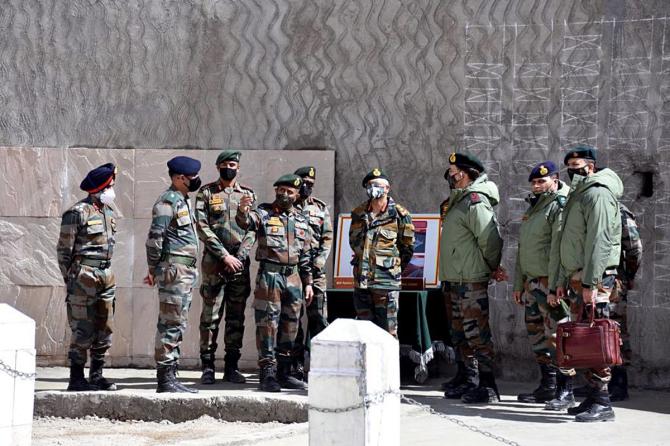 De-escalation has been partial and China has refused to pull back from other areas. How do you view this deadlock?
There was partial de-escalation in February 2021 after several rounds of diplomatic and military talks. Both sides pulled up on their sides of the perception and a buffer zone was created in North Pangong Tso and Galwan.
But more importantly, it was at the cost of our withdrawal from the Kailash Heights which was hurting the Chinese most.
Our withdrawal was based on the caveat that this would be followed up by a series of talks to address the entire canvas of other friction points and de-escalation would be progressive.
But by the 13th round of military talks in October 2021, China hardened its stance towards our requirement of status quo ante April 2020.
China refused to complete the stalled troop disengagement at Patrolling Point-15 in the Hot Springs-Gogra-Kongka La area. The stand-off at the Charding Ninglung Nallah track junction at Demchok and the Depsang Plains became even more intractable with their hardening of stance.
Their commitment to de-escalate in these areas was never met because the Kailash Heights was no more hurting them.
By the end of 2021, India China relations except for trade continued to deteriorate. In fact, the balance of trade became even more adverse to India as trade between the two countries continued to expand giving additional leverage to China.
Some of the parting shots of 2021 were very significant. On October 23, China adopted a new land border law which was to be effective from January 1, 2022.
Its prime purpose is 'protection and exploitation of the country's land border areas'. De-facto border disputes came under the purview of China's sovereignty and territorial integrity. Thus, resolving disputes not only became a greater challenge but added an aggressive intent.
It indicates that China could militarily respond to any activity it perceives as a violation of its territorial integrity and sovereignty.
The law was a strategic message through a legal statute again in lines with its three warfare strategy.
Additionally, it came up with some model villages in several areas and accelerated infrastructure including Skardu air base in PoK near Leh.
China has thus created conditions for a militarised solution to the boundary issue and reinforcing claims that its people are already residing there and that area legally belongs to China. This makes the resolution of disputed areas even more untannable.
Towards the end of December 2021, it also renamed 15 villages in Arunachal Pradesh. How should India respond to such developments?
Of the 15 places in Arunachal Pradesh -- 8 are residential areas, one mountain pass, 2 rivers and 4 mountains.
The larger strategic message was that Arunachal Pradesh has not been forgotten and China will continue to apply military or strategic coercion in those areas.
We, of course, came up with a response statement, which I thought was a little soft than what it should have been.
We said that this is not the first time China has done this and irrespective of their claims Arunachal Pradesh continues to be an integral part of India.
On the same day, the political counsellor of the Chinese embassy wrote a strongly worded letter to some members of Parliament, which included a Union minister, almost castigating them for attending a dinner reception hosted by the Tibetan government in exile.
And again, we did not give a befitting diplomatic response to that letter. So if you behave like a nail, the adversary will behave like a hammer. We need to add both content and resoluteness to our strategic messaging.
China only understands strength which we do not lack, yet convey timidly.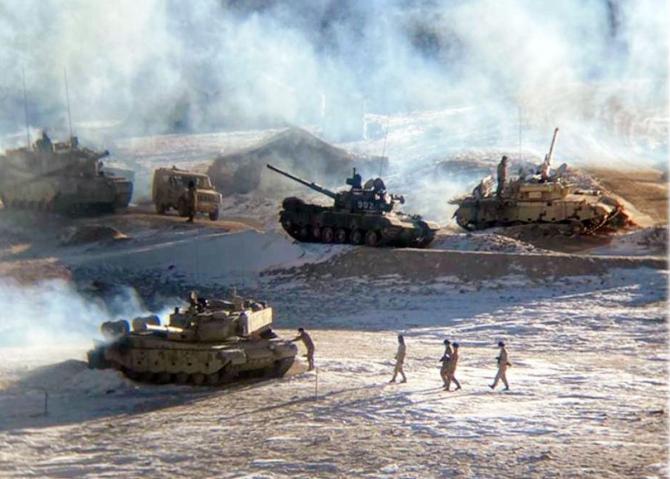 Against the background of these past hostile activities by the Chinese, how alarming is the construction of the bridge near Pangong Tso lake?
There are more than 50,000 troops facing each other on either side along with military equipment, tanks, missiles, artillery etc, besides readiness of air force and navy.
The situation remains volatile.
We must appreciate that any professional military will address its own vulnerabilities and shortcomings. The Chinese action is thus a natural outcome of their vulnerability in South Pangong Tso.
The Chinese are thus building a bridge on Pangong Tso as well as new roads and helipads around this area.
Similarly we continue to upgrade our operational preparedness and address vulnerabilities both in terms of infrastructure, force modernisation and force posturing.
Our defence minister also inaugurated 27 projects by the Border Roads Organisation in December, including the highest motorable road in the world through Umling La at 19,300 feet.
In 2020-2021, BRO has completed over 100 projects. Upgradation and development of infrastructure to address vulnerabilities has been undertaken by both sides in their own areas.
China has addressed its vulnerabilities in Pangong Tso because it realised the interplay between the North and South Pangong Tso Sector to prepare for any future contingency.
They have chosen Khurnak, 40 kilometres east of the LAC in their area where Pangong Tso is narrowest, to construct prefabricated structured bridge. The bridge is being constructed, aimed to shorten an alternate route to south.
Thus, it is not an alarming development because both sides are building up military infrastructure to counter future threats.
The larger issue for us is to expedite our operational preparedness and address asymmetries across all domains. Capabilities take time but intentions can change very fast is a lesson we must learn from the Chinese repeated behaviour.
China also raised its flag near Galwan on New Year Day. What is China's aim behind such provocations?
The Chinese state media shared two videos:
1. PLA troops training in the Tibetan Plateau and saluting the national flag. Thereby, sending a message that we are continuously deployed in the Tibet Autonomous Region.
2. PLA greeting the people of China from inside their own territory in Galwan Valley. None is a violation to the dispute.
Yet we must understand the message they are conveying.
Their backdrop of the Galwan Flag incident had what was carved on the rock in Mandarin -- 'Never yield an inch of land'.
A report on the New Year celebrations by the nationalist Global Times tabloid mentioned the raising of the national flag at places across China in its opening paragraph, but named only two locations -- the Hong Kong Special Administrative Region and the Galwan Valley.
This was followed by the representative of State media tweeting the picture of the Chinese flag at Galwan, stating that it was the same one that was put at Tiananmen Square.
What was the strategic message and for whom was it meant? There is no ambiguity in its aggressive overtones and strategic messaging. It is part of their psychological warfare and strategic coercion.
Events are thus not as important as the strategic messaging there are trying to convey.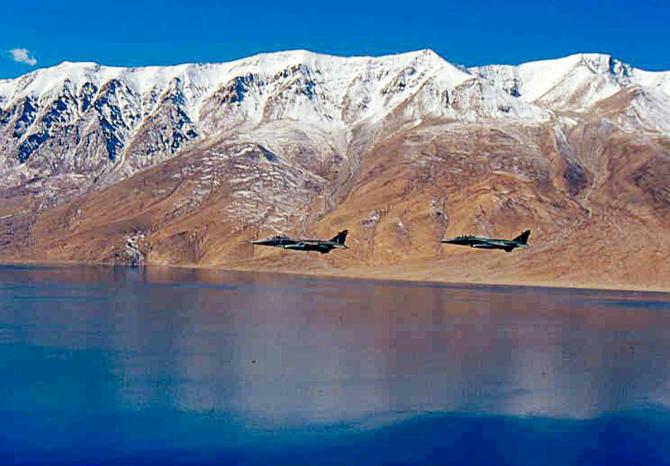 What is the Chinese game plan? Its end game?
There are, therefore, four elements of the Chinese overture which can be related to what I mentioned of connecting the dots and strategically understanding China in our response mechanism.
First, unilaterally and militarily change the status quo ante April-May 2020. Develop a larger, permanent physical presence in areas of dispute and consolidate by additional infrastructure over a period of time.
Two, coercive diplomacy whereby China couples its threat of limited military action with diplomatic effort designed to persuade, in this case, India, to change its policy or behaviour.
The strategy is to put the onus on India -- to blame India for the confrontation and gradually bring in a change of opinion until the new status quo is accepted.
The Chinese goal is to ensure that the target country whether it is India or South China Sea do not counter China's consolidation and accept a new incremental status quo over a period of time.
China wants to compel these countries into bilateral negotiations to buy time, but continues to hold this leverage.
We have seen this happening by the hardening of stance after the 12-13th round of talks.
Third, China uses legal rhetoric to present its position as legitimate and lawful by bringing in the land border law. They will start legitimising their claim in territorial disputes, along with an aggressive response, should it be threatened.
Lastly, China leverages its government-controlled media to highlight this narrative and issue threats as part of its information warfare.
So it is not the Chinese flag in Galwan, but the message in Mandarin on the rock and media content. It warns countries not to underestimate China's resolve and its people's determination to protect their sovereignty.
This is part of their strategic culture and leadership behaviour of the CCP (Chinese Communist Party) which is getting translated to ground.
This is the larger picture we need to understand and connect the dots to understand China's strategic coercion.
Unless we understand this, I'm afraid we will respond tactically or operationally, but not at the strategic level to China which is our nation's threat number one.
It requires a whole of nation approach and an integrated deterrence mechanism across all domains and instruments of national power.
China's principal aim towards India must leave no ambiguity to retard our growth and stature regionally and globally. It increasingly asserts itself, seeking to regain its centrality in the international system and dominate global governance institutions.
The CCP's approach is distinctive in that it imposes coercive measures as punitive actions justifying it as preservation of its core interest with inbuilt flexibility of escalating or de-escalating situations.
Thus, Chinese international behaviour stand out in its cultural, political, economic and military dimension indicating its strategic coercion strategy.
We need to discern his strategic intent to be able to defeat his designs.
Feature Presentation: Aslam Hunani/Rediff.com