'Once positions are hardened and troops start building defences, it is difficult for soldiers to step back.'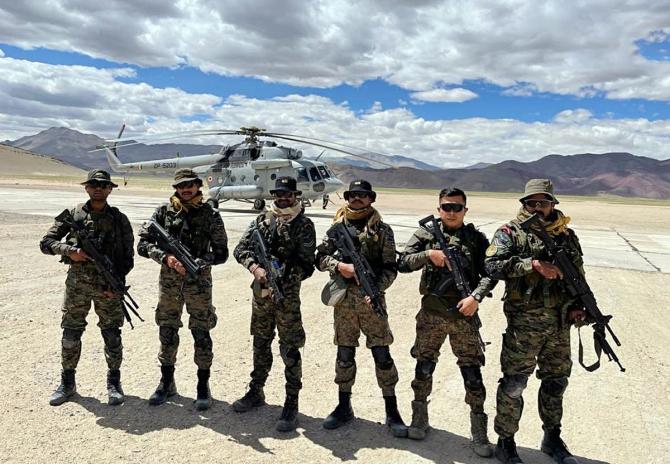 "It is nearly 20 months since the standoff. Achieving status quo ante would have been easier if positions had not been hardened," says Lieutenant General P J S Pannu (retd), former commander of the Leh-based XIV corps, which is in charge of the China border.
The general served several tenures at the Line of Actual Control during his four decades of service in the Indian Army. As the India-China enters the 20th month of the standoff, he discusses the situation with Rediff.com's Archana Masih.
The statements put out by both countries after the 13th round of military talks were indicative that the positions taken by the two sides are very far apart.
The PLA appears unwilling to restore the status quo ante of April 2020.
What options does India have?
The option is to continue the military dialogue.
Sometimes negotiations take an extended period of time to fructify. A prolonged standoff also indicates that both countries are hardening their stance on the LAC.
Once positions are hardened and troops start building defences, it is difficult for soldiers to step back.
The hardening of the LAC is detrimental to the interests of both countries. It also runs contrary to the spirit to achieving status quo ante.
When troops are deployed on the border for a prolonged period, their military infrastructure is pushed forward to a point where the line gets hardened and stepping back becomes much more difficult.
It is nearly 20 months since the standoff. Achieving status quo ante would have been easier if positions had not been hardened.
When positions become hardened it becomes difficult to look for reasons to achieve status quo ante.
As a former corps commander, how do you see the situation ahead with both sides hardening their stands?
The months ahead are going to be challenging for both sides.
Externally, the Chinese military actions have become more pronounced and aggressive.
As far as Quad is concerned, it is not a military alliance. But a number of joint military exercises have built a perception of it shaping into a military alliance.
China propagates and responds to this perception -- therefore a new military divide is palpable.
India aims to maintain strategic autonomy, but with partnerships where interests converge.
The Russians would also go by their interests and take advantage of the situation, whatever suits them.
Whether a new Cold War situation is shaping up or not is too soon to tell, but all the circumstances that resulted in the Cold War are evident today.
India had no role to play in the previous Cold War, but India will be on the frontline if there is another Cold War.
It will be a matter of concern if such a situation does arise because India will then become part of a military arrangement.
Currently, there is no formal military cooperation with other countries, but if the Chinese take a more aggressive stance, then such a military arrangement may become more possible.
In that case, India will be involved in a military alliance for decades. History shows that the Cold War which began at the end of the Second World War continued till the dissolution of the Soviet Union in 1991.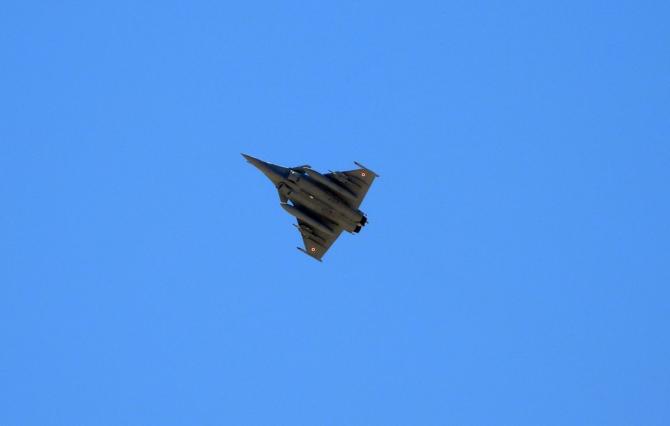 What would a military stance by India actually mean?
Although a number of military exercises have happened among the Quad member countries, the Quad is currently not a military arrangement. There is certainly a military understanding between these countries.
The coming together of Australia, USA, Japan and India shows that another alignment is taking shape.
Considering the current state of America-China relations, a military standoff over Taiwan seems very possible.
In such a situation, while India is well equipped to manage its own land borders, the Indian Navy may see some movements in the South China Sea.
India doesn't have a direct role to play in the South China Sea, but will certainly be involved in the Indian Pacific Ocean.
As a result, I am little concerned about the direction that the current situation is taking.
The Chinese took the initiative of aggressive militarisation and it is they who can mend their ways.
There are several friction points on the LAC that are yet to be resolved including Hot Springs, Depsang, Kurang Nala, Demchok. What is the possibility of resolution and disengagement from these areas?
These areas are disputed because our lines of perception run towards them and their lines run towards us.
The area between these two lines is disputed. Previously the troops would come towards each other and return to their bases.
This time the Chinese troops came forward and did not return.
If that had been the only issue, then it would have been easier over a period of time to negotiate full status quo ante by some adjustment to a mutual comfort level.
Thereby, we could have retained some of our positions and they could have done similarly until full status quo ante was achieved.
But the point is that if the Chinese wanted to agree on status quo ante, why would they break it in the first place!
China wanted to prove that negotiations are not the answer and that they want physical occupation. Once they have taken that stance, why would they go back on the negotiation table!
They came prepared to occupy these areas.
Secondly, the Galwan casualties -- the first since the 1962 War -- resulted in both sides giving their own perceptions to their people.
It is difficult to withdraw after suffering casualties because the leadership has to then explain its move to their own citizens.
Hence, the military standoff became more intense till February 2021 when both sides decided to start winding down.
The winding down north and south of Pangong Tso was in equal measure, but movement in other places has been unequal. Therefore, there is lack of confidence.
There will be more and more trouble unless this confidence returns.
China is very conscious of its image. It wants to be the sole superpower and a challenger to the USA.
China does not want to appear militarily weaker against India because that would give their image a beating.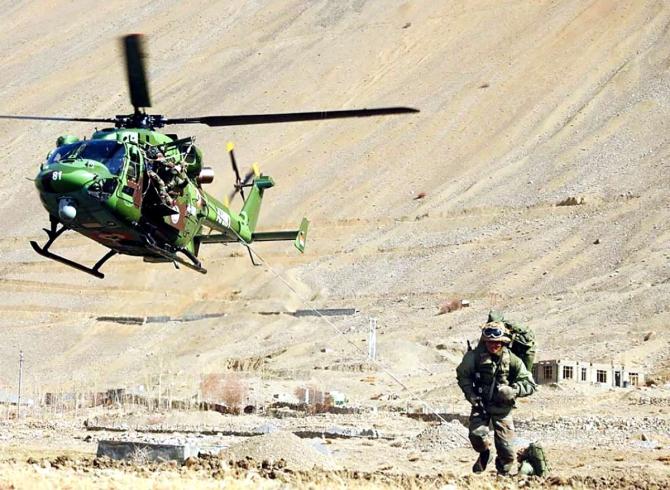 What do you think is Xi Jinping's end game?
Xi Jinping wants to make China great. The strategy to hide their capabilities and bide their time is over. The Chinese are no longer biding time, but racing ahead of time.
They are not hiding their military capabilities, but trying to showcase them.
It is a complete reversal of hiding and biding. The Chinese are pushing with force projections which is opposite of hiding and biding.
Feature Presentation: Aslam Hunani/Rediff.com