'The Chinese fault lines are tremendous and we need to exploit them.'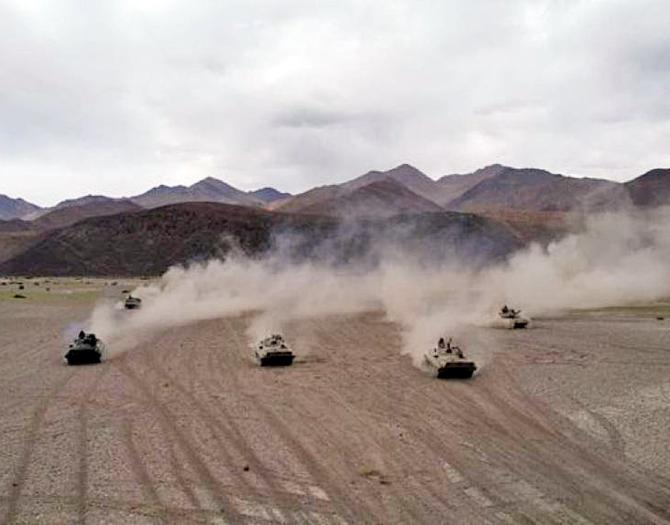 "India is respected in the world, unlike China. We have so many leverages in the global community to play up with, but we still wish away from taking the name of China and sending strong messages of intolerance to its revisionist behaviour," notes Lieutenant General A B Shivane, PVSM, AVSM, VSM (retd), former director general mechanised forces who commanded the 50 Armoured Regiment during Operation Parakram.
He has also served in the Srinagar-based XV Corps and was GOC of the oldest Strike Corps.
The distinguished scholar-soldier has been part of many studies about the future planning, restructuring and rebalancing of the Indian Army.
"Denial of Chinese strategic coercion will be a notion of victory for India," asserts the general as he discusses the India-China military impasse in the concluding part of his interview with Rediff.com's Archana Masih.
How should India be responding to China's actions?
A multi-faceted and integrated approach to deterrence and warfighting requires capability, capacity and credibility to strategically communicate and dissuade aggression or deny coercion.
The aim is to deter, dissuade, deny, dominate and not yield any strategic advantage be it physical or cognitive to our adversaries.
Defeat or victory in such conflicts has become more perceptive and ambiguous. Thus strategically, we have to first understand what is the notion of victory in the Sino-India context of recent impasse.
The notion of military victory against China in my mind rests on denying China its military coercion aims and embedded political objectives. In the present impasse, militarily it is status quo ante April 2020.
This would amount to politically subduing Chinese politico-military objectives and therefore a notion of defeat for them in the eyes of their own people and more importantly the world.
Denial of Chinese strategic coercion will be a notion of victory for India. We thus require a counter coercion strategy with a credible denial cum domination conventional deterrence.
In the mould of Sun Tzu's classical dictum of 'winning without fighting' as war is not the likely option anymore.
Our present military strategy entails managing threats on its disputed border only by 'defensive holding' psyche with attritionist force on force application rather than 'offensive domination' and manoeuvre warfare orientation with multi-domain technology ascent.
No doubt, boots on ground are essential for territorial integrity, but wars are won or lost more in the mind.
This has become even more important and visible in 21st century warfare.
We need a more offensive defence strategy of domination and denial which aims at pre-emption of a threat, dislocation by counter actions and disrupting his politico military aims by a whole of nation approach.
We have to understand the aspects of 'denial versus defence' and 'domination versus holding'.
Denial seeks to make conflict/coercion look bad to the enemy, while defence seeks to make conflict/ coercion better for oneself by stalling the aggressor.
Similarly, ground holding mindset brings in reactive ethos and predictability, whereas domination brings in aggressiveness and unpredictability.
So denial and domination weighs more heavily on the adversary's mind and targets his will which is equally if not more important than his capabilities.
This requires an integrated deterrence by which I mean integrated across all domains, be it conventional, nuclear, cyber, space, electro-magnetic spectrum, or informational.
Also it means integration of all instruments of national power.
Thus, managing China both in peace and war requires collaborative military, economic, informational, diplomatic and political levers to deter its revisionist designs and coercive behaviour.
Militarily deterrence against China is a more challenging form of denial with the present asymmetry particularly in the non-kinetic domain.
It must thus entail an offensive defence strategy along with in situ limited offensive pre-emptive capability along with standoff precision capability and real time C5ISR.
This would dilute China's aggressive posture by forcing him to divert resources to his defence, taking cognitive war to the enemy's territory and increasing the perceived political cost of aggression.
A sample of what was done at the Kailash range recently. Simultaneously, we need to invest more in the non-contact warfare especially space and cyber.
Our weakest link is information warfare which is, in fact, a Chinese strength. In my view, we are not adequately communicating from a position of strength to China. We remain reactive and mild.
Strategic communication and information warfare is an important facet of a nation's deterrence in the 21st century.
Also, while we adopt the strategy of denial, we have to be prepared for the worst. We can engage with China militarily and diplomatically, but we have to catch up on the gaps in technology and infrastructure.
We have to focus at a tri-service approach which enables an integrated deterrence. We certainly have an advantage because of our forward air field locations and we also have leverages at sea.
We need to doctrinally, operational, structurally and most important culturally build up and optimise our tri service integrated capabilities.
Like I said earlier, China only respects strength. Our capability building takes time, but the threat has already manifested, hence we need to look at this with a greater sense of urgency, provision of matching defence budgetary support, shortening procurement time cycles, and galvanising our domestic defence industry to meet our future requirement.
Lastly, we have to look at the economic angle to geopolitics and deterrence. We cannot afford to have military and diplomatic confrontation on one hand and continue with a robust economic relationship with our adversary, which will strengthen their leverage against us.
Delinking no doubt takes time and has inherent complexity, yet we need to show greater will and outcomes with China.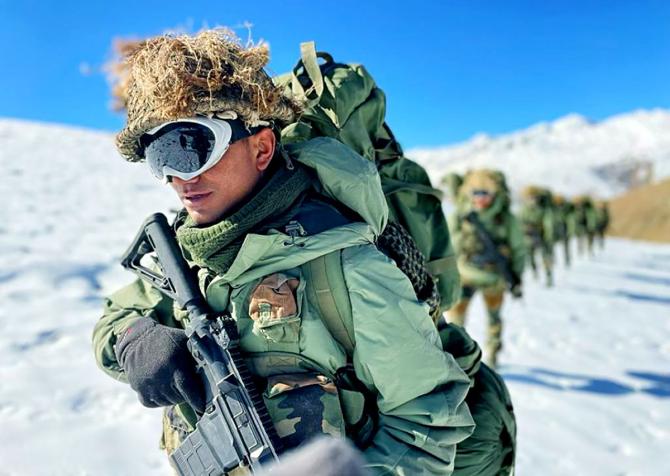 What tone and tenor is the Chinese stance likely to take in 2022?
I hope I'm wrong, but I don't see a change in the Chinese present stubborn stance and reversion to the status quo ante April 2020, the immediate concern.
I also feel that the Chinese strategic coercion and information warfare will continue to manifest unless we proactively and aggressively respond to their actions as also undertake certain strategic messaging in multi domains as quid pro quo to send a clear-cut message.
Finally, it is about countering the Chinese strategic coercion -- whether it is through enunciating of our National Security Strategy and sending a clear message like the Chinese white paper on national security.
We should state what are our threats and what will be our responses. Unless we have a clearly stated national security strategy, we will lack coherence in our response policies and decision making apparatus.
China and the world must know how we will resolutely tackle threats to our national security. It can have a classified and a public content. But I do not understand why should there be ambiguity when the adversary behaves in such aggressive terms?
Thus, the Chinese strategic coercion and information warfare will continue in 2022, unless we change our strategic outlook of addressing China proactively rather than being reactive.
We have the capability. The Chinese fault lines are tremendous and we need to exploit them. India is respected in the world, unlike China. We have so many leverages in the global community to play up with, but we still wish away from taking the name of China and sending strong messages of intolerance to its revisionist behaviour.
Why should we have this inhibition or defensive mindset which has been built in over the centuries?
We are a strong nation capable of a strong response to any threat to our national security today. We are the only nation which has given a bloody nose to China. We have to communicate as a strong nation, address our vulnerabilities and play up our strength against the Chinese Checkers in the spirit of the statecraft of Kautilya's Arthashashtra and military acme of Chhatrapati Shivaji.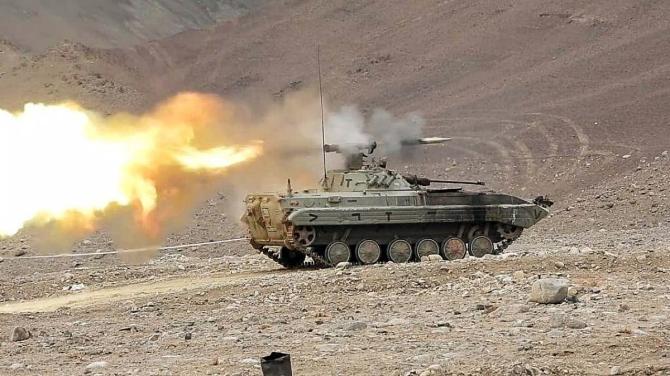 The Indian Army has moved Rashtriya Rifles into the Ladakh theatre. Does this mean there is an enhanced level of threat from China?
We have realised that the northern border is our primary threat and therefore there is the need to reorient, rebalance and build capabilities in that area.
Today, both sides have built up forces and improved border infrastructure. So moving additional forces is part of our response strategy matching the primary threat without diluting the Western Front or internal security domain.
Long ago we have clearly identified China as threat number one and suggested measures to address the same. It is ironical that our execution progressed at a slow pace and Galwan was a wake-up call.
Yet presently we have reoriented our Strike Forces, RR towards the Northern Front and also addressed vulnerabilities in other areas of LAC both in terms of force and capabilities.
Our force posturing today has to have an offensive defence content accordingly. To my mind it must entail:
1. A forward deployment that will deter, deny, defend and dominate. The focus must be on domination and denial.
2. Certain integrated battle groups with in-situ offensive capability that can be immediately launched into areas from where threats manifests and pre-empt it.
3. Certain offensive and defensive reserve forces -- sectorial and central which can be moved up using the new infrastructure to beef up those areas that have come under threat or to pose a counter threat to dislocate the enemy.
This must be a part of the force posturing and force application continuum. But we must ensure that our rebalancing, reorientation and restructuring also has an offensive element both as forward deployment as well as reserve in terms of integrated battle groups for offensive denial and aggressive domination.
Feature Presentation: Aslam Hunani/Rediff.com