'I don't see how any Indian government or any Indian military leadership can now ask the soldiers to patrol without weapons.'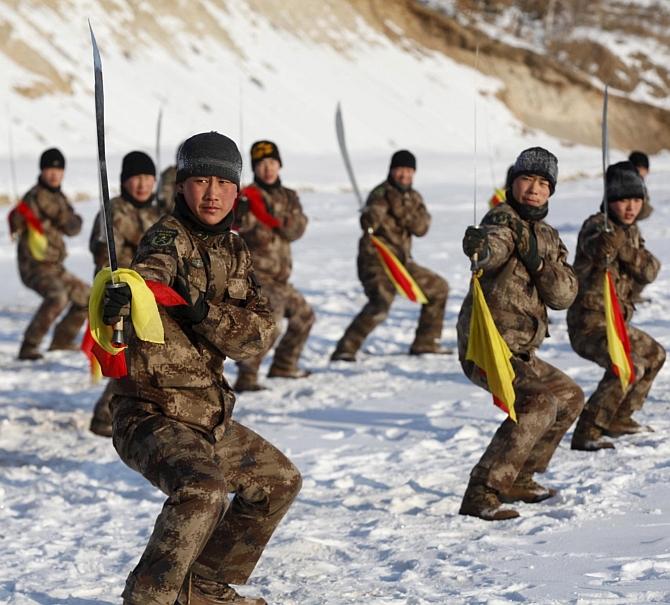 "We are much closer to a bigger conflict now than we have ever been in the past," strategic affairs expert Sushant Sareen -- Senior Research Fellow at the Observer Research Foundation and author of Corridor Calculus: China-Pakistan Economic Corridor & China's comprador model of investment in Pakistan -- tells Prasanna D Zore/Rediff.com.
The first of a two-part interview:
What action of the Modi administration has rubbed China and Xi Jinping the wrong way? What explains the Chinese misadventures in Ladakh?
I don't think there's anything which the Modi government has done which has made the Chinese adopt such an aggressive attitude (towards India).
A lot of people talk about maps being issued, about the division of Jammu & Kashmir, making Ladakh a separate Union territory. But nobody has ever explained how all this changes the larger conflict between India and China.
Maps which were issued after the bifurcation of the erstwhile state of Jammu and Kashmir were the same maps issued earlier except for new internal demarcation.
India claims the whole of Aksai Chin -- where is the debate in that? That is precisely the issue of dispute between India and China.
So, clearly it (the Chinese moves in Eastern Ladakh) doesn't have anything to do with the stand-off. At best this is an excuse, not a cause for what's happening.
The second narrative is how India's border infrastructure development is riling the Chinese. Now, if indeed that is the case, then I'm afraid that is China's problem, and not India's.
Is India going to decide what it does on its side of the LAC on the basis of China's likes and dislikes, or to satisfy China?
Does China keep India's concerns and sensitivities in view when it does what it does on its side of the LAC?
What entitlement do Chinese have that India needs to be sensitive to their concern?
And what inferiority complex is there within the Indian mindspace that because the Chinese don't want us to do something that would rile them and so India should not do it even though India don't like what the Chinese are doing.
Why can't we have the same standard for both sides?
If the Chinese can build (road infrastructure for movement of military) up right up to the LAC, then why can't India build (road infrastructure for movement of military)?
Therefore, the argument that India's infrastructure development has provoked the Chinese is completely untenable and disingenuous.
The third argument, which I find the most plausible, is that the Chinese are nibbling into Indian territory because they are able to do it.
And they have been consistently doing it; taking it (Indian territories) in small bites so that it doesn't become a big issue and escalate into something bigger.
And, after a few years, the entire complexion of the LAC has changed, which is what has been happening. So somewhere along the line, you have to say this far and no further.
This is something that every farmer in India who tills or owns some land also understands. He knows that if he accepts encroachment from his neighbours the other guy will take him for a weakling and a pushover and keep grabbing his land.
So, at what point of time do you say this far and no further?
I think that time has now come (for India in the context of Chinese activities in eastern Ladakh).
If India doesn't draw the line now, the Chinese will be right in thinking that they can always intimidate India.
What is China's intent behind doing what they are doing right now?
I suspect there could be two or three things. One is keep testing India's resolve to keep seeing how far they can push, to see how much territory they can nibble at. That is clearly their intent.
Are they actually looking for a fight?
In the current instance, I certainly don't think so. Because had they been wanting to enter a larger conflict, they would not be making the kind of noises they have been making at the official level.
At the official level, they want to reduce the tension even as they continue to stake their claim to territory which falls on India's side of the LAC.
More importantly, they haven't yet agitated the street (the Chinese people to create a mood for battle with India).
Normally, when the Chinese want to get into this kind of a mood to intimidate the other side, they use psychological warfare, main component of which is to excite the street.
The public pressure kind of provides them with a justification for moving ahead or at least not backing down and also building up this whole climate against a particular country. That hasn't happened till now.
They have played down their casualties. It might be on Chinese social media, but the official (Chinese) media is very quiet about it.
Why would China downplay the casualties -- the dead as well as injured -- on their side if China is trying to portray India as an aggressor?
If you are portraying India as an aggressor, and you are not admitting that India have delivered a number of blows to you, then what are you trying to do?
At one level, by portraying India as the aggressor, China is emphatically asserting the correctness of its actions; at another level by not acknowledging its own casualties, China is trying to keep a control over the dynamics of the situation.
Because once you make public the casualties the pressure from the street mounts and forces the hand of the government.
The greater the noise in the street, the more limited is your space to maneuver at the military level.
Like, for example, in India people are demanding a response (to the martyrdom of 20 Indian soldiers).
If the Chinese wanted a bigger conflict, they would not have waited out as much as they have.
Now, this does not mean that we have avoided the bigger conflict for all times to come; far from it.
We are much closer to a bigger conflict now than we have ever been in the past. Because going forward, I think things are now completely broken as far as the border mechanisms or SOPs (standard operating procedures related to the movement of troops and face-offs) are concerned.
I don't see how any Indian government or any Indian military leadership can now ask the soldiers to patrol without weapons.
The era of batons and sticks is over. I don't see how sticking to the old protocols is going to wash down anybody's throat anymore.
The instruction now will be if any Chinese come with a baton or barbed wire, shoot the chap dead.
So, you feel that this Galwan Valley attack in which 20 Indian bravehearts were martyred could snowball into a major conflagration sometime later?
I think that possibility has come a lot closer now then maybe what it was a week back.