'If the situation escalates, then mini-scale firing might happen.'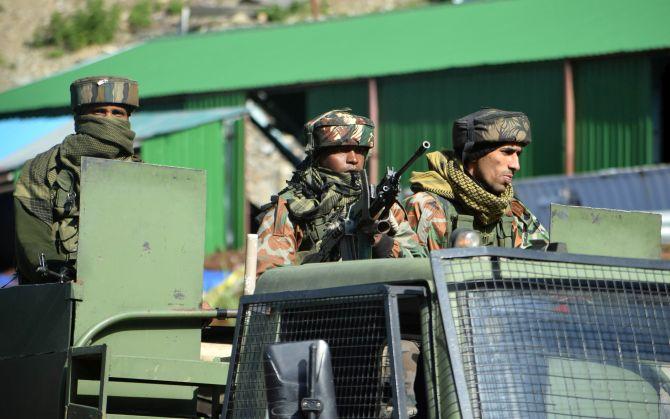 "China is a suspect power and it cannot be trusted," Dr Jagannath P Panda -- research fellow and centre coordinator for East Asia at the Manohar Parrikar Institute for Defence Studies and Analyses -- tells Rediff.com's Syed Firdaus Ashraf in the concluding segment of a two-part interview.
China asked India to punish those who started the Galwan clash from the Indian side.
The Chinese are in denial.
They are denying the truth to their public.
They are denying the truth to the South East Asian countries about the South China Sea and now here on the border issue too to India.
China is not a transparent country.
This comes through from the Chinese foreign ministry statement.
They are levelling accusations against India by stating that we are violating the ceasefire, but on the contrary the Chinese do not want to exchange maps of the LAC (Line of Actual Control) and they are putting the blame on India in order to maintain an upper edge politically or diplomatically.
Besides, they want to portray a picture to the Chinese people that how India is maintaining an aggressive posturing vis-à-vis China.
From Mao Zedong to Xi Jinping, do all Chinese regimes consider India their enemy?
The Communist Party of China which rules China is non-transparent.
Xi Jinping may end corruption to some extent, but to finish off corruption in China is not easy because the entire framework, its leadership and rule is based on a corrupt framework, and based in an opaque manner.
They are non-transparent.
They are a suspect power and we have seen this in each president's time, whether it is Mao, Deng Xiaoping, Jiang Zemin, Hu Jintao or Xi Jinping.
It continues to be a suspect power and will continue to be one.
When Xi came to power in 2013 everyone thought a new era would dawn, what with his ambitious One Belt One Road project etc. But now it looks like he is taking China back to Mao's era where China fought a war with India in 1962.
Xi Jinping wants to make a mark on the Chinese people that how strong China as a nation is (under him).
He is doing it because next year the CPC completes 100 years of formation.
He is doing it because he wants to show the people of China that the CPC is the ultimate party for China's future.
He is doing it because he is the chairman of the CPC, commander in chief of the PLA and the president of China.
Xi Jinping is no different from Mao Zedong.
In fact, Xi Jinping appears to be a weak leader.
The activities we see from the Chinese side in South China Sea and on the India-China border in recent years, these exhibit a sign of a weak leader who is failing to manage China's domestic governance issues effectively.
Why is India's road building at the LAC so worrisome for China?
Two things are bothering them.
One is the Bharatmala project of the Narendra Modi government.
We are building lots of roads and doing infrastructure work on the border.
Secondly, India is showing greater alignments with the USA and other democratic countries in Indo-Pacific.
A week back we upgraded our partnership with Australia to a 'comprehensive' one.
We signed the concerning militarily logistics agreement with Australia and the same have been done with the USA too earlier.
A military agreement, ACSA (the Acquisition and cross-servicing agreement), with Japan is pending.
These issues are bothering China.
Recently (US President Donald John) Trump invited India to be a part of the expanded G-7 network.
India is now taking on the chairman's post of the WHO.
India has also made it to the UN Security Council as a non-permanent member for the eighth time.
Then there is greater support from the Trump administration for India to take on a leadership role in the Indo-Pacific.
These issues are disturbing the Chinese government.
Does China want to send a message to the world that the Indian government is not as strong as it portrays itself to be?
They want to show it to the Chinese people, but they are making a mistake.
They are only pushing India to get closer to the US and its alliance framework.
Also, the Galwan incident may encourage to permanently give up any elements of non-alignment that existed in Indian foreign policy vis-à-vis China.
India have embedded a principle of strategic autonomy to multi-alignment in its foreign policy framework for long.
New Delhi would be revisiting these principles seriously post the Galwan incident.
Are we sending mixed signals to China by forming the QUAD (comprising the USA, Japan, Australia and India)?
As I said, China is a suspect power and it cannot be trusted.
They had shown their true colours in 1962 and many other smaller incidents to indicate that.
The Chinese are disturbed by the way India is rising as an Indo-Pacific power and building greater alignments with other democratic countries including the US.
The Chinese are unable to accept that the Indians have decided to align with the US and other countries in the Indo-Pacific configuration.
Won't Chinese business interests in India be affected by their actions on the border?
That is one aspect.
China is aware that India cannot ban Chinese goods completely because there are many ways to send Chinese goods to India through the third channels.
It is difficult for India to stop that.
They have figured that out and therefore they are acting in the way they are currently acting on the border.
There are illegal markets and illegal trading that happens on our north-eastern borders or third country channels for Chinese goods to come to India.
Both sides say their troops have disengaged at Galwan. Do you feel the Chinese will walk out of Indian territory, if at all they have occupied any?
As far as the current crisis is concerned the situation will calm down.
I don't think there will be a war-like situation.
But if the situation escalates, then mini-scale firing might happen.
A smaller version of a Kargil kind of incident might happen between India and China.
Eventually, the Chinese will come to terms and have a much more dialogue-oriented partnership with India as that will be best for their bilateral interests.