'I have interacted with Muslim women in rural Bengal, they are scared of the BJP.'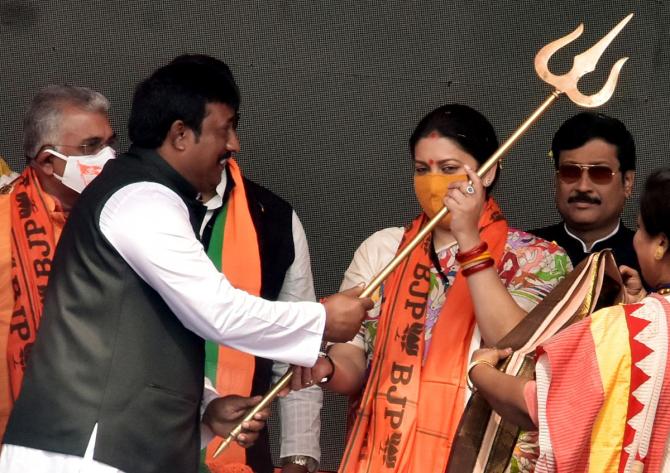 Humayun Kabir, an inspector general-rank officer and the police commissioner of Chandannagar near Kolkata, quit the Indian Police Service recently.
"People of Bengal cannot be divided along communal lines," Kabir tells Rediff.com Senior Contributor Payal Singh Mohanka.
What is the reason for your resignation?
It's a personal reason. I am not getting time. I had to resign to complete some personal work.
Are you joining the Trinamool Congress?
No, no nothing as yet.
There is speculation that you are being given a TMC ticket for the assembly election.
I have not been told till now.
Weren't you scheduled to retire by April? Then why resign now?
Yes I was due to retire and I was being given a two-year extension, but I did not accept. I resigned for personal reasons.
You have been Chandernagor police commissioner. What is the situation there?
I don't apprehend any trouble there.
During my tenure a lot of criminals and trouble-mongers have been put behind bars and will not be released for at least a year.
Almost 95 have been convicted of crimes, rowdyism, extortion, dacoity Now I don't expect any violence or disturbance in Chandernagor.
How do you see the TMC's prospects?
I don't have any idea.
It is too early to predict. By the end of February we will have a clear picture.
We haven't assessed the political situation as yet.
People of Bengal are very politically conscious, but are not willing to speak about their political choice.
Regarding the arrests of those who raised slogans, the BJP says similar chants were raised at a TMC rally but no action was taken against them.
I don't have any idea about this TMC rally.
But during the BJP rally I was in Chandernagor and I was watching. We had drone cameras too.
We were sitting in the control room and seeing the entire procession.
They raised derogatory slogans with much arrogance.
There should be some sort of check.
This is not part of Bengal's culture.
We received several complaints and decided to take a decision so this would not happen anymore.
We thought it was absolutely uncalled for and it was threatening and intimidating certain sections, certain communities.
Under the provisions of the law we arrested them.
We thought they may be released on bail, but bail was denied.
How do you think Asaduddin Owaisi's party, the All India Majlis-e-Ittehadul Muslimeen, will fare in Bengal?
He is a very good orator.
I have heard him in the Lok Sabha and in some public gatherings also.
He speaks well. But sometimes he speaks with communal overtones.
People of Bengal cannot be divided along communal lines.
Bengal has 33% Muslims.
The BJP's agenda will gravely affect not just Muslims, but marginalsed people of the state.
They will all be in trouble if they don't have their forefather's names.
I don't know the name of my grandfather's grandfather.
I personally believe those who have voter ID, an Aadhar card, a passport, driving licence are citizens of India.
There should be no issue regarding this.
This is contrary to the Constititution.
However, this Act (Citizenship [Amendment] Act) has been passed and it is going to be implemented.
If the BJP comes to power (in West Bengal) Muslims will be more in trouble.
It is the call of the Muslims. They should take the initiative.
There is a feeling that Muslim women are not against the BJP. Some of the Union government's policies are in their interest.
I have interacted with Muslim women in rural Bengal, they are scared of the BJP.
This is my personal impression.
Next time will we get an Aadhar card, will be able to admit our children to school, will we get employment, will we be thrown out of this state.
I will speak to you after you have been given a TMC ticket.
Sure. I don't think there is any such chance, but let's see.
Feature Presentation: Aslam Hunani/Rediff.com