'He just said that those who cannot control the violence should go. He did not name the BJP.'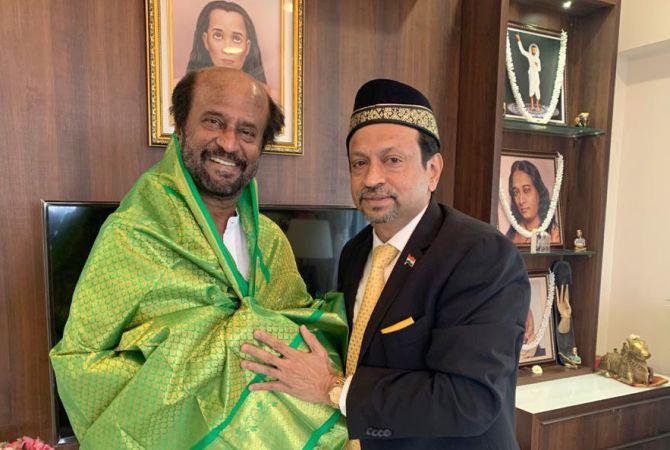 What exactly is playing on Tamil movie superstar Rajinikanth's mind?
Will he join politics by this Tamil New Year in April, as is widely believed?
Will it be in the Bharatiya Janata Party camp, again as is widely believed?
Or is he once again merely flattering only to deceive -- something he has done many times in the past over his intent to join politics?
No one really knows, because the superstar with fading magic at the box-office is not known for opening up to the media.
But his recent statements -- last week he said if the government could not control the Delhi violence it should go, following it up by saying that he was up for any role to usher in peace -- have once piqued interest in his future plans.
While "he will not have any formal alliance with the BJP, maybe an informal understanding is possible," political commentator Dr Sumanth C Raman tells Rediff.com's A Ganesh Nadar.
Rajinikanth has spoken out strongly against the Delhi violence, when he said the government should resign if it cannot contain the violence. That's not particularly BJP-friendly. So what do you think is his game plan?
I think he is playing a balancing act. He didn't actually take names. Did he ask Home Minister Amit Shah to resign? He didn't. He just said that those who cannot control the violence should go. He did not name the BJP.
He said he is ready to do anything for peace and then had a meeting with Muslim leaders.
You cannot construe that it is an attack on the BJP.
You believe he continues to be inclined towards the BJP?
Yes! So far his statement of support to specific issues has given that impression. His earlier statement was giving support to the Citizen (Amendment) Act. He has also never spoken out against the BJP.
Do you think Rajinikanth will improve the BJP's prospects in Tamil Nadu if he allies with the party for the 2021 assembly election?
I am not sure if he will ally with them. So far the BJP has not made any inroads in Tamil Nadu. There is an antipathy towards them.
He will not have any formal alliance with them. Maybe an informal understanding is possible.
Is there a chance that Rajinikanth will actually face an erosion of his voter base by aligning with the BJP?
There is always a possibility that the anti-BJP sentiment may be transferred to him.
But the elections are still a year away and that is a long time in politics. He has still not started a political party.
Starting a party six months before an election is not enough, he should start some time after April this year.
Do you think he has lost some of the sheen since his political utterances?
Even without political statements he will lose some of his sheen as a younger breed of stars have come into prominence.
Before the release of every movie he makes political statements and after the movie he retires to the Himalayas. This has been known to happen. Will this change?
He will take short breaks as it is beneficial to him. This is not an issue.
Does his recent brush with the income tax department have anything to do with his political stance?
It is clearly not easy to confront the government. But the income tax case was blown out of proportion by the media. It is a case pending since 2010. The rule benefited many people, it was not for Rajinikanth alone.
It took actor Vijaykanth three elections to reach 29 MLAs and one election to go to zero. Given this, how do you rate Rajinikanth's chances?
Vijaykanth was an emerging force. He had 10 per cent vote share, he was the third largest party in the state. He was the leader of the Opposition.
But he never went to the assembly. He did not lead any protests against the government. He did not use the post of leader of the Opposition to his advantage.
Rajnikanth is a much bigger star. Vijaykanth has a rural audience. Even the 29 MLAs came in alliance with the AIADMK (All India Anna Dravida Munnetra Kazhagam). We cannot compare the two of them.
The AIADMK is also stronger than it was in 2017.
Kamal Haasan failed to open his party's account in the Lok Sabha election despite doing well in many constituencies. Do you think it will deter Rajinikanth from taking the political plunge?
Kamal Haasan cannot make an impression without an alliance with one of the major parties.
Rajinikanth has a larger fan base. Kamal Haasan also has a tendency to tilt to the Left ideology.
Except the two Dravidian majors, is there political space for a third party in Tamil Nadu?
That depends of what you project yourself as. Vijaykanth came in as an alternate to both parties. Then he aligned with the AIADMK, thereby denting his own image.
Rajinikanth has to keep two things in mind. One is that in Tamil Nadu people expect money to vote.
Secondly, his fans will work with enthusiasm initially, but to sustain that work he has to spend money.
And after winning you have to earn back the money you invested. That is not possible with the honest and spiritual politics he professes to practise.