Tamil Nadu has time and again proved that it needs a decisive leader even if corrupt, rather than an indecisive leader, however good-hearted, good-natured and honest he may be, writes N Sathiya Moorthy.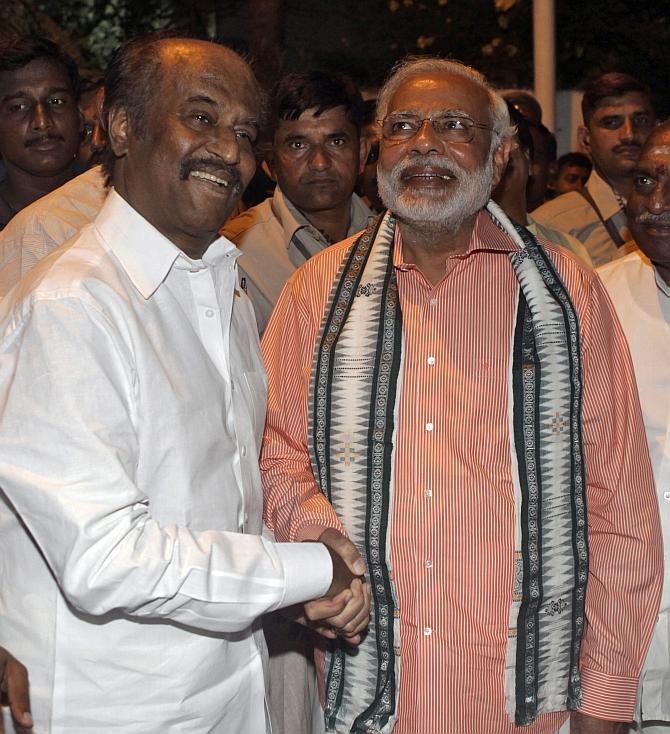 Image: Narendra Modi had met Rajinikanth at the actor's residence in Chennai ahead of the 2014 Lok Sabha polls. The actor had said he was a 'well-wisher' of Modi, while Modi, then the prime ministerial candidate, described the superstar as a 'good friend'.

In his first meeting with fans in eight years, superstar Rajinikanth declared that his 1996 electoral backing for the Dravida Munnetra Kazhagam-Tamil Maanila Congress alliance was a mere 'political accident'. He also said he would not associate with those who are in politics only to make money.
The Tamil superstar's political preferences have been an open book almost throughout his career and he has always been sincere and honest about his political leanings. Even his famous statement 21 years ago, that 'even God cannot save Tamil Nadu if Jayalalithaa is voted back to power', was sincere.
Times have changed, and so have Rajinikanth's views, is the best interpretation of his present predilection. But back in 1996, in the run-up to the state elections, the megastar had peppered his films with political messages.
For instance, Rajini's first home production, Valli (1993), was a path-breaking film for a new generation of Tamil film-goers with a social message woven into a commercial film. Rajinikanth made a guest appearance in the film, which had no heroine, no song-and-dance sequence or other elements of commercial cinema.
With its acerbic dialogues targeting the political class, Rajinikanth gave voice to the masses frustrated with the callous and corrupt political class in Tamil Nadu. At the time J Jayalalithaa was the chief minister of the state.
This was followed by the cult classic, Baashha (1995), which delved into the Mumbai underworld.
After Baashha came Padayappa (1999), where the character of actor Ramya Krishna (who essayed the role of Sivakami in both the Baahubali films), though purely apolitical, was perceived to reflect the arrogance of Jayalalithaa's rule.
Rajinikanth cannot now claim that his films and the characters he portrayed with their anti-establishment leanings were simply coincidental. The fact is during the course of the last 20 years of superstardom, Rajinikanth's off-screen messages and statements have made his fans believe that he will be entering politics. He was not unaware of all this, which is why the recent statements to his fan clubs.
There is some truth in his acknowledgement that his support to a particular alliance (DMK-TMC) in 1996 reflected public sentiment. But two years later, in 1998, came the parliamentary polls.
Rajinikanth continued to back the ruling DMK, but his fans and the people of Tamil Nadu wanted none of it. They pulled down his cut-outs and some of his fan associations even wound up. That was because Rajini, as he is popularly known, was out of sync with with the fans' mood after the Coimbatore serial blasts the same year, which saw 58 dead. The blasts were believed to be part of a larger conspiracy to target BJP senior leader LK Advani, and the ruling DMK came under severe criticism.
Jayalalithaa, who was then in Opposition, demanded that Chief Minister M Karunanidhi own "moral responsibility" for the blasts and resign. Clearly, Rajini with his support for the DMK did not reflect the mood of his fans and the people of Tamil Nadu.
In the 2004 Lok Sabha elections, Rajinikanth switched loyalties, extending his tacit support for the BJP-AIADMK combine. However, the state voted them out fair and square.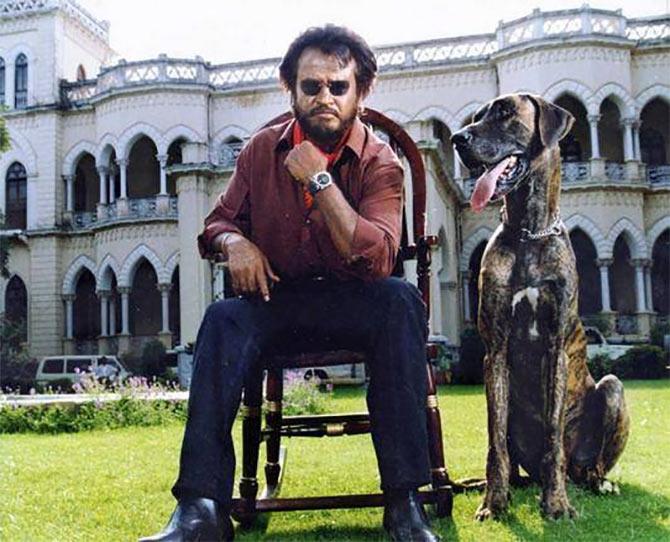 Rajinikanth in the cult film, Baassha.
Times have changed, and so have Rajinikanth's views.
Today, most Rajinikanth loyalists are past their prime and the youth are attracted towards relatively younger actors. Moreover, Rajinikanth has remained largely inaccessible to his fans and rarely meets them other than at a time and place of his choosing.
He has been called arrogant, but most feel it's actually indifference.
In 1996, the late GK Moopanar, founder of the short-lived Tamil Maanila Congress, had reportedly offered the chief minister's seat to the actor if he were to enter politics, whether or not through his party. Rajini was as reluctant then as he is now about joining politics. For well over a decade, his favourite response in the matter has been, "Whatever god intends for me, I will do." It is no different this time.
Another reason Rajinikanth has been reluctant to enter politics is the taint of corruption, given his claims to 'clean poliitcs'. At his fan meet on May 15, the actor said, "If in case I decide to join politics, I won't allow wrong people to join me, I'll keep them away."
Even in 1996, when some veteran politician approached him with the idea of floating a new party, Rajinikanth responded with a firm, 'no' citing, 'unavoidable corruption', which he said would also tarnish his name.
Rajinikanth's friend and guide, the veteran journalist 'Cho' Ramaswamy, editor of Tughlak, who passed away last year, was on record about this strong underlying argument of the superstar.
His fears are probably justified.
Ahead of the release of his film, Baba (2002), which bombed at the box office, there were reports of some of Rajinikanth's immediate family wanting to make a quick buck through movie memorabilia like T-shirts and key chains, and had forced his fan associations market the items for free. These family members also reportedly alienated both his loyal friends and committed fans.
Coming as it did at a time when the state was gripped with stories of 'family politics' in the DMK (of Karunanidhi's warring children MK Stalin, MK Alagiri and Kanimozhi) and the AIADMK (involving Jayalalithaa's friend and aide Sasikala Natarajan and her family), his family's alleged interference in the fan associations left Rajini even more wary of taking the plunge.
But there is nothing to suggest that Rajnikanth has shed this 'extra baggage' now, or wants to enter politics without their over-bearing approach, now or ever.
And there is the question of his health. Rajinikanth is now 66 and may not have the energy that a 24x7 political career requires.
However, there is a difference all the same between then and now, tempting the friends of Rajinikanth to nudge him to take the political plunge. There is no denying the political vacuum in the state in the aftermath of AIADMK supremo Jayalalithaa's death. M Karunanidhi, Tamil Nadu's tallest leader after Jaya, is 92, and irrecoverably bedridden. Events since Jayalalithaa's death in December 2016 point to a prolonged era of political instability.
It is also a time when the Bharatiya Janata Party is keen on making a mark in Dravidian Tamil Nadu, and friends who urge him to take the plunge into politics say the ruling party at the Centre needs a popular face to establish its roots in the state and Rajinikanth could be the one -- the only one, in fact.
Political parties in the state have welcomed his tentative forays into politics. State BJP leader Tamilisai Soundararajan was the first one to greet Rajinikanth's recent statement, followed by the DMK's MK Stalin. Union Minister Pon Radhakrishnan, who is from Tamil Nadu, urged Rajinikanth to join the party. Many other BJP leaders too have made this appeal. This possibly includes Prime Minister Narendra Modi, when he visited him at his Poes Garden residence during the run-up to the 2014 polls.
Long before the BJP, the Congress, when in power and even out of it, and Moopanar and his then TMC leader P Chidambaram, had all invited him to join their party.
In his recent interaction with fans, Rajinikanth also reportedly pooh-poohed media suggestions that he has used the 'political line' in the run-up to the release of his big-budget movies to kindle fan interest in them. Incidentally, now he is awaiting the release of his big-budge 2.0, the eagerly awaited sequel to director Shankar's Enthiran (2010). His producers want a tax exemption in the state for 2.0.
Between Robot 1 and 2, Rajni has had a mixed bag of hits and misses. His 2016 magnum opus, mega-hit Kabaali, was a huge box-office draw but cannot be placed in the same league as Baashha or Padayappa.
There is also the external pressure to emulate the success story of the Baahubali films, which have set box-office standards for all films across the country. Ironically, it was Rajinikanth who used to set the till ringing until Baahubali came along. With the multi-lingual, big-budget 2.0 set for an October release, Rajinikanth has to ensure he remains in the news.
All said and done, there is no denying that Tamil Nadu needs Rajini's 'Mr Clean' image. Yet, if he decides to pad up and bat in the political pitch, his campaign managers will have to convince voters that he is serious about politics and is there to stay.
Before Rajnikanth, first Moopanar and then actor turned politician Vijaykanth with his nascent Desiya Murpokku Dravida Kazhagam had seemed viable alternatives. But both the leaders lost their nerve and staying capacity, and vacillated. Vijaykanth also began getting noticed more as a tough negotiator in seat-sharing than the do-gooder image fed to the voters.
Both lost.
Tamil Nadu, time and again, has proved that it needs a decisive leader even if corrupt, rather than an indecisive leader, however good-hearted, good-natured and honest he may be.
N Sathiya Moorthy, veteran journalist and political analyst, is Director, Observer Research Foundation, Chennai Chapter.