'I wish him well in whatever he does and I will do so if he enters politics too.'
T E Narasimhan reports.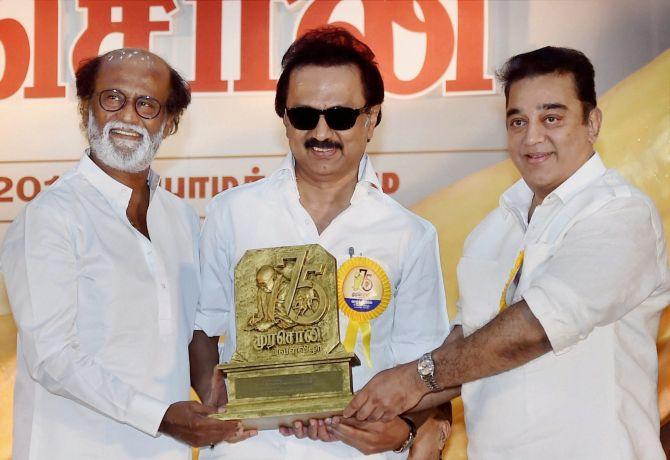 'My aim is a better Tamil Nadu. Who dares to strengthen my voice? DMK, AIADMK & parties R tools to help. If those tools R blunt find others.'
This was actor-director Kamal Haasan's recent tweet, one of the many he has furiously punched out of late, mainly against the All India Anna Dravida Munnetra Kazhagam government.
Haasan, 62, is known for his crisp, punchy political statements and social messages, delivered both in English and Tamil.
Often, these statements come just before a big release, at times triggering controversy and expectedly generating greater interest in the movie.
His movies such as Hey Ram, Anbe Sivam and Dasavathaaram are also considered the artistic outflow of his political views.
But many believe there is more to his recent attacks against the government, even though these vociferous statements have come at a time when the actor is appearing as the host of the Tamil version of Bigg Boss on Vijay TV.
While targeting the AIADMK government on the one hand, Haasan has been seen sharing stage with leaders of the prime Opposition party, the Dravida Munnetra Kazhagam.
This has triggered speculation that he might join the DMK or float a party of his own.
The question being asked is similar to the one being asked around another superstar, Rajinikanth: Will he or won't he enter politics
Through a short Tamil poem that he posted on his Twitter handle, Haasan said: 'Let us criticise, nobody is king now. If I decide, I will be the Mudhalvar (meaning leader and also chief minister)'.
Was this a veiled hint that he was entering politics? Many say it was.
Political analysts say then chief minister J Jayalalithaa's death has created a vacuum in the state and has triggered these questions.
The statements of the two powerful influencers from the world of cinema, both of whom were discovered and shaped by filmmaker K Balachandar, are therefore being analysed threadbare.
It wasn't as though Haasan did not have run-ins with Jayalalithaa.
She had banned the screening of his film, Vishwaroopam, after Muslim organisations expressed fear that it could disturb communal harmony.
'Raaj Kamal Films is a small company and it cannot stand up to the mighty government,' Haasan had said in an interview then.
In December 2016, after her death, Haasan came down heavily on the O Panneerselvam government for poor disaster management after cyclone Vardah hit coastal Tamil Nadu.
Panneerselvam retaliated by calling Haasan a 'puppet' and said the actor should just 'stick to acting'.
Later, while fielding questions on allegations of vulgarity on the Bigg Boss show, Haasan turned the debate and provoked the ruling party by saying there was corruption everywhere in the state.
This kicked off a war of words between him and senior political leaders in the government, including Chief Minister Edappadi K Palaniswami.
Haasan even went on to ask why no political party was demanding Palaniswami's resignation. So, does he intend to enter politics?
'Do you think I can start a party with the money I have?' said Haasan who has 1.68 million followers on Twitter.
'But in the current situation, I feel like taking white money honestly and doing it. Don't ask me if I'm going to come... under these circumstances, anyone can come.'
About his view on Rajinikanth entering politics, he has said: 'I will not say in an interview what my views are on Rajini entering politics because he's my friend.'
'I wish him well in whatever he does and I will do so if he enters politics too. But once he becomes a politician, I will criticise him as well, just as I do others.'
IMAGE: Rajinikath, DMK Working President M K Stalin and Kamal Haasan at the diamond jubilee celebration of the DMK newspaper Murasoli in Chennai, August 11, 2017. Photograph: R Senthil Kuma/PTI Photo