To claim that Tamil Nadu was waiting for a messiah of the 'spiritual' Rajini kind is misplaced, if not mischievous, says N Sathiya Moorthy.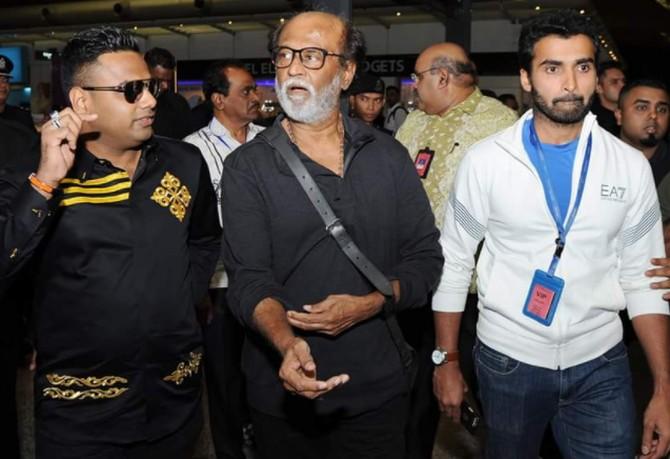 IMAGE: Rajinikanth (centre) in Malaysia.
Photograph: Courtesy, @Rajini_FC on Twitter.
Independent of palpable and equally perceivable media enthusiasm, and not just in Tamil Nadu, superstar Rajinikanth's post-dated announcement on entering direct politics with the assembly polls of 2021, a full three years from now, may not be as easy a walkover as is being predicted in some quarters.
To draw a parallel, it might be tougher for him than it was for fellow actor-politician, Vijaykanth, when he entered direct electoral politics with the launch of Desiya Murpokku Dravidar Kazhagam in 2006.
As is known since the post-MGR polls of 1989, Tamil Nadu possibly has the highest number of 'swing voters', numbering as much as the total committed vote-share of all political parties put together. Since then, it is this 'swing voters' who have decided the fate of elections and political parties, especially whenever it came to choosing the state government. They have alternated between the parent DMK and the breakaway AIADMK, and the assumption is that they had to settle for either of them want of a credible choice.
In context, Rajinikanth is being projected as that 'alternative' to the Dravidian hegemony of state politics and elections since the historic elections of 1967, when the unified DMK trounced the well-entrenched ruling Congress party, also ensuring in successive polls that the latter kept losing voter-base from a very substantial 42 per cent then to around four per cent since.
The 'swing votes' that constituted a substantial share of the presumed 'Congress voter base' shifted to the anti-Establishment AIADMK founded by actor-politician M G Ramachandran in the post-Emergency, post-Kamaraj polls of 1977, and has since stayed there.
It is this vote, among others, that Rajini's brand of 'spiritual politics' is supposed to garner.
But there is a rider.
Even in 1967, an acknowledged seven per cent vote-share of Rajaji's Swatantra Party and other 'spiritual votes' identified with the Muslim League and the Forward Bloc went to the 'anti-god' DMK. Rajaji could be considered the 'spiritual' politician of his time and with an identifiable political position and economic policy.
But when he shunned the DMK combine and joined hands with Kamaraj and the post-split Congress-0 in the subsequent 1971 elections, his 'spiritually-inclined voters' seemingly stayed with DMK and possibly MGR, who was still a leading campaigner of the party.
Arguments thus galore for and against the 'spiritual' constituency in 'Dravidian' Tamil Nadu that Rajinikanth's promised brand of politics could attract. Definitely, it is neither an one-off affair, nor a one-sided story. Yet, between 1967 and 2017, and further up to Rajini's promised 2021, there definitely are fewer and fewer anti-god votes than 'pro-god votes', if that is the terminology.
If the BJP's vote-share in the assembly elections is any indication, it has hovered at around 2-3 per cent in assembly elections, often adding up another five per cent from the 'swing votes' pool for the party's prime ministerial candidates in Atal Bihari Vajpayee (1998-99) and Narendra Modi in elections 2014, only to revert later to the standardised figure from the past.
One assumption is that the 'spiritual voters' in the state would settle for a Dravidian ruler whom they could touch and feel in assembly polls, and the choice has often been the anti-DMK candidate, be it MGR first and Jayalalithaa, later. But then, these are also the so-called 'incorruptible' sections of the electorate who voted on policies and programmes, with relative better insights into governance and governance issues -- and not just for names and faces.
Other facts also add up. Though Tamil Nadu's youthful voters did not mind now --ailing DMK supremo M Karunanidhi's age and hospitalisation at the height of elections 2009, giving due respect to and recognition for his vast and varied experience in politics and political administration, his wheel-chair bound status was among the causes for them to shun the party in successive elections in 2011 and 2014, though the 2G scam was also among the major causes for the party's electoral reversals.
In 2009, they also knew that Karunanidhi was not their prime ministerial candidate. In elections 2016, there was conclusive proof that a relatively youthful M K Stalin, Karunanidhi's son and political heir, would be chief minister if the DMK-led combine was voted to power, and they gave the DMK a fighting chance.
The narrowest ever, one per cent vote-share gap between the victorious, incumbent AIADMK under chief minister Jayalalithaa, who was in Stalin's age-group, and the latter's DMK in elections 2016 should be an eye-opener for pollsters, pundits and crystal-gazers of Tamil Nadu politics and polls.
The results were evenly spread, with accusations of 'incumbency' aiding the AIADMK to make (up) the numbers, all through. In other words, Tamil Nadu had settled for an alternative model of its own, and was possibly not looking for an 'alternative leader', the voter having been well aware of Karunanidhi's age-related health issues and also Jayalalithaa's equally worsening health condition, which was ignored closer to elections time -- only to become mortally sick, not long after becoming chief minister for a sixth time.
That way, even the post-Jaya, more controversial by-election to the RK Nagar assembly seat held by her should be as educative as any other. Barring irrigation-centred aspects of public policy and governmental programmes concerning heartland Tamil Nadu, RK Nagar is a 'lab test' constituency in every other way, possibly including demographic distribution in terms of urbanisation (or lack of it), education, educated unemployed, roads, transport, power and drinking water situation, et al.
In terms of voter turnout, the 78 per cent recorded in RK Nagar 2017 was closer to the state figure of 75 per cent in elections 2016, when the constituency recorded 68 per cent for Jayalalithaa's candidacy, and Chennai district's 61 per cent.
The interpretation that the constituency rejected Jaya's ruling AIADMK in the 2017 bypoll and denied the natural alternative DMK even its security deposit, to claim that the state was waiting for a messiah of the 'spiritual' Rajini kind is misplaced, if not mischievous.
Even attributing the poll results exclusively to the alleged voter bribe may not explain the outcome, even if it might justify the high victory margin and the way the DMK, purportedly undertaking a 'clean campaign', lost its security deposit. The explanation may lie elsewhere, though still not conclusive proof of any clear indicator to the future.
Even with a three-way split of the 'Dravidian votes', the RK Nagar bypoll is the closest to elections 2016, ensuring once again that there was no poll space for an outsider to assume a vacuum and seek to fill in.
The BJP was construed as making a vain and weak attempt, and the party candidate Karu Nagarajan, an electoral veteran of some kind, came from the Hindu-Nadar community, which has a substantial presence in the constituency. In the end, he got less than 1500 votes, half the NOTA votes (3000-plus) and nowhere near the victorious AIADMK 'rebel' /Independent candidate, TTV Dinakaran's 90,000.
If the shift in the traditional votes and those of the 'swing votes' in favour of Dinakaran are seen as the creation of a vacuum, for a Rajinikanth to take away at will here, or for another aspiring actor-politician, Kamalahassan, to chip in there, it need not be that way, nor need it be as simple or simplistic as is being projected.
Instead, it could mean that even a Tamil Nadu alternative to 'Dravidian hegemony' may well have to come from within the fold, and not outside, and that Dinakaran may be the one, already there. It happened with MGR and Jayalalithaa in their time, when the 'vacuum' argument again came up, for the still-alive and relatively active Congress Opposition to stake its due claim.
Tamil Nadu will have an additional 60 lakh new and young voters in elections 2021, a generation that is in eternal hurry for the end (results), not necessarily the means and methods. Of them, 37 lakh voters would have tasted poll politics already in the parliamentary elections of 2019, from which Rajinikanth is still shying away from.
Even if he rushes in now, or later, he will be remembered for his continuing tentativeness, as against the decisiveness with which the present-day voters believe/remember the likes of Karunanidhi, MGR and Jayalalithaa, for. The earlier generation shunned an equally indecisive and possibly 'spiritual' G K Moopanar in the '90s, and a new face in Vijaykanth, also owing to his indecision, bordering on 'bartering away' the party in the coalition era.
The new generation voters of the upcoming twin polls are born into an era of economic reforms and the consequent 'global village' with all its pluses and minuses -- just as an earlier generation prided itself on being the 'Independence generation'.
But Rajinikanth, for all intent and purposes, is not seen as a 'man in a hurry' in politics and public life, unlike in his fast-paced movies, with his own fast-paced body movements that had endeared him to an earlier generation of movie-goers.
This may also explain why less than 3,000 people, many of them from the greying generation of yesteryear fans, alone gathered to hear the superstar make his new year's eve announcement on entering direct politics at a distant day, despite Rajini having given them a six-day notice when he began meeting them from December 26, 2017 -- and for which announcement his fans associations and staff would have prepared for at least for a month or two, if not more.
Better or worse, still, Rajinikanth's 'decisive announcement' on entering politics after a series of half-steps and mis-steps has only shown an indecisive and reluctant leader, who possibly is being pushed into the 'non-spiritual poll pool', supposedly by his 'BJP mentors' at the Centre.
What's more, if one were to go into a further analysis of the RK Nagar bypoll as a 'laboratory case' for the rest of Tamil Nadu, the 'minorities' moved away from the DMK to Dinakaran after Prime Minister Modi called on Karunanidhi, who has anyway been ailing for long, while the 'spiritual voters', if any, remained as divided as ever, and even then did not move towards the 'spiritual' BJP, one bit.
N Sathiya Moorthy, veteran journalist and political analyst, is director, Observer Research Foundation, Chennai Chapter.