'The NRC is thoroughly anti-poor and the CAA is thoroughly anti-Muslim.'
'And these two deadly combinations are going to hit us like how demonetisation and GST has hit the entire nation.'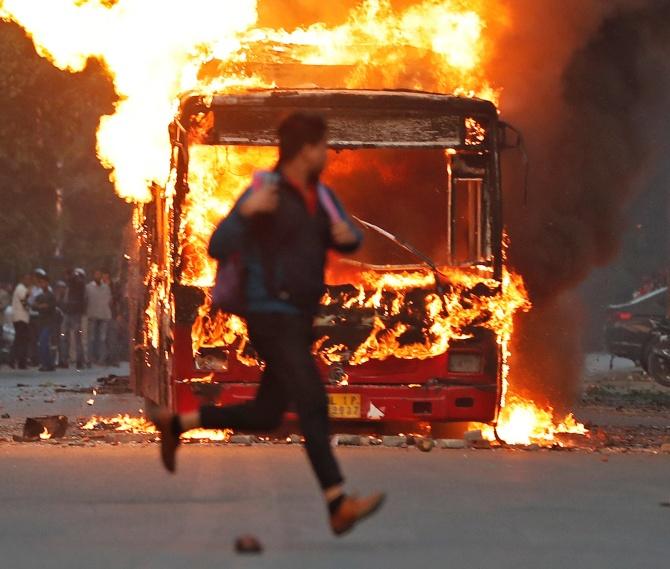 'If they cared for Hindus they would have granted citizenship to Hindus from Sri Lanka as well,' Kannan Gopinathan tells Rediff.com's Prasanna D Zore in the concluding segment of a three part interview:
What are the fundamental flaws in the Citizenship (Amendment) Act?
First and foremost, the CAA is purely arbitrary and this arbitrariness is because they have wanted to, or they are already decided, what community they want to exclude.
If you pay attention to Mr Amit Shah's statements from the past three-four months, he does not talk about Pakistan, Afghanistan, etc. He just says 'those refugees who are Hindus, Sikhs, Jains, Parsis, Christians, need not worry. It is the infiltrators who need to worry and infiltrators are like termites in this country'.
These are his statements. It clearly conveys which community he is hinting at and which community he wants to exclude from the category of religions whose persecuted minorities from Pakistan, Afghanistan and Bangladesh will be given Indian citizenship.
What is his intention behind excluding this particular community?
Second, because they want to justify this intention, they only picked up one category of states, which they call 'Islamic majority States'. There is no rationale for selecting Afghanistan.
'Persecuted minorities' from Sri Lanka are also out of this list?
That's what I am saying. They have not included Sri Lanka, a Buddhist-majority country. There are two kinds of persecuted minorities -- not 'persecuted' because that's a government term and I don't want to use it -- in Sri Lanka, the Hindus and Muslims.
This proves that they don't care about Hindus and are trying to protect them by this CAA by giving them Indian citizenship. They don't care about Hindus at all.
What they care about is they want to exclude Muslims. If they cared for Hindus they would have granted citizenship to Hindus from Sri Lanka as well. But then Muslims are also in a minority in Sri Lanka and they don't want to give citizenship to them.
Does this clearly prove this government's anti-Muslim bias?
Absolutely!
See the NRC is thoroughly anti-poor and the CAA is thoroughly anti-Muslim. There is no doubt about it. And these two deadly combinations are going to hit us like how demonetisation and GST has hit the entire nation.
But the question remains, and which a lot of BJP leaders are asking is how does the NRC and CAA harm India's Muslims?
Why is Assam protesting?
They know that under the CAA, the 14 lakh or so Hindus that have been excluded by the NRC will be granted citizenship using the CAA. And those many people would have to be accommodated in Assam.
Now, let us assume there are five lakh Muslims in Assam who are not in the NRC list. Now, these have been excluded from the NRC not because they are illegal immigrants but because they did not have the documents to prove they are Indian citizens. This is a very categorical distinction.
These five lakh Muslims are not illegal immigrants, but five lakh Muslims who don't have documents to prove their citizenship in India.
Now comes the CAA that provides to grant legal status as Indian citizens to the 14 lakh Hindus excluded from the NRC, who are also not illegal immigrants but don't have the documents to prove their citizenship?
So, while the Hindus excluded from the NRC, who are without documents, will get protection as refugees because of the provisions of the CAA, and granted Indian citizenship later, the Muslims without documents will not get the same and will be categorised as 'infiltrators' who will have to be deported or detained in camps.
This is how it will affect the Indian Muslims.
When there is a nationwide NRC, which this government will initiate, there would be lot of Muslims without documents and lot of Hindus too without the same documents.
Now, the Hindus without documents will get protection under the CAA whereas the Muslims without the same documents will be left at the mercy of the government and deported or detained.
The religion will be the major differentiater in such circumstances and so the contention that the CAA will not affect the Indian Muslims or is not anti-Muslim falls flat.
What then can offer India hope? Is there any hope left for India and Indians under this government?
There is only hope left for India.
The protests, the resistances, the demonstrations that the affected people are staging is the hope.
The civil society that has been consistently exposing the hollowness and ridiculousness of the policies of the government offers hope.
Remember, India is a slumbering elephant. It will take its time to wake up, but we have fought many bigger battles than these.
This country has fought and won bigger battles in a highly disciplined and non-violent ways. And this is just the beginning.
This beginning, I hope, will wake up the government. You may have your idea of India, but there are certain things that are not worth doing and not acceptable in this country.
I hope the government understands this.
It (the Citizenship (Amendment) Act) is just an Act. So what if it is a Constitutional Amendment?
You know to impose and continue with the Emergency of 1975, how many Constitutional Amendments were enacted?
After two years (in 1977) all those Amendments were taken back. So, it is not the case that one Act has been amended and it is the end of this country.
This fight is not for today... it is for tomorrow. This fight is not for us... it is for our children.
We are having democracy in India today because our parents and their fellow Indian citizens fought the democracy in 1975.
If I don't fight today, I will not be able to give my child a secular, democratic country tomorrow.
There is this fear among some sections of India that the Modi-Shah duo wants to permanently obliterate the secular ethos of Indian Constitution.
That is their right to do what they are doing. I am least bothered about what they want to do. I am worried about what we want to do. And what is that I am ready to do for that.
I cannot keep cribbing that Modi wants this and Shah wants that. Whatever they want they are working hard for it and doing it. Question is whether I am ready to work hard and convince people of India why my idea of India is better than theirs.
I don't consider anybody a villain or hero. Each one of us have to decide what is the idea of India they want their children to be a part of and what is it that they are ready to achieve it.
Cribbing is just not an option today.
Are you facing any physical threats?
Na, na, na, na. Who toh random chalta rehta hai (No, no, no, no; it keeps happening randomly) but nothing to worry about.
How many people who you met in these parts of India adhere to your idea of India?
I am more interested in whether you disagree with me. Those are the people with whom we should have discussions with.
I don't think anybody is trying to destroy India. They are just dumb. They don't know what is good and bad. There is a need to stop them. They are trying to build what they think is good. But a dumb person trying to help is more harmful than an enemy who wants to destroy you.
The entire government is dumb. This government by trying to propagate their idea of India is actually destroying India.
We need to make them see this fact first. If they don't understand, then we need to treat them how we treat dumb people.
And how do we treat dumb people?
By creating awareness among the people in a democratic and non-violent manner.
We need to arouse the people out of their slumber. By nature, Indians are so submissive. We don't easily get angry or express our anger.
We don't get angry when somebody takes away our money from banks, ATMs and homes. During demonetisation we were not angry. But when the money came back after three months we were celebrating.
The same is true with the documents issue during the NRC. Go and ask a tribal why he doesn't have a particular document and you will find him blaming himself. He will feel guilty about not having a document. He will not ask why the government did not provide him with such a document in the first place.
That's how we are. We have never truly empowered our citizens.
That is what we will do with these dumb people (in the government). We will empower the Indian citizens to ask questions of the government.
We will make people understand that questioning the government will be more patriotic than anything else and has to be a mandatory duty of all Indian citizens.
---
Prasanna D Zore covers national affairs for Rediff.com. He can be reached at prasannaz@rediff.co.in