'Imagine for a soldier -- first you conquer territory after fighting a fierce battle, suffer casualties and then you are ordered to come back to your side of the International Border in India.'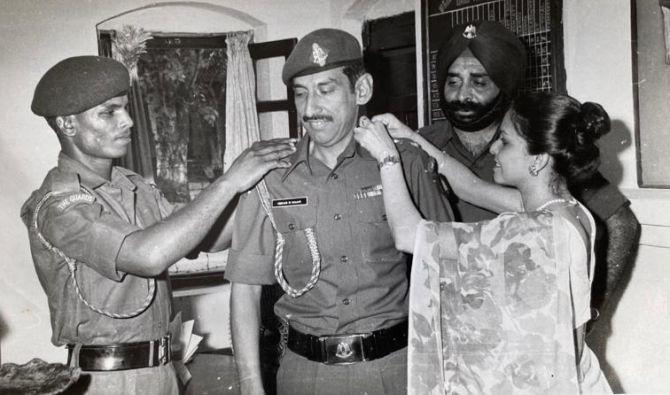 Brigadier Israr Rahim Khan received the Kirti Chakra for leading his battalion of 10 Guards, the first troops to enter the Golden Temple to flush out terrorists that had converted the holy shrine into a fortress during Operation Blue Star in June 1984.
"It was the most dangerous and most difficult operation conducted by any army in the world," says the retired officer who served the Indian Army with distinction for four decades and saw action in the 1965 and 1971 wars with Pakistan.
A proud infantryman and an exceptional commander, he is remembered as a legend by his battalion.
The son of an agriculture scientist, his father was among the first Indians to get a PhD in agronomy from the United States in 1945.
Going against the wishes of his father who wanted him to go for higher studies in the US, Israr Khan went where his heart took him -- the Indian Army.
"It has been the greatest honour of my life. It was about soldiering and loyalty to my men and country," Brigadier Khan says in the concluding part of an interview with Rediff.com's Archana Masih looking back at his extraordinary journey as a soldier.
You were a child during the Partition of India, what were those days like? How did your journey as a soldier begin?
My father was among the first Indians to go to the United States for higher studies in 1945. When India got freedom, he was pursuing a PhD in Madison, Wisconsin.
While he was away, my mother and I lived with my grandfather in Khurja, Bulandshahr in Western Uttar Pradesh. Zamindari had yet not been abolished at that time and my grandfather was the biggest landlord in the region. He had a big haveli, which still remains with the family.
I was about 5 years old -- and a child of Partition days.
During the Partition of India, the mass movement of people between India and newly formed Pakistan had unleashed bloody massacres and riots in the country. My grandfather was afraid to send me out of Khurja to attend school, so he took me to a local Muslim school in the gully called Mohalla school.
I sat on a gunny bag with holes and took a wooden plank and chalk made of multani mitti to write. These are the only two things I carried to school. This is the humble beginning of my schooling. [Laughs gently] Isn't it fascinating?
When did your father return to India? How did he contribute to newly independent India?
My father returned to India in 1948 after finishing his PhD and post-doctoral research. He travelled in America, Canada and took a long trip to Europe.
On his return to India, he joined the Indian Agriculture Research Institute in Pusa as a scientist. It was the biggest agriculture institute in Asia.
He played a role in the Green Revolution under Prime Minister Lal Bahadur Shastri. He worked with the Indian farmers so that scientific knowledge could be practised by them in their fields. There were several model farm villages in Delhi, UP and elsewhere in India.
The institute provided British-era bungalows as accommodation, so my mother and I moved to Delhi to stay with my father.
How did you settle in from a mohalla school in a village to life in the national capital?
I had no knowledge of English. I could not get admission in Delhi Public School, Mathura Road which had just started and was still operating out of a tent. The headmistress took me for a test and since I had hardly had any education and could not speak English, she said I won't be able to pull along with the other children.
Imagine the psychological impact on me!
My father worked hard and employed English tutors and I was brought on par with other kids my age. He then took me to the Harcourt Butler School. The Principal, Dr S Lal, was a doctor of literature from London. He admitted me and then I never looked back.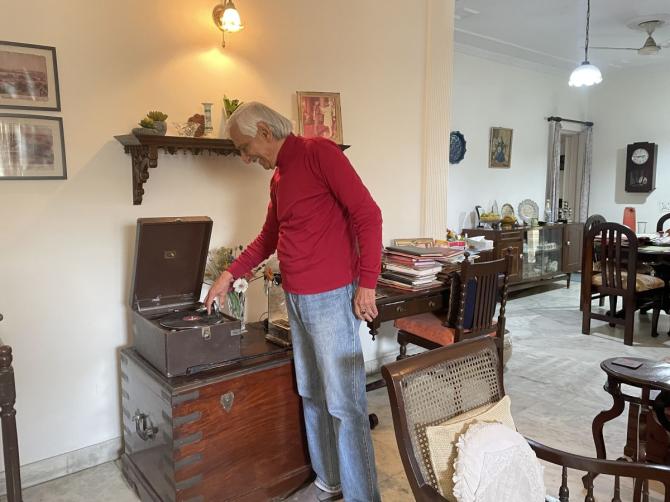 How did you join the army considering your father was a scientist and you did not come from a military family?
I did well at school and my inspiration were students in Harcourt Butler who used to go in large numbers to the National Defence Academy after Class X. That motivation carried me through.
My father did not think of the army as a career for me. His other brothers were in the Indian Postal Service and Indian Police.
He wanted me to study engineering and then go to America for higher studies. I completed a BSc from Aligarh Muslim University and then joined the Bachelors in Engineering course because that was the requirement for BE.
My father had chalked a plan for me. I had no say in the matter.
After BSc, my mind was still with the Army and I applied for the UPSC exam without telling my parents. I cleared the exam and was called for the Service Selection Board interview which is held over 5 days.
I was in Aligarh and had to go to Allahabad for the SSB. I did not know how to break the news to my parents. I came to Delhi and meekly told my mother.
My mother said your father won't allow it, but agreed to break the news and convince him.
My father thought it was madness to throw away the opportunity of studying in America for a career in the army, but my mind was set.
He did not believe that I had chosen the right path and took me to meet his friend Harish Sareen, an ICS officer who was the defence secretary. We went to South Block to meet him at the ministry of defence. My father told him that he wanted me to be a scientist, but I was keen about the fauj.
Mr Sareen told him, 'Khansahab, the army is as good a career as a scientist. Don't stop the boy.'
My father then allowed me to go for the SSB. I got selected and became a commissioned officer in 1964.
Soon after you joined the army, the 1965 War with Pakistan broke out.
I was commissioned in the Brigade of the Guards and was posted to 10 Guards that had just been raised.
My unit was in Sikkim and I had marching orders to go to Punjab in an inter-unit transfer. I went with the advance party to take over from the last battalion and make arrangements before the rest of the unit joined in.
Major Ashok Handoo was the second in command who later became army commander. Major Handoo, along with two other officers and myself, went to take over from the battalion posted in Punjab and lo and behold, the sorties by the Pakistan air force began and the war began.
We were attached to the infantry battalion that we were to replace as they were to go to Sikkim and my battalion was to come to Abohar, Punjab.
Abohar and Fazilka saw intense fighting in Punjab. Subsequently, we went to Sikkim by train to reinforce our battalion.
So in midst of the war after having fought for 10 days -- we 4 officers and a party of 100 men went back to Sikkim and merged with our battalion to face any onslaught that side.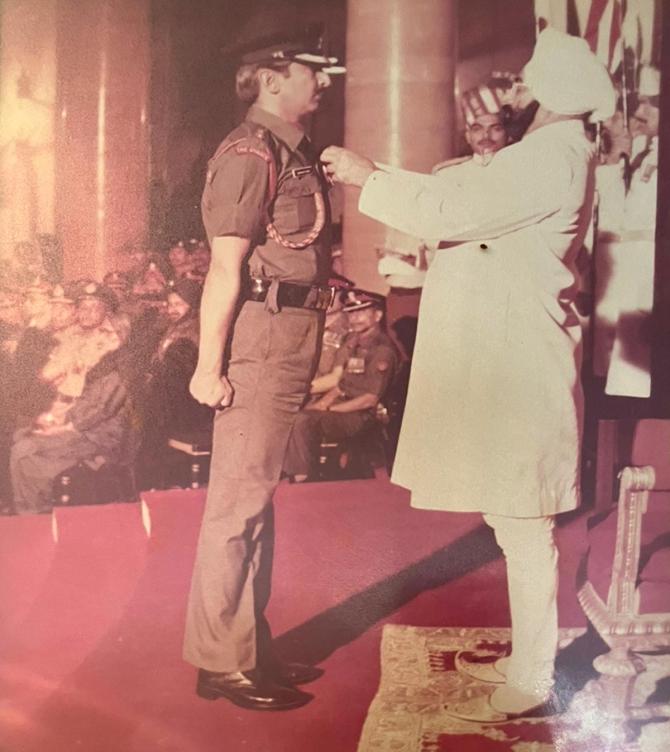 What action did you see the 1971 War with Pakistan?
In 1971, I was instructor at Infantry School, Mhow, when the war broke out. Although the whole school was closed and people went back to their units to fight the war, a small nucleus was retained for training requirements.
The godfather or colonel of my regiment was Lieutenant General N C Rawlley. I had served as his ADC for two years as a young captain before being posted to Mhow.
I wrote to Gen Rawlley who was commander XI corps and had moved ahead in the battlefield. I told him that I was itching to return to 10 Guards which was moving to Gurdaspur and did not want to be away from the battlefield.
He was very pleased. At that time of war there used to be a free postal service for the armed forces. Gen Rawlley wrote me a letter on the free postal letter. I still have that letter. It is a treasure that I keep carefully.
[Gets up to look for the letter and then reads it aloud. The letter is dated December 2, 1971]
'My dear Israr,
I apologise for using this paper. Lt Col Wanchoo had already asked me if I could get you back to 10 Guards [my CO at that time].
I wrote to Army HQ and they agreed. I assume you have already got your posting orders.
The chief of army staff told me that the other Guard battalions are doing well in the East. I have no doubt they will do equally well in the west.
You are going back to the 10th at a critical time. I am very proud of you that you yourself volunteered to rejoin your battalion.
When I asked for you to go back, I was sure you would want it. I have every confidence that you will do well in battle.
Yours sincerely,
Naveen'
My posting came in the next few days. I packed my bags. I had to change trains in Delhi, but I didn't even meet my parents and went ahead to Gurdaspur.
When I reached, my CO Colonel Wanchoo was waiting for me and said, 'Israr I'm so glad you have come'. He made me the adjutant of the battalion. [Adjutant is the nerve centre of an infantry battalion.]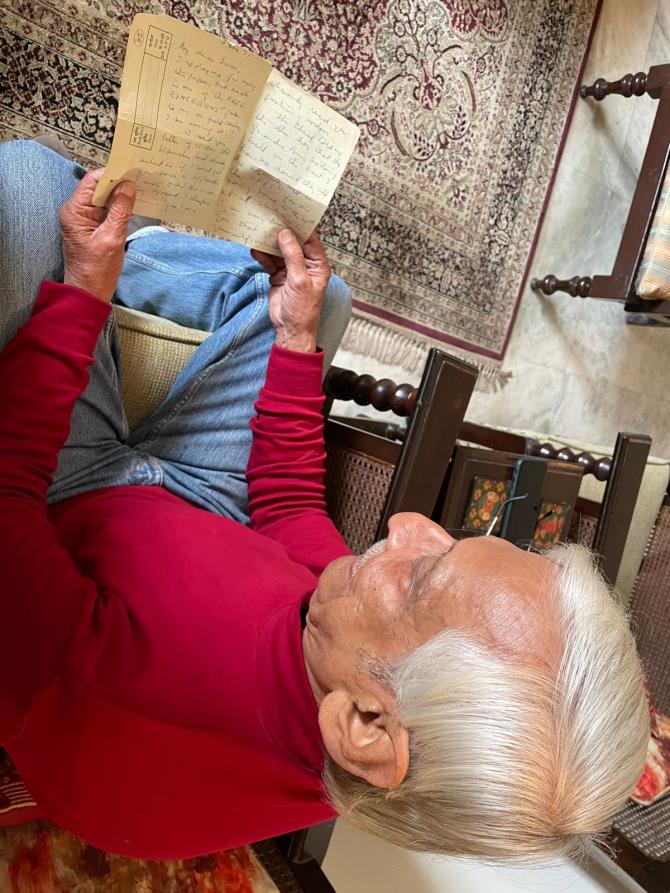 Where did you fight in the 1971 War?
We were moving to a place called Nabipur which was close to the Ravi river. We had to cross the Ravi into Pakistan and launch an attack against Pakistani positions.
I got into my battle gear and we got battle ready. Our battalion moved the same night to the border. As adjutant I had gone ahead to select the points where we could cross the river. I selected crossing points where the water level was shallow.
We had ropes on either side of the bank so that our 1,000-strong battalion could hold on to and cross over. The water was between waist to chest level at few places.
I had selected a narrow part of the river where it would not have taken a lot of time to cross over because the Pakistanis could have fired at us on the river itself and we would have drowned.
So you crossed into Pakistan in the dead of night?
We crossed over into Pakistan at 2 am. I was a young major at that time.
Our boots were full of water, socks drenched and uniforms were wet up to the chest. As we walked, intermittent fire came upon us from Pakistani posts.
We progressed our advance to make contact with the enemy and fought the Pakistanis -- post after post -- in the Shakargarh sector which was a tehsil in the Sialkot district of Pakistan.
We kept clearing the posts. The Pakistanis had laid minefields to stop us from advancing -- and those minefields were covered by weaponfire to thwart our advance.
We had to cross those minefields and could have been blown up, but we had to clear a narrow path through the mines to advance further.
In the Shakargarh sector, we captured a big chunk of Pakistani territory, our advance could have been faster and wider, but the scattered minefields retarded our speed.
We advanced to a point where the Pakistan army was deployed in large numbers on the outskirts of Shakargarh town.
The time to attack was at night and that was to be the main battle.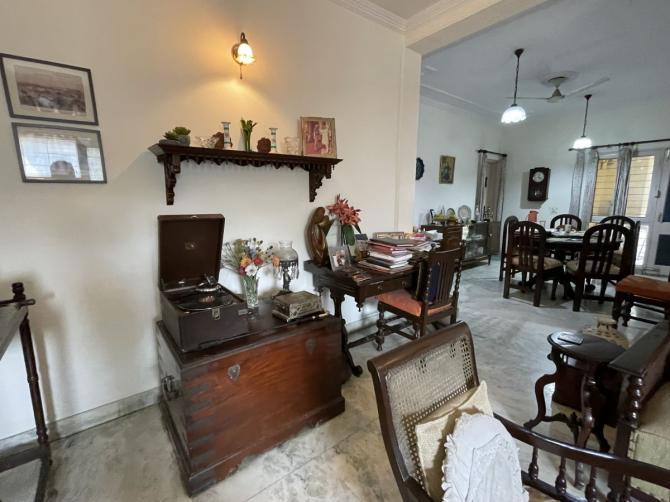 How fierce was the battle?
Three battalions including mine had to launch the attack. We had to cross a nala to get close to Shakargarh. It was a fierce battle; the Pakistanis had a large entrenched deployment.
Many men lost their lives especially from the Grenadiers battalion that was ahead of us. Some were taken Prisoners of War.
10 Guards was tasked to lead the next phase of the attack, but a cease fire was declared. We stayed where we were and by that time we had taken a large chunk of Pakistani territory -- about 15 kms of prime land of Punjab in Pakistan.
The Pakistani villages were vacated, only the old and infirm remained. The houses were kuccha houses.
We remained there living in the fields till the Shimla Agreement was signed [July 1972]. Imagine for a soldier -- first you conquer territory after fighting a fierce battle, suffer casualties and then you are ordered to come back to your side of the International Border in India.
After crossing the Ravi, we could change our wet socks and boots only after a week. There was no time because we were fighting a war and our objective was to advance and contact the enemy.
I got to see the Shakargarh tehsil from a distance. I believe it is now a flourishing tehsil of Sialkot.
We came back to Gurdaspur and remained with the battalion.
After the war, I served in Assam because insurgency in the North East was on the rise. I was posted to Kashmir, facing the Pakistani posts in Poonch district. I remember the Divisional Commissioner of Poonch was Wajahat Habibullah, a young IAS officer who was the son of Major General Enayat Habibullah.
I was posted to Army HQ. My next major task was to command troops in Operation Blue Star.
Read Brigadier Israr Khan's account of Operation Blue Star here:
Feature Presentation: Aslam Hunani/Rediff.com