'In the 1971 War my battalion suffered 4 casualties after fighting for 14 days.'
'In Operation Blue Star, I lost 19 men in just one hour.'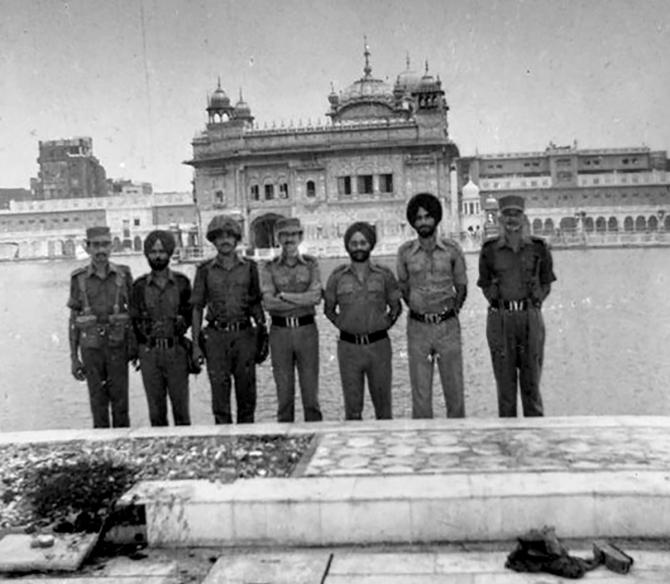 'I will complete the mission till the end'. Brigadier Israr Rahim Khan remembers the words of Captain Jasbir Singh Raina after the young captain was hit by a volley of bullets in his legs amidst a raging battle with terrorists inside the Golden Temple.
Brigadier Khan -- then a lieutenant colonel -- was the commanding officer of the Battalion of 10 Guards, the first troops to enter the Golden Temple to flush out terrorists that had converted the holy shrine into a fortress.
Brigadier Khan, now retired, still vividly remembers every detail of that night of June 5/6, 1984 and every small and big act of valour of the men he had the honour to command.
Captain Raina was awarded the Ashok Chakra, India's highest medal for gallantry in peacetime.
Brigadier Israr was awarded the Kirti Chakra, the second highest award for gallantry in peacetime. He recommended 14 gallantry awards for his troops -- all of whom were awarded, some posthumously.
Three among them were Sikhs who laid down their lives for the nation.
The widows of the deceased were to come from their villages in Punjab to receive the awards at the investiture ceremony at Rashtrapati Bhavan in 1985.
"Those were bad times in the hinterland where religious emotions were still very high and there was still acute hostility towards the families of Sikh troops who took part in Operation Blue Star," says Brigadier Khan.
He sent a team from 10 Guards with a personal message to accompany the widows/relatives from their hostile villages on the appointed day to attend the function.
"The Sikh widows gathered the courage despite all resistance of their neighbours and joined me with pride as recipients of the gallantry awards from the President of India on behalf of their brave kin," remembers Brigadier Khan who retired from the Indian Army in 1996 after over 30 years of distinguished service.
"It was a feat by itself and I drew inspiration and satisfaction as a leader from these families. The widows still come to attend unit functions organised as a tradition which is simply a matter of pride," Brigadier Khan tells Rediff.com's Archana Masih in part two of a must-read interview.
At a time when trouble is once again brewing in Punjab with the rise of Amritpal Singh, a radical preacher advocating Khalistan, it is extremely important to listen to soldiers like Brigadier Israr Khan so that we do not go down that bloodied path again.
I understand you sent a young officer in civil clothes inside the Golden Temple for a recce because you did not have much information about what was going on inside.
I selected Captain Jasbir Singh Raina, a young Sikh officer to go inside and get as much information about what was happening inside the temple, what weapons were deployed and where etc.
I had no intelligence inputs about the number of terrorists, their weaponry, exact defences.
The holy place of worship was converted into a fortress and each approach into the temple was covered by fire.
They were prepared. The police and CRPF had been stationed there for months, but we had very sketchy intelligence. I needed as much information as I could before we entered.
I had never been into the Golden Temple, so I asked three of my Sikh officers to brief me about the temple.
I asked for some pictures of Harminder Sahib, the Parikrama and Akal Takht, but there were none available.
Curfew had been imposed in Amritsar and all markets were closed. I got in touch with Bua Singh, the SP of Amritsar, who later became the DGP, UP.
Mr Bua Singh got a shopkeeper to open his shop that sold posters of the Golden Temple to pilgrims and that was the kind of intelligence we had.
Captain Raina, a very brave officer, volunteered to go in as a devotee, pay obeisance and bring back whatever information he could gather.
He went inside in civvies, but was trailed from the time he entered to the time he exited. They suspected he was security personnel; had they known for sure that he was a soldier they would have killed him because they had murdered a DIG [Avtar Singh Atwal] at the steps of the Golden Temple in 1983.
Captain Raina could not move around freely lest he rouse suspicion so he could not jot down notes or wander and peek around. He could only see whatever came in his line of vision.
In the absence of intelligence, he brought us very useful information. The police and CRPF was there, but they could only tell me what was visible from the surrounding high buildings.
Captain Raina came and briefed me and the GoC about details such as where the concentration of weapons was and how they had cut the doors and some marbles to make loopholes for deployment of weapons.
They had broken the white marbles of that beautiful temple and converted it into a fighting bunker.
The General Officer Commanding Major General K S Brar addressed the troops before you all went in.
I had mentally prepared my troops before the GoC came to speak to them
General Brar briefed troops and told them that if anyone had any reservation about taking part in the operation, they could opt out. He assured them that no action will be taken against them.
As you led your battalion inside the Golden Temple what did you encounter?
10 Guards were the first to lead. My men and I entered from the northern side.
The passage leading to the open Parikrama had many rooms. The rooms were manned by armed terrorists.
Captain Raina's company was tasked to clear the rooms on the right and Major Bhatia's company on the left.
The plan was to enter the temple from 3 directions to launch a multi-pronged attack. My battalion from the northern side, 26 Madras from the southern side, another battalion from the western side.
In a multi-pronged attack the opponents fire is divided which reduces your casualties. But the entry of the other two battalions was hampered because a steel gate came in their way.
10 Guards was worst hit because we got the brunt of the fire for over an hour.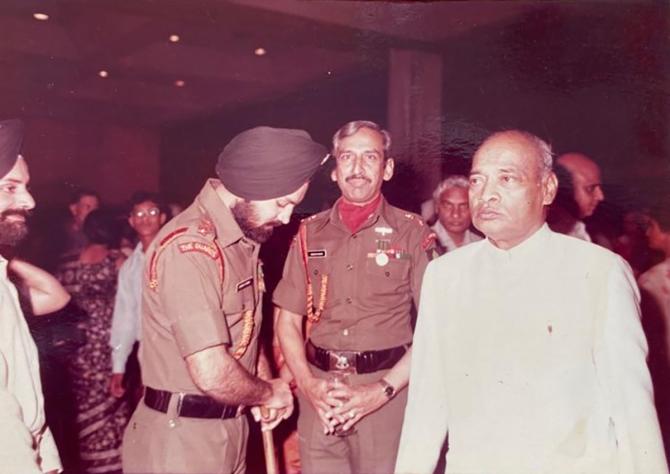 What were those moments like? How ferocious was the battle?
Till 2220, we were the only battalion inside though troops were deployed on all three sides, but they were unable to enter.
The terrorists inside knew the place backwards as they were living there.
I was reporting on my radio set to General Brar and my brigade commander Brigadier D V Rao that fire was coming from all sides and they informed me that the other troops had not been able to enter yet.
We suffered heavy casualties.
I was grouped with the Special Frontier Force and para commandos from 1 Parachute Regiment. They had joined me in the Govindgarh fort on June 2. I had to group them -- how will we advance, who will be where, etc.
Every position of the officers and men in a platoon/battalion is appointed as per the drills of the army.
The paras were trained commandos and we were a paidal fauj -- foot soldiers. Our task was to give them a safe corridor to attack the Akal Takht.
Ahead were the leading platoons of the foot infantry -- 10 Guards -- followed by the SFF and 1 Para so that they could be given a secured passage to the Akal Takht to launch an attack on Bhindranwale, his commander Major General Shabeg Singh (retd) and other terrorists concentrated there.
Your officers and men had to capture room after room manned by armed terrorists?
Captain Raina captured 6 fortified rooms manned by armed terrorists -- there were about 10-12 rooms in that Parikrama [leading towards the Akal Takht]. When he entered the 7th room, he was injured.
I was right behind him as I was overseeing the task. I bent upon him and asked, 'Jasbir kya hua?.'
He said, 'kuch nahi sir, I will complete the mission till the end'.
It was pitch dark because the electricity had been cut and we could not carry torches. I could not see in the darkness, but could feel blood oozing out of his legs.
We laid him down on a stretcher, but he kept raising himself up and saying, 'No sir, I will not go'.
I was his CO and ordered him to lie down.
After clearing the 7th room, there was a lull because of Captain Raina's injury. I told another Sikh officer to clear the remaining 6 rooms and report to me.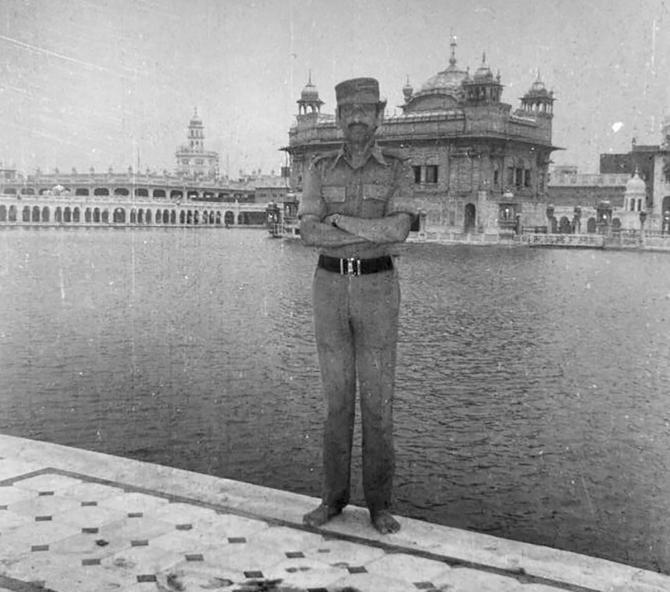 How did you evacuate the grievously injured officer in pitch darkness amidst the fire?
Captain Raina was bleeding profusely and needed to get to a hospital. The ambulance was parked at the end of a narrow lane on the chowk. It couldn't have been in the show window because the terrorists could have blown it up.
Doctors were present inside the ambulance. We came out in the midst of the battle and walked 200 yards, accompanying the wounded officer.
The brave officer who had done the recce under dangerous circumstances and then fought like a warrior was now on a stretcher. I did not want to lose him.
I told the Army Medical Corps staff to take him to the hospital immediately. They said, 'sir till we get 6 casualties we cannot leave'. The ambulance had a capacity of 6 for casualty evacuation.
I told them that if they did not leave immediately he would die, so against their own norms, they started the ambulance.
He was later transferred from Amritsar to Jalandhar. That quickness at that crucial time saved his life. He retired as a colonel and walks with a limp.
After sending him, I walked back inside with my radio operator. The GoC, who was positioned in a tall building nearby, was calling every ten minutes to ask what was happening. All the information was going through our radio network.
I remember at one point when I was talking on the radio, the operator pulled me by my hand in the pitch darkness and I hit the marble wall with great force.
'Sahab tusi mar jaogey', he said. He saved my life when bitter fire was coming my way.
These are the small things that tell you how faithful the troops are.
How were the remaining rooms cleared after Captain Raina was evacuated with life-threatening injuries?
Major Narender Singh cleared the remaining rooms. The passage through the covered Parikrama was cleared for the SFF and 1 Paras. But they had to move through an open area leading to the Akal Takht.
They were approaching the Akal Takht where Bhindranwale and Shabeg Singh and a whole lot of terrorists were present. The whole building was being guarded by adjoining buildings.
Lieutenant Colonels Chaudhry and Padda were leading the brave SFF and 1 Para commando troops, but the moment they would come out into the open Parikrama, they would come under very heavy fire.
The remaining troops would fall back in the closed Parikrama which was under my command. This kept happening 6 times and each time they did, it they lost men.
They suffered heavy casualties too. They were the next to be badly hit after us.
Later on, some other battalions came in, but by then a lot of damage had been incurred by 10 Guards.
Your battalion suffered heavy casualties that night. How did you all face up to that huge loss?
19 dead. 53 wounded is a big number. In the course of 14 days during the 1971 War, 10 Guards suffered only 4 casualties and not because of enemy fire, but due to mines. That was the rate of attrition in the 1971 War with Pakistan and here in 1 hour I had 19 dead and 53 wounded.
This shows the ferocity of the battle we fought.
Feature Presentation: Aslam Hunani/Rediff.com