'General J S Aurora, the commander of the Indian forces in the East, asked General Sagat Singh to withdraw his troops who were on the move to Dacca -- but he refused.'
'He said, "Jaggi, over my dead body".'
'Therefore, I say the creator of Bangladesh was General Sagat Singh.'
Lieutenant General O P Kaushik salutes the incredible soldiers who turned the tide in the 1971 War.
Some of the best stories are told by soldiers.
They will tell you of hard fought battles that have become the stuff of legend.
They will remember each and every name -- of the men they fought alongside and of the places they conquered.
They will reminisce about men who displayed exemplary courage that will give you goose bumps; and they will speak with pride of the jawans they trusted with their lives.
As India marks 45 years of the 1971 War, Lieutenant General O P Kaushik, (retd), who fought in the campaign in the Eastern Theatre, shared some such memories with Rediff.com's Archana Masih.
These are real stories about men from the 61 Brigade who fought hard to outwit and vanquish the Pakistan army.
Of brilliant military manouvers under the leadership of an outstanding field commander -- and their incredible march to Dhaka.
Of men who remained calm even when outnumbered by the enemy.
Of officers who defied their superiors when surrounded by the enemy, but went on to save the day.
This is Part 2 of Rediff.com's Oral History project on the 1971 War.
Stories that need to be read and passed on.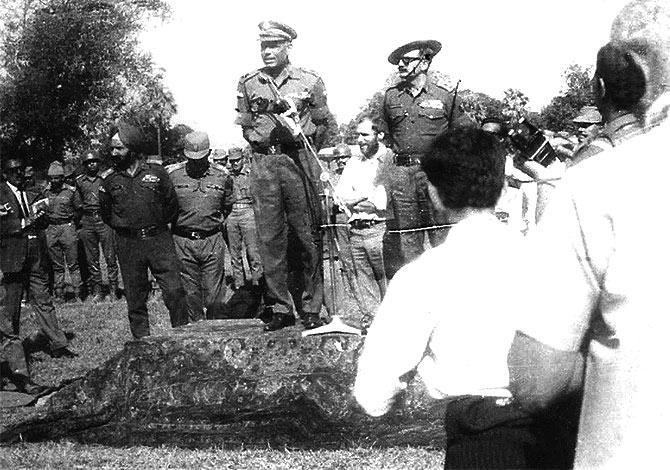 IMAGE: Lieutenant General Sagat Singh addresses the troops. He was known for his innovative military tactics. Photograph: Kind courtesy Bharat Rakshak
From Mizoram to Silchar, the troops move for war
When war was building up I was posted with the 61 Brigade tasked to control the rebellion in the Mizo hills.
The Mizo rebellion for an independent country had started in 1966. The rebels were being assisted by both China and Pakistan. (Mizoram became a Union Territory in 1972 and was granted statehood in 1987.)
We moved to Silchar about 6 months before the war and were tasked to train the Mukti Bahini, highly committed college students who had revolted against the excesses of the Pakistan army.
In each training camp there were about 1,500 students. The boys were a big asset; they knew the exact location of the Pakistani forces, their strength, terrain, routes and roads.
Units of the Pakistan army's East Bengal Rifles Regiment -- which comprised only Bengalis from East Pakistan -- had also revolted and established camps in India.
It was decided that we would go to war after the monsoon because East Pakistan was like an open sea in the rains. The flooded paddy fields in the countryside would make military manouevers difficult. Hence, December was chosen.
Just before the start of the war, the border (with Pakistan) which is held by the Border Security Force and is under the home ministry was placed under the army.
We used BSF units in Agartala and Tripura to gather intelligence about Pakistan.
The Indian Army had committed three corps for the war. One corps has 80,000 to 90,000 troops.
We were part of the Tezpur-based 4 Corps, primarily responsible for the China border in Arunachal Pradesh. We were giving the task of attacking from the east and capturing territory up to the Meghna river -- we were not to cross the Meghna.
Meghna is a tributary of the Brahmaputra. It is a big river. In the monsoon you can't see from one bank to the other.
2 Corps was launched from the west in Calcutta and tasked to liberate territory up to the Ganga river.
33 Corps from the north was ordered to liberate territory up to the Padma river.
Dacca was not the objective. The aim was that India would announce the formation of the Bangladesh government in one of these three enclaves.
IMAGE: Lieutenant General O P Kaushik was brigade major in the 1971 war. He has fought in the 1962, 1965 and 1971 wars. Photograph: Archana Masih/Rediff.com
The assault on formidable Comilla
I was a brigade major of the 61 Brigade and in our task of liberating territory up to the east bank of the Meghna river, we had to move towards a major Pakistan army cantonment called Comilla.
It was a hill feature about 14 km long which had been developed into a beautiful cantonment. Pakistan had prepared their defences in those hills. They thought since the terrain was riverine, India would take the road and hence they were primarily guarding the road access.
But it was decided that the initial advance into East Pakistan would be cross country.
We were told to go on foot through 24 kilometres of paddy fields and cut off the highway from Dacca to Chittagong which passed through Comilla. Chittagong was a major port.
Since the border was held by small pockets of Pakistni troops, we needed some place to infiltrate without Pakistan knowing it.
So we attacked 14 kms away on their left edge with 14 tanks and one infantry battalion of 1,000 soldiers. A massive battle took place for 3 days, south of Comilla. The Pakistanis thought that the attack had come, but this was not our main attack.
The main assault was yet to come.
How Indian troops broke through a heavily fortified Pakistani cantonment
The panic-stricken Pakistan army withdrew its forces north of Comilla. We received this information at midnight from the Mukti Bahini and BSF -- and 12 Kumaon launched an attack.
The Maynamati hill (where Comilla was situated) was attacked from the north because Pakistan had already vacated that area in panic. They were taken by surprise and realised that the attack from the south was not the real one.
The attack was so severe from both north and south that in spite of holding this feature on a low hill with a full brigade -- the Pakistanis thought that a division of the Indian Army had attacked! (3 to 4 units make a brigade; 3 to 4 brigades make a division.)
But the reality was that we had attacked with only one brigade!
'Sir, the Pakistanis have come'
So Pakistan's 53 Brigade was ordered to reinforce them.
While they knew we had attacked their formidable defences at Comilla, they did not know the exact position of our three battalions.
We sent a patrol from 12 Kumaon located at Chandina (on the strategic Comilla-Daudkhandi-Dacca axis). The patrol of 12 men was commanded by young Lieutenant Sinha. When night fell, the patrol rested in a field.
Now Pakistan's 53 Brigade (which was moving to reinforce Comilla cantonment) also rested in the same area.
When day broke, our patrol of 12 saw thousands of Pakistani soldiers!
The Pakistanis also saw them and thought there was a huge Indian Army battalion. In truth our patrol was only 12 people.
Our boys opened fire at them -- what an encounter!
12 soldiers faced by a strength of nearly 3,000.
The Pakistanis panicked because they had received the message that a division of the Indian Army had attacked them. They retreated and decided to go cross country.
When they reached the base of the hill, they converged on our Brigade HQ which had about 100 people -- mostly signal and clerical staff.
I was in a small tent. The officer commanding the Signals Regiment came running and said, 'Sir, the Pakistanis have come.' He asked whether he should destroy the top secret documents. I told him not to panic.
I went outside and saw the Pakistanis were 1,000 to 1,500 yards away and sent a Gorkha platoon defending the brigade HQ to go forward and open fire.
The Pakistanis did not come in thinking it was a heavily guarded place, when we had nothing!
They could have totally liquidated us, but we did not panic and held on.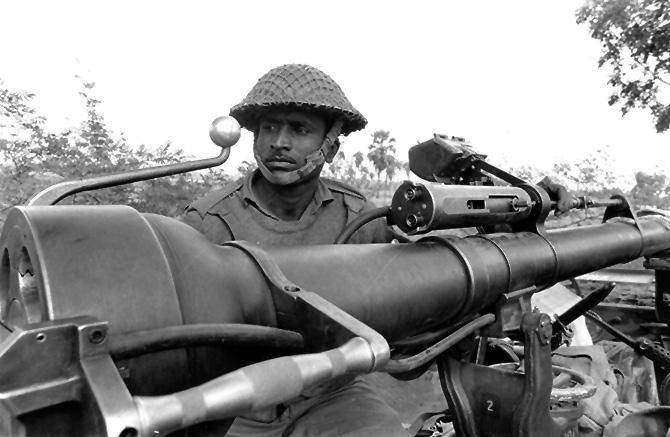 IMAGE: A soldier in action in then East Pakistan. Photograph: Getty Images.
1,600 soldiers with two colonels and 1,188 rifles surrendered!
Pakistan's beleaguered 53 Brigade took a full circle and reached the same place where they had halted for the night.
Here they came face-to-face with Lieutenant Sinha again, who was still holding that position. The Indian platoon fired at them.
The Pakistanis thought they were surrounded whereas we were not more than 20 soldiers at any place -- first engaged by a patrol of 12, then by the administrative element of a battalion, then by a platoon of 20 in a brigade HQ and then again by that first platoon of 12!
Sensing defeat, they raised a white flag and conveyed to Lieutenant Sinha that they wanted to surrender.
Lieutenant Sinha was faced with a situation where he just had 12 men but in front of him were thousands of Pakistani soldiers ready to surrender.
He passed the message to the Brigade HQ. We analysed the situation. The brigade commander Brigadier K P Pande asked me to remove his badge and put a major general's badge. I accompanied him to Lieutenant Sinha's location.
The commanding officer of 31 Baluch came forward. Brigadier Pande told him to pile their weapons and equipment on one side and the men on the other.
1,600 soldiers with two full colonels and 1,188 rifles surrendered!
Nowhere did they have to face more than 30 Indian soldiers, yet they were so panic-stricken and were left with no morale to fight.
This was the first group of prisoners of war that India captured.
'I am commanding this company and I am not leaving my position till I die'
Another attack on the Mynamati hills which merits recognition was when our troops captured a little area in the centre of the hill without realising that the whole feature was held by one Pakistani brigade.
We thought it was held by just a company and early in the morning 7 Rajputana Rifles discovered that they were surrounded by Pakistani soldiers and tanks. They had advanced on foot and our tanks had not moved in.
The commanding officer said he needed air support. I had sent a demand for air support a day earlier, but it did not materialise because the entire air force was busy with Dacca.
7 Rajputana Rifles had suffered 38 battle casualties and the colonel commanding Raj Rif asked our permission to withdraw since no air support was coming.
The brigade commander spoke to the Corps Commander General Sagat Singh telling him that 7 Raj Rif were surrounded by Pakistanis troops and tanks.
The corps commander said 'withdraw'; brigade commander Brigadier Pande said 'withdraw'; Commanding Officer Colonel Brar then ordered Major Shyam Singh Bhatti, the officer in the thick of battle, to 'withdraw' -- he said no!
Major Bhatti said, 'The moment I leave these captured trenches everyone of us will be killed. The tanks are 200 yards ahead of me, but haven't come on me. I am firing at the tanks with my platoon anti-tank weapons, but the moment I leave my trenches everyone of us will be killed. I am not leaving.'
Colonel Brar said, 'I will hold you responsible,' and Major Bhatti replied, 'yes hold me responsible. So long as I am commanding this company I am not leaving this position till I die.'
I was listening to this conversation. Tears came into my eyes.
It turned out that the only man whose decision was correct that day was Major Shyam Singh Bhatti.
In the meantime four IAF aircraft emerged from Dacca.
We got in touch with them on the radio and asked if they could support us. They said they had unloaded all their ammunition in Dacca.
I said, 'Can you just fly low?' Maybe the Pakistani tanks will disappear.' They first declined, but agreed on my persuasion.
They asked us to identify the target and flew low. It was a daring act by these pilots because they were flying without any ammunition.
They came, took one round, dove and the Pakistan attack disappeared!
In the meantime, we moved our tanks and the situation over the Myanamati hills was saved.
Major Bhatti survived, but unfortunately did not get recognised.
IMAGE: Army Chief then General Sam Manekshaw addresses Indian troops after the surrender ceremony. Lieutenant General Sagat Singh is on his right. Photograph: Kind courtesy Bharat Rakshak
'General Sagat Singh was the best field leader the Indian Army has produced'
Another revealing incident of the war was that because we had to move cross-country, we were given two companies of mules to carry our rations and reserved ammunition.
The plan was once we had infiltrated on foot, village tracks would be prepared to make way for the jeeps.
We were harnessing two companies of mules and jeeps -- nearly 300 mules and 300 jeeps! It was chaotic.
We were living in tents when in all this mess, a helicopter arrived.
It was the Corps Commander, Lieutenant General Sagat Singh. He had flown over and seen the chaos.
General Sagat was 6 feet tall, well built -- and the best field leader the Indian Army has produced.
I was sure he would pull me up for the chaos, but he didn't say a word. He asked, 'Everything under control?' I said, 'Yes sir.' That was all. 'Where will you be tomorrow?' he asked. Burichang, I said -- and he said he would have breakfast with us.
One learns a lot from such an attitude of a senior officer -- it shows that one must not panic in a disturbed situation and trust men under your command to handle situations.
'Jaggi, over my dead body'
With no opposition 4 Corps had already achieved the objective of reaching the Meghna river and instead of waiting on the East bank (as per the plan), General Sagat Singh ordered the troops to cross the river and carry on.
We had Mi4 helicopters that could take only 6 people at a time. We created night lamps, artificial helipads to go across the river.
When the Eastern Army Commander in Calcutta Lieutenant General J S Aurora discovered 4 Corps had crossed the Meghna, he asked General Sagat Singh why he had crossed the river when his task was to liberate territory only till the east bank.
I could hear General Sagat Singh's reply because I handed over the radio set to him. He used to call General Aurora 'Jaggi' and he said, "Jaggi, I have given you A+."
He told him he was the commander on the ground and was expected to exploit an opportunity. He took that opportunity and now was on his way to Dacca.
General Aurora asked him to withdraw his troops, but General Sagat Singh refused. 'Jaggi, over my dead body,' he said.
This action by General Sagat Singh created the situation for the Indian Army to plan the capture of Dacca.
The army's plan was to create three enclaves:
1. Up to the east bank of the Meghna.
2. Up to the west bank of the Ganga.
3. Up to the north bank of the Padma.
After creating these enclaves, the Bangladesh government in exile was to be established and that would be the end of the war.
Dacca was not our objective.
Therefore, I say that the creator of Bangladesh was Lieutenant General Sagat Singh. But he did not get his due.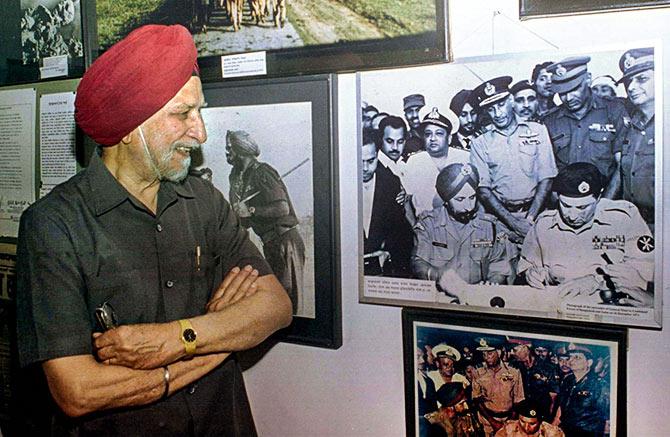 IMAGE: Lieutenant General J S Aurora looks at a photograph of the surrender. He passed away in 2005. Photograph: Reuters.
'If I didn't die today I will not die in this war'
Then we were told to go to Daudkandi from where ferries use to leave for Dacca.
There was a single road leading up to it which had been dug up by the Pakistanis and laid with mines.
The Mukti Bahini mustered 200 to 300 rickshaws and we moved cross country, village to village by avoiding the roads up to Daudkandi and then moved on to Dacca.
By then, Pakistan had decided to surrender.
I remember another incident where Brigadier Pande and me were standing and a 120 mm bomb landed between us.
The bomb is of such precision that 1 in a million may just not explode. It is lethal and kills everything within 100 yards -- but that bomb did not explode! But its impact was so high that I lost my voice for a while.
We walked away and Brigadier Pande said to me, 'If I didn't die today I will not die in this war.'
He was with his troops everywhere during the attacks when a brigade commander doesn't need to.
It created a psychological impact on him that he was not going to die and he passed it down the chain.
A potent situation in a war is not to panic. Even in reverses a soldier needs to maintain his calm.
From junior level subedars and havaldars to young officers, the Indian Army is replete with many such examples in the face of battle.
What happened to these incredibly brave men after the war:
Lieutenant General Sagat Singh: Known for his innovative battle strategy, the general -- one of India's greatest military leaders -- is a rare army officer to be awarded the Padma Bhushan. He passed away in 2001.
Brigadier Kailash Prasad 'Tom' Pande: Was awarded the Mahavir Chakra for the 1971 War and participated in every battle India had fought up to that year. He lost 95 personnel at Mynamati and 45 at Dhalai.
He was wounded and fought for a week with his leg dangling, he told told UNI nearly 10 years ago. The battle of Dhalai was one of the hardest fought battles in the 1971 War.
He passed away in 2010.
Major Shyam Singh Bhatti: Retired from the Indian Army and lives in Jodhpur.
Lieutenant Sinha: Lives in Dehradun and looks after the Rapahel Home for the disabled.
Lieutenant General O P Kaushik: Fought in the 1962 War with China, the 1965 and 1971 Wars.
As a major general, on deputation to the home ministry, he raised the Black Cat commandos.
He has served on the Siachen Glacier, in Mizoram, Nagaland and Kashmir. His son is a brigadier in the Indian Army.