'Just as a wave brought the BJP into power, an anti wave will blow them away.'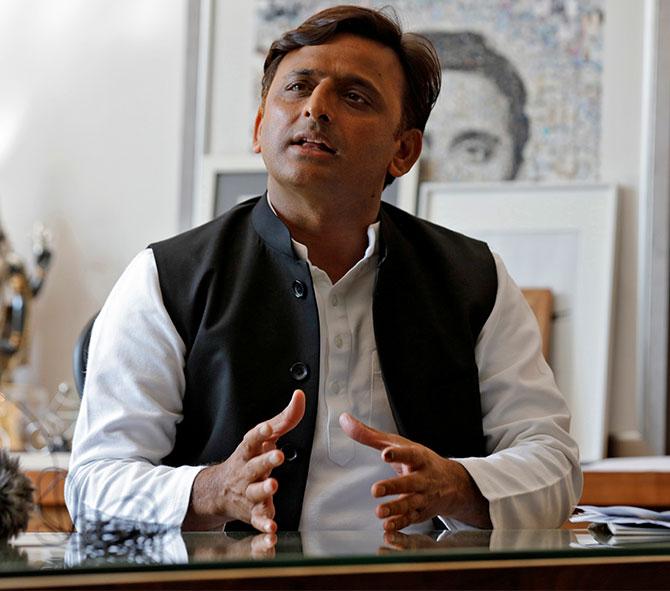 'The BJP will get some new chloroform with which to betray the people in 2019,' says Akhilesh Yadav. Photograph: Pawan Kumar/Reuters
"When all the disappointed people stand up together against the BJP, nothing will save this government," Samajwadi Party President Akhilesh Yadav tells Rediff.com's Archana Masih in the second part of an exclusive interview.
What does the Opposition need to do to take on the BJP? Mamata Banerjee was in Delhi last week meeting Opposition leaders to garner support.
I am happy that Mamataji is making great effort. Her efforts will make many leaders listen to her.
The Congress is making attempts.
There is still time for the Lok Sabha election. After the UP election, the BJP must have forgotten the formula of 'One Nation One Election'.
Now we cannot be sure that they will want an early election.
We have enough time to think, understand and plan.
The BJP is a formidable force. You think Opposition unity is enough to defeat the party?
The BJP will not return to power. They have betrayed the people. They have promised too much and delivered nothing.
Demonetisation did not help anyone.
Small traders are troubled because of GST.
Banks have collapsed.
Fraudsters have defaulted on payment and fled the country.
The agriculture sector is destroyed.
Farmers walked 180 km to Mumbai, the country's richest city, and what did they get?
They say they will make a defence corridor in UP. I could not get permission from the defence (ministry) for five years to widen a road going to the airport and to build a bridge (in Lucknow cantonment). Can you imagine that and they want to make a defence corridor?
They have not fulfilled their promises.
What is your assessment of your successor Yogi Adityanath as chief minister?
He has done nothing.
But he has ordered a big crackdown on cheating in exams. He is said to be honest...
In Jhansi there was cheating happening in a degree college. Officials of the flying squad (constituted to prevent copying in examinations) were thrashed.
In one place BJP members were caught helping students cheat. BJP leaders were getting question papers solved.
15 lakh students have dropped out because of this crackdown. The state government doesn't want children to appear for exams because they don't have jobs to give them when they enter the job market.
The UP government has set a record on police encounters with over 1,100 encounters in one year. How has that affected law and order?
It is also a record that no government in a single year must have got so many notices from the human rights commission as the UP government.
Till now they have received 57 notices from the National Human Rights Commission.
Questions are being raised about these encounters. There are many reports about fake encounters.
Crime hasn't dropped in UP. These encounters haven't improved law and order.
Will the 2019 election be fought on vikas (development) or dharm (religion)?
The BJP will get some new chloroform with which to betray the people.
The UP assembly hasn't seen such a high representation of upper castes in recent times. Was it pressure from the grassroot that brought the BSP-SP together?
It can be said there was injustice faced by weaker sections, especially Dalits.
Maywatiji herself went to Saharanpur.
The injustice faced by the poor, farmers, backward, Dalits, Muslims has made them emerge as a force against the BJP.
I presented the record of the Mahoba district on the floor of the House and said that since the BJP government came to power, 27 farmers have committed suicide in one district.
The kisan does not belong to one caste. Farmers belong to all castes.
Kisan and youth are very upset with the BJP. They are the reason for the victory in Gorakhpur and Phulpur.
In 2014 the 'Modi wave' destroyed all caste arithmetic and people overwhelmingly voted for Narendra D Modi. Is caste back as a deciding factor in the next election?
The wave was created till the government was formed.
Just as a wave brought the BJP into power an anti wave will blow them away.
The by-polls results show that the hollow promises about jobs and loan waivers to farmers have left people disappointed.
When all these disappointed people stand up together against the BJP, nothing can save this government.
Whatever miracle they might conjure up, the BJP will not come back to power.
Would you be willing to be part of a Congress-led Opposition front? You have worked with Rahul Gandhi in the last assembly election, how is it to work with him?
I have a good relationship with him. What kind of political relationship it will be, I don't know as of now because many political parties are engaging on various platforms.
There was a dinner hosted by Sharad Pawarji. Mamataji met all the leaders. The Congress has had dinners, meetings -- before the election the country will get a big alliance.
The BJP should not get perturbed with the alliance because the BJP has alliances with 45 parties.
I can read the list, I have the entire list.
It is felt that the Samajwadi Party in the Opposition was a party known for its street protests against government policies. But that sort of mobilisation seems to be missing in present times.
There could not be a bigger message than the result of Gorakhpur and Phulpur.
There cannot be a bigger protest and movement against the government when the CM and deputy CM lose their seats.
The biggest answer has been given by Gorakhpur and Phulpur.
If I go to jail for staging street protests and in turn lose an election, would that have greater meaning?
Or is winning these two seats a bigger andolan (movement)?
Our enemies are trying to provoke us to take to the streets ki hum pit jaye (so that we get beaten up by the people). (Laughs.)
A year after your defeat in the assembly election, how different do things look for you?
I feel more free and can think about how I will form a government, win more Lok Sabha seats.
Last year at this time I had just faced defeat, but now my mind is clear.
I am preparing how to win again.