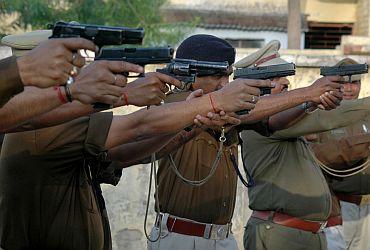 In a crackdown on criminals in Uttar Pradesh, two wanted law breakers were killed and seven others arrested in separate seven encounters in four districts, in which six policemen were also injured, police said on Sunday.
The encounters took place in Saharanpur, Ghaziabad, Gautam Buddha Nagar and Muzaffarnagar districts in past 24 hours in which two wanted criminals were killed and seven others arrested, Deputy Inspector General (Law and Order) Praveen Kumar said.
Six policemen were also injured in the encounters, he told reporters in Lucknow.
In Gautam Buddha Nagar, an encounter took place in Sector 119 (phase-3) area in which Shravan Chowdhury, carrying a reward of Rs 1 lakh on his arrest, was injured, while his accomplice managed to escape, police officials said.
Chowdhury was taken to the district hospital, where he died during treatment, they said.
Crime Branch Inspector Balwan Singh and constables Satyaveer and Sanjeev were also injured in the encounter, the DIG said.
In Saharanpur, a notorious gangster, Salim, was killed in a shootout with the police, in which sub-inspector Sachin Sharma of Mandi police station was injured, Saharanpur Senior Superintendent of Police Bablu Kumar said.
He said acting on a late night information that a gang has robbed a farmer of Rs 1 lakh and his motorcycle in Manoharpur village under Sarsawa police station area, a swift action police team was deployed to nab the criminals.
The SWAT team, spotted the gangsters coming on bike from Chilkana and flagged them down to stop, but, ignoring the signal, they opened fire on police.
The police returned the fire, killing one of the gangsters, while another one managed to flee in the darkness.
The slain gangster was identified as Salim, having a reward of Rs 25,000, Bablu Kumar said.
The police managed to recover the looted money and the bike of Manoharpur farmer Nawab besides a pistol and several rounds of cartridges from the gangsters, the superintendent of police said.
In another encounter in Noida's Dankaur town, two criminals were injured in an encounter with police, while two of their accomplices managed to escape, police said.
The two injured criminals, Asraf and Salim, both residents of Sambhal district, were later arrested. The four persons allegedly stole a truck from sector 39 area.
The police have seized a country-made pistol, three empty cartridges, six live cartridges and one truck from their possession, they said.
In another encounter in Dadri, Jitendra, carrying reward of Rs 25,000 on his head, was arrested, the senior police officer said.
In Muzaffarnagar district, two criminals - Raes and Javed - were injured an encounter in Budhana area after which they were arrested. During encounter a policeman, Sauveer, was also injured.
Twelve cases of loot and murder were pending against the two criminals.
In another incident, at Vijay Nagar police station area of Ghaziabad, a local history sheeter, carrying a reward of Rs 25,000, was arrested after an encounter with the police, Ghaziabad SSP Vaibhav Krishna said.
Sunder, 35, hailing from Pilkhuwa town, was wanted in five cases of attempt to murder, killing and robbery, he said.
Superintendent of police Krishna said the encounter took place around 8.15 pm near Akbarpur Bahrampur on NH-24. The man was on a bike, and when the police signalled him to stop, he opened fired on the police team.
The police officials returned the fire in which Sunder was shot in his right leg, Krishna said, adding Vijay Nagar SHO Naresh Kumar was also injured in the fire-fight.
Both Naresh Kumar and Sunder were being treated at a hospital, officials said.
A country-made pistol, knife and a few live cartridges were seized from Sunder, the official said.
In another encounter in Sihani gate area of Ghaziabad, a wanted criminal, Rahul, was arrested while constable Sachin was injured, he said.
Representative image