'Rahul Gandhi has personally paid a heavy price for this character assassination and remorseless ridiculing and the Congress, of course, has been demolished politically.'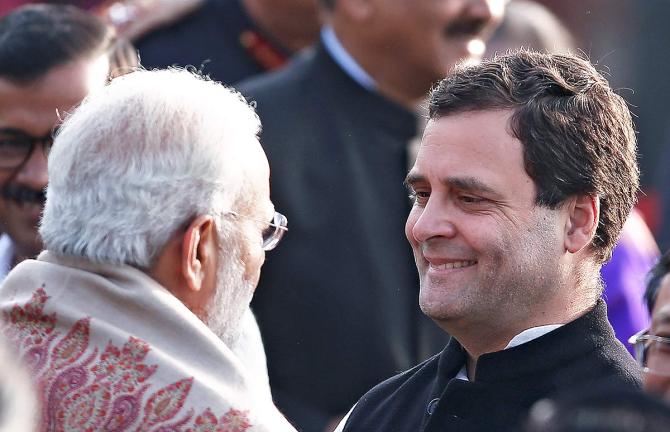 In a space of six years, the Congress has begun to resemble a regional party while the Bharatiya Janata Party's star shines brighter each day.
With the effective use of social media, the ruling party has cleverly transformed the political landscape, making it Narendra Modi versus Rahul Gandhi instead of the BJP versus the Congress.
Why did the Congress fail to recognise this challenge?
Why it is being seen as a party that supports one religion over another?
Why is Rahul Gandhi being perceived as ineffectual as compared to Modi?
Sanjay Jha -- the former Congress spokesperson who has recently published The Great Unravelling: India After 2014 -- answers these and other questions as Rediff.com's Syed Firdaus Ashraf listens in.
In the rally at Wardha (Maharashtra) Prime Minister Narendra Modi attacked Rahul Gandhi for contesting from Waynad because it was a minority-dominated constituency.
Do you think a section of Hindu voters feel that the Congress has become a Muslim party and Modi was just highlighting this?
The Congress came up with the A K Antony report after the 2014 debacle.
Apparently (very few have had full access to this privileged report), it recommended that the party review its pro-Muslim imagery.
Evidently, the BJP and Modi had painted the Congress with the brush of minority appeasement.
Instead of addressing this issue with intelligent sharp communication and hard data, the party responded with a defensive posture making it appear half-guilty.
Have you heard Mrs Sonia Gandhi, Rahul or Dr (Manmohan) Singh refute this absurd allegation?
While the Congress has certainly played vote bank politics occasionally, it has never indulged in naked virulent campaigns against Muslims to win the majority community votes.
But our political communication post-2014 was extremely defensive and apologetic.
There is one fact I feel you ignored in your book.
Dr Manmohan Singh, as the prime minister of India, said, 'Muslims have first right over India's resources'. Also, under the UPA's 10-year rule, beef exports (which employs Muslims mostly) made India the number one beef exporter.
Do you feel these things led to a Hindu backlash against the Pink Revolution, which Modi highlighted AT his 2014 rally?
The BJP cleverly twisted Dr Singh's statement and, once again, the Congress reacted in its usual weak-kneed way.
Dr Singh had talked about not just Muslims, but all deprived, marginalised sections of society in that famous statement; this included SC/ST/children and women.
Can anyone argue with that inclusive approach?
Is not protecting minorities and the vulnerable the responsibility of not just of the government, but also that of a mature, civilised, emancipated, society?
It was a tragic discourse, but, once again, I think the senior leadership of the (Congress) party kept mum.
The BJP was making charges under Modi and the Congress was defending it through television spokespersons.
It was not a level playing field.
And, by the way, beef exports touched a record high with India at the second position under Modi/NDA, but the Congress was ham-handed in exposing the BJP's political hypocrisy and double-standards.
You write in your book that Union Minister Kiren Rijiju tweeted about decline in the numbers of the Hindu population.
On social media, the Modi government has successfully put this fear in Hindus that 'Hindu khatrey mein hai (Hindus are in danger)'.
How can a secular and liberal party change this narrative to win elections in a Hindu majority country?
The Congress needs to communicate vigorously, not just on Twitter, but through regular public interactions across the country.
This has to be a sustained organised campaign that is titled 'Exposing BJP Lies' or something like that.
There is a massive disinformation campaign run by the BJP that includes fake news, alternative facts, deep fake and post-truth commentary.
The only way to counter it is transparent communication. But the Congress senior leadership has to demonstrate it first.
It will motivate the cadre and invigorate the rank and file of our party. It can change the narrative.
Why did the Congress and Rahul Gandhi under-estimate Narendra Modi as a political opponent in 2014?
You write in the book that the Congress camp thought Modi's divisive campaign will make the BJP lose the 2014 elections as India is not Gujarat.
How did the Congress party fail so spectacularly in reading the ground reality?
Honestly, I thought the Congress was guilty of over-confidence caused by political arrogance.
The insipid half-hearted response to corruption allegations on 2G, coal allocations, etc, had demoralised the party workers.
It needed a bold, courageous leader to take the bull by the horns.
Rahul, at that time, was still a relative novice and the party seemed riddled with a guilty conscience.
Yet, it remained convinced that Modi would be rejected because of the deleterious stigma of the 2002 riots. It could not read the straws in the wind.
Why did your 'Feku' campaign against Modi lose to the BJP's 'Pappu' campaign?
Has the 'Pappu' tag caused irreparable damage to the Congress party and Rahul Gandhi's image?
Rahul Gandhi has personally paid a heavy price for this character assassination and remorseless ridiculing and the Congress, of course, has been demolished politically.
The BJP ran a well-oiled, long-term, strategy to destroy Rahul's image.
The Congress did not have a social media department for a long time and, for some unfathomable reason, Rahul sniggered at social media initially.
Well, better late than never... at least the Congress has recognised its past errors.
It was hard for us to prolong a battle with the BJP's formidable, ferocious, IT cell that was like an Internet troll army.
So 'Pappu' flew and 'Feku', after a remarkable global debut, settled for the second position.
Do you feel sad that you personally lost a friend in Arnab Goswami because of Rahul Gandhi's 56-day holiday stunt debate?
Or, when you look back, do you feel happy that Goswami is not your friend as he cleverly camouflaged himself as the protector of middle-class interests while propagating the political agenda of the BJP?
Let me put this on record; Arnab Goswami and I may have had an unpleasant public spat on live television, but I personally like him.
He was always warm with me.
He is a self-made man; you can't take that away from him.
I think, deep down inside, we have mutual respect for each other.
As I write in my book, had Arnab continued with his anti-establishment narratives like he did against the UPA, he would have been the gold standard of journalism.
Momentarily he did, when he took on the late Sushma Swaraj on the Lalit Modi case.
Thereafter, he curiously buckled.
Sadly, Arnab has now almost unambiguously adopted a pro-Modi/BJP stance which has completely destroyed his reputation.
The BJP leaders have become like his defence attorneys. He is now India's Fox News on steroids.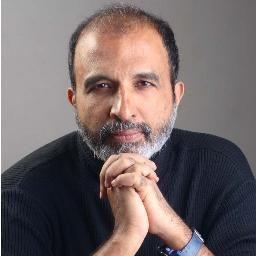 Besides being hard-working and disciplined, BJP workers are also equipped with money power.
You mention that they spent Rs 27,000 crore to fight the 2019 elections.
How can someone fight them in elections with less financial resources?
The BJP has the added muscle of the RSS foot soldiers.
Besides, the biggest fraudulent instrument is electoral bonds, where 95 per cent of the funds go to one party, the BJP.
It is a sham.
The Congress gets the balance, a measly five per cent.
I have recommended several times that the Congress should refuse to take money under electoral bonds and force the BJP to make disclosures.
It is a no-brainer.
But we are still 'introspecting'.
The Congress got 12 crore votes in the 2019 elections. This is a good number, but not good enough to defeat the BJP, which got 38 per cent of the votes.
In this scenario, do you feel Rahul Gandhi is too decent to be in politics and win elections or he is a lazy, part-time politician?
Rahul Gandhi is a good man with good intentions.
He is what I would call as a marathon man, willing to persevere for the long haul.
He genuinely cares for the underprivileged.
He has had a tough run largely because he inherited a debilitated party to begin with from his mother, Mrs Sonia Gandhi.
But he has been surprisingly indifferent about building his personal brand.
Politics is now become mostly presidential in a social media-driven world.
Secondly, he has been unable to stick with some big ideas that symbolise his political thinking -- on climate change, foreign policy, inequality, development, industry, corruption, education and health.
Yes, he has articulated his commitment to the 'Idea of India', but he has also soft-pedalled on certain issues for short-term political benefits, like the janeudhari politics in Gujarat.
I also think he should stop shaming everyone in the mainstream media as Godi-media.
It is wrong.
There are many brave journalists who are taking on the authoritarian demagoguery.
He should instead have long conversations with independent media.
But he has some advisers who are clearly giving him a skewed picture of the world outside.
That coterie culture is the bane of the Congress.
Hopefully, Rahul will soon see them for what they really are.
Feature Presentation: Aslam Hunani/Rediff.com