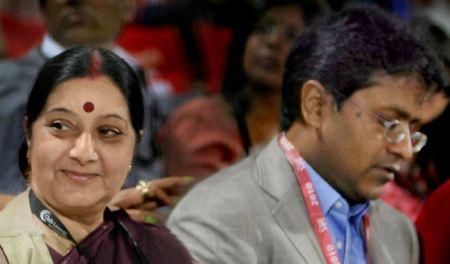 External Affairs Minister Sushma Swaraj with Lalit Modi during an IPL game in New Delhi in 2010. Photograph: PTI

The Congress on Monday stepped attacked on External Affairs Minister Sushma Swaraj alleging there was "quid pro quo" involved in her "assistance" to Lalit Modi in obtaining British travel documents and demanded that the scam-tainted former Indian Premier League commissioner be brought back and tried in India.
Congress National spokesperson P L Punia said, "There are circumstances which establish contact between Sushma Swaraj and Lalit Modi. As a quid pro quo, Sushma Swaraj has done a favour to a tainted person who is accused of Rs 700 crore money laundering, tax evasion and several other charges."

Also read: Why Modi lent support to embattled Sushma Swaraj
"There is a notice which has been issued against him. But he was provided special favours. Within 24 hours, Modi was given a total clearance to travel abroad. There is an official position that continues to be same. But unofficially, she provided him help."
Terming Swaraj's claim of helping Modi on "humanitarian" grounds as "totally bogus" and one not standing scrutiny of facts, Punia told reporters in New Delhi what has been said on behalf of the National Democratic Alliance government and Bharatiya Janata Party Chief Amit Shah in the minister's defence is "a lame excuse".
"According to Portuguese law, it is not required for a husband to sign papers before his wife goes under surgery. There was a circular from the Government of India asking the British government not to allow him travel abroad. So, what the minister is saying is very weird," he said.
The Congress leader said that the Swaraj family has had a "long association" with Modi and on the basis of favours it received from him, he was helped, Punia said.
"Our stand is very clear, whether it was during the United Progressive Alliance government's time, whether it is now that in national interest Lalit Modi should be taken to task, law must take its course, he should be brought back to India. Trial should be conducted," he said.

On the Samajwadi Party coming out in support of Swaraj, Punia said that the Mulayam Singh Yadav-led party was free to express its views.
Swaraj was at the centre of a major row over helping Lalit Modi to obtain British travel documents but found strong support from the government and the BJP which rejected opposition demands for her resignation over alleged "impropriety".
The genesis of the controversy was the disclosure of emails showing that she had spoken to Indian-origin British MP Keith Vaz and its High Commissioner in New Delhi James Bevan favouring the grant of travel documents to Modi to go to Portugal, purportedly for his wife's cancer treatment in June last year.
Modi, who is wanted in India, has made London his home since 2010 to avoid a probe for alleged foreign exchange regulation violations in the T20 cricket tournament held in South Africa in 2009. The previous UPA government had revoked his passport and had pressed for his extradition.