'He had differences with Rahul.'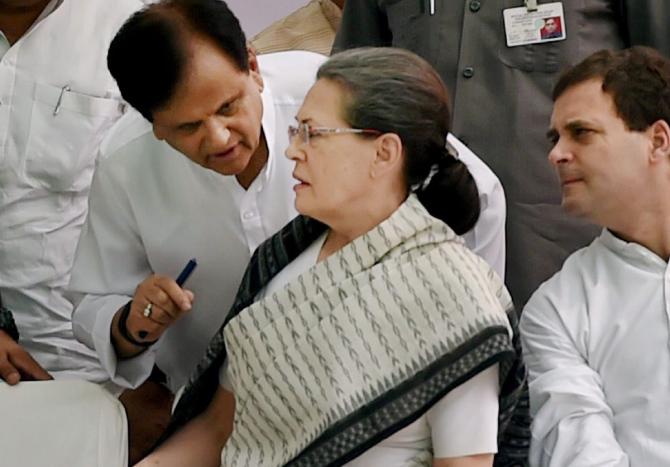 "I was close to Ahmed Patel and told him many times in recent months that he should write his memoirs. I told him that his memoirs would be of great help to future generations and students of politics. He said he would go to his grave with the secrets," Rasheed Kidwai -- the author of two books on the Congress party, 24 Akbar Road and Sonia -- A Biography -- tells Syed Firdaus Ashraf/Rediff.com in the concluding segment of a revealing coversation.
How did Ahmed Patel outmanoeuvre Vincent George who had strong connections to the Gandhi family?
George's problem was that he was seen as close to leaders like Arjun Singh, M L Fotedar and K Karunakaran, Shiela Dixit and Natwar Singh.
Sonia wanted to sound like the head of the parivar and wanted to become like an even-headed head of the family. In this Vincent George became the casualty.
Sonia did not want to become a factional leader of the Congress party. In the Congress's inner dynamics, Madhavrao (Scindia) was a very selfless friend and advisor to Sonia. He was not dependent on M L Fotedar, Vincent George, R K Dhawan or other so-called power-brokers.
He had an independent line to Sonia and he suggested that Ahmed Patel was a nice, clean and decent person so he should be given more prominence as opposed to Arjun Singh, Ghulam Nabi Azad or others who were vying for Ahmed's role.
Ahmed Patel did not have a flashy lifestyle nor was he into electoral politics or was any kind of technocrat. Yet, he found his way with sheer sincerity, honesty, integrity and grit to the top.
Ahmed Patel, Sushil Kumar Shinde and A K Antony were so loyal to party matters or the government that at times they would not share secrets with their spouses.
I was close to Ahmed Patel and told him many times in recent months that he should write his memoirs, but he said nothing will come out.
I told him that his memoirs would be of great help to future generations and academics and students of politics. He said he would go to his grave with the secrets.
That was his sense of loyalty.
He had differences with Rahul, but he never said anything.
Why could he not build that bridge with Rahul like he did with Sonia Gandhi?
Rahul is a very unconventional politician in that sense. He always had a detached view of looking at those Congress leaders who were from his father's era.
He was judging them and holding them up for what went against the Congress because he wanted to fulfil the unfinished agenda of modernising the Congress party organisation which Rajiv gave in his famous Congress centenary speech in Mumbai. He said in that speech that he will get rid of power-brokers in the Congress party.
Rahul wanted to make the Congress into a very modern 21st century organisation which he miserably failed to do.
He had some kind of reservations not just over Ahmed Patel, but others too. And it is to the credit of Ahmed Patel that he did fill some gaps as he made Rahul realise that (he was important) in mobilising resources or crowds.
He made him (Rahul) realise that he is an asset and a go-to person.
You wrote that Ahmed Patel never wanted to take action against Narendra Modi for the Gujarat riots after the UPA formed the government in 2004. Why?
He did not talk openly about this aspect. This is speculated as he was himself a victim of the VHP when overnight he became Ahmedbhai from Babubhai.
He was a secularist, but he did not believe in the politics of vendetta or witch-hunts. This argument was bought by Dr Manmohan Singh and Sonia Gandhi.
There was a view from his side that the Congress came on a political mandate and that whatever has happened has happened.
He saw that the UPA was formed to fulfil the promises to people and the Vajpayee government was punished by voters for many things, besides Gujarat riots as Vajpayee himself told (then Gujarat chief minister Narendra Damodardas Modi) that he should follow Raj Dharma as many innocent lives were lost. It is a matter of record that he (Vajpayee) wanted to replace Modi with someone else.
Did he feel bad about being targeted as Ahmedbhai? And but for that, do you think he would have gone further in politics?
It is not applicable to Ahmed Patel alone. Maulana Azad, who was seeped in national integration, had to choose a seat like Rampur and Mewat to win elections because they were Muslim majority (constituencies). This is a telling commentary, but Ahmed Patel did not complain about it.
Ahmed Patel was the fourth most important person in the UPA after Sonia Gandhi, Dr Manmohan Singh and Pranab Mukherjee.
In India, we have the first past the post system and the use of religion in politics made Ahmed Patel suffer in politics.
Why did he want to retire in 2014 and why did Sonia Gandhi hold on to him?
He thought his time was over. He felt he has been there, done that.
He told me he was in agreement with Rahul that there needs to be fresh blood in the Congress. Unfortunately for the Congress, fresh blood did not deliver.
Why did Jyotiraditya Scindia quit the Congress? He quit because he lost the elections. So did many promising leaders of the Congress lost the elections, including Rahul Gandhi from Amethi.
Sonia herself wanted to retire when she turned 70, but all these (old) people had to go on for the greater cause to keep the Congress going on and keep the fight on.
What about the Congress treasurer's post after Ahmed Patel's death?
There will be several claimants for it. I think the Gandhis will go on slow on it because you know organisational elections are there.
Team Rahul has to evolve. The group of 23 too eyes this post. Lots of them had a grudge against Ahmed Patel too because he being a close advisor to Sonia Gandhi never allowed anyone to come close to her or Rahul.
I think this post will not be fulfilled in a hurry because as per Congress arrangements, Motilal Vora (who is 93 years old) is not keeping very well and is a joint signatory, which is the system as far as Congress finances are concerned.
If Ahmed Patel is not there, then Vora's signature would do.
Will the Congress be the same without Ahmed Patel?
The Congress was not the same without Mrs Indira Gandhi or for that matter Rajiv Gandhi. The Congress party goes on, but it faces far more formidable challenges now.