'The Congress today has lost contact with the Hindu clergy.'
'They go to to Hindu clergy only during the time of elections.'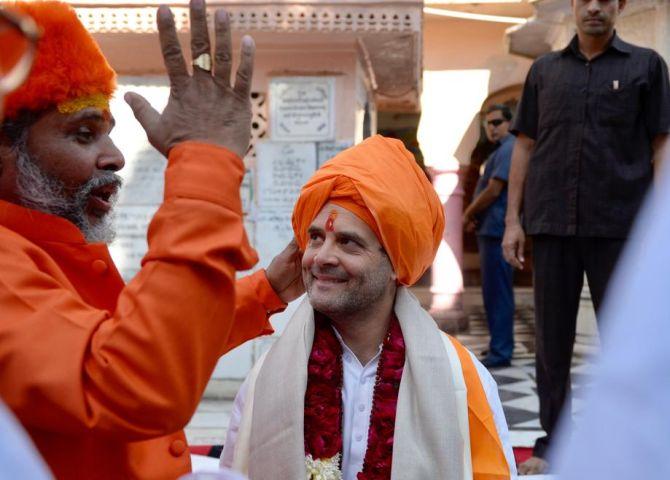 "Muslims don't have any option so their clergy lines up with the Congress. And the Congress also lines with the Christian clergy," Rasheed Kidwai -- a Visiting Fellow at the Observer Research Foundation and the author of two books on the Congress party: 24 Akbar Road and Sonia-A Biography -- tells Syed Firdaus Ashraf/Rediff.com in the concluding segment of of a three-part interview.
Why did Jyotiraditya Scindia succeed in his rebellion and Sachin Pilot failed?
Scindia's grandmother, Rajmata Vijayaraje Scindia, was a part of the BJP and so are his two aunts.
The Scindia family has had a special place in the Rashtriya Swayamsevak Sangh and Hindu Mahasabha right from the time of Independence and that transition is very smooth.
Many people also forget that post the Babri Masjid demolition, when there was some kind of protest by the BJP in New Delhi, at that time Sachin Pilot's father Rajesh Pilot was minister of state for home and in charge of internal security.
He converted Delhi into a fortress and all the top leaders of the BJP in Delhi like Dr Murli Manohar Joshi were lathi-charged and water cannon was used on on them.
So, Sachin Pilot comes from a very different kind of legacy as compared to Scindia.
And let us not forget that his two aunts (Jyotiraditya's paernal aunts Vasundhara Raje and Yashodhara Raje) are part of the BJP even now and have been very active for decades.
Therefore, for Sachin it was a very hard roadmap, but he is hard working and age is on his side.
Who would have thought V P Singh would have succeeded against Rajiv Gandhi?
Why can't Sonia Gandhi see the fact that Rahul Gandhi is not fit to lead the country?
The problem with the Gandhis is that they do not communicate enough. The communication on Twitter and other social media is different from real communication.
When Rahul came into politics as a backbencher in 2003, he thought that the Congress will be in Opposition and Rahul will learn the ropes of politics through his mother.
And then suddenly, by luck, in 2004, the Congress forms the government under the banner of the United Progressive Alliance.
Rahul had no role till he became general secretary of the Congress in Hyderabad in 2006.
There was a huge clamour from party members that Rahul must get more importance in the party -- and who was raising their voice? All Congressmen.
And what happened? This gets into (his) head.
Rahul then becomes vice -president of the Congress from 2006 at the Jaipur Congress session in Jaipur to 2013.
It is fashionable to criticise Sonia, but she is also human. At that time almost every Congressmen was praising Rahul.
It takes superhuman qualities like that of Mahatma Gandhi who did not take any power position in the government or the Congress. But then there is only one Mahatma Gandhi.
Is it not clear to Sonia Gandhi by now that Rahul Gandhi is not fit to rule?
Who decides whether Rahul Gandhi is not fit to rule?
It is an internal matter of the Congress party. It is the duty of the Congress to sort it out as I said at the beginning of the interview. Outsiders cannot do it.
Media, other parties and intellectuals -- nobody can do anything about it. These things must come from leaders like Shashi Tharoor and others. At least make an attempt, talk about it.
Look at the level of dissent in the Congress party.
It came from Shehzad Poonawala in 2017 and Sanjay Jha in 2020. They are not even All India Congress Committee members. What is their locus standi?
The Centre for the study of Developing Societies in an analysis in 2014 said six out of every 10 Congress voters were either Muslims, Sikhs or Christians. Have the Hindu voters deserted the Congress?
The Congress has lost roots in society.
I asked one Congress leader there is something called as Agarwal Samaj and if you go for that Samaj meeting and do a headcount, how many of them will be Congress sympathisers or voters?
He was clueless to my question and had no answer, but the answer is zero.
You see what the RSS has done. They have 136 hydra-like organisations and they are spread everywhere.
The Congress today has lost contact with the Hindu clergy.
Muslims don't have any option so their clergy lines up with the Congress and they play a very important role. And the Congress also lines with Christian clergy.
They go to to the Hindu clergy only during the time of elections.
They don't have roots in Hindu society, so what are they representing?
All said and done, the Congress still win 20 per cent of votes in the 2019 election. It is not a bad performance and one cannot write off this party. Can you?
And who got these many percentage of votes? The Gandhi family.
Perhaps if they were not there, the Congress party's vote share would have fallen more.
Feature Production: Aslam Hunani/Rediff.com