After spending 40 years in the Indian Army, Lieutenant General Subrata Saha (retd) marches into the electoral battlefield as the BJP candidate from Rashbehari.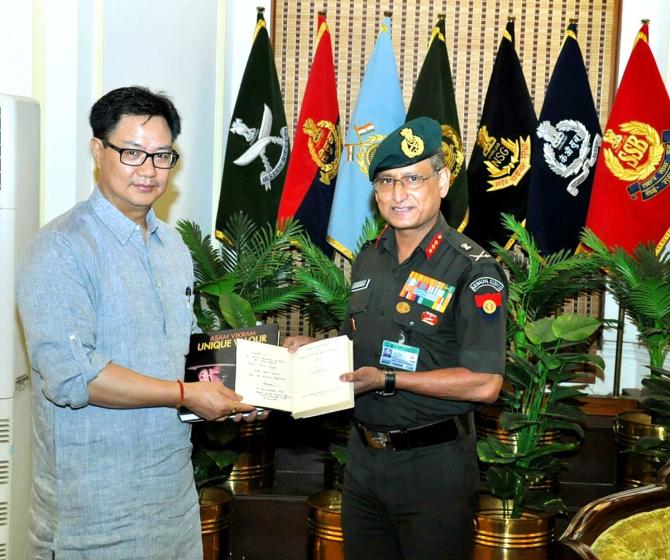 In a 40-year old military career, Lieutenant General Subrata Saha, PVSM, UYSM, YSM, VSM bar (retired), has never lived in one place for more than two or three years.
The longest he has stayed anywhere was as a schoolboy at the Sainik School Purulia in West Bengal where he spent seven years before going to the National Defence Academy.
General Saha, 64, has now returned home to Bengal and is entering the electoral battle for the Rashbehari constituency.
"I have always wanted to contribute to make my home state better. It has given me so much," says the former deputy chief of army staff who also served as general officer XV Corps in Srinagar.
With decades of military experience behind him in Kashmir, Assam, the Siachen Glacier, as a UN Peacekeeper in Angola etc, General Saha was in charge of perspective planning, force modernisation and capability development as the deputy chief.
He created the Army Design Bureau in 2016.
Post-retirement he was the founding director general of the Society of Indian Defence Manufacturers and member of the National Security Advisory Board.
General Saha speaks to Rediff.com's Archana Masih the morning after he was chosen to go into battle of a different kind.
What made you decide to join electoral politics after a long and distinguished career in the Indian Army?
I had the opportunity of serving the nation for four decades in multiple capacities in the army -- along the front, in the depth areas -- and as a member of the National Advisory Board post-retirement for two years.
The post-retirement years gave me a chance to give my humble contribution to the NAB. It also provided an opportunity to look inwards and think about what I could do for the place I was born and where I went to school.
This state had given me so much. I wanted to contribute to make my home state better. The people of West Bengal do exceedingly well in any other state or in any other corner of the world.
Therefore, something is not right about the prevailing environment.
Once upon a time, West Bengal was the place for industry. In fact, the first Ordnance Factory was set up here. The rifle factory in Ishapore or the Gun and Shell factory in Cossipore - all these factories started from Bengal.
Why then did an ecosystem not grow around it? Why is Bengal in a state of decay?
Obviously, something has to be done from the grassroots up and taken forward.
This was the reason and the inspiration behind joining politics.
Why did you join the BJP?
The BJP has given me this opportunity and reposed their trust and I thought I will take it up.
The BJP's Sankalp Patra (manifesto) has very well-defined objectives; it is not purely a text, but a good combination of both text, digits, facts, figures and promises.
One good comparison would be Uttar Pradesh, for example, where what was articulated in the BJP's manifesto has almost 80% been achieved.
There has been a delivery of promises by the BJP. Therefore, there was an inspiration to take up this opportunity given to me.
Today in West Bengal, even central schemes and facilities are invariably being blocked, whether they are meant to help the farmers or improve the road infrastructure.
The ruling government is finding multiple reasons, ways and means to block it to prevent progress from reaching the people.
The terrible security environment and depriving the people of their right to prosper and progress is what made me to take the plunge.
How did this move actually transpire? Was it in the offing for a few months?
I would say that things moved fast.
Were you taken by surprise?
Years of military training tells you not to get taken by surprise.
Secondly, I had this longstanding urge to go back to my home state, home city and hometown. So when this opportunity presented itself, it was a wonderful convergence of the two.
In that sense, the opportunity came and moved fast, but the thought had been in my mind for quite some time now.
We have literally seen the regressive decay in these 44 years. Gopal Krishna Gokhale's famous statement 'What Bengal thinks today, India thinks tomorrow,' was literally subjected to inversion.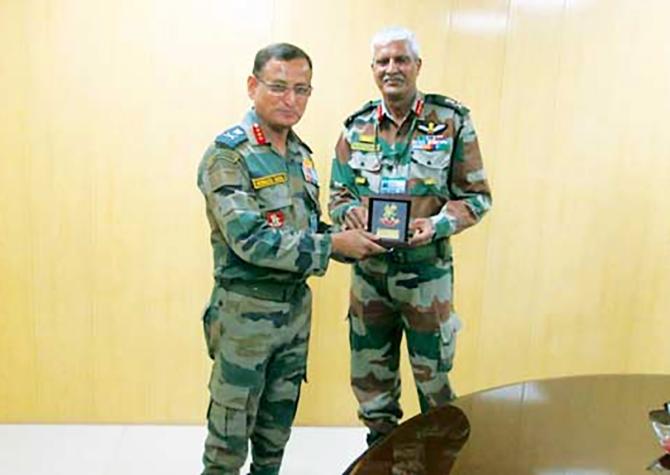 Ms Mamata Banerjee won power after dislodging the CPI-M after 34 years, what hopes did you have and where do you feel she went wrong?
I would not like to make an analysis at this juncture. The outcome of the last 10 years is there for all to see. Where is the progress?
Bishwakarma chale gacche -- industry went away, then Saraswati chale gacche -- students went away.
In the earlier years, students from all over the world came to study in Bengal. Once these two left the state, how could Lakshmi (Goddess of wealth) stay on?
Therefore, people did not have avenues of livelihood. Coercion and extortion is rampant. At the way things are progressing, there will be nothing left to extort!
It is for the TMC to analyse where they went wrong. They came to power with a big mandate because people had so much hope from them.
The people of Bengal have been a witness. They are very wise and will do what is in their best interest.
The BJP has criticised Mamata Banerjee for minority appeasement. What are your thoughts about that?
On May 2 we will come to know what people have felt about it. People are the best judge in a democracy.
We have to ensure that there are conducive conditions for people to prosper. I am sure voters will make the right judgment.
Do you think Mr Modi is the best guarantor for national security?
The honourable prime minister has broken the unnecessarily shackles of the past.
Secondly, I haven't seen such clear political directions in the past.
Thirdly, there hasn't been so much of freedom and initiative given to commanders in the field to do what they think best under the circumstances.
So, whether it is in terms of operations, whether it is in terms of self reliance in defence, this is one sector which is making very rapid progress.
All pending activities that were held up for multiple reasons are moving on the fast track. This is the best that we have seen since our independence.
Feature Presentation: Aslam Hunani/Rediff.com