'The prowess with which they executed the shootings unmistakably bear the imprint of someone who has had professional training and briefing.'
'They were able to empty 21 bullets in five seconds.'
'They were that quick like a trained marksman.'
The daring murder of alleged gangsters Atiq Ahmed -- a former five-term MLA and ex-Lok Sabha MP -- and his brother Ashraf, in front of the media, outside a hospital in Prayagraj on the night of Saturday, April 15, in the presence of 17 policemen escorting the duo, has sent shockwaves across Uttar Pradesh and India.
To mitigate the situation, the state chief minister, on the intervening night of April 15-16, convened a three-member judicial commission headed by retired high court judge Arvind Kumar Tripathi, retired judge Biresh Kumar Soni and former DGP Subesh Kumar Singh to probe the murders and submit their report within 60 days.
The UP police too has constituted a three-member special investigation team comprising of Satish Chandra (additional deputy commissioner of police), assistant commissioner of police Kotwali police station Satyendra Prasad Tiwari and crime branch officer, Investigation, Om Prakash for a qualitative and time-bound probe of the double murders.
To supervise and monitor the SIT probe, the UP police has also appointed a three-member team comprising Additional Director General of Police Bhanu Bhaskar (Prayagraj zone), Police Commissioner Ramit Sharma and Archana Tripathi, director, UP Forensic Science Laboratory.
The three killers -- 22-year-old Lavlesh Tiwari from Banda, 23-year-old Sunny alias Mohit from Hamirpur and 18-year-old Arun Maurya of Kasganj -- who fired almost 21 rounds in less than 10 seconds from foreign-made expensive guns surrendered soon after they killed Atiq and Ashraf even as the 17 policemen laced with automatic weapons and service revolvers were numbed into inaction.
The sordid murders were caught on cameras by television crews which, decorated former director general of police, Uttar Pradesh, Dr Vikram Singh, says should not have been allowed proximity access to the two brothers in the first place.
Dr Singh discusses with Prasanna D Zore/Rediff.com the lapses of the police escort team guarding Atiq and Ashraf that led to the chilling double murders and reveals why he feels the three killers are just the legs on the ground and were remote-controlled into murdering Atiq and Ashraf.
What startled you the most about the murders of Atiq Ahmed and his brother Ashraf on the night of April 15?
What startled me most was the unprofessional conduct on the part of the protecting contingent (of the UP police), that all SOPs (standard operating procedures) were broken and torn into shreds.
To begin with, it should been ensured (by the UP police contingent protecting Atiq and Ashraf Ahmed) that access control was faithfully enforced and implemented; it wasn't done.
The medical examination and their (Atiq's and Ashraf's) movement should have been kept secret and not disclosed to anyone and everyone so much so that the entire media swooped down as if it was some kind of tamasha.
Third, there is no provision for those under detention to give a press briefing or a press byte, which was (nevertheless) organised.
(One must find out) the circumstances under which this press briefing was organised. Not only were the media allowed, but they were also given close access proximity, which is again absolutely against the rules (that must be followed when those in police custody are taken out for medical examination).
Then the shooters carrying Zigana pistols, weighing not less than 2 kilos each, carrying a magazine of 15 rounds each were not only allowed to reach into close proximity from the rear but were also not hindered or repulsed when they went onto a bullet-pumping spree into them (the Ahmed brothers).
What was the police's response?
What was the close proximity security team doing?
What was the ring around them doing? What was the outer cordon doing?
Obviously, everything was dysfunctional.
My last point is that they (the three shooters who killed Atiq and Ashraf) were not arrested, but they surrendered before the police. They surrendered their weapons.
Therefore, no credit can be given to that contingent (of policemen) for not repulsing the attack and claiming that they arrested them and recovered the weapons.

Three days after the crimes, do more questions cross your mind about the circumstances in which these murders were committed?
The questions are much louder than the incident itself.
These three boys come from a very humble background; they don't have the wherewithal to buy a gun (Zigana F Series; made-in-Turkiye) costing Rs 10 lakh (Rs 1 million) each.
These pistols could have come from the Pakistani pedigree thrown into Punjab by ISI drones. The markings on the cartridges (bullet shells) have Pakistani factory seals.
Also, these boys seem to have had some refresher training (in handling guns and using them).
If you see one of the videos, one of the assailants can be seen in the battle-crouch position. The battle-crouch position is a typical position when one takes on the adversary from close quarters.
For a novice, it is not possible. The prowess with which they executed the shootings unmistakably bear the imprint of someone who has had professional training and briefing. They were able to empty 21 bullets in five seconds. They were that quick like a trained marksman.
And it will be naïve to believe their confession that they wanted to establish themselves like the Bishnoi gang (the dreaded Lawrence Bishnoi gang that has been accused of running murder, dacoity and extortion rackets in north India) and become famous.
Well, if they wanted to be like the Bishnoi gang, they knew they were executing these murders in front of live television. The minimum sentence they can now expect is life sentence, if not a death sentence.
What benefit would such fame get them now that they could face life imprisonment and spend the rest of their lives in a high security prison?
Let me tell you they would have gone underground (if they had plans to encash their fame) and there were enough ways for them to escape.
They could have easily made use of the chaos that followed after the shootings in the first few seconds just like those assassins who murdered Umesh Pal -- a prime witness in the murder of BSP MLA Raju Pal, in which Atiq Ahmed was the alleged mastermind -- and ran away.
Under these circumstances, I have my reservations about the whole episode (about the confessions of the three shooters), in the sense that they did not run away; they surrendered very, very meekly. They were taken into custody as if mechanically.
To be like Bishnoi, you have to live and live outside the jail.
I think this is a major self-goal that they (the three shooters) have committed. I think somebody who has the remote control has been able to win over them and their confidence and they must have got a handsome amount to get this conducted (murder Atiq and his brother Ashraf).
The UP government has appointed a judicial commission, a three-member SIT to investigate the circumstances surrounding the sensational murders and a monitoring committee to oversee the SIT investigation.
Will the truth behind the two murders ever come out or will these committees lead to formation of a complex web around the facts surrounding the two murders?
In every (such) committee, there will be people who will not be complicit in any wrongdoing. I know most of them, and I think they are the most upright and the best people to conduct and oversee this sensitive investigation.
What major reforms would you suggest to overhaul the entire policing system that makes such kind of murders possible?
You need to be trained like a commando, and there were people who must have done the commando course. Do not let the mental alertness go down.
You were like the Rock of Gibraltar when you came from Sabarmati to Prayagraj jail (Atiq Ahmed was driven by road from Sabarmati jail in Gujarat to Prayagraj jail in Uttar Pradesh two weeks ago).
What happened to your mental alertness and your reflexes and responsibility when you (the police) took them (the brothers) there (for medical examination).
All provisions of the rule book were thrown to the winds; (when you did this it was) as if you were inviting trouble.
I would suggest reinforce the (commando police) training, have proper supervision and let the rules first prevail; register a case against these 17 delinquent police officers, charge these police officers, place them under suspension, order departmental inquiry and complete investigations in 90 working days.
Some commentators indirectly hint at the UP government's involvement in these murders. Do such allegations make any sense to you?
It (such allegations) doesn't make any sense to me; these (allegations) have political overtones.
When it is said I will reduce you to dust doesn't mean I will kill you or I will crush you underneath my feet. No. It means that I will decimate you within the ambit of law, taking help of all legal provisions to see to it that your gang is decimated, your gang collapses like a house of cards, and you are finished so far as your world of crimes and criminality is concerned.
Who should take the responsibility for the lapses that made these murders possible?
The local police have to be held responsible and the guards in the contingent that were escorting them.
The guard and escorts rules are very clear that those who are escorting them (criminals) are given due briefing.
All the precautions and hazards (of the job) are explained to them even before they start their day, which is known as ginti (counting) and it is the job of the police station chief to tell them (the escort teams) what they can expect and what they should do and what they should not do in such circumstances.
There is also a provision that if such a thing happens (when accused are killed under police watch), then that is a criminal breach of trust and therefore, somebody will have to do a lot of explaining.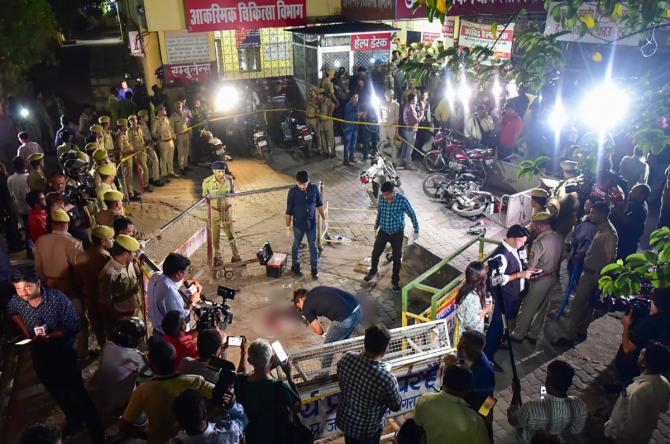 Would you really believe that the police team who took the Ahmeds for medical examination did it on their own will and that too at 10 pm in the night?
Should the buck stop only at the 17 police officers who, as some reports suggest, have been suspended from duty and not their superiors?
Have they been suspended? First, please check on that because there are reports suggesting they have not been suspended yet.
I do hope they are suspended because there is no logical reason why they should not have been placed under suspension under the guise that an inquiry is on.
The Guards and Escorts Rule is a statute that should be respected. They should be first placed under suspension, register a case against them and then do whatever you have to do.
Would you believe that these local policemen, on their own whim, took Atiq and Ashraf for medical examination at 10 o'clock at night?
I wouldn't think so. They (Atiq and his brother) may have complained of something and so they must have taken them for the check up and if they were to be deposited in the jail, then a medical examination is mandatory.
Since I'm not privy to the circumstances, I cannot say much, but there are certain clear cut guidelines. You cannot take them (for medical examination) just because you feel like taking them for a medical checkup.
But it is a mandatory requirement that medical examination has to be done before being sent back to jail.