A day after the prime witness in the 2005 Bahuhan Samaj Party MLA murder case was shot dead, the police on Saturday registered an FIR against several people, including former MP Atiq Ahmed.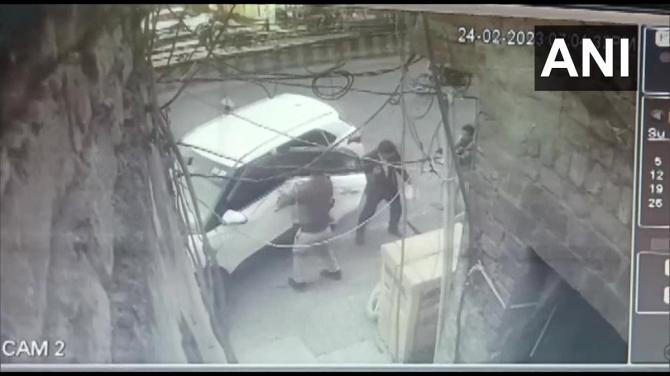 Umesh Pal, the prime witness in the 2005 murder of Bahujan Samaj Party MLA Raju Pal, was shot dead outisde his residence in Prayagraj, the police said.
One of his gunners, who too was hit in the firing, died later.
The main accused in the Raju Pal murder case is mafia-turned-politician Atiq Ahmed, currently lodged in a Gujarat jail.
On the basis of the complaint lodged by Umesh Pal's wife Jaya Pal, a case was registered at Dhoomanganj police station against Atiq Ahmed, his brother Ashraf, wife Shaista Parveen, two sons, aides Guddu Muslim and Ghulam and nine others.
They have been booked under Sections 147 (rioting), 148 (rioting, armed with deadly weapon), 149 (every member of unlawful assembly guilty of offence committed in prosecution of common object), 302 (murder), 307 (attempt to murder), 506 (criminal intimidation) and 120B (criminal conspiracy) of the Indian Penal Code and provisions of the Explosive Substances Act and the Criminal Law Amendment Act.
Jaya Pal alleged in the FIR that her husband was the prime witness in the Raju Pal murder case.
In 2006, Atiq Ahmed and his aides abducted him and forced him to give a statement in court in their favour. Umesh Pal had registered an FIR in this regard and the case was ongoing.
On Friday, there was a hearing in the matter for which Umesh Pal, his nephew and two security personnel -- Sandeep Nishad and Raghvendra Singh -- went to the court.
When they were returning home and Umesh Pal and his security personnel stepped down from their car in the bylane, Atiq Ahmed's sons, Guddu Muslim, Ghulam and their nine aides attacked them with bullets and bombs, Jaya Pal alleged.
Umesh Pal and his security personnel were seriously injured in the attack.
The FIR also alleged that a conspiracy was hatched by Atiq Ahmed, Ashraf and Parveen for Umesh Pal and Sandeep Nishad's murders, which was carried out by the former MP's sons and aides.
Prayagraj Police Commissioner Ramit Sharma on Friday told reporters that Umesh Pal was attacked with crude bombs and shot outside his house. Two of his gunners, deployed in Pal's security by the government, were also injured in the attack.
A severely injured Umesh Pal was rushed to Swaroop Rani Nehru Hospital where he succumbed during treatment, the police said.
Nishad was put on a ventilator before he also succumbed. The other gunner is being operated upon by doctors, police said.
Sharma had also said efforts were being made to identify the attackers on the basis of CCTV footage.
"The incident occurred right outside Umesh Pal's house. So far it has been confirmed that two bombs were thrown and he was fired at by a small firearm," Sharma said on Friday.
Eight teams have been formed to investigate all the aspects of the case and arrest those responsible for the attack, he had said.