'Congress and BSP are in the fray, but not in the contest.'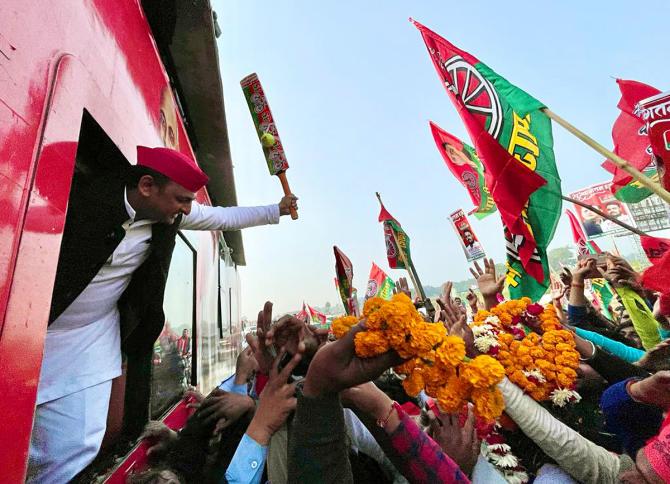 Kanpur-based political analyst Dr A K Verma had been bang on target when he predicted during the last two elections that the Bharatiya Janata Party was going to sweep Uttar Pradesh.
In 2017, Dr Verma predicted that there would be a clean sweep for the BJP in the UP assembly elections in spite of the party not declaring a chief ministerial candidate.
Again, in 2019, he predicted that the BJP would defeat the Samajwadi Party-Bahujan Samaj Party alliance in the Lok Sabha elections.
The BJP won 65 out of Uttar Pradesh's 80 Lok Sabha seats in 2019.
"In the calculation of voters, caste is not completely down and out," Dr Verma tells Syed Firdaus Ashraf/Rediff.com. The first of a two-part interview:
The UP assembly elections are around the corner. What is the feeling you get about what is likely to happen?
The competition will go in a bipolar model.
Initially, we expected that there would be a four-cornered contest among the Congress, BSP, BJP and SP.
Now, somehow, I feel the battle seems to be closing in towards bipolarity (between the SP and BJP).
The Congress comes in the fray at the last moment with new experiments which do not work. They were not present between two elections, but then the unfortunate incident of coronavirus happened.
They (the Congress) were not visible during the coronavirus period to the electorate and that is the limitation they have as a party.
As far as the BSP is concerned, they have taken a backseat after 2012.
It seems after the defeat in the 2012 assembly elections, Mayawati has distanced herself from Uttar Pradesh politics and concentrated more on national politics. This has resulted in her Dalit support base shifting towards the BJP.
Therefore, I am saying the Congress and BSP are in the fray, but not in the contest.
The UP battle is between the SP and now BJP as both of them are trying to rope in smaller parties.
Swami Prasad Maurya, a BJP leader, may be joining the SP. Another minister, Dara Singh Chauhan, has also quit the Yogi Adityanath government. Does this impact the BJP's fortunes?
Maurya was an important leader of the BSP and therefore he was roped in by the BJP five years ago. Now, during election time, he is quitting his post and saying his ideological compulsion is not matching the BJP's.
I have a suspicion though: Do people takes such politicians seriously?
You are in the BSP, then BJP and then in SP. It means your ideological position and image are zero. People will not buy you as an ideological person.
Having said that, one cannot deny that he is an old-timer politician and some people surely will be with him. He has his caste votes.
And one cannot completely ignore his exit by saying that no impact will be felt on the BJP. There will be certainly some dent for the party with his exit.
Smaller parties like the Apna Dal and Om Prakash Rajbhar's Suheldev Bharatiya Samaj Party are dictating terms to the BJP and SP in this election. Will they play an important role?
That is what they are trying to project.
Smaller parties have something to achieve by joining the bigger party because they also know that on their own, they will not be able to win because they have a limited social base in each constituency.
They have a winning presence and therefore they aspire to get more as they are marginalised sections of society. They want to be (allied) with a big party which can push them to the winning point. They represent the poor, backward and the marginalised sections of society.
This happened last time with Om Prakash Rajbhar's party and the Apna Dal after they allied with the BJP.
But the greater advantage goes to the bigger party because subaltern groups, when they join a party like BJP, they then get the support of marginalised people all over the state.
These parties are very important in constituencies where winning margins are very thin, say, 5,000 votes. They add value to the bigger party. In this, both the big party and small party benefit.
Secondly, these smaller parties exert too much pressure on the bigger party like the Rashtriya Lok Dal which wants more seats to contest.
The RLD wants to contest 35 MLA seats from Western Uttar Pradesh in alliance with the Samajwadi Party. Now if you do that, what happens to the SP's ticket aspirants from these 35 MLA constituencies?
This creates a big problem when such people do not have ideological commitments, they shift to their rival party immediately, thus causing a dent to the original party.
The Samajwadi Party may be thinking now that (RLD president) Jayant Chaudhary is a big leader in Western UP and allying with him will help them, but what about the disgruntled elements among SP leaders who hail from Western UP?
Did the SP commit the same mistake by aligning with the Congress in the 2017 UP assembly elections?
Absolutely. It was devastating for both parties.
Akhilesh Yadav has been holding these huge rallies and it looks like he is going to make an impact on this election. Will he improve the SP's numbers from 45 MLAs?
As I told you, the electoral contest is a drifting bipolar model in UP this time. In this scenario, the Congress and BSP get marginalised in the electoral fray.
People see (while voting) these two forces, SP and BJP, as the two main forces in the battle to win the election.
And therefore, in a bipolar contest, there is certainly a political polarisation (of votes), forget about communal polarisation, because there is a different polarisation pole as there is the polarisation of socialist votes and the rightist votes.
People then vote on an ideological plank too and not only on the caste basis. Of course, caste remains an additional factor.
Now UP voters are seeing the contest is between two main rivals, SP and BJP. And when you have a bipolar contest, then obviously the surge is towards both parties.
And this is what you see in the rallies of Akhilesh Yadav.
In the 2017 elections you told us how the non-Yadav OBC vote had shifted to the BJP completely. Where are they going this time? I believe the OBC population is upset with the BJP over the caste census.
These are very tricky things to answer unless you have worked on the ground to know exactly who is thinking what.
As an analyst sitting at home and watching the developments, I would say that social denominations are not homogenously aligned to a particular position.
We have a tendency to think in terms of Dalits, Yadavs, Kurmis and Brahmins, but what happens is that suppose there is a constituency and one party gives ticket to a particular caste candidate.
And here you must have noticed that most political parties delay declaring their candidates because they want the rival parties to declare their candidates first. They want to see what kind of caste candidate their rival party is projecting to the voters.
Suppose a Brahmin candidate is given a ticket by one party, then to neutralise that, the second party too gives ticket to a Brahmin candidate only. As a result of which the Brahmin factor gets neutralised in that particular constituency.
And if the other party gives ticket to a rival caste candidate instead of a Brahmin caste candidate; then consolidation of votes among voters of the other castes begins.
All this happens on a constituency to constituency basis. I don't think there is a pan-consolidation of castes (non-Yadav OBCs) in Uttar Pradesh.
Does it mean ticket distribution will finally affect who people vote for, and is it the key to winning the UP elections?
If you talk of winning the elections, then there is not just one factor which is important, but many other factors that have to be considered.
Ticket allocation is one very important variable because the party does not allow or assure candidates well in advance telling them which constituency they will contest from.
Suppose you are contesting elections from Jhansi city and one party a year before the election declares its Mr X as the candidate. If Mr X is given the candidature one year in advance, then it will give him time to work in the constituency and nurture the constituency.
But this does not happen in our country and therefore the candidates working in the constituency always work half-heartedly, not knowing whether they will get a ticket or not.
I have come across such people in life many times who work hard in a constituency, but do not get the party ticket and some outsider gets it.
This problem pertains to all political parties.
Ticket allocation is certainly a very important factor and we can say with all certainty, despite development playing an important role, in the calculation of voters caste is not completely down and out.