'The Covid situation is like demonetisation.'
'People were upset with the government initially, but eventually they voted for the BJP again'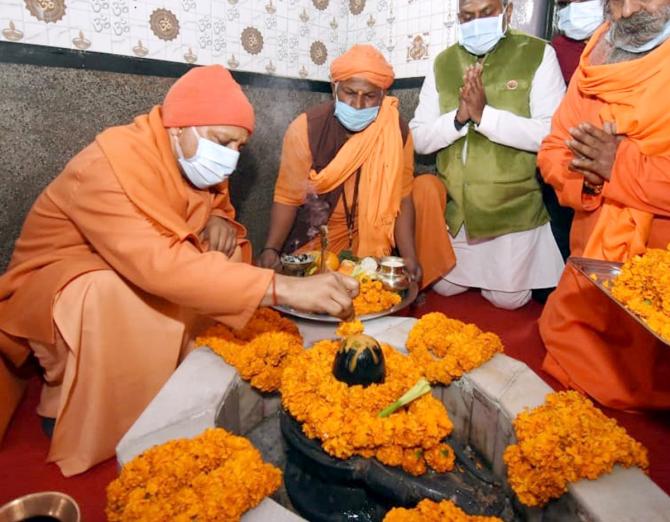 Drone shots of bodies of Covid victims buried in the sand on the banks of the Ganga in Uttar Pradesh were the single biggest sign of the complete failure of the state government in its handling of the second wave.
Therefore, it seems only logical that the anger those images evoked will manifest itself in people's voting pattern in the assembly elections.
However, Kanpur-based political analyst Dr A K Verma, who had correctly predicted Bharatiya Janata Party's victory in UP in the 2017 assembly and 2019 Lok Sabha elections, thinks otherwise.
"During the second wave, people were very unhappy with the government because everybody was suffering. But later people realised that things wouldn't have been very different under any other government," Dr Verma Rediff.com's Syed Firdaus Ashraf in the concluding segment of a two-part interview.
What are your views about Yogi Adityanath's rule? People see him as a potential prime minister.
That can be their opinion as these things are all hypothetical. One thing is very clear though, as it is in any election, that the ruling party is always in a very tight position.
I say tight position because the people have a lot of expectations from the ruling party. At the time of elections, it always happens that people tell the ruling party that you have not done this or that. This is true for every incumbent government.
The more important question is, has the government done anything which has annoyed people so much that they will dislodge it?
I, as a voter, may be very unhappy with you as a ruling party. But I could also say that it's okay, I will vote for you again and give you another chance so that you can solve my problems in the next five years.
Voters need a very sound reason to dislodge a government. It is a game theory like situation as voters see who will replace this government and what was their record during their five-year term.
During the second wave of COVID-19, people were very unhappy with the government because everybody was suffering.
Tempers ran high and people were irritated. But later it subsided as people came to know that no country could manage the second wave perfectly. Even the most developed country like the United States couldn't.
People realised that things couldn't have been any better under any other government.
Having said that, people were very angry at that time, but now the same Covid situation is turning into an advantage for the ruling party because the Opposition parties maintained utter silence during that time.
The Opposition parties were not in the public domain during the Covid crisis. They never put up any camps or helped people during that time.
The government, on the contrary, helped people with rations and other things. My assessment may be wrong at the moment as I have not gone to the field, but the Covid anger is not there among voters anymore.
The Covid situation was like demonetisation. People were upset with the government initially, but eventually they voted for the BJP again.
What about dead bodies floating in the rivers of Uttar Pradesh? Have people forgotten that too?
Nobody has forgotten that.
The people panicked so much during that time that no government could have handled it. Things would have been the same. People were not willing to accept the bodies of their loved ones.
Hospital staff too went away and the bodies kept lying on the floor of the hospitals.
The numbers were huge and it was difficult to cremate so many people together. One cannot deny that (failure).
Are you saying that people are no longer angry against the UP government over Covid mismanagement?
At least, the people of Uttar Pradesh will not vote the ruling government out over the issue of handling Covid.
There could be some annoyance among voters over price rise and other issues, but as far as the Covid issue is concerned, they will not oust the government solely on that basis.
Does unemployment, soaring petrol/diesel prices not bother the voters of UP? Are they not against the government over these issues too?
Prices are certainly high, but the majority of the people who vote for any government are the poor and subalterns. These people are under very good care of this government.
The last mile delivery system of (the central and state) governments ensures that these poor people don't starve.
As for employment, you should know that we are adding one Australia to our population every year. Any government will not be able to provide employment to so many people.
One good thing that is happening now is that there is a psychological shift among the people. They are thinking of becoming entrepreneurs.
No party, no government will be able to give employment at a time when automation is happening across industries. A workplace that used to hire five people is hiring only one person now. You cannot go back on automation.
Take the example of the railway ticket booking system. Most people book tickets online now. There are efficient systems in place to ensure that this is done smoothly. People are benefitting from it.
The requirements of society are changing and if you think in terms of entrepreneurship, then sky is the limit. It is very easy to criticise this government that it is not providing employment.
Where will employment come from? We are on the automation process and self-employment is the only way out.
Why is Adityanath hell bent on polarising these elections with remarks like 80:20, indicating it to be a fight between 80 per cent Hindus versus 20 per cent Muslims?
Communalisation of politics is such a common denomination in Indian politics today that it has lost its steam. People do not give much credence to communalisation regardless of what parties say.
Some political parties do these things very surreptitiously, some do it overtly and some covertly.
Most of the Indian political scenario has seen communal undertones since 1947. Now nobody takes communal politics seriously.
The fact is that if you have to win elections you have to govern and you have to deliver. And if you don't, you are out. This is what we saw in 2012 with Mayawati's government and again in 2017 with Akhilesh's government.
Nobody knows what will happen in 2022. But the fact is that it is the delivery (of governance) that will win the race.
I feel governance and development are more serious concerns of the electorate nowadays than communal issues.
Have Prime Minister Modi and Chief Minister Adityanath fulfilled the promise of last mile delivery?
What you read from reports is that things are being delivered to people. They have realised that the delivery system is working fine.
One is DBT (Direct Benefit Transfer), because it has eliminated the middleman. No matter whatever small amount (Rs 500 per month) is directly getting transferred to Jan Dhan accounts.
Secondly, people say that whatever the government has given, it has come to every section of society. Be it houses under the Pradhmantri Awas Yojana or toilets built by the government.
There is no corruption at the grassroot level and people have got what was given to them by the government.
People realise that and they always compare these things to previous regimes. And when they do that, they feel this government has done more substantive work.
The BJP got a whopping 49.6 per cent votes in Uttar Pradesh in the 2019 Lok Sabha election. Do you think it would be very difficult for any political party to wean away, say, 20 per cent of those voters within just two years?
In 2012, when Akhilesh Yadav formed the government, his party got a vote share of 29 per cent. It was 1 per cent less than Mayawati's government five years ago which got 30 per cent votes in 2007.
We have to see it analytically. Suppose Akhilesh adds to his 29 per cent vote share this time. We will have to see where those additional votes are coming from.
Also, we will have to see if the BJP's politics is winning them votes or not.
These are simple calculations.
What I see is that Akhilesh is trying to attempt a very good caste combination. His party's strength is MY (Muslim-Yadav) combination. This is not inclusive politics as they are holding on to only two communities.
You have to become an all-inclusive party because in a democracy, it is numbers that matter.
Now, at least, he has made a beginning this time and showing that he is opening up. For example, he is opening up to upper castes, backward communities and Dalits.
This is an inclusive approach which every party must do. However, what he is not doing is expanding his Socialist philosophy. He is limiting his party to Ram Manohar Lohia.
Lohia is hardly reminiscent in the Indian psyche now. He died in 1967, the year Mulayam Singh Yadav entered politics.
Mulayam got very limited time to be guided by his mentor. This brought aberrations in the Socialist and the Samajwadi movement of Mulayam.
Instead of going for a jaati todo andolan (break up castes movement) they went on building jaati jodo andolan (consolidate castes movement), which Lohia would have not liked.
By doing this, the Samajwadi Party went against the basic tenets of Socialism. Mahatma Gandhi, Jawaharlal Nehru, Acharya Kriplani, Jayaprakash Narayan and so many others were Socialists. There is a legacy of leaders who were Socialist in our country who are better known to people right now.
And here, the SP as a party is stuck with only one Socialist leader (Lohia). They should add more popular Socialist icons to their list, which will give them advantage and also increase their party's inclusivity.
This will give an ideological handle to the SP as a party to reach out to more people, but at the moment they have not been able to come out of the exclusionary image.
If the BJP loses 2022 elections, will it impact Modi's position in the 2024 Lok Sabha election?
National elections are fought on a different plank.
At this moment, there is nobody close to the prime minister's image. You cannot compare state elections with general elections.
Most analysts are saying this is semi-final and 2024 will be the final. Let me tell you, a final is always a final. It is never preceded by a semi-final.