'Whatever is left of all institutions will also go away.'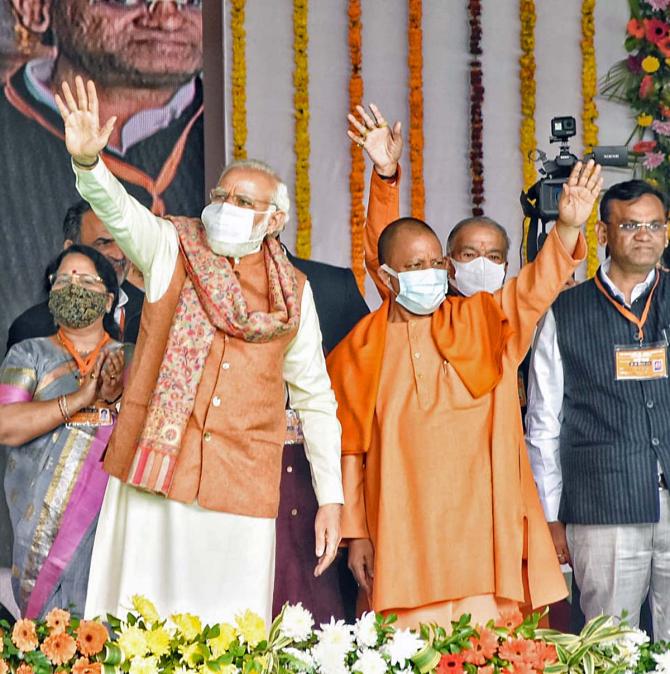 "This is real fear, and it is unprecedented. We have not experienced anything of this sort before," Apoorvanand, professor at Delhi University and a critic of the Hindutva ideology pursued by the Narendra Damodarda Modi government, tells Rediff.com's Shobha Warrier.
The final segment of a multi-part interview.
What happens if Modi wins 2024 and Yogi wins 2022?
I think it will be destruction all the way!
If Adityanath wins 2022 and if Narendra Modi wins 2024, whatever is left of all institutions will also go away.
Institutions are talking in a language that is ideological, a language which the RSS will be very pleased with, and it is a very dangerous sign.
By calling dissenting voices, anti-national, is the BJP not trying to arouse strong nationalistic feeling among the people?
It is not just strong nationalism, it is actually majoritarianism because majoritarianism can easily speak in a language of nationalism.
I can say, because I belong to the 80% of the nation, and the nation belongs to me and I am nationalistic. So, majoritarianism is always nationalism.
In the initial years of Narendra Modi, there were many intellectuals who spoke loudly when something wrong happened in society but today, they are all silent. Are they afraid?
I won't say that they have become silent. Many of them are still speaking and writing.
What happened was, the media stopped giving space to them.
I am essentially a Hindi writer, but I don't get space in any Hindi newspaper or any Web portal.
I started writing in English because I did not get any space in Hindi except for The Wire in Hindi and a couple of other portals.
You mean, their voices are not heard?
Yes, because there is no medium for them to express their views, you don't hear them.
How do we get heard when no newspaper wants to publish our columns?
Yes, people are also afraid that if they speak, they will get arrested. I won't discount their fear. I won't say that it was unfounded.
I don't hold it against those who decide to exercise caution because the price can be quite heavy for speaking.
For example, if UAPA is slapped on them, they will not get bail.
If you go to Tripura to report violence, you will be arrested. That was what happened to two young women journalists.
102 people were booked under UAPA for tweeting about the violence of Tripura.
This is real fear, and it is unprecedented. We have not experienced anything of this sort before.
Even during the Emergency?
The Emergency was very different. Indira Gandhi had announced that she was suspending many provisions of the Constitution. So, it was a suspension of normal life for everyone.
The Emergency affected all sections of people of Indian society equally whether they are the Hindus or the Christians or the Muslims.
But in the present day India, only Christians and Muslims and maybe the Dalits and the Adivasis are affected.
Dissenting voices?
Dissenting voices, of course. All those who don't agree with them.
But it is actually an emergency for the Muslims and the Christians. The Hindus feel it's their Raj!
What is the road ahead for India?
We are in a very interesting and strange situation because we are two or three generations living together.
And we are witnessing the unfolding of fascism.
We also have learnings from the history of fascism like how we can recognise it.
We also have a history of democracy which Germany didn't have when Hitler overpowered them.
And we are a complex country. All these things can be used to push back fascism which is encroaching our lives.
So, there is still time, there is still a possibility. We still have resources.
There is still space for a struggle; all we have to do is not to turn defeatist.
What we have to do is, believe in the humanity and intelligence of our people, and keep appealing to that humanity and intelligence.
But you can't be a half-hearted secular or a reluctant secular; you have to be a firm secular.
Feature Presentation: Aslam Hunani/Rediff.com