'People are questioning these highways and expressways in UP because ultimately, they want to get bread and butter first.'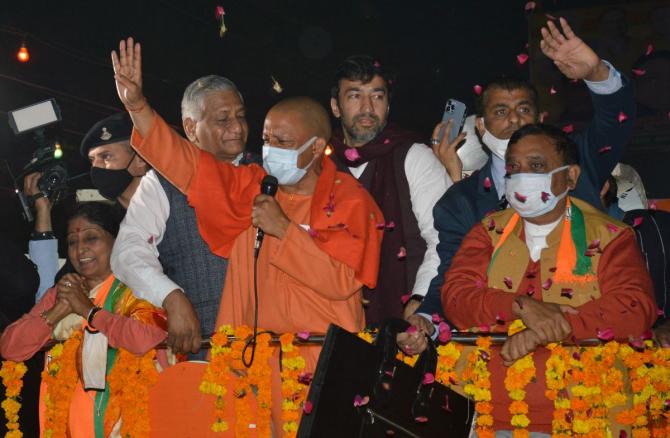 With weeks to go for the Uttar Pradesh assembly elections -- unless the Election Commission postpones the exercise on account of omicron -- Prime Minister Narendra Damodardas Modi has accelerated his visits to the state.
He is either laying a foundation stone for a new project in the state or inaugurating finished projects launched by his Bharatiya Janata Party's government at the Centre and in the state as well as its predecessors.
"If the Ram temple would have given Modi votes, he would not have come to UP every second day," Professor Sanjay Gupta at the department of political science, Lucknow University, tells Rediff.com's Syed Firdaus Ashraf.
The concluding segment of a multi-part interview:
Will you say the UP Hindu voter has not become as polarised as say Gujarat voters who only vote for the BJP?
Gujarat is very different from UP. It is known for division of votes.
During the time of Mrs Indira Gandhi she ensured that Dalits, Brahmins and Muslims were the three pillars of her party.
These communities were her vote bank. The Hindu vote was never en bloc since her days and it was always divided.
If some Haridwar seer or some Nagpur-based seer call on Hindus to vote for Modi, then the people of UP will laugh at him.
We do not give value to such statements. They (UP voters) vote according to their own judgements.
There are lakhs of Hindus for whom the temple issue does not matter.
If the Ram temple would have given Modi votes, he would not have come to UP every second day.
The politics of temple will not work for the BJP (this time). They have to work and perform for the people on the streets of UP.
The Ram temple is an emotive issue for Hindus, but it is not going to give them bread and butter.
It is not going to fill their stomachs. People on the street want to have their livelihood which is getting difficult day by day.
Will price rice be a big factor in the UP elections?
For sure. People are questioning these highways and expressways in UP because ultimately, they want to get bread and butter first.
If the government is unable to provide them that, definitely they will face the ire of the people.
Take one example. The covid crisis is over, but the (UP) government is still giving free rations till March 2022.
The government does not want to invite people's anger. If people go hungry, the temple or expressways will not work for them (the BJP).
The direct money transfers is doing very well. Is it not helping the BJP?
It has managed to contain corruption. Money is now reaching the beneficiary directly. These are plus points for the BJP.
However, it is very difficult to say that they (the BJP) will easily sail through this time.
If the BJP manages to form the government, it will be a big achievement for them.
Akhilesh Yadav is in resurgent mode. People are rooting for him. I feel from 45 seats in 2017 he will win at least 150 seats or 150 seats plus out of 400 seats.
The politics of alliance will work big time in this election in UP.
Identity politics has taken the lead. Akhilesh has managed to form an alliance with Om Prakash Rajbhar's Suheldev party. In Western Uttar Pradesh he has formed an alliance with Jayant Chaudhary of the Rashtriya Lok Dal.
These are prominent parties and have influence in many districts of Uttar Pradesh.
The farm protests against the BJP was a big setback to them.
A number of Jat leaders are going with Akhilesh Yadav this time. They have better relations with him compared to that in the 2017 elections.
Another thing that has changed this time is that all big parties have realised that these big party alliances won't work.
In 2017, the Samajwadi Party allied with the Congress and failed badly.
In the 2019 parliamentary elections, the Samajwadi Party allied with the Bahujan Samaj Party and failed badly.
This time, all alliances have shifted alliance to smaller parties.
All big parties including the BJP have realised that if you hold hands with smaller parties, you will get a chunk of votes from their alliance.
Has the BJP failed to identify or read this identity politics on the ground?
They are conscious about this fact, therefore they have wooed NISHAD (Nirbal Indian Shoshit Hamara Aam Dal) party chief Sanjay Nishad to their side.
They also have Anupriya Patel with them, but her mother is with the SP.
You have the Musahar community in Benares, they are with the SP.
Even Asaduddin Owaisi will play a big role. No one can rule him out.
Smaller parties are having a gala time now.
If the BJP is not able to get a majority in UP, then there may be a scenario like Maharashtra.
Just like three parties -- the Congress, NCP and Shiv Sena -- came together to form the government (in Maharashtra), the same scenario can happen in UP post elections result.
Nothing can be ruled out in UP at this moment.
Things are not good for the BJP now. If they are able to form the government, it will be a good achievement, but it won't be a cakewalk.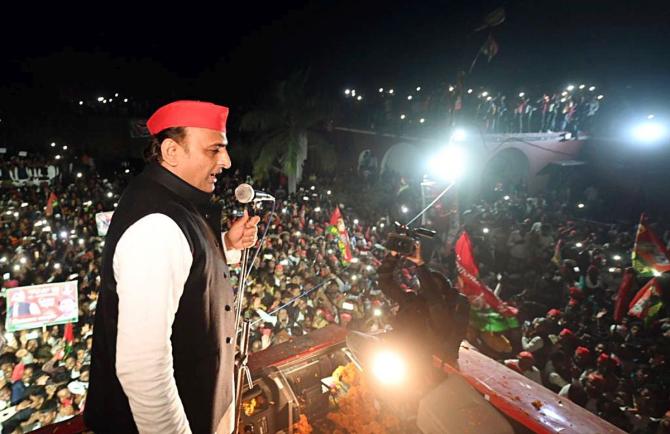 Is that why Modi visits UP very often?
Yes, he is coming to support the Yogi government.
Public posturing is there and the media channels are showing good things about the BJP, but by and large Akhilesh Yadav is commanding huge gatherings for his rallies. This speaks about his rising popularity.
Six to seven months ago, he was nowhere in the game, but now closer to the election he has come back with a big bang.
Another advantage he has is that he has party cadres spread across the state.
You have not spoken about Priyanka Gandhi.
She is trying very hard, but they (the Congress) have no chance to form the government.
Prior to Priyanka coming to UP nobody was taking the Congress seriously.
When Sonia Gandhi was active in politics, the Congress had some ground in UP, but the same thing did not happen under Rahul Gandhi's leadership.
You don't give the Congress 30-40 seats?
No way. The fight is between the SP and BJP. Mayawati has her 20 percent Dalit votes. She might become a kingmaker if there is a hung assembly in UP.
Just like Maharashtra where they formed the Maha Vikas Aghadi, the same thing can happen in UP too.
Parties who are fighting each other can come together and form a government for the compulsion of power.
Feature Presentation: Aslam Hunani/Rediff.com