Syed Firdaus Ashraf/Rediff.com tracks Prime Minister Narendra Damodardas Modi's project-launching spree in poll-bound Uttar Pradesh.
Data: Hemantkumar Shivsaran/Rediff.com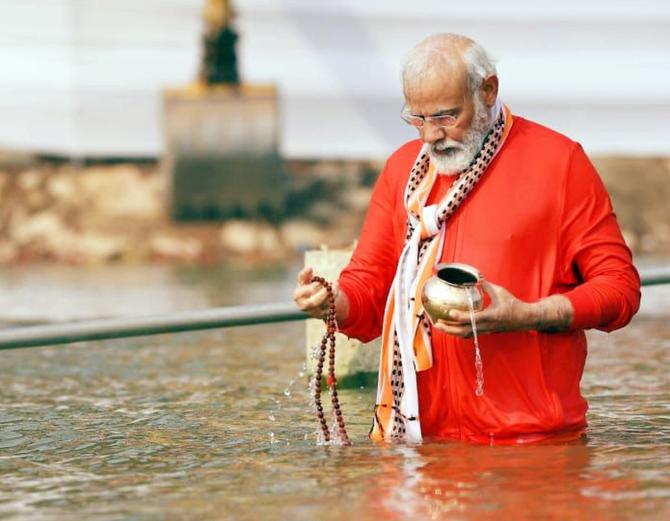 With Uttar Pradesh assembly elections due early next year Prime Minister Narendra Damodardas Modi is in fast forward mode so far as launching development projects are concerned in India's most politically crucial state.
In his own words, 'No one can stop Uttar Pradesh from becoming Uttam Pradesh', the key to which clearly is new projects.
Beginning October 2021, Modi has either launched a plethora of new projects or inaugurated completed projects.
And, he is showing no signs of letting up on converting Uttar Pradesh into 'Uttam Pradesh' before the Election Commission of India's model code of conduct kicks in. Which could be anytime till January 2022, giving the Bharatiya Janata Party plenty of time to roll out projects.
It began with Modi's inauguration of the Kushinagar International Airport on October 20 in eastern Uttar Pradesh, considered one of the most backward areas of the country.
The project cost Rs 260 crore (Rs 2.6 billion) and connect one of the most backward places of the country by air.
Modi's move was immediately criticised by Samajwadi Party President Akhilesh Singh Yadav, who pointed out that he as the state's chief minister had inaugurated the same project in 2016.
Without bothering much about criticism from Opposition parties, the same day Modi laid the foundation stone for the Rs 280 crore (Rs 2.8 billion) Rajkiya Medical College, also in Kushinagar.
This medical college will have a 500-bed hospital and provide admission to 100 students from the academic year 2022-2023.
On November 16, Modi did what he does best.
He inaugurated the Purvanchal Expressway in spectacular fashion, landing on it in an IAF Super Hercules aircraft, and even organised an air show in coordination with the Indian Air Force.
The IAF presented a thrilling air show along the landing strip on the Purvanchal Expressway, with the Mirage 2000, Jaguar Fighter Jets and Sukhoi-30s participating.
The 340.824 km long, six-lane expressway, built at a cost of Rs 22,494.6 crore (Rs 224 billion), connects Lucknow to Ghazipur via Azamgarh.
While BJP leaders were tom-tomming Modi's achievement, Akhilesh Yadav played spoilsport yet again.
In a press conference he said he had laid the foundation stone of the same project in 2016.
Akhilesh said the Purvanchal Expressway was his vision for completing which Modi and Yogi were taking credit.
Criticism aside, Modi did not halt his Uttam Pradesh inauguration spree.
With a month or so left for the Election Commission's Model Code of Conduct to kick in, observers wonder how many more projects will be pulled out of the government's hat.
Watch this space!