'There is a famous saying here that 'the way to Delhi passes through Lucknow'.'
'If the BJP loses UP in 2022, Modi's premiership in 2024 will be in doldrums.'
With less than three months to go for the Uttar Pradesh assembly elections, Prime Minister Narendra Damodardas Modi is visiting the state almost twice a week.
He is either laying the foundation stone for a new project in the state or coming to see or inaugurate the finished projects launched by his Bharatiya Janata Party's government at the Centre and in the state as well as its predecessors.
Last week, he went to his Lok Sabha constituency Varanasi to inaugurate the Kashi Vishwanath Corridor and this week, again, he was off to Prayagraj to launch cash schemes for women.
However, opinion polls suggest that this time, it will not be a smooth sailing for the Bharatiya Janata Party and its Chief Minister Ajay Mohan Bisht aka Yogi Adityanath despite the development work carried out by his government and the Centre in the last five years.
What's more worrying for the BJP is that Samajwadi Party President Akhilesh Yadav is drawing huge crowds at his rallies, indicating that he will give a tough fight to the BJP this time.
In the 2017 assembly elections, the BJP won 312 out of 403 assembly seats in the state by trouncing the SP, which was reduced to 47 seats.
Rediff.com's Syed Firdaus Ashraf speaks to Professor Sanjay Gupta at the department of political science, Lucknow University to get an idea of the current mood of UP voters.
The first of a multi-part interview:
How do you see the five-year rule of Yogi Adityanath's government?
I would say there is a kind of mixed response for his government.
There is a sizeable section that thinks his government has performed marvelously and there is another half which feels that much more needed to be done in the last five years.
Right now, the speculations (about his future) range from 'whether they (the BJP) will be able to win 300 plus seats', like they did in 2017, to 'would they be able to form the government this time'.
So, a (divided) opinion is forming on the ground.
What is your opinion?
There are certain positive achievements on part of the government, and there are negative points as well.
But there is no significant cause to be dissatisfied with the performance of the Adityanath government.
Among his achievements is the considerable improvement as far as law and order is concerned.
It is a fact that over the last five years, there have been no communal riots unlike what happened during the previous governments of the Samajwadi Party, the Bahujan Samaj Party or even the BJP.
These governments carried this blot (of riots), but the Adityanath government doesn't.
It gave a riot-free Uttar Pradesh to a large extent.
This is being written in many editorials for the last few months that no major caste or community riots took place in UP in the last five years.
This is the number 1 achievement of the Yogi government.
Secondly, in my opinion, governance was satisfactory.
Being a common citizen, I felt that my job was getting done smoothly in government offices without any hassles.
For example, when I went to a police station for passport clearance, it was done smoothly. This never happened earlier.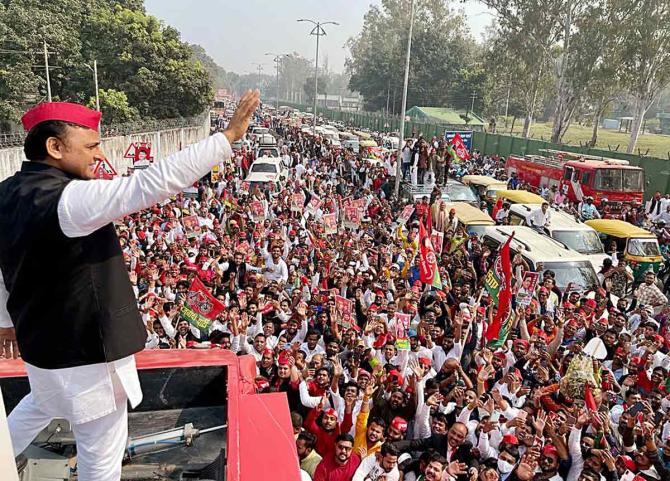 His critics say Uttar Pradesh got a chief minister who is a policeman.
This is the first time people of Uttar Pradesh saw that large number of illegal properties amassed by mafias were demolished.
There is nothing bad about it. These elements used to extort money from the common man and now they are being kept under check.
Even kidnapping cases have reduced in Uttar Pradesh.
But there are reports about deteriorating law and order in UP. the Hathras case, for example, and others which earned a bad name for the Yogi government.
It (Hathras) was an unfortunate incident and nobody can defend the Yogi government on this issue.
It is a blot on his government. But if you see the overall picture, you will find that there has been improvement as far as safety of the common man walking on the road is concerned.
I will not give good marks to his government just for that, but I can surely say his job on law and order was satisfactory.
There was another case in Gorakhpur where a businessman was beaten to death by police personnel. But later, the government dealt with those policemen with a heavy hand.
They were suspended and an inquiry was initiated against them.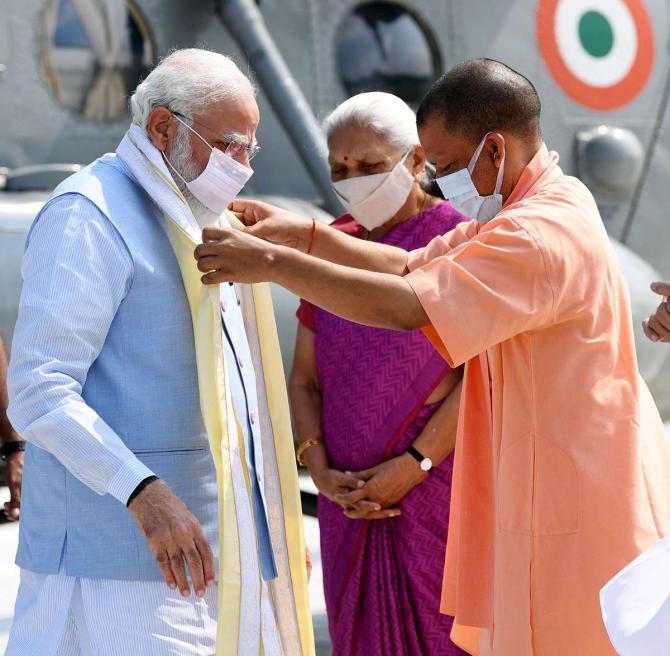 Another allegation against the UP government is that the Thakur community, to which the CM belongs, was favoured over others.
This is merely politicking. Such statements are always made in politics.
When Akhilesh Yadav's government was in power, it was said that Muslims and Yadavs got favourable treatment by the government.
Nothing like that happened in reality as Akhilesh worked for all castes and communities. He performed well.
He built the Agra Expressway for which he is still remembered.
But, unfortunately, law and order took a backseat during his rule.
Why is it being projected that the UP election is all about Modi versus Akhilesh and not Akhilesh versus Yogi?
There is a famous saying here that the 'way to Delhi passes through Lucknow'.
Prime Minister Modi's credentials are at stake in Uttar Pradesh elections.
If his party loses UP in 2022, his premiership in 2024 will be in doldrums.
UP has maximum number of seats in Lok Sabha (80).
Election is a game of numbers and this time, in the UP assembly elections, there will be a tough fight for the BJP.
They won 300 plus seats in the last elections, but this time it will be difficult to retain that kind of majority, because of the resurgence of the Samajwadi Party.
Many people want Akhilesh (back in power) and if he wins this time, he will be a more mature, a wise leader.
Edited by Utkarsh Mishra/Rediff.com
Feature Presentation: Aslam Hunani/Rediff.com