'We are patriots who love India and the secular ideals it has always upheld.'
Geetanjali Krishna listens in.
Illustration: Uttam Ghosh/Rediff.com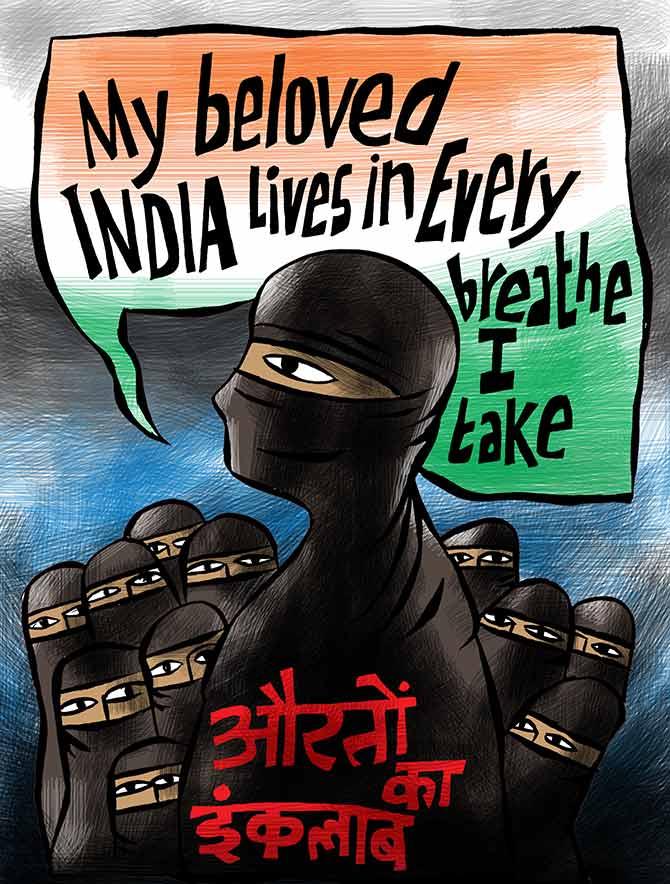 The other day, I went to Jantar Mantar to show my solidarity with a cross-section of people protesting the anti-poor thrust of the 2020 Budget.
Speakers dissected the Budget, highlighting the dangers of the proposed privatisation of health care, the lowered purchasing power of the common man and the cutting of food subsidies and MGNREGA funds at a time when unemployment is at a 45-year high.
The audience, majority from low-income background, meanwhile, exchanged notes about alleged growing religious polarisation, the charged atmosphere on university campuses where many of them had sent their children and, of course, their opposition to the Citizenship (Amendment) Act, 2019, National Population Register and the proposed nationwide National Register of Citizens.
Then, a burkha-clad housewife, Sugra Khatun, from Jaffrabad/Seelampur in North East Delhi took the stage and electrified the audience.
For the last month or so, Khatun has been sitting on an indefinite dharna with hundreds of other women from her locality protesting against the CAA, NPR and NRC.
They refer to their protest as 'auraton ka inquilab (women's revolution)'.
"History has shown us that when women take to the roads to protest, history books are rewritten," she thundered to massive applause.
"Protest is the only recourse. Today, we're all living in fear. Our children are unable to concentrate on studies or feel safe on university campuses. My husband, a labourer, hasn't had regular work for the last two months and we are subsisting on next to nothing right now," said Khatun who turned out to not just be a good orator -- the events of the last few months have transformed this housewife into a poet as well.
She told me later she has started writing protest poetry in the classic Urdu tradition under the guidance of her brother.
I've taken the liberty of translating a few lines for this column: For how much longer will you destroy us, sir?/How many more infamies are we to bear?/You have no children sir, that's why you don't care,/If many more mothers weep for their lost sons...
After her speech, she introduced me to Anisha Begum whose son is a PhD scholar at Aligarh Muslim University.
"We called him home during violence at AMU, but he had to return," she said.
"I fear for his well-being every day."
"This is why we Are protesting," said Khatun.
"We are neither terrorists nor anti-nationals, but patriots who love India and the secular ideals it has always upheld."
As a parting shot, she recited a couple of lines: My God, my master, please keep my earthly paradise safe/My lord, my Allah, please keep my beloved India safe/Clouds of hatred can try, but our patriotism they can't break/For my Bharat, my beloved India lives in every breath I take.
The words were profound, seemingly coming from her heart.
As I left, they were indelibly imprinted in my mind, flashing intensely like the eyes of the Bard of Jaffrabad.