It is a sight that both warms and breaks the heart.
The women of Shaheen Bagh seem oblivious of the cold, these women and their children, the latter ranging in age from 19 days to early teens, who have been occupying the road for over two weeks now.
Some of them have not gone home for days, but their faces are clear, unlined by fatigue, their eyes bright and fierce as those of the falcon, shaheen, the area is named for.
Prem Panicker visits the protests in the nation's capital against the Citizenship (Amendment) Act.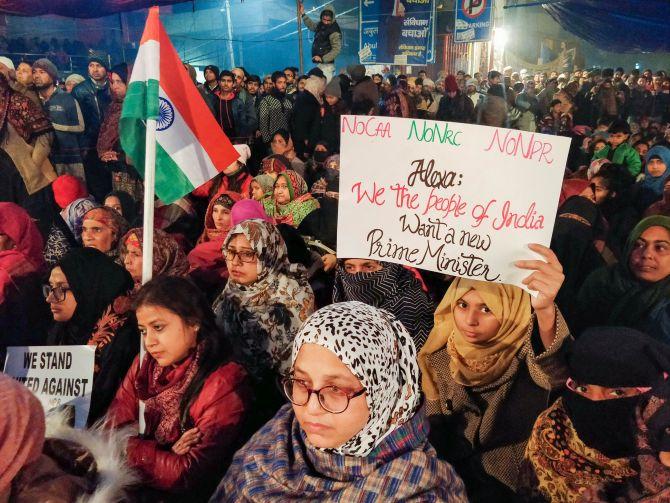 WHEN you see something, you, in the reflexive reaction of the journalist, reach for something -- the notebook, the cellphone, the camera -- something to fix the fleeting moment in individual memory, for onward transmission to the collective.
And yet, despite a lifetime's training, my hands stayed wrapped around the khulhad of hot tea I had been clutching for warmth as the first of the candles materialised out of the mist.
They emerged in twos from the deep dark of the December night.
The temperature readout was 2 degrees, but, on the approach road to South Delhi's Shaheen Bagh, in close proximity to the Yamuna, that readout missed the mark by a couple of icebergs.
On they came, young men and women marching in their twos.
They were bundled against the cold in jeans and sweaters and coats and shawls and woolen caps, the dark tones of their attire blending in with the black of the night, so all you saw was upraised candles moving past in serried ranks and, in their light, glimpses of young faces -- dignified, determined, defiant.
They marched in solemn, studied, silence broken only occasionally by volunteers moving them out of the way of a passing vehicle.
They came in a seemingly endless stream, marching from the Jamia Milia Islamia University, some two km away, towards Shaheen Bagh where, since December 15, women from the Batla House, Okhla, Sukhdev Vihar and Noornagar areas have occupied a stretch of the arterial Noida-Kalindi Kunj-Mathura highway, cutting off traffic between central Delhi and one of the capital's key suburbs.
The women of Shaheen Bagh say they are protesting the passing of the Citizenship (Amendment) Bill and the iniquitous inquisitions of the National Population Register and the National Register of Citizens, both promised -- threatened -- by Home Minister Amit Anilchandra Shah.
They say they are protesting against a government that questions their citizenship, their patriotism.
But above all, they say, they are protesting the violence unleashed by the State against the students of JMI.
"Beti bachao, beti padhao", quotes a woman protestor, her voice deepening in mocking imitation of Prime Minister Narendra Damodardas Modi's trademark style.
"And then he sends his police into our university to beat up our girls."
It is this incident, when the Delhi police entered -- unprovoked and uninvited -- into the JMI campus on the evening of December 15 and unleashed hell, that sparked a protest which reportedly involved 15 to 20 women initially, and which has now swelled to between 200 to 300 women occupying the space, and a surrounding aureole of supporters, of both sexes and all ages, swelling and ebbing in a ceaseless tide of empathetic humanity, varying in number from the few hundreds in the daytime to a few thousands at night.
It is a sight that both warms and breaks the heart, the women of Shaheen Bagh in their enveloping chadors and top layers of shawls sitting patiently on thin foam sheets spread on the road, under a canopy that offers illusory protection, facing a stage made of wooden planks on short stilts with a ratty tarpaulin stretched across bamboo poles to form a makeshift roof.
They seem oblivious of the cold, these women and their children, the latter ranging in age from 19 days to early teens, who have been occupying the road for over two weeks now.
Some of them have not gone home for days, but their faces are clear, unlined by fatigue, their eyes bright and fierce as those of the falcon, shaheen, the area is named for.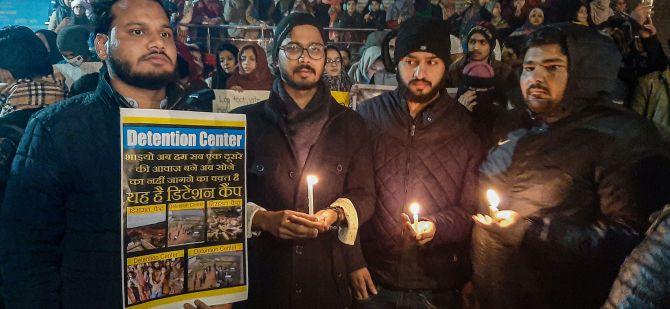 They sit there, stoic, implacable, defiant, in solidarity with the students of JMI.
And about five hundred metres away, I huddle into myself against the cold and watch as the students march towards Shaheen Bagh in solidarity with the women who are staring down the State on their behalf.
There is no visible police presence, though locals talk of a harrowing time from a couple of days ago when a contingent of CRPF men, many in riot gear, surrounded the area late at night.
In response, people poured out of their homes in the overcrowded warren that is Shaheen Bagh to further swell the crowds and throw a protective shield around the protesting women.
"They were trying to frighten us into leaving," a middle-aged woman protestor recalled.
The women of Shaheen Bagh are willing, even eager, to talk; my notebook is filled with names and personal details to go with their voices, but I am keeping names out of this report for reasons that should be obvious.
On the stage in front of us, an invited guest is making a speech of equal parts passion and sound sense.
Around us, volunteers bustle around with food and warm clothes.
Shaheen Bagh is leaderless, voluntary uprising -- the women spontaneously decided on the protest, volunteers pitched in to erect the shamiana and the stage, others take it in turns to make sure the women and those who come in their support are kept warm and fed, doctors volunteer their time to do spot medical check-ups, others volunteer offerings of milk, and biscuits, and warm clothes.
One of them holds out a disposable cup of tea towards me; when I demur, he insists, and the woman joins in.
"We will not leave," she says, after making sure I have my tea.
"Not until we can be sure our sons and daughters will be safe. What can they do to us?"
***
THE short answer to that is: Who knows?
Around noon on Friday December 27, I pulled up in an autorickshaw about 10 metres from the entrance to the Dargah Shah-e-Maidan in Jor Bagh, where a protest march to the prime minister's residence had been planned for immediately after the Jumm'a Namaz.
A few cops with lathis and one carrying an automatic weapon lounged around a makeshift police post opposite the entrance.
One cop -- who, like the others, wore no name tags -- stood at the entrance.
He was on the phone, watching me as I walked up: "Achcha, bas photo leke chod doon?"
He ostentatiously raised a Panasonic handycam to shoulder level and focused on my face.
I smiled and waved; he nodded and let me pass.
The Jor Bagh protest was long on enthusiasm, short on accomplishment.
"PM ke ghar kya, yeh log is gulli chodke kahin nahin jaanewale hain," a cop who, like me, had wandered to a nearby stall for a cup of tea, said.
The geography was in favour of the cops; their arrangements were in place.
When, after a few minutes of sloganeering, the assembled protestors numbering somewhere around 60 or so marched out of the mosque premises, the cops walked with casual unconcern ahead of them.
A drone hovered overhead, flying low for clear visuals of faces; two policemen supplemented the drone with their handycams.
The marchers moved out of the narrow side street onto Jor Bagh Road, and into a trap.
A police barricade set up in an impenetrable double line, backed by a wall of cops in riot gear, blocked their way in front of the entrance to the Rajdhani Nursery.
Further down, where Jor Bagh Road joins Sri Aurobindo Marg, another double shield was in place as fall-back, with a water cannon parked very ostensibly nearby.
They needn't have bothered -- the protestors were outnumbered by the police at the first barricade.
With no way forward, they milled around shouting slogans; the police filmed it all.
And then the protest ran out of both steam and options, and everyone dispersed.
***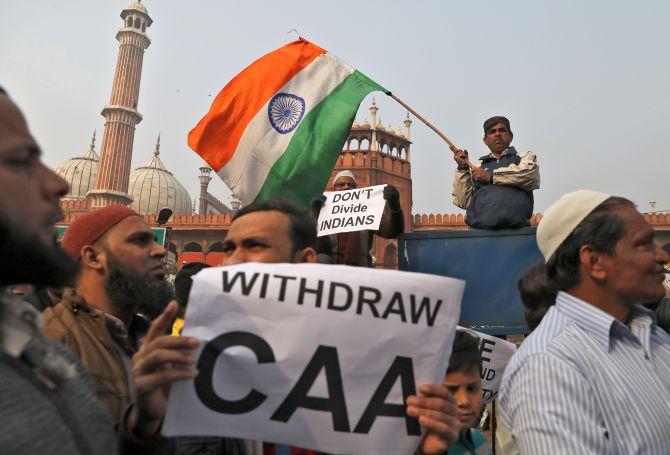 UP Bhavan on Sardar Patel Marg was a whole other story.
At a little after 2 PM on December 27, it was a fortress.
Hundreds of police, none of them wearing name badges, manned barricades that stretched in a double layer about 30 metres on either side, and all along the front, of the four-storeyed building.
Buses and jeeps were parked strategically to cart protestors away with minimum exposure.
Senior police officers, also devoid of identification, paced along the stretch, passing on instructions.
A group of cops peeled away from the main contingent and got into formidable black riot gear bearing the Aniali brand name.
Other cops moved among through the media scrum, their handycams documenting every face.
Behind the wall of iron and uniformed flesh, seven staff members stood on the lawn of UP Bhavan watching the preparations.
They -- cleaning staff, a couple of gardeners -- were the only inhabitants of the building; that day, with a protest announced against the reign of terror unleashed by the Adityanath government in UP, the place had been closed to even its own staff and visitors.
All the king's horses and all the king's men had been assembled to protect an empty shell.
There was no Section 144 in place, but the police had their orders.
The main body was concentrated in front of the building; smaller groups clustered strategically several metres away at both ends of the road.
Spotters with walkie-talkies to their ears walked up and down the stretch, their eyes on the approaches to the building.
No one was to be allowed anywhere in proximity to UP Bhavan.
I saw an old man trying to climb onto the footpath, set at an elevation from the outer courtyard in front of the gate.
Two mediapersons, one burdened by a camera, struggled to help; I hopped down to push from behind as they hauled from above.
We got him onto the pavement; he thanked us, and had barely walked some ten paces when he was surrounded by half a dozen cops, two of whom grabbed him by his arms and hustled him into a jeep that drove off rapidly down the road heading god knows where.
He was by himself, so Section 144 did not apply.
He raised no slogans, carried no placards; he was infirm, struggling to walk; he posed no visible threat to anyone.
But yes, he wore a skullcap and had a flowing beard.
He was guilty of walking while Muslim.
Moments later a young, obviously affluent lad wandered past, phone held to his ear. "...I should be there in about five minutes...", he was telling someone.
He was still talking when a group of cops surrounded him, hustled him into a jeep that pulled up on cue, and drove him away.
Jamia students, fully aware of the consequences, defied the cops anyway.
A group of three students hopped off a passing bus on the opposite side of the road and began shouting slogans; some 20 cops and twice as many members of the media raced through the surging traffic, surrounded them, hustled them back across the road and into a jeep, and off they went.
Another student, a young girl pretending to be a reporter, drifted along until she was in front of the main gate, and then raised anti-Adityanath slogans.
A swarm of women police surrounded her, picking her up by her arms and legs when she dove to the pavement to avoid being hauled away, and carted her off to a waiting jeep.
The media scrambled in the wake of each such irruption, gloating when they got a visual, cursing when they missed a good 'get'.
As evening approached, the tension among the cops ratcheted up; tempers began to fray.
I eavesdropped and learned that they had information a group of students from JMI, reinforced by some activists, were marching towards UP Bhavan.
The assembled cops took up battle stations; two buses with 'POLICE DUTY' prominent on their destination plates pulled up and parked at the ready by the side of the road.
A policeman who noticed me filming with an Osmo Pocket on an extension rod, and presumably did not place me as a Delhi journalist, asked for my credentials and when I said I wasn't carrying any, brusquely ordered me out of there.
You don't have a name badge either, I pointed out.
It didn't go down too well; the fact that I was then in the midst of a throng of over three dozen media persons likely saved me from repercussions.
And then, as if a switch had been flipped, the tension went out of the cops.
I learned from Twitter that a police force had intercepted the JMI march over a kilometre from UP Bhavan and bundled them off in buses to a nearby cop shop.
Over 300 policemen, many of them equipped as if for frontline combat, deployed along with buses, and jeeps, and water cannon, for several hours to prevent protestors from sloganeering in front of an empty building -- what was all that in aid of?
Because visuals of a protest outside UP Bhavan could wound the delicate sensibilities of a riot-accused who is now chief minister of a desperately troubled state?
***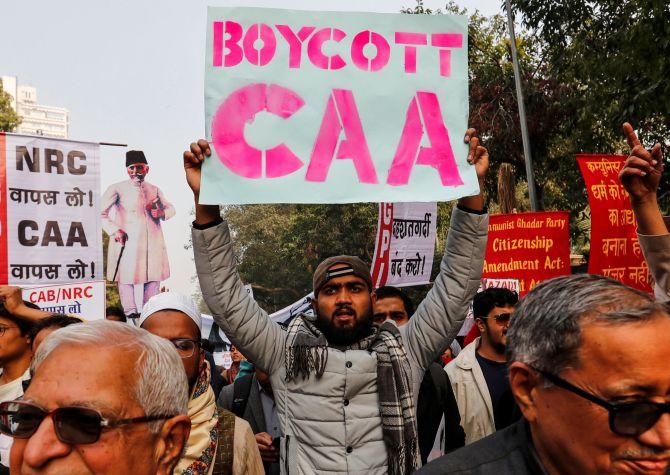 Jamia Milia was surreal.
A section of Okhla Road, from just after the Pataudi Sports Complex to a few meters short of the Okhla main market, had been cordoned off for the protestors.
There was a police presence at the Pataudi Road end; none at the other.
And within this space, democracy played out as a messy, chaotic, loud, electric street fair.
Outside Gate 10, a young student leader is up on an ersatz stage, in the midst of a fire-and-brimstone oration characterised by the sort of un-self-conscious, untamed, untrammeled passion you get to hear only on college campuses.
He argues that those who have sworn to uphold the Constitution are now using it to wipe their rear ends, and it is left to "us, whom them call anti-nationals, jihadis, to stand up for our fundamental rights as enshrined in the Constitution, to stand for our freedoms...."
The word 'freedom' triggers the large crowd gathered around him; a fierce chant of azaadi drowns out the rest of his speech and, bowing to the collective will, the student with the mike leads them in a chorus of "Hum kya lenge? AZAADI" -- a chant that has attained totemic status during the ongoing resistance.
Off to one side, a middle-aged lady with a megaphone is speaking, gentle-voiced, to a smaller group of students, reminding them that this is their country, the country of the young; that they, who have to live in it, are now tasked with the responsibility of standing by it.
Cheers erupt. The gathering forms itself spontaneously into a march and sets off down the road.
They meet another procession coming in the opposite direction and briefly they meet, they mingle, and share chants before they separate and go their respective ways.
As they march, they skirt a group of girl students who have formed themselves into a tight circle and are reciting, in chorus, Hum kagaz nahin dikhayenge, a poem of resistance by screenwriter Varun Grover that has assumed anthemic status.
The pavement is dotted with men and women, and even little children, holding up placards --taut mini-editorials on the state of the country.
'Santa Claus detained after five students gather to collect presents', reads a razor-sharp commentary on the largely illegal, often undeclared deployment of Article 144 in parts of the national capital and across the country.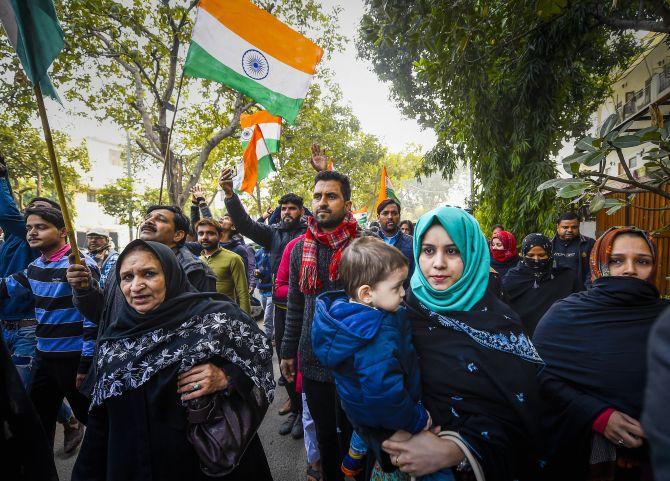 On a blanket spread over the pavement, art students from JMI create placards -- for themselves, and for anyone with an idea.
Anas, the head of the charitable Guncha Foundation that works with street children, and his band of young girl volunteers hand out hot tea to anyone in need.
A man, middle-aged, visibly Sikh, stands quietly off to one side, holding up a placard that sums up the raison d'etre of the hundreds thronging that tightly confined space: SOLIDARITY.
Outside Gate 7 is a Gandhi wall -- a meticulously curated photo-gallery of seminal moments from the Mahatma's life.
"He taught us how to come together," says a young JMI student busy taping up an image that had come unmoored.
"He taught us how to fight the power of the State."
On the pavement next to him a group of boys and girls, oblivious to the din, sit on a rasai spread on the ground, quietly reading.
It is their own way of protesting the State-ordered desecration of the Dr Zakir Husain Library on the evening of December 15.
I hand over a bag full of books entrusted to me by two good friends.
They fall on them like manna, passing the books around, exclaiming at the titles, reading the blurbs.
What kind of books can I get you, I asked.
"Annotated books on the Constitution, please; also on its origin, its history."
"Books on history, on our states, cultures," chimes in another.
"Will you read with us?" asks a third.
I join them.
Among the books left for them by generous strangers I come upon a copy of Toni Morrison's collection of essays, Mouth Full of Blood.
After a prefatory mini essay titled 'Peril', I came to the first one, 'The Dead of September 11', in which Morrison speaks directly to those who died in that infamous tragedy. I come across these words:
And I have nothing to give, either -- except this gesture, this thread thrown between your humanity and mine...
There is, suddenly, a heart sized lump in my throat.
I share my find with a student reading next to me.
He nods, smiles, offers a fist bump.
Around us, a million mutinies happen simultaneously. To what purpose? The author Nilanjana Roy, later that night, points me at a Rebecca Solnit essay, Protest and Persist (external link). That leads me to another Solnit essay (external link), where in the midst of a meditation on the meaning of protests I find this passage:
It also ignores how the most important battle is often in the collective imagination, and it is won in part by books, ideas, songs, speeches, even new words and frameworks for old evils.
People cared; something made them care; people were ready to act; something made them ready; people joined; someone or many someones issued the call and orchestrated the action.
In these great collective moments people showed up because they cared; when they showed up they often found a new sense of solidarity and power, which generated more possibilities.
There is nothing more direct than an encampment of several hundred people or a march of tens of thousands, but that does not mean the consequences will be direct, or that only the direct and measurable ones matter. Every action shifts the world's balance, sometimes those shifts will never be noted, or will have their impact long after or far away.
Maybe it is misguided to think in terms of the protests, which marked the end of a decade and have spilled over into the one just beginning, in transactional terms.
Maybe it is short-sighted to think that a repeal of the CAA, or an assurance by the government that the NPR/NRC process will be stayed, is a 'win'.
Maybe the point of these protests is to shift the public discourse, the balance of the world, just a little.
Just a little away from bigotry and hatred, and just a little towards empathy and one-ness, towards a more tolerant, less hate-filled society.
Maybe the point is to resurrect, and remind us, of our shared humanity.
***
The cup of tea has cooled, unnoticed, as I watch the students drift silently past -- gray, ghostly figures lit from within by their passion, from without by the flame of the candles they hold aloft.
I watch as they move away, towards Shaheen Bagh, towards where their empathetic kin await them.
As I watch, a candle held by a girl student gutters in a sudden gust, extinguishes itself in a wisp of smoke.
Almost instantaneously, three hands holding lighted candles reach out to her.
She re-ignites her candle, nods thank you, and marches on.
---
Prem Panicker -- senior editor and a member of the founding team at Rediff.com and former editor-in-chief Yahoo India -- is one of India's finest writers.