'I have stopped going to college and instead come here to protest.'
'What is the point of going to college when you are unsure about your citizenship?'
'I am here to protest and save my future.'
Syed Firdaus Ashraf/Rediff.com reports from Mumbai Bagh, where Muslim women have gathered to protest against the citizenship laws.
Photographs/Videos: Hitesh Harisinghani/Rediff.com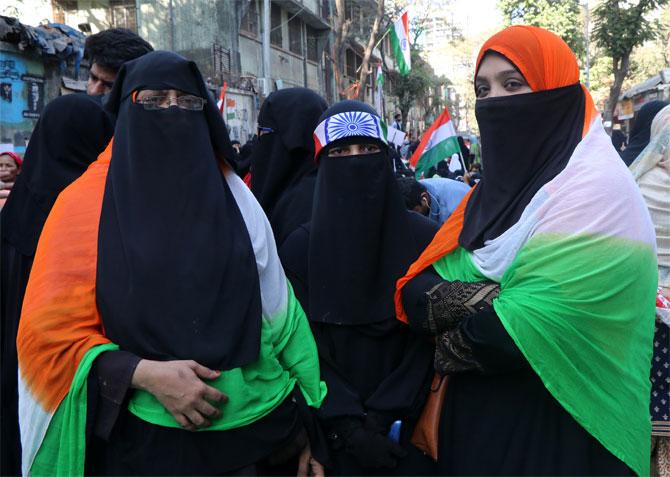 "The home minister of India's job is to maintain law and order in the country and ensure peace. But what do you do when he provokes you to protest?"
This is a common complaint echoed by protestors in Nagpada, south central Mumbai, who have gathered to protest the Citizenship (Amendment) Act and the home-minister-proposed National Register of Citizens.
"Amit Shah said he was not going to budge an inch on the CAA and dared us to do what we want. So we decided to peacefully protest," says Asma Khan, a resident of Nagpada.
Shah made the statement on January 22 while addressing a rally in Lucknow: 'Those protesting can continue to do so. Irrespective of the protests, CAA will not be withdrawn.'
On the night of January 26, out of the blue and without any plan, women started gathering in a lane adjacent to the Arabia hotel in Nagpada to protest against the new citizenship rules.
The protest is a predominantly women's affair, with a handful of men participating. When we visited the site on Tuesday, January 28, afternoon there were around 100 protestors.
Overnight, the lane has renamed itself as Mumbai Bagh -- on the lines of Shaheen Bagh in New Delhi, the venue of massive protests in the capital -- and the protest has been going on round the clock, with the women taking turns.
Chants of 'Azaadi' are non-stop, and Varun Grover's poem, Hum Kaagaz Nahi Dikhaenge, which has become the anthem of the anti-CAA protests, reverberates at the protest site.
If the noise and activity disturbs residents of nearby buildings, no one is saying anything about it.
An elderly man sporting a long beard points to cameras targeting the protest site. "No resident will say anything on record. Every protestor is being watched. There are policemen in plainclothes. So it is better to keep out of it," he says, not revealing his name.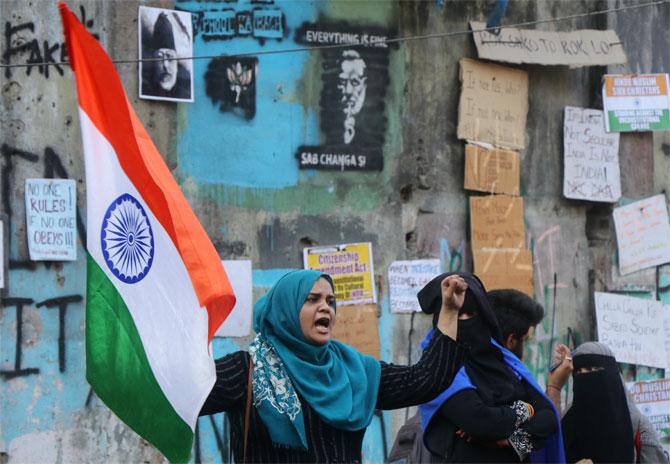 Unlike in Delhi, where protestors block roads, the protestors in Mumbai Bagh have gathered in a quiet bylane, without any hindrance to passing traffic or the public.
Just like in Shaheen Bagh, here too there is no organiser, and every protesting woman is vocal about the CAA, the National Population Register and the NRC.
Asked why she is protesting in Mumbai when the Maharashtra government has categorically said it will not implement the NPR in the state, Asma Khan says, "We want in writing from the Maharashtra government that they will not have NPR or CAA. Other states like West Bengal and Rajasthan have passed resolutions against the CAA, but in Maharashtra they have not done that. Therefore, we are protesting."
"The day they give in writing that they are not going to implement the CAA, NPR, NRC, we will stop our protests."
WATCH: The Mumbai Bagh protests
Quoting Union Minister of State for Finance Anurag Thakur's exhortation at a Delhi election meeting 'Desh ke gaddaron ko...' (with the public chanting, 'goli maro saalon ko'), Asma vents her anger. "What kind of statements are these leaders making? We are only raising our voice against injustice. But see how they are responding."
"Amit Shah says he will not take one step back, we too will not step back. He has provoked us and we will not stop our protest now. What he did with the CAA was unconstitutional, he should not have done that. And we are protesting as it is our right to protest, according to our Constitution," asserts Asma.
All the while, students shout "Azaadi" at the protest site, waving the Tricolour non-stop.
"Our grandparents were going to Pakistan, but Maulana Abul Kalam Azad stopped them from going stating that India is our country. Now the Modi government wants each one of us to prove their nationality," says Ismat Faizi, a student.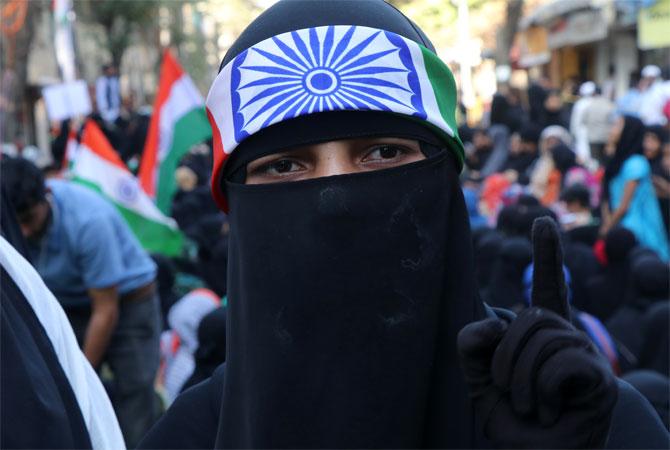 "I have come to protect the Constitution," says Dr Amiroonisa. "Every Indian child is unsafe, be s/he from any religion, because of the CAA, NPR, NRC. I have a lot of work at my dispensary, but I somehow finish it and come here for at least 4, 5 hours to protest. The CAA is not good for the country and must be scrapped."
Sadia Ansari, a housewife at the protest site with the National Flag draped over her burqa, says she got it stitched for 20 of the protestors.
"We are Indians by choice. Our parents had a chance to go to Pakistan, but they didn't go. They chose India over Pakistan. And now this government wants us to prove that we are Indians," says Sadia.
WATCH: 'Mere maula mere Bharat ko salamat rakhna'
A commotion erupts when the women spot a man videographing them granting interviews.
The burqa-clad women ask the man about his identity.
Surrounded by angry women, the man claims he is from the Nagpada police station and is recording the protests on his superiors's orders.
"You must wear police uniform and do your job. Why are you wearing civilian clothes? And who gave you permission to shoot the video?"
The women are furious and as others turn up to confront the man, the situation looks like it may get out of hand.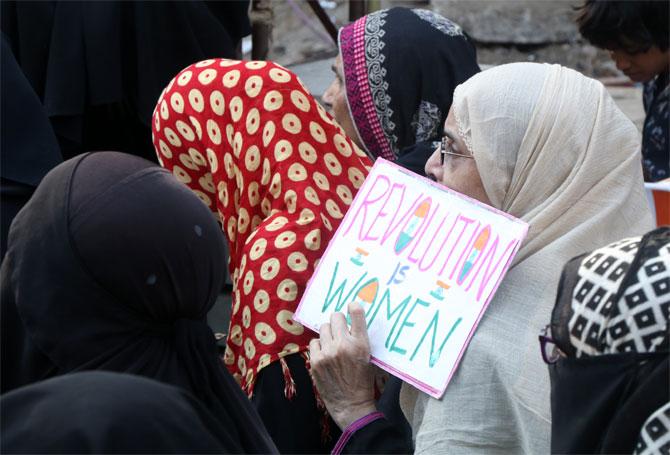 Some youngsters sort out the matter and the man leaves the protest site.
"This is illegal. Protesting is our right and the government cannot secretly shoot our video. If they want, they can come in police uniform and shoot our videos," shouts a burqa-clad lady.
Bint-e-Adam, who refuses to give her surname, tells us, "I have stopped going to college and instead come here to protest."
"What is the point of going to college when you are unsure about your citizenship? I am here to protest and save my future."