Having failed to wear down the protesters, the government has now resorted to a bare-knuckle campaign to discredit them by portraying them as pawns in a wider plot bankrolled by shadowy 'anti-national' and 'Islamist' forces, notes Hasan Suroor.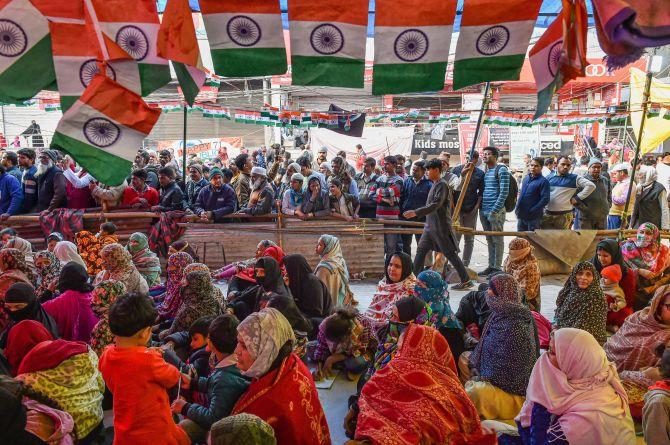 Whatever the final outcome of the anti-CAA protests, and to be honest, I'm not quite as optimistic as many of my liberal friends appear to be, it's fair to say that Round One in this war of attrition has unquestionably gone to protesters -- in particular to the doughty women of Shaheen Bagh whose month-long peaceful 'sit-in' in an obscure corner of Delhi has put it on the world map.
When the Shaheen Bagh protest began on December 15, 2019, few even among its supporters expected it to last so long.
The government rather condescendingly saw it as an act of bravado that would fizzle out for lack of support; or the protesters would blink at the first sight of intimidation.
In the event, it became a rallying point for campaigners from other parts of the country and a symbol of secular solidarity against a majoritarian policy.
Its numbers have swelled rather than diminish with the passage of time.
Having failed to wear down the protesters, the government has now resorted to a bare-knuckle campaign to discredit them by portraying them as pawns in a wider plot bankrolled by shadowy 'anti-national' and 'Islamist' forces.
Bharatiya Janata Party IT cell head and spokesman Amit Malviya has called the anti-CAA protest at Shaheen Bagh an 'Islamist insurrection', accusing the protesters of getting their 'instructions from the masjid'.
Chaps from Islamic State (yes, the real Islamist insurrectionists) must have choked over their breakfast of blood-and-gore at Malviya's description of a gaggle of women chanting secular slogans as the vanguard of an Islamist insurrection.
Other senior BJP leaders, including ministers, have spoken in a similar vein invoking the spectre of a militant Muslim uprising in the making on the back of the CAA row.
Questions have been raised about the Shaheen Bagh protest's source of funding, and the 'level of organisation' with food and refreshments freely available.
The protest, we're told, couldn't have been sustained without 'outside' support.
A video released by the BJP has an unnamed man (his face hidden from the camera) claiming that protesters are a rented crowd paid to do the organisers's bidding.
According to him, the fee ranges from Rs 500 to Rs 1,200 for a shift.
A senior Delhi BJP leader, Vijay Jolly, is reported to have called them 'bikau' (saleable commodity).
When challenged on a TV debate, he sheepishly shrugged it off.
However, there's no independent evidence to back these allegations.
While supporters have admitted to donating in kind (Supreme Court lawyer Sanjay Hegde said he had sent packets of sweets; a group of visiting Sikh farmers put up a langar) claims of financial incentives are dismissed as a smear.
Meanwhile, the BJP has produced a new video -- this one purporting to show how Muslim parents are using little children as 'propaganda tools' in their 'hate' campaign against Prime Minister Narendra Damodardas Modi.
It shows a small girl saying that Muslims would take revenge against those who are 'attacking us'.
It also claims that children are being encouraged to raise inflammatory slogans such as demanding 'Jinnah ki Azadi' and abusing Modi.
'Shocking! In the name of protests, depraved minds are exploiting the innocence of young kids, especially girls, for their propaganda and stirring animosity... We have seen this kind of indoctrination among kids in radical Islamic societies. But in Shaheen Bagh?' the BJP's Malviya said in a tweet accompanying the video.
Even as its veracity remains in doubt, television channels have gone to town echoing its claim with sensational headlines.
'Children who should be going to school are being used for political ends,' one agitated TimesNow anchor screamed, accusing protesters of brainwashing and radicalising 'children as young as seven'.
It's true that there are children on the site, but most happen to be infants wrapped up in their mothers's arms or sitting in their laps blissfully unaware of what is going around them.
The ones 'as young as seven' do what they do at their age: Muck around, and, yes, occasionally join in a slogan chant.
But surely the chanting of an odd slogan in support of secularism and inclusiveness can't count as 'indoctrination' and 'brainwashing'?
To put it in perspective, though, the Shaheen Bagh protest has not been without its share of glitches, particularly some unfortunate attempts to impose a Muslim identity on a campaign ostensibly in defence of secularism and inclusion.
I'm slightly wary of liberal commentators who are trying to glorify the Muslim assertion of their religious identity.
It plays into the hands of the very sectarian tendencies they say they are fighting.
Let Round Two be more robustly secular.
---
Hasan Suroor is the author of Who Killed Liberal Islam.