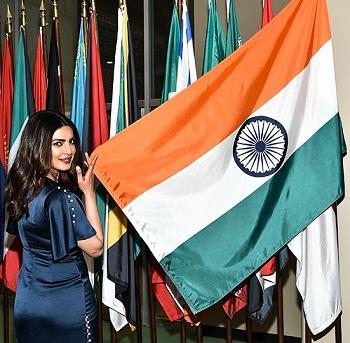 Will Rahul Gandhi be able to serve as a leader of an unifying opposition?
Has Mamata Banerjee worked out her ambitions?
Could the future belong to non-traditional leaders such as Hardik Patel of Gujarat?
And what about Arnab Goswami, Priyanka Chopra and Karun Nair? Who will make the most of the disruptions of 2016 this year?
Mihir Sharma's list of probables.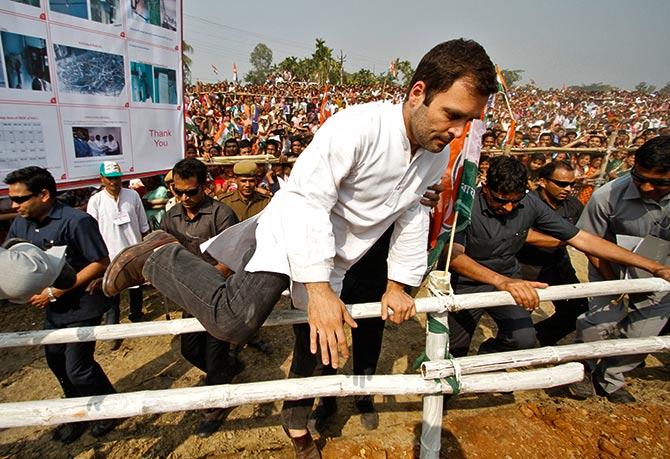 IMAGE: Rahul Gandhi is still a target for unkind humour, but there are fewer complaints about his lack of energy or engagement these days. Photograph: Utpal Baruah/Reuters.

Prime Minister Narendra Modi has played his big gamble. It's now clear that his strategy is to retain and grow his popularity.
The question is: how will the Opposition respond? Would they sit back and let India become an effective one-party state at the Centre? When, where and how will they fight back?
The answer to these questions depends a great deal on Rahul Gandhi.
The vice-president of the Indian National Congress is still something of a target for unkind humour, whether on social media or from the prime minister himself. But, there are fewer complaints about his lack of energy or engagement these days. After demonetisation in particular, he has been very visible -- standing in ATM lines, holding press conferences, addressing big rallies. Indeed, some of his rallies seem to have been of startling size, particularly in Gujarat and Rajasthan.
However, energy without direction is naturally not enough. The Congress cannot be the sole opposition to the Bharatiya Janata Party. The ongoing election campaign in Uttar Pradesh (UP) has underlined this difficulty of building a party organisation from the scratch, which is what the Congress would have to do in several populous states such as UP, Bihar and West Bengal.
So, will Rahul Gandhi be able to serve as a leader of an unifying opposition, and not just of the Congress? When Sonia Gandhi had faced a similar question, she eventually answered yes. Rahul Gandhi's instincts may not be the same.
In addition, he is undoubtedly seen as less of a political asset by potential allies than Sonia Gandhi was. The road to any working agreements with other opposition parties will thus be long and fraught, as the situation in UP shows.
Nevertheless, in 2017 -- two years before the next Lok Sabha elections, and in wake of a deeply disruptive year -- it is the unity of the Opposition that will be the story to watch.
How will the Opposition succeed in seeding an anti-demonetisation narrative?
How will they tap and link up resentments, as Modi so skilfully did during the 2014 Lok Sabha election campaign -- and, indeed, has continued to do?
And, if the Congress scion is unable to rise to the big occasion, there are others who would like to try their hand. In a messy and shifting political space, long called the Third Front, where personal rivalries can matter much more than ideologies, few figures stand out at the moment who have the ability to play a national, unifying role -- even fewer, with the passing of J Jayalalithaa, the Tamil Nadu chief minister in December.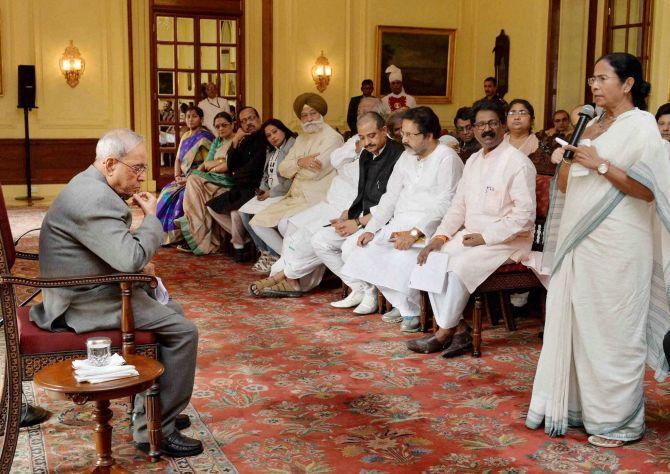 IMAGE: Mamata Banerjee briefs President Pranab Mukherjee about the opposition's stand against demonestisation. She has shown no disinclination for national politics. Photograph: PTI.

Nitish Kumar, the Bihar CM, entered 2016 on a high.
Yet, the year has been consumed for him in managing the fallout of an ambitious ban on alcohol rather than in raising his own profile. He -- similar to Odisha's Naveen Patnaik -- even declared his support for demonetisation early on, which put him at odds with many in the Opposition.
Arvind Kejriwal, the other hope, looks more and more like the leader of a municipality and on social media, than one who can play at the national level.
The only state-level leader who has emerged from 2016 with a raised profile is, in fact, West Bengal's Mamata Banerjee. The leader of the Trinamool Congress, fresh off a landslide re-election last year, was the first to react to the demonetisation announcement with fury. She posted a reply in capital letters on Twitter within minutes of the PM's speech. Her famed ability to sense what the public actually feels may give her an edge when it comes to gauging sentiments in changing and turbulent times.
Certainly, Banerjee has shown no disinclination for national politics. She has been happy to come to Delhi and walk in processions, to serve as a conduit between the Congress and other parties. It serves her own purposes at home, too -- the end of the Congress-Left alliance in Bengal.
It comes down to two questions: can the situation back in Bengal be managed without her constant attention? And has she worked out what her ambitions are, precisely? The people of Bengal are unlikely to penalise their leader for taking a shot at national glory, which few Indian states have ever had. But, as recent communal tensions near Howrah showed, her own state cannot be taken for granted. What will Mamata Banerjee decide?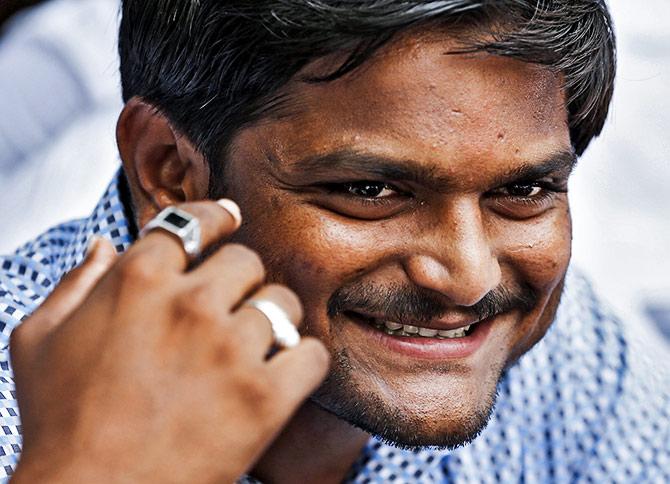 IMAGE: Hardik Patel emerged overnight as a pressing political threat to Prime Minister Narendra Modi. Photograph: Adnan Abidi/Reuters.

And if not her or Rahul Gandhi, can anyone at all stand up to unify the Opposition in the wake of demonetisation? Or will it be someone from outside the existing political spectrum? Could the future belong to non-traditional leaders such as Hardik Patel of Gujarat?
Patel has shown the ability to coordinate massive crowds. He has said he intends to revive his agitation early in 2017. Will he be able to replicate his earlier success?
And, more importantly, will he be able to broaden his social coalition as the Gujarat Assembly election approaches? Speaking up for new grievances -- such as those created by demonetisation -- may be crucial to that effort.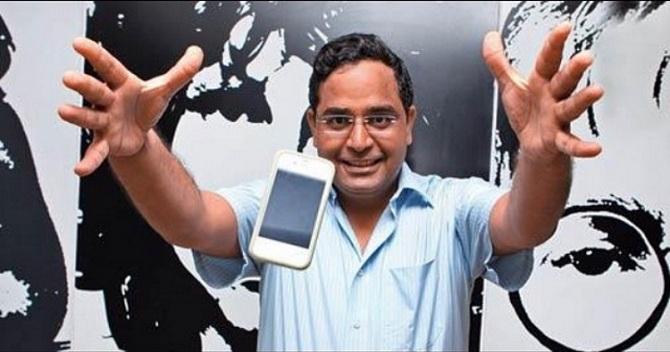 IMAGE: Will 2017 reveal a new corporate world as closely entwined with Modi's fortunes as is Vijay Shekhar Sharma and his Paytm? Photograph: Paytm/Instagram.

Either way, the political fortunes of these aspirants would be determined by the fate of Modi's big demonetisation gamble. And some other real fortunes would also be determined by it. No company has been more closely identified with 2016's big disruptive policy, and emerged from the year with a sharply heightened a profile, as Paytm, and no corporate leader as much as Vijay Shekhar Sharma.
Sharma and his mobile wallet provider now occupy an enviable position. It is possible for Paytm, with its 150 million accounts, to become so ubiquitous that the very act of digitally transferring money can become "I'll Paytm it to you" -- the "Xerox effect", as it can be called. Indeed, it is as close to being a public utility at this point as any private sector company can ever be.
Sharma responded to the news of demonetisation within hours, by buying giant advertisements in the newspapers with a photograph of the prime minister. Today, his company is so entrenched in the system that a public service provider such as the Delhi Metro can contemplate replacing cash with Paytm transfers at its stations.
The question is: where will Sharma take it from here?
What are the limits of Paytm's ambition? In 2017, what business model will he conceive which integrates the Paytm Payments Bank and the mobile transfer business? Once he gets to critical mass in terms of subscribers -- say, one-third of Indians -- how would he expand the scope of financial services available to them?
Most importantly, can Sharma keep his company responsive when it grows exponentially and as incidents of fraud inevitably rise?
Today, the company takes responsibility for only a tiny sum if your account is hacked. In 2017, will Sharma recognise that? Being the dominant player, he would have to set the security standards for the entire business, or face less-friendly regulations than he has dealt with so far.
He's disrupted the system in 2016; what can he do in 2017?
There is no doubt that Sharma is the face of a new Indian technology sector -- a sector much more involved with the government than in the years past. Paytm and Sharma have bet big on Modi's demonetisation.
Others in the tech world seek to turn 'Make in India' into forms of protection for their billion-dollar, foreign-funded enterprises. Is this the future? Will 2017 reveal a new corporate world as closely entwined with Modi's fortunes as is Vijay Shekhar Sharma?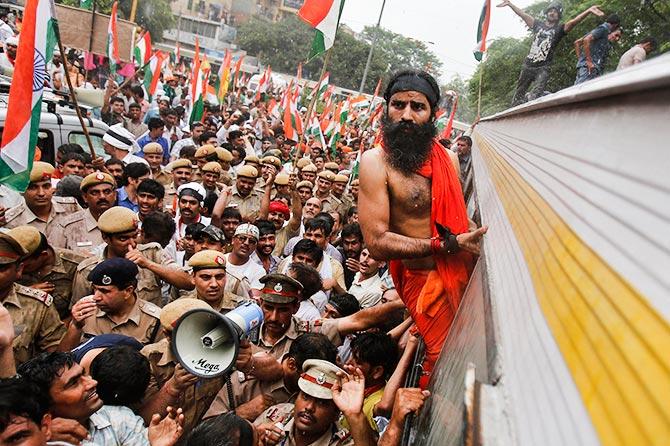 IMAGE: The televangelist-turned-FMCG magnate Ramdev wants 3 million shops countrywide for his Patanjali brand in 2017. Photograph: Adnan Abidi/Reuters.

One figure who has been as disruptive -- and also as entwined with the government -- is Ramdev. The televangelist-turned-FMCG magnate wants 3 million shops countrywide for his Patanjali brand in 2017, and expects to cross the Rs 10,000-crore revenue mark this year. Explosive growth of this kind shifts the entire sector around. Every competitor is struggling to keep up, and to produce "natural" competitors.
But Ramdev doesn't just expect to grow in 2017. He expects to have influence.
In 2016, he tried out various campaigns -- against Chinese goods, for example. As time passes and Patanjali grows stronger, the yoga teacher will use his television pulpit to push more and more such campaigns, forcing his allies in the government to respond. How will Ramdev use his personal popularity to lobby the government -- and what effect would it have on the Patanjali brand? Can quality standards be maintained when such explosive growth happens? And, how will Ramdev react when the first scandal hits?
But Ramdev, there's little doubt, is somehow part of the same nationalist phenomenon that the prime minister wishes to ride. His fortunes depend on the PM's as much as Vijay Shekhar Sharma's.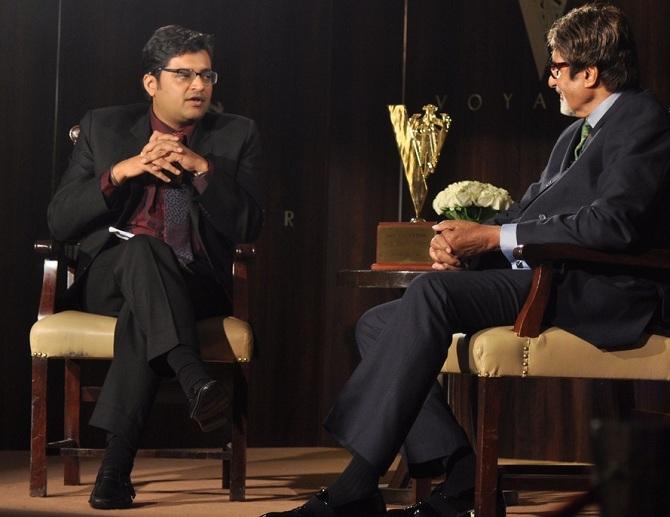 IMAGE: Can Arnab Goswami build such a mouthpiece for New Delhi's government that Russia Today is for Moscow? Photograph: Rediff.com.

Another business leader and television personality who has hitched his flag to the government is, of course, Arnab Goswami. The former Times Now anchor is due to start his new channel shortly, one in which he will have complete control. Though many ask, if Times Now only imperfectly reflected his personality, what on earth could an Arnab Goswami unmuzzled sound like?
Goswami is an unabashed populist, pitching his righteous anger to where the people are. Currently, therefore, he's a militaristic hyper-nationalist. But, the more he sets that image of himself in stone, the less easy it will be for him if things change on the ground. He is as tied to the Modi moment as anyone.
The question is: will Republic, his new TV channel, blaze the trail for a new sort of media -- which sounds like a fearless, insurgent opposition while actually pushing a government agenda on a constant basis? Republic, in any case, sounds less like a TV channel and more like an alternative government. But, can Goswami build such a mouthpiece for New Delhi's government that Russia Today is for Moscow?
In fact, can we ever imagine someone like Goswami looking beyond these shores? Clearly the PM does, and many in India Inc do. But can Indian entertainers and news-persons -- Goswami being somewhere in between -- ever really succeed outside India?
IMAGE: UNICEF India Ambassador Priyanka Chopra at UNICEF's 70th anniversary event at the UN Headquarters in New York City on December 12, 2016. Photograph: Mike Coppola/Getty Images.

For the answer, we would have to turn to Priyanka Chopra in 2017.
Her choice to try a multi-continental career is genuinely different from other "Bollywood to Hollywood" moves in the past. No bankable star at the top of his or her drawing power in India has ever tried to build a career in the West -- only has-beens or second-stringers have. Chopra could have stayed a giant star back home rather than risking everything on a second career.
And, 2017 will make or break Chopra's choice. Sure, she's played the lead in a big-budget serial. Sure, she's starred in a big-budget movie -- but as a villain, not the lead. This year, if she signs at least one Hollywood movie that she is expected to carry by herself, then a long-standing barrier would be broken. Shooting on two continents isn't easy. But if anyone can make the transition to a worldwide, big-screen hero, it is Chopra.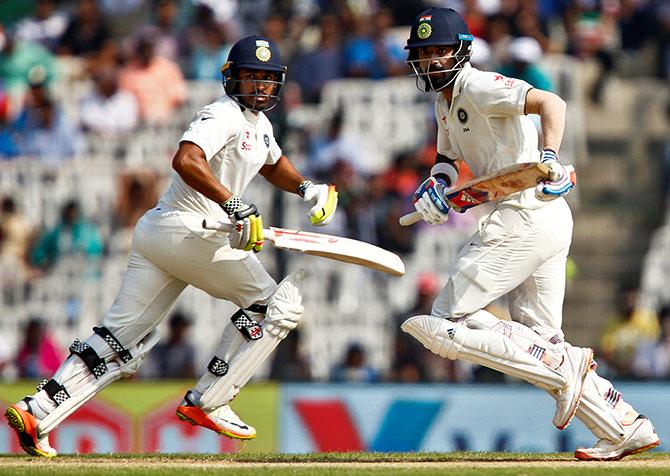 IMAGE: K L Rahul, right, and Karun Nair, left, in the Chennai

Test against England on December 18, 2016.

Their unbelievable performance in the Chennai Test helped close off 2016 on a sweeter note than it would have otherwise. Photograph:

Danish Siddiqui/Reuters

.

Finally, let's end by hailing two individuals who also have the chance to become heroes: K L Rahul and Karun Nair. Their unbelievable performance in the Chennai Test helped close off 2016 on a sweeter note than it would have otherwise. Individual heroics aside, it's been a while since Indian cricket has seen the possibility of a blossoming partnership.
These two play for Karnataka together -- having started playing the sport together on the school fields of Bengaluru at the age of 11. Yes, 2016 seemed to extinguish hope in many fields. But, at least there seems to be something bright to watch out for in the arena of Test cricket.
ZARA BOL: Who do you think will grab the spotlight this year?