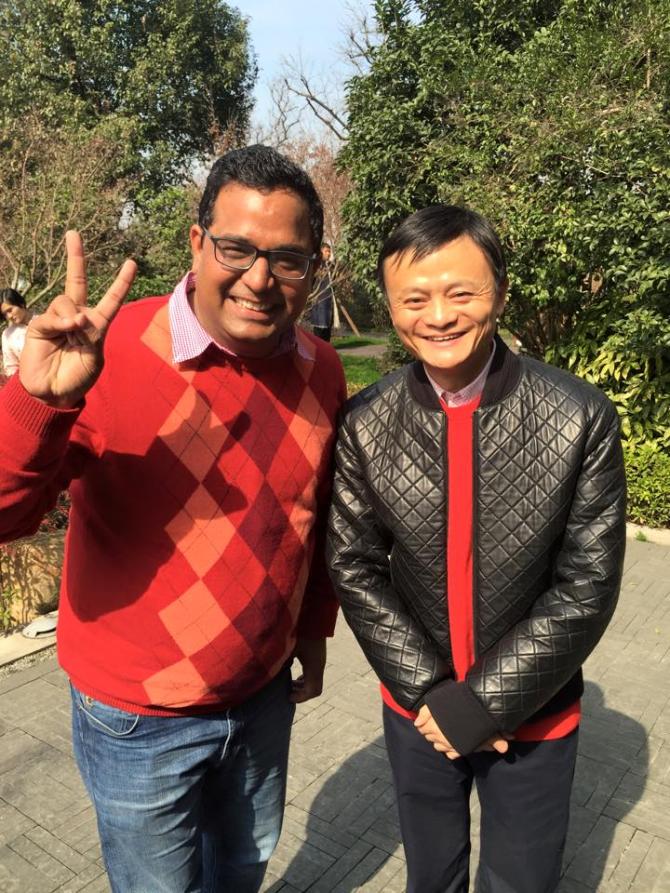 Sleep has been a casualty for Vijay Shekhar Sharma, whose wallet company Paytm has a user base of close to 150 million and is working 20 hours a day.
It's 2 am, the latest Coldplay single blares in the conference room, while the top team of Vijay Shekhar Sharma, the chief executive officer of Paytm, is thrashing out the next move to reach users in rural India over several rounds of Chinese tea.
Sitting in the middle, humming A Sky Full of Stars, Sharma finally tells his team the next plan of action. It has been a similar drill for the top boss of Paytm, India's largest mobile wallet, for the past two weeks ever since demonetisation took off.
For digital wallets in India, the last 15 days have done what 10 years of being around could not.
The Modi government's move to withdraw Rs 500 and Rs 1,000 currency notes from circulation has pumped new life into the slowly unfolding digital money revolution, and companies are busy upgrading their sales projections.
So, sleep is a casualty and Sharma, whose wallet company Paytm has a user base of close to 150 million, is working 20 hours a day, according to people who know him. He has been on an overdrive to make all possible transactions digital and channelled via his wallet.
This, he hopes would help him to get Alibaba, the Chinese e-commerce player, enter India, through his platform. Alipay, the payment arm of Aibaba, is the biggest investor in Paytm.
Sharma knows perhaps that it is important to control the narrative. From conceptualising the full page jacket advertisements given out by Paytm on November 8 soon after the PM's address to the nation to brainstorming sessions with his team, shunting between Delhi and Mumbai for strategy meetings, to staying connected with the government, there's no time to sit.
"In five days, the company brought out five new innovations in the app. This is a major opportunity for them and they are going all out," said a source close to the company.
Sources in the government said that some officials were constantly in touch with Sharma and his counterparts in other mobile wallets such as Freecharge, Mobikwik, Oxigen, discussing ways to make most types of payments cashless including connecting mobile wallets to Jan Dhan accounts and direct benefits transfer (DBT) schemes.
The NITI Aayog and information technology ministry among others, are all in talks with the various wallet players. Sources said a high-level meeting involving the prime minister is also on the cards.
Paytm has already made inroads into the government and has bagged contracts with the Indian Railways, including being the sole wallet gateway for IRCTC, the online ticketing site of the railways, and most recently an e-tolling contract.
The company is now witnessing about seven million daily transactions worth about Rs 120 crore, helping it cross $5 billion in gross merchandise value (GMV), four months ahead of its target.
Last year, Paytm registered $3 billion in GMV, a term used for the total worth of goods sold through a digital platform.
Image: Paytm chief Vijay Sharma with Alibaba's Jack Ma. Photograph: Kind courtesy, Vijay Shekhar Sharma/Facebook.