'She is an awesome writer.'
'She writes poetry. She writes stories. Prose.'
'She has a flair for language.'
'You should see the library Priyanka has at home.'
'She has more books than regular libraries...'
'I would say about 8,000, 9,000 books.'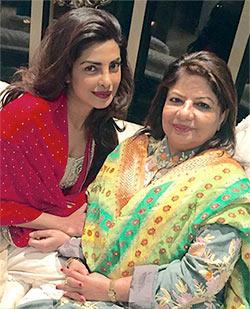 Dr Madhu Chopra opens up about her famous daughter.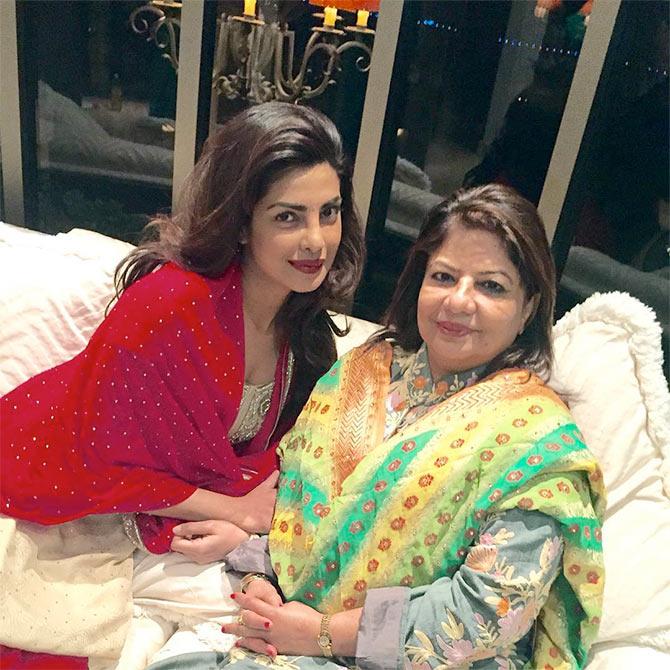 IMAGE: Priyanka Chopra with her mother Dr Madhu Chopra. Photograph: Kind courtesy Priyanka Chopra/Instagram.
She sits down with a sigh and an apology, "I'm sorry about the delay. I've not been keeping well. The medication I had to have last night knocked me off."
But Dr Madhu Chopra -- her game face on -- is determined to do her bit for the release of Ventilator, the Marathi film produced by her daughter Priyanka Chopra, who has become adept at straddling two continents.
"It's the way Priyanka is," says the proud mom. "If she takes on anything, it has to be the best of her ability."
That she is inordinately proud of her daughter's achievements is evident. But when she looks at Priyanka's career graph today, it is certainly not what she expected when she saw her daughter crowned Miss India 16 ago, she tells Rediff.com's Savera R Someshwar:
As a mom, how do you feel when you see her today?
So proud.
The fact that she has achieved what she has through her own sheer hard work... that makes me feel more proud.
She came out of nowhere and has achieved so much because of her intelligence and her hard work. That makes me feel good.
You must be happy that you and your husband gave her the foundation she needed to help her soar.
I can't take that credit from her.
She barely stayed with me so she has very little influence from me. She was brought up by most of my family all her life.
From her father, yes, but from me she has very little influence except what I may have given her genetically.
She talks to me. She listens to advice. She gives that much respect to us that we are intelligent enough to give her advice. So she seeks it and takes it also.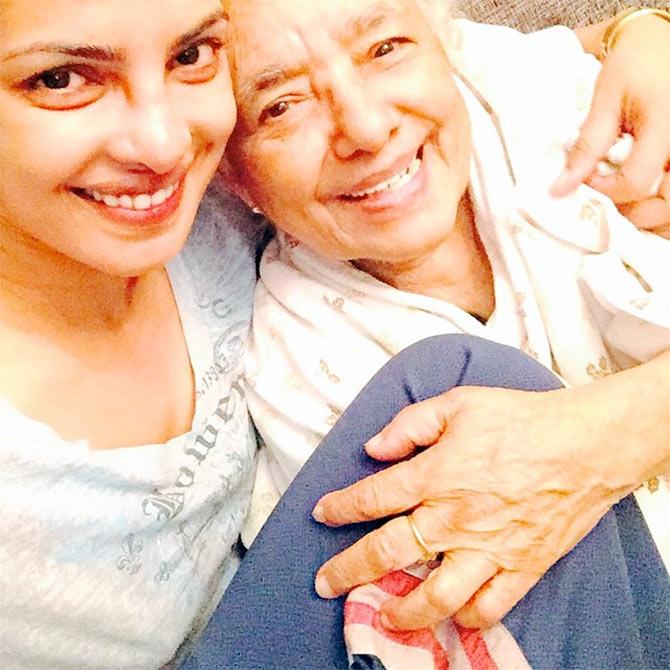 IMAGE: Priyanka Chopra with her grandmother Madhu Jyotsna Akhouri. Photograph: Kind courtesy Priyanka Chopra/Instagram
You said she didn't spend much time with you.
She was probably a year old when she began living with my parents.
They sent her to me when she was six years old because I was doing my post-graduation (Dr Madhu Chopra is a double PhD). And when she was seven, I sent her to boarding school in Lucknow -- the La Martiniere Girls School.
When she was 13, I took her to America and she stayed there. When she was 17, she came back. Soon after, before she became Miss India and Miss World and moved to Bombay (from Bareilly, Uttar Pradesh).
Could you tell me about your mother?
My mother is from Kerala, from Kumarakom. She moved to Jamshedpur, to the Tata Hospital, where she was a nurse trainee.
My father was a doctor there. They met, got married, lived a happy long life.
She passed away in June.
And yes, she stayed with me for a number of years. I was really happy to have her with me. I really miss her.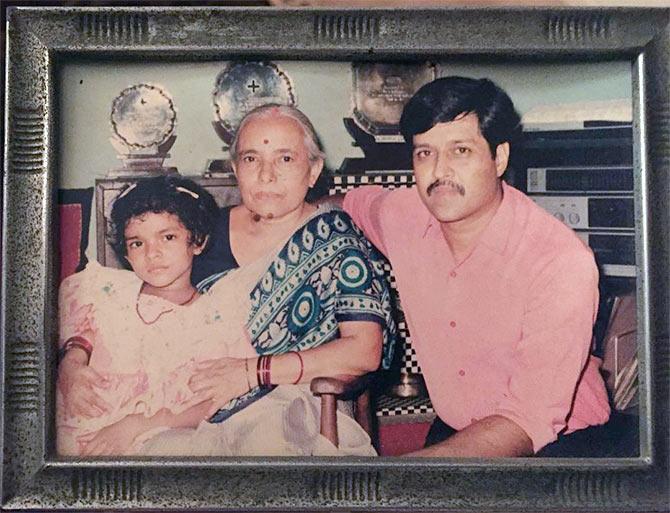 IMAGE: Priyanka Chopra with her father Dr Ashok Chopra and grandmother Madhu Jyotsna Akhouri when she was a child. Photograph: Kind courtesy Priyanka Chopra/Instagram
Do you speak Malayalam?
I can understand Malayalam, but not if you speak very rapidly.
Some years ago, I could speak (the language) because my mother used to take us to Kerala often.
Her relatives used to come to meet us, so there were people speaking the language around us. I picked it up... I can make myself understood.
What influence would you say your mother had on your daughter's life?
A tremendous amount... because she was the one who brought her up from age one to age six.
And then, when she came back from America, my mother was with me, so again...
My mother kept her grounded, taught her the importance of education, knowledge.
You should see the kind of library Priyanka has at home. She has more books than regular, local libraries... I would say about 8,000, 9,000 books. And no trash. All autobiographies. Literature. Those kind of books. And she reads them.
Hygiene was taught to her by my mother. To keep her nails clean, her hands clean... all these things that generally grandmas do.
Priyanka loved her khichdi. And that rice dish they make in Kerala... it is called Puttu, I think.
Nani used to make it for her. She ruined Priyanka for every other food.
What was Priyanka like as a child?
She was a tomboy, but she was very intelligent.
She always got good grades, topped her class.
So, as a parent, I couldn't really be critical.
Besides, I believe a little bit of naughtiness is good in a child; it shows her developing personality.
But after she became Miss India, she was groomed by the The Times Of India and Femina.
That's when she began to change physically. She became beautiful.
She was always beautiful, but she became poised. She started putting it together.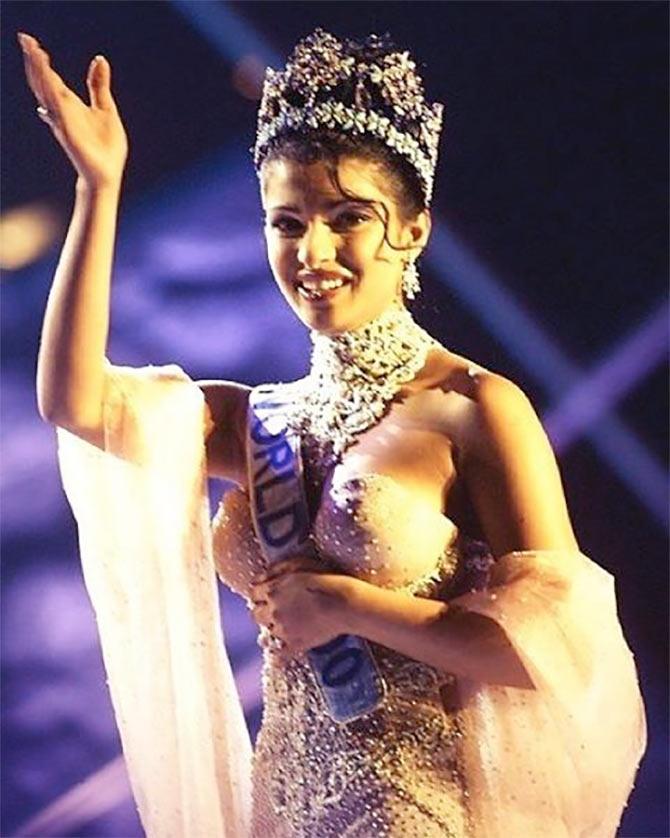 IMAGE: Priyanka Chopra, Miss World 2000. Photographs: Kind courtesy Priyanka Chopra/Instagram
It was your decision to send her photographs for the Miss India competition.
My son's (Priyanka Chopra's younger brother Siddharth). He found them and brought them to me. He was just 10 years old.
Aur usko chup karane ke liye (In order to stop his incessant requests), I sent it. And we had forgotten about it.
Ghar pe pade photos bheja tha (We had sent some photographs we had at home).
About a month-and-a-half later, we got a call. She had been selected for the preliminary round. And then, like she is... you give her a job and she'll do it to the best of her ability, to the bestest of her ability.
She was a raw child at 17. She never wore heels, never wore make-up.
It was a big change for her. That's the effort she put in.
When she was crowned Miss India, what did you think her future would be?
Not this, certainly. I thought it was just a thing in passing, that she'll go back to college because she was a very intelligent and brilliant girl.
She wanted to pursue a career following proper education.
In my head, that was it.
Even Priyanka knew that she had education to fall back on, so there was never any pressure on her.
She became Miss India, Miss World. Even when she joined films, there was no pressure on her.
If it didn't not work out, she would have gone back to college.
But I knew that, whatever she would do, she would do well because that is the way she is from the beginning.
If I had put her in any field, she would have excelled because that is her personality.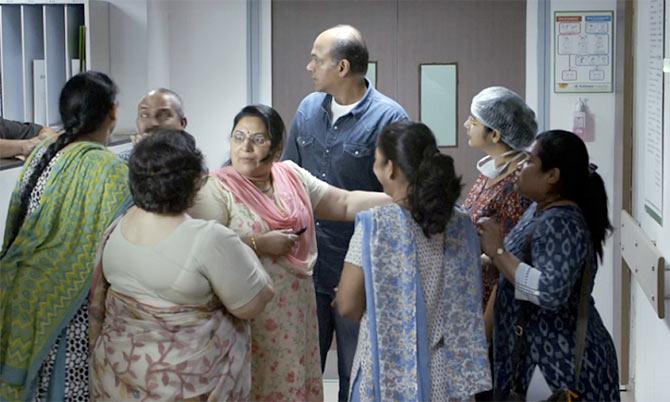 IMAGE: A scene from the Marathi film Ventilator with Sukanya Kulkarni (centre) and Ashutosh Gowariker.
When Priyanka decided to become a producer, why did she decide that Purple Pebble Pictures would concentrate on regional cinema?
Right from the beginning, when she set up the company, it was her idea that we should be able to give her kind of support to regional cinema.
Hindi industry is phooloing-phaloing (growing) nicely (laughs).
I don't know how it is, but she thinks differently from everybody else.
She might have read (the translated version of) a Marathi story I think. Or she probably watched a Marathi movie on a flight.
She said they made wonderful stories, so let's start with regional and we will try and make as many regional films as possible.
In the long run, we might make Hindi movies also, but regional cinema is a priority.
The trailer for Ventilator (the Marathi film, starring Ashutosh Gowariker, releases on November 4) is quite interesting. How did this movie come about?
A lot of scripts come our way. A team goes through them and the shortlisted ones come to me.
I choose from it and then it goes to Priyanka who makes the final choice.
In order to greenlight a film, we have to like the story. It has to be something different. Not run-of-the-mill. Not what you see every day.
When (director) Rajesh (Mapuskar, Ferrari Ki Sawaari) told me the story he had in mind, I thought it was going to be a very serious film.
It was titled Ventilator and there is someone who is in a coma in the film. But when he started narrating it, we were all laughing. That was a good sign.
What actually clicked with us was that he said there would be no songs or dancing around the trees, none of the regular stuff.
'Are you still willing to do it?' he asked.
I said that is exactly why we are willing to do it. It is a serious matter, but you have done it in a very gentle way, in a very sensitive way, with humour.
When Priyanka heard the script, she said we are definitely doing this.
(Note: Purple Pebble Pictures has produced a Bhojpuri film, Bam Bam Bol Raha Hai Kashi. "It did very well," says Madhu Chopra proudly. "It is still top of the charts.")
Our next movie is in Punjabi (scheduled to release in December). Priyanka's father is Punjabi, so we have that influence also.
Language is not a difficult thing. Story telling has no language as such. Story-telling in cinema is more about expression, emotion.
Maybe we will make a Malayalam movie also.
(Two more films are scheduled to release next year, in Rajasthani and Chhattisgarhi.)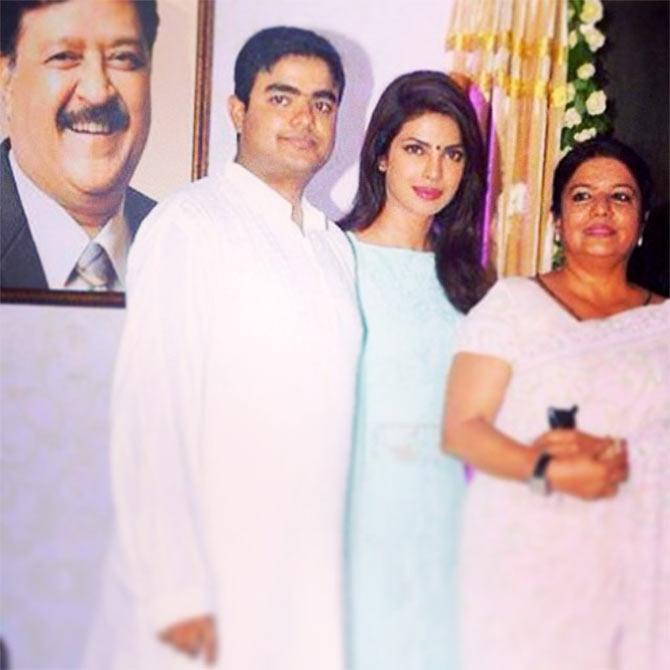 IMAGE: Priyanka Chopra was very close to her late father Dr Ashok Chopra. In this photograph, she poses with her mother Madhu and brother Siddharth. Photograph: Kind courtesy Priyanka Chopra/Instagram.
What are the other things that she is interested in that people don't know about?
She is an awesome writer. She writes poetry. She writes stories. Prose. She has a flair for language.
She has maintained a diary since she was in the eighth grade. Over the years, they have become so many diaries.
Are these personal or does she show you what she writes?
She shows some of it to us... not all, but the good ones, yes.
When your family comes together, does the conversation always centre around her?
There are more people from our family who are in films so when our family gets together, a lot of chatter does happen about all of them.
Yes, firstly it works around her and how she is doing.
Does she manage to make time for the family now?
Oh yes, plenty, from whatever little time she has.
I have family in New York, so someone or the other is visiting her.
Between friends and family, she's never by herself.