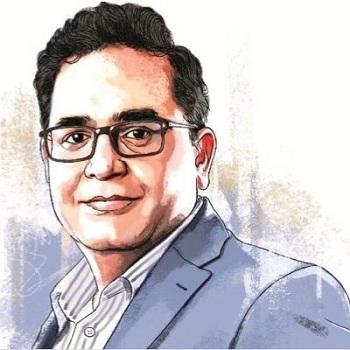 Nivedita Mookerji finds out how Paytm CEO Vijay Shekhar Sharma is handling his soaring popularity after the note ban as well as the criticism that comes as a package deal.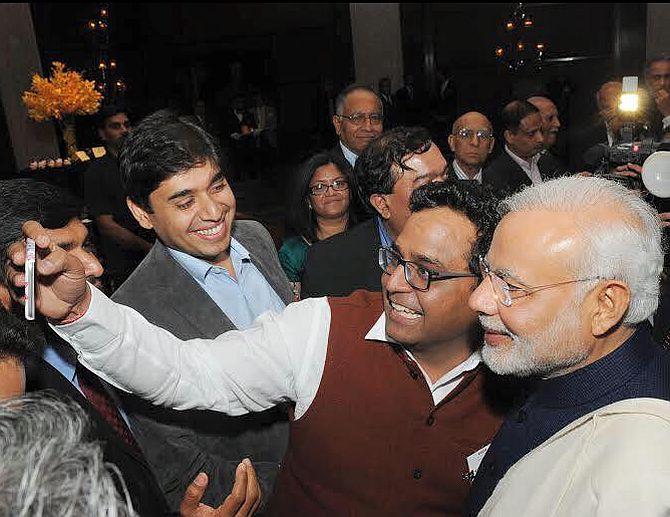 IMAGE:After Paytm published full-page ads after demonetisation, congratulating Prime Minister Narendra Modi, right, on his decision, Opposition parties hit back at Vijay Shekhar Sharma, second from right. Photograph: Courtesy Vijay Shekhar Sharma/Facebook.

Vijay Shekhar Sharma, the founder and CEO of Paytm, a mobile wallet company that is also into e-commerce and a payments bank, turned a celebrity after Prime Minister Narendra Modi demonetised Rs 500 and Rs 1,000 notes on November 8. Almost overnight, a fledgling business model in search of critical mass found a robust market. In a recent interview with Business Standard, Sharma happily recalled how people asked for selfies with him, since Paytm had suddenly become the easiest mode of payment for people in these "cashless" times.
If Sharma's popularity soared like never before, so did the criticisms.
After Paytm published full-page advertisements immediately after demonetisation, congratulating the prime minister on "taking the boldest decision in the financial history of independent India'', political leaders in Opposition parties hit back at Sharma. Delhi Chief Minister Arvind Kejriwal was the first to rhetorically ask, "What's the deal?'' and to conclude that "Paytm is the biggest beneficiary….'' of demonetisation. Sharma, already on a high due to the sudden rush of digital transaction, replied virtuously, "India benefits….''
Ever since then, Sharma and his company have been the subject of many social media jokes linked to the note ban. Many conspiracy theories have been doing the rounds, too, on how the mobile wallet company had advance knowledge that Rs 1,000 and Rs 500 notes were going to be banned and that Paytm had been readying to make the best of the cash crisis. Sharma has denied any knowledge of demonetisation prior to November 8.
When asked how the wallet company had coped with the sudden surge in demand for cash-less transactions, Sharma said the servers that were ready to roll out for the payments bank came in handy.
"The technology teams were proactively ready. Two things worked out for us: One was the readiness for the payments bank. We were preparing the platform and machinery for the bank; we used those servers and systems already there and did not have to acquire new ones. Second, we were anyway building the internal process for next year to grow 10x and doing stress tests. So our systems were getting secure, having audits for the post-bank launch," Sharma explained, clarifying that he was in Mumbai and then in Hong Kong to raise funding for this bank project as things got busy in the Noida headquarters of Paytm.
With popularity comes the risk of scrutiny and it's likely to be the same for Paytm, so far a distant fourth or fifth in the e-commerce universe and a convenient payment mechanism for radio taxi such as Uber and Meru. Now that Paytm has become synonymous with cashless transactions after the prime minister shifted the demonetisation narrative to the importance of digital transaction, the company's numbers are being looked at more closely than ever.
Even as mobile wallets have shown a three-fold estimated growth in transactions post-demonetisation, Paytm is in the red. Latest filings at the Registrar of Companies (RoC) show that Paytm's net losses increased to Rs 1,549 crore for the year ended March 31, 2016, from Rs 372 crore a year ago, perhaps due to the high spends on cashbacks and marketing. In the financial year ended March 2014, the company had registered a profit of Rs 5 crore.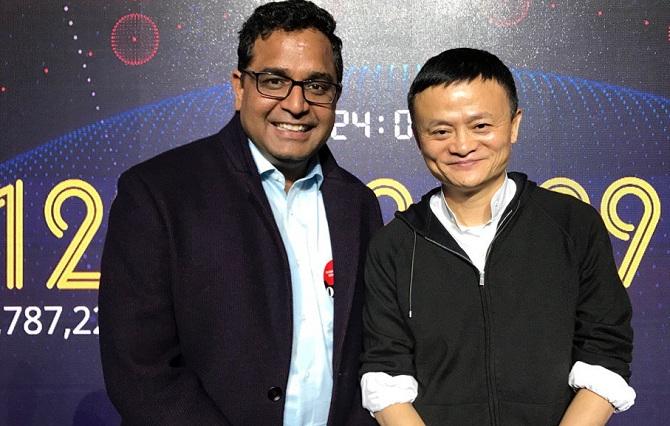 IMAGE: Vijay Shekhar Sharma, left, sees Alibaba's Jack Ma, right, as an inspiration. Alibaba, which is China's largest e-commerce company, is the biggest investor in One97Communications -- Paytm's parent company. Photograph: Courtesy Vijay Shekhar Sharma/Twitter.

The 43-year-old Sharma, who was born in a modest family in Uttar Pradesh, is now drawing an annual salary of over Rs 3 crore, but is more grounded than many other entrepreneurs in the e-commerce and internet start-up space. Unlike many of his peers he cannot boast of an IIT/IIM education, but sees Alibaba's Jack Ma and Softbank's Masayoshi Son as his inspiration.
According to Sharma, there's a high cost attached to demonetisation for the company. Since the announcement, the company's gross spend was around Rs 240 crore in November alone -- on advertisements, scaling up, adding more users…
Sharma does not want to talk of earnings post-demonetisation. "These are not the times to calculate earnings,'' he declared.
Then, he had second thoughts and about a month into demonetisation he revealed an estimate -- around Rs 100 crore.
In the next three months, One97Communications, the company that owns and runs Paytm, plans to spend around Rs 750 crore on scaling up and expansion. "India may have a digital divide but its payments system would not have a digital divide," he said.
Those are lofty words at a time when Sharma is also at the middle of an India versus China debate. China's largest e-commerce company Alibaba group is the biggest investor in One97Communications. So, a question being asked: Is Chinese money the backbone of the cashless or less-cash drive of the National Democratic Alliance?
Sharma's answer so far has been that Paytm is as much an Indian company as Maruti.
---
An Odisha village powered by Paytm
The digital wallet company is helping Manguli become the state's second cashless village. Jayajit Dash reports.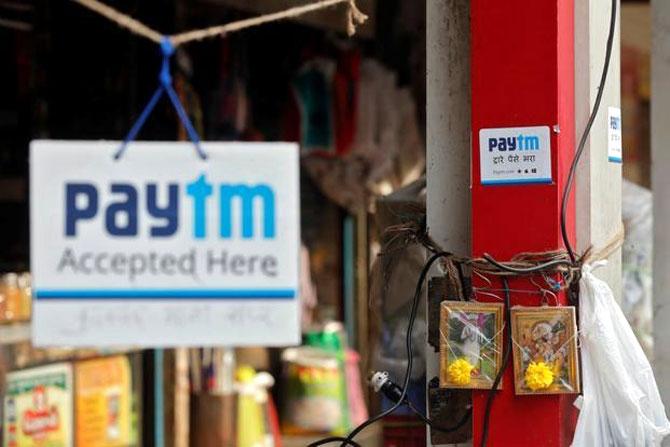 IMAGE: Paytm's digital village initiative serves the dual purpose of offering customers access to a quick and easy cashless payment solution and allowing the firm to tap into the widest set of merchants across India. Photograph:

Shailesh Andrade/Reuters

.

Rural areas in Odisha are preparing to be in step with the rest of the country in going cashless. After Puri's Nuagaon çame to be described as the state's first cashless village, Paytm is helping Manguli village, on the outskirts of Cuttack, to move to cashless transactions.
The company has on board a majority of merchants in Manguli, thus helping the residents to adopt a digital lifestyle. Paytm's digital village initiative serves the dual purpose of offering customers access to a quick and easy cashless payment solution and allowing the firm to tap into the widest set of merchants across India.
Manguli is a trade and business hub.
Amit Sinha, vice-president, Paytm, said, "We have registered a strong interest from consumers and merchants from rural areas. Our team has been organising workshops to inform merchants about the benefits of using Paytm and increase overall awareness about digital payments. We have received a great support from local merchant community and administration in Odisha and plan to launch such initiatives in many more districts."
Paytm has witnessed a surge in payment transactions across India. To further fuel this growth, the company has introduced several new features like App Password, which ensures money stored in the Paytm wallet remains safe even if the owner's phone is lost or misplaced.
The company has launched Paytm Nearby, a feature that guides customers to their nearest Paytm merchant and a toll-free number 1800 1800 1234 that helps non-smart phone users pay or receive money using Paytm.
The company has launched its app in 10 regional languages, including Hindi and Odia, to make digital payments accessible to all.
It has also waived off its 1 per cent transaction fee.
Paytm's efforts are expected to boost Odisha's drive for a cashless economy. Last week, district officials in Puri declared Nuagaon as the maiden cashless village with more than 1,000 switching to plastic money.
Nuagaon's villagers have started using debit cards and credit cards. Even daily wages are paid digitally. All the villagers have e-wallets or plastic cards.
Banks have played a key role in scripting the transformation.