At no other time has a single meeting of the leaders of two democracies been so critical and hazardous.
But Modi's recent actions and pronouncements and the Trump presidency's turbulence make it difficult to predict which way their meeting will go, says Ambassador T P Sreenivasan.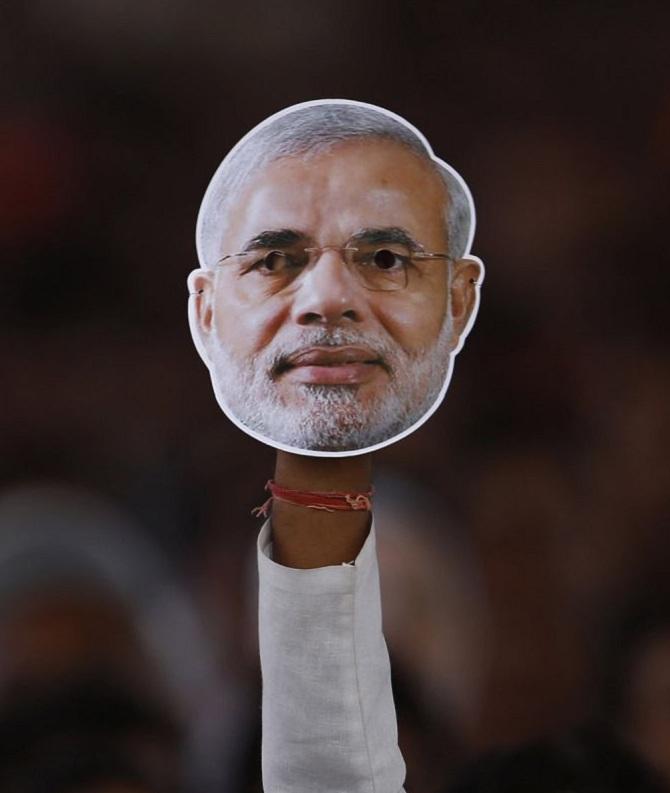 IMAGE: Prime Minister Narendra Modi has a warm handshake and a bear hug for his counterparts, and he tries to come to first-name terms with them.
But these are quite risky with US President Donald Trump.
Photograph: Adnan Abidi/Reuters
Prime Minister Narendra Modi and United States President Donald Trump have a few things in common.
Both are decisive. They both consider themselves men of destiny.
Both are nationalistic. And both detest the previous dispensation in their countries to the point of wanting to wipe it out.
But these very common features make it difficult to predict the outcome of their first encounter.
At no other time has a single meeting of the leaders of two democracies been so critical and hazardous.
Moreover, Modi faces a double jeopardy in Washington, one on account of some of Modi's recent actions and pronouncements and the other because of the turbulence in the Trump presidency itself.
Like most others, Modi had presumably expected that Hillary Clinton would win the election and that the edifice of India-US relations he had assiduously built with former US president Barack Obama would be sustained. No effort was made to reach out to Trump.
When Trump won, the straws in the wind seemed to indicate that Trump had every reason to be friendly with India, given his distrust of China, staunch opposition to Islamic terrorism and his business interests.
Even his anti-migration rhetoric and threat to withdraw from the Paris Agreement did not seem directly against our interests.
But as Modi prepares for his fifth visit to Washington, DC as PM, it appears that the world order itself is undergoing change and India has to be at its diplomatic best to carve out a niche for itself.
Trump seems determined to isolate the US from the rest of the world by destroying Obama's legacy of partnership with Europe; consensus on climate change; solidarity with Israel, combined with a politically correct approach to Palestine; and normalisation of relations with Iran and Cuba.
Trump is yet to spell out his policy on China and India, but he has not shown any sensitivity to the relationship with the biggest democracy.
In fact, on India-related issues, he appeared quite thoughtless and unaware of the value of India-US relations, which was described by Obama as the defining partnership of the 21st century.
The clamping down on H-1B visas, maintaining business as usual with Pakistan and blaming India for his withdrawal from the Paris Agreement do not augur well for the future.
Modi will have to use every weapon in his arsenal to come unscathed from his first encounter with Trump.
It was with his charm offensive that he won over Obama after the hiatus in relations at the end of the Manmohan Singh government.
Modi has a warm handshake and a bear hug for his counterparts, and he tries to come to first-name terms with them. These do not work with the Japanese or the Chinese, but go well with Westerners.
But these are quite risky with Trump, who is quite unpredictable.
Trump's handshakes with Shinzo Abe and Emmanuel Macron caused some embarrassment. Trump also is quite forthright in expressing his views, as he did with Angela Merkel and Theresa May.
Modi will have to play it by the ear rather than being his usual charming self.
A theatrical demonstration of his popularity with the Indian Americans was the device Modi used to impress Obama even before he met the latter in the Oval Office, and Obama's first words were of congratulations to Modi on his impressive performance at the Madison Square Garden.
It is not known whether any such rock star performance is being organised by the likes of Shalabh Kumar. But any such show of migrant power may be a provocation for Trump.
When the issue of H-1B visa comes up, Trump may well remark that there were already too many Indians in the US.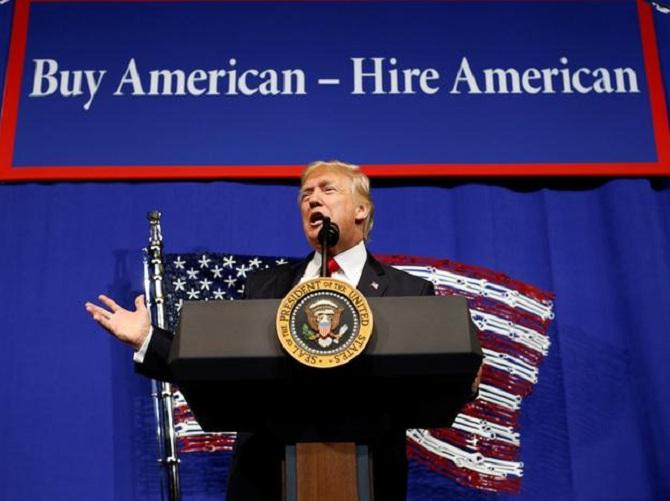 IMAGE: A shopping list for arms may charm Trump more than any other gift.
Photograph: Kevin Lamarque/Reuters
Trump's preoccupation with America First and creating jobs in the US may not gel with Modi's Make in India and Digital India programmes. He would have everything manufactured in the US and exported to India.
He may even look askance at the co-designing and co-producing of defense equipment with India, which formed the basis for India becoming a close defence partner of the US, which he celebrated in his address to the US Congress in 2016.
Trump would rather sign a deal for supply of weapons like he did with Saudi Arabia. A shopping list for arms may charm Washington more than any other gift.
Modi will naturally brief Trump on relations with China and Pakistan, even though Trump may have already made up his mind to use China to deal with the Democratic People's Republic of Korea (North Korea) and Pakistan to tackle Afghanistan.
A new tranche of payment has already been made to Pakistan for combating terrorism in Afghanistan. With a number of former generals in the Trump administration, Pakistan will have the advantage of having been a cold warrior on the US side.
Trump may also not heed our concerns about cross border terrorism as, in his mind, IS is the terrorist movement to be eliminated.
China is no more a strong adversary for Trump, and it remains to be seen how he will deal with the understanding between Obama and Modi in 2015 on the situation in the Asia Pacific.
It might be possible to strengthen that understanding as Chinese domination in the region must be of equal concern for Trump.
On the other hand, Trump may discard it, just because Obama had initiated it and China might be provoked.
For Trump, job creation is the key to the growth of the US, and this may open up possibility of nuclear trade with India.
Unlike Obama, Trump may not have any hesitation to supply nuclear reactors to India, if the liability law issue can be resolved.
But this matter will have to be discussed afresh as Trump has not revealed his hand on the nuclear deal, which his Republican predecessor had authored.
The whole strategy will have to be built around India's recent decision to build several indigenous reactors and its decision to go for the next stage of building Russian reactors in Kudankulam.
The decision to set up six American reactors in Andhra has fallen by the wayside because of Westinghouse's reported bankruptcy.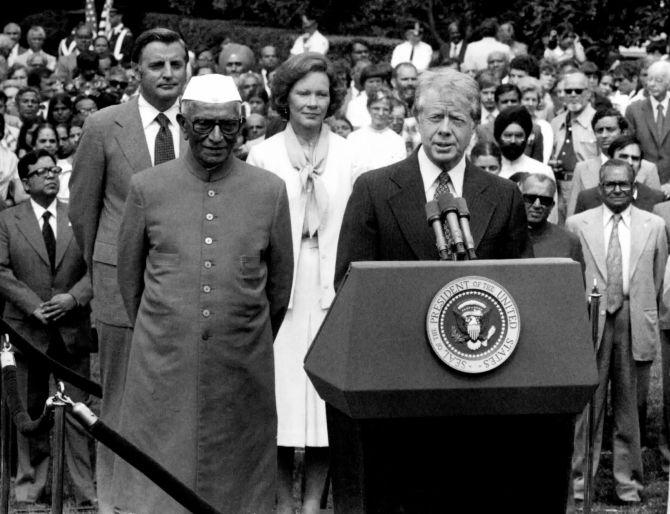 IMAGE: Summits rarely fail because even the most unpleasant outcome can be packaged to appear substantial.
The only India-US summit that turned out to be a fiasco was when then US president Jimmy Carter visited India to meet then prime minister Morarji Desai.
Photograph: US Embassy New Delhi/Flickr
Trump's accusation against India for having demanded billions of dollars as the reason for his repudiation of the Paris Agreement was unfair and unjust.
India had worked with the US on climate change on the basis of climate justice for all. India was reluctant to ratify the Paris Agreement, which had overturned the Rio consensus on common, but differentiated responsibilities for environmental protection.
But the US withdrawal galvanised Europe, China and India to rally behind the Paris Agreement.
Perhaps, India could have agreed to a renegotiation of the Paris Agreement to keep open the possibility of Trump rejoining it. We would have been on Trump's side, without sacrificing our needs.
Strangely, it is Trump's unpredictability that keeps the hope alive that he might hit off well with Modi.
He may well take a position different from the indications he has given about terrorism and his approach to China and Pakistan.
His thinking may also evolve on account of the sworn testimony of James Comey and his own impending testimony to the Senate.
One can only hope that despite the double jeopardy, Modi would forge a beneficial partnership with him.
Trump may well spring a surprise on the world by proclaiming Modi as a comrade in arms.
Summits rarely fail because even the most unpleasant outcome can be packaged to appear substantial.
The only India-US summit that turned out to be a fiasco was when then US president Jimmy Carter visited India to meet then prime minister Morarji Desai in the expectation that Desai might be willing to change India's position on the Non-Proliferation Treaty.
Carter was so furious about what he heard from Desai that he told his national security adviser privately that a 'cold and blunt letter' should be sent to him.
The statement was caught on camera and aired within minutes, and an embarrassed Carter flew right back to Washington, leaving a long gap between his visit in 1978 and Bill Clinton's in March 2000.
Desai refused to comment on the incident, saying Carter's comment was not meant for his ears!
From the days of Bill Clinton, the world has begun to expect something big coming out of every India-US summit.
Modi-Obama meetings did not disappoint the world, whether it was the seeming resolution of the liability law issue, the Asia Pacific consensus or the defence partnership.
This time, a truly historic step is unlikely since leaders will have to start from scratch, given their lack of any depth of knowledge about each other.
But the visit will be deemed a great success if the two commit themselves to start where Obama and Modi left off.
That should be the objective that Modi should pursue in Washington.
T P Sreenivasan, (IFS 1967) former Ambassador of India and Governor for India of the IAEA, is Chairman, Academic Council and Director, NSS Academy of Civil Services, Director General, Kerala International Centre.