The two countries also asked all nations to stop cross-border movement of terrorists and asserted that a decisive collective response from the international community without 'double standards and selectivity' was required to combat the threat of terrorism.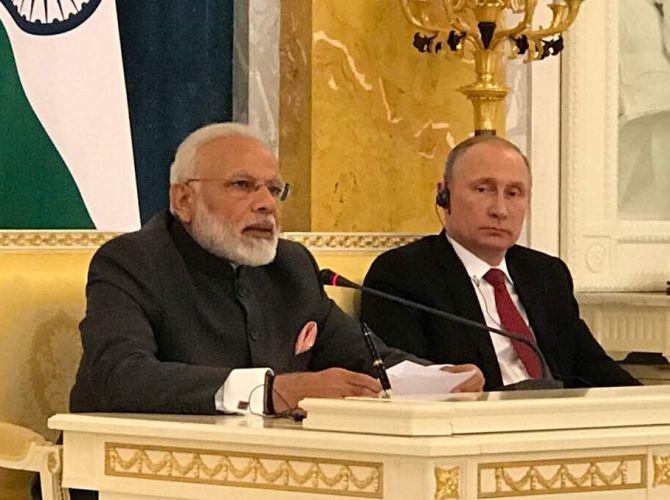 IMAGE: Prime Minister Narendra Modi and Russian President Vladimir Putin issue a joint statement after a summit in St Petersburg on Thursday. Photograph: @MEAIndia/Twitter

India and Russia on Thursday concluded a much-awaited pact for setting up the last two units of the Kundankulam nuclear power plant with Moscow's help in Tamil Nadu after overcoming initial hurdles to
finalise the strategic deal.
The General Framework Agreement and Credit protocol for Units 5 and 6 of the Kudankulam nuclear plant are seen as a major outcome of the annual summit talks between Prime Minister Narendra Modi and Russian President Vladimir Putin.
'We welcome the conclusion of the the General Framework Agreement and Credit protocol for Units 5 and 6 of the Kudankulam Nuclear Power plant,' said a vision document issued after the Modi-Putin talks.
The reactors will be built by India's Nuclear Power Corporation of India Ltd (NPCIL) and Russia's Atomstroyexport company, a subsidiary of Rosatom, the regulatory body of the Russian nuclear complex.
Each of the two units will have a capacity to produce 1,000 MW of power. The document titled 'A vision for the 21st Century' said economies of India and Russia complement each other in the energy sector and both countries will strive to build an 'energy bridge'.
The two countries also asked all nations to stop cross-border movement of terrorists and asserted that a decisive collective response from the international community without 'double standards and selectivity' was required to combat the threat of terrorism.
'We strongly condemn terrorism in all its forms and manifestations and stress that there can be no justification whatsoever for any acts of terrorism, whether based upon ideological, religious, political, racial, ethnic or any other reasons,' the two countries said in the joint declaration.
The two countries asserted that they will continue efforts to combat international terrorism, which poses a great threat to the maintenance of peace and security.
'We are convinced that the unprecedented spread of this threat requires decisive collective response on part of the entire global community, without double standards and selectivity, in accordance with international law and the UN Charter,' the declaration said.
India and Russia urged all countries and entities to work sincerely to disrupt terrorist networks and their financing, and 'stop cross-border movement of terrorists'.
"We call for an early conclusion of negotiations on the Comprehensive Convention on International Terrorism to strengthen the global counter-terrorism normative and legal framework to combat this scourge," the statement said.
The strong pitch against terrorism comes after prime minister Modi also raised the issue of combating the menace with the leadership in Germany and Spain.
It comes just a day after India and Spain stressed that there should be 'zero tolerance' to terrorism and called on the international community to end 'selective or partial' approaches in combating the menace.
It said the future of Indian-Russian cooperation holds great promise across a wide spectrum covering nuclear power, nuclear fuel cycle and nuclear science and technology.
'We will strive to build an 'energy bridge' between our states and expand bilateral relations in all areas of energy cooperation, including nuclear, hydrocarbon, hydel and renewable energy sources and in improving energy efficiency,' it said.
The growing partnership in the nuclear power sector between India and Russia has opened opportunities for developing advanced nuclear manufacturing capabilities in India in line with India's 'Make In India' initiative, the declaration said.
India and Russia commit themselves to earnestly implement the 'Programme of Action for Localisation in India' signed on December 24, 2015, and to encourage their nuclear industries to engage closely and foster concrete collaborations, it said.
The current nuclear power generation capacity of all 22 nuclear power reactors is 6780 MW.
In October 2015, a joint statement between Modi and Putin promised the signing of a GFA on the nuclear units by December 2016. After an inter-ministerial group cleared the project, it was sent to the Prime Minister's Office for approval. But, sources said, the Credit Protocol, or a line of credit that Russia was to provide, proved to be a hurdle.
The two countries also said that there has been a 'steady and demonstrable' achievements in bilateral civil nuclear partnership, including advancing nuclear power projects at the Kudankulum site and transforming it into one of India's largest energy hubs.
'Cooperation in the peaceful uses of nuclear energy has emerged as one of the hallmarks of the strategic partnership between the two countries, contributing to India's energy security and energising broader scientific and technological cooperation,' as per the document.
Russia extends support for India's NSG bid, UNSC seat
Russia reaffirmed its 'strong support' to India's candidature for a permanent seat in the reformed United Nations Security Council and a membership in the Nuclear Supplier Group and other non-proliferation regimes.
The two sides resolved to enhance their cooperation at multilateral fora like the BRICS (Brazil, Russia, India, China, South Africa), World Trade Organisation, G20 and Shanghai Cooperation Organisation as well as Russia-India-China cooperation.
'We believe that there is a need to reform the United Nations and in particular, the UN Security Council to make it more representative of contemporary realities and to respond more effectively to emerging challenges and threats.
'Russia reaffirms its strong support to India's candidature for a permanent seat in a reformed United Nations Security Council," said the vision document.
Strongly backing New Delhi's bid to the 48-member elite NSG club, Russia said it is convinced that India's participation in multilateral export control regimes will contribute to their enhancement.
'In this context, Russia welcomes India's application for the membership in Nuclear's Suppliers Group and the Wassenaar Arrangement and reiterates its strong support for India's earliest admission to these control regimes,' the declaration said.
Of the four major export control regimes -- the NSG, Missile Technology Control Regime, Australia Group and the Wassenaar Arrangement -- India is a member of the MTCR. It has applied for an NSG membership last year, but faces stiff opposition from China.
India has also recently aligned its export control list with the one similar to the Wassenaar Arrangement's list.
In the summit, the two sides, in an obvious reference to China's One Belt One Road project, said they oppose any recourse to 'unilateralism or lack of respect to sovereignty' and ignoring the core concerns and legitimate interests of the countries.
The two sides said they will work together to foster the democratisation and reform of global political, economic, financial and social institutions, for them to better accommodate the interest of all members of the international community.
'We will continue facilitating efforts to build an open, well-balanced and inclusive security architecture in the Asia-Pacific region based on shared principles and taking into account the legitimate interests of all states, including through the development of relevant dialogue in the framework of the East Asia Summit,' the vision document said.
The two sides also resolved to further their cooperation on challenging issues like restoration of pace and stability in the Middle East and North Africa, settlement of the Syrian crisis, achievement of national reconciliation in Afghanistan.
Sharing common approaches to providing security in the use of information and communication technologies, India and Russia also vowed to keep working together for developing universal rules, standards and principles of responsible behaviour of the states in this context, on the basis of democratisation and a model representing multi-stakeholderism with primacy of the state, in global Internet governance.
'We recognise the necessity to activate bilateral interaction in this sphere on the basis of the Indian-Russian Intergovernmental Agreement on Cooperation in the field of Security in the use of Information and Communication Technologies,' the statement said.
The two countries asserted that they are confident that they will continue to remain a role model for harmonious and mutually beneficial partnership and strong friendship between two states.
'Building on the shared vision of development of bilateral relations, we will succeed in further realising the immense potential of India-Russia special and privileged strategic partnership for the benefit of our states and international community as a whole,' the statement said.
India and Russia also decided to 'upgrade and intensify' bilateral defence cooperation through joint manufacture, co-production and co-development of key military hardware and equipment.
'We will upgrade and intensify this (military) cooperation, through joint manufacture, co-production and co-development of military hardware and military spares, with increasing reliance on the adoption and sharing of future technologies, in compliance with the obligations of the sides under the existing agreements on military-technical cooperation,' the vision document said.
The two countries said bilateral defence cooperation is built on strong mutual trust and it will grow further.
'We will work towards a qualitatively higher level of military-to-military cooperation. We will continue holding regular joint land and sea military exercise, and training in each others' military institutions,' the document said.
The two countries will hold first ever tri-services exercise 'Indra' later this year.
Russia has been one of India's key major suppliers of arms and ammunition. However, it has been a long-standing grievance of armed forces that supply of critical spares and equipment from Russia takes a long time affecting maintenance of military systems procured from that country.
Modi invites Russian companies to invest in defence, other sectors
Prime Minister Modi invited Russian companies to partner Indian firms in setting up manufacturing facilities to make high-tech defence equipment in India.
Addressing CEOs of the two countries after the annual bilateral summit in St Petersburg, Modi said India had last month approved a policy to allow local private companies to work with foreign players to manufacture defence equipment in a bid to cut reliance on imports.
"India is sixth biggest manufacturer in the world and we want to raise the share of manufacturing in GDP from 16 per cent to 25 per cent," he said.
The government, he said, has approved a strategic partnership in defence between Indian and foreign companies.
"I invite Russian companies to join Indian companies in setting up manufacturing base taking advantage of the new policy," he said.
The policy allows the entry of private companies into the manufacture of submarines, fighter aircraft and armoured vehicles through foreign partnerships.
Modi, who wants to reverse India's dependence on imports by building a local manufacturing industry, asked Russian firms to 'come work with Indian companies' in defence.
The just approved policy allows Indian companies to partner with global defence majors 'to seek technology transfers and manufacturing know-how to set up domestic manufacturing infrastructure and supply chains'.
With Russian President Putin by his side, Modi said the 70-year old Indo-Russian relations are based on trust.
"Relations have broadened and stood the test of time," he said adding Russia has stood by India at international forums.
Trade, commerce, innovation and engineering are of immense importance in this era, Modi said, adding companies from Russia should explore the opportunities in India and collaborate with the industry.
"Defence is a key area where India and Russia can cooperate. I appreciate President Putin's role in enhancing India-Russia ties," Modi said.
In the joint declaration, Modi and Putin also said that India and Russia will expand their bilateral economic cooperation to third countries with joint development projects in various sectors and also set up aviation manufacturing ventures for local and global markets.
The two countries will cooperate for growth of diamond industry while countering entry of fake stones in this market.
Besides, joint projects will be undertaken in high-speed railways, inland waterways, ports and agriculture sectors.
'We are interested in launching joint projects on exploration and exploitation of hydrocarbons in the Arctic shelf of the Russian Federation.
'We will develop joint strategies to harness the potential for mutually beneficial cooperation in the field of deep sea exploration and development of hydrocarbon resources, polymetallic nodules and other marine resources...' the declaration said.
The two leaders welcomed cooperation among energy companies from the two countries for modernising of existing power stations and building of new ones in India. They also called for developing joint projects in the area of clean energy.
The major economic objectives include expanding trade and investment and diversification of trade in goods and services, including in banking and financial matters, the declaration said, while calling for settlement of India-Russian trade in national currencies to reduce dependence of bilateral trade on other currencies.
'... we will extend our bilateral technical, economic and scientific cooperation to third countries by undertaking joint development projects in mutually agreed sectors,' it said.
Stressing on the importance of developing economic cooperation at regional level, the two leaders said they will facilitate an early commencement of negotiations on a free trade agreement between the Eurasian Economic Union and India.
The Eurasian Economic Union includes Belarus, Kazakhstan, Russia, Armenia and Kyrgyzstan.
India and Russia also agreed to broaden their cooperation in high-technology products, aviation, agriculture, IT, pharma, robotics and artificial intelligence, among others.
'We will work together to further develop the potential for cooperation in the diamond industry...We will also intensify our joint efforts to counter undisclosed synthetic stones entering diamond market and to support the development of generic marketing programmes for diamonds,' the two leaders said.
India and Russia will also work together to improve market access for agriculture and food commodities, while joint projects would be explored for effective use of natural resources.
Expecting India to become the world's third largest aviation market by 2020, the two leaders said there is an opportunity for strengthening cooperation in joint production and setting up of joint ventures in India in the field of aviation manufacturing to serve the local demand and for exports to third countries.
This assumes significance in the wake of India promoting regional air connectivity in a big way.
'We will work together to step up joint efforts aimed at modernising infrastructure, explore ways to jointly respond to urbanisation challenges, address issues related to ensuring food security, preserving water and forest resources...' the declaration said.
The two leaders also said the two countries will share experience in carrying out economic reforms and national programmes for the development of SMEs and in skill development.