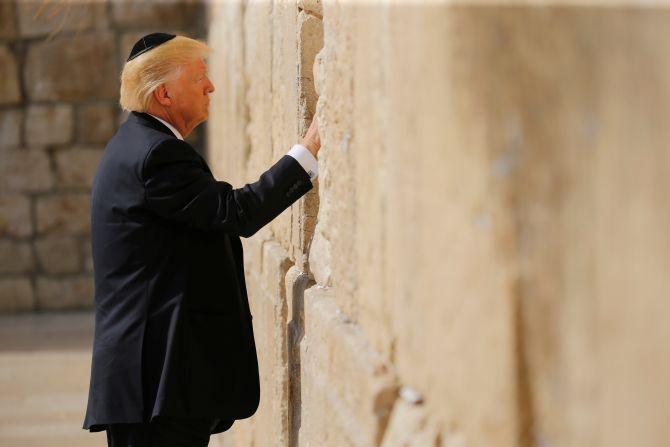 IMAGE: With a black skullcap on his head, Trump prayed at the Western Wall in the Old City of East Jerusalem, becoming the first sitting US President to visit one of the most sacred sites in Judaism. Trump visited the Western Wall in a private capacity and was not accompanied by any Israeli leaders. Photograph: Jonathan Ernst/Reuters
United States President Donald Trump on Monday said that there is a 'rare opportunity' to bring peace to the Middle East as he denounced Iran for supporting 'terrorists' and vowed never to allow Tehran to acquire nuclear weapons.
"I have found new reasons for hope," said Trump upon arriving at the Ben-Gurion International Airport.
"There is a rare opportunity to bring security and peace to the region, but we can only get there by working together," said Trump who arrived here from Riyadh in what is believed to be the first direct flight between Saudi Arabia and Israel.
Trump went on to say that he met with leaders from across the Arab world in Saudi Arabia and reached 'historic agreements' in fight against terror.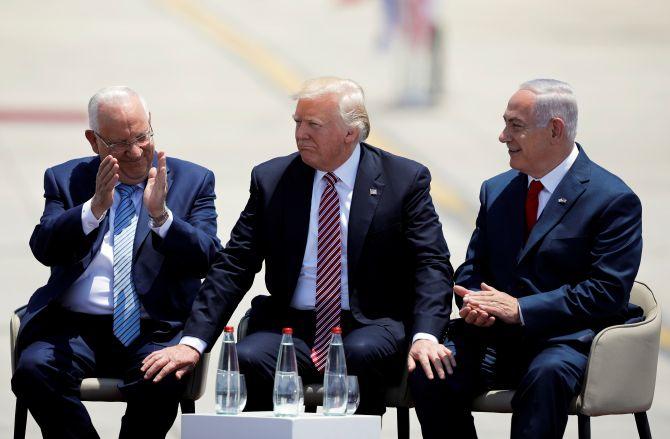 IMAGE: US President Donald Trump, centre, sits next to Israel's Prime Minister Benjamin Netanyahu, right, and Israel's President Reuven Rivlin during a welcoming ceremony upon his arrival at Ben Gurion International Airport in Lod near Tel Aviv on Monday. Photograph: Amir Cohen/Reuters

"On my first trip overseas as President, I have come to this sacred and ancient land to reaffirm unbreakable bond between us and Israel," Trump said during a welcome ceremony at the airport.
Israeli Prime Minister Benjamin Netanyahu welcomed Trump on what he called a 'truly historic' visit, which he viewed as a 'powerful expression of your friendship'.
Trump left for Jerusalem immediately after the welcome ceremony for his meeting with Rivlin at the President's House amid heightened security with all the major roads in Jerusalem completely gridlocked.
At Rivlin's residence, Trump lashed out at Iran.
"The United States and Israel can declare with one voice that Iran must never be allowed to possess a nuclear weapon -- never ever -- and must cease its deadly funding, training and equipping of terrorists and militias," Trump said in remarks at Rivlin's residence.
"It must cease immediately," he said, referring to Iran's alleged involvement in arming and training militias.
During his stay in Saudi Arabia, Trump had accused Iran of fuelling 'the fires of sectarian conflict and terror' in the region and called for its international isolation.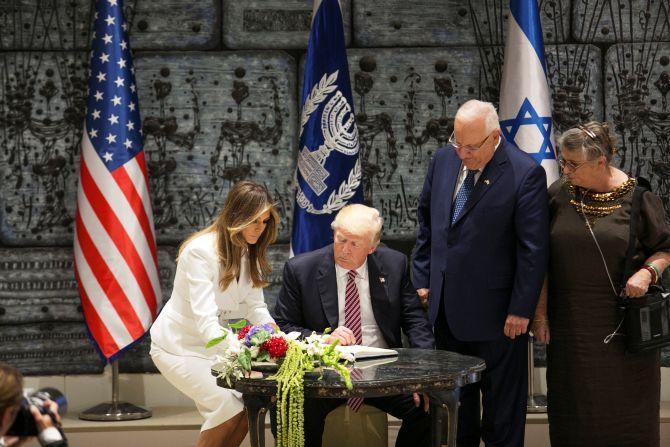 IMAGE: Trump looks at his wife Melania signing a guest book as Rivlin and his wife Nechama stand nearby at Rivlin's residence in Jerusalem. Noam Moskowitz/Reuters

Earlier, Netanyahu applauded Trump's call for nations to do more to fight terrorism during his visit to Saudi Arabia.
"Israel shares the commitment to peace that you made yesterday. The peace we seek is genuine and durable, in which the Jewish state is recognised, security remains in Israel's hands, and the conflict ends once and for all," Netanyahu said while welcoming the US president at the airport.
"I hope this trip is a step on the path toward reconciliation and peace," he stressed.
The Israeli leader also noted that it was the first time that a US President has chosen to come to Israel during his first foreign trip after taking charge.
President Rivlin thanked Trump for his 'commitment to Israel's ability to face the threats of today and of tomorrow'.
The Israeli president emphasised that while the world, the Middle East, and Israel all need a strong United States, 'the United States also needs a strong Israel'.
"In the Middle East, an area that suffers from terrorism and madness, the alliance between the United States and Israel shines like a beacon of liberty and progress," Rivlin said.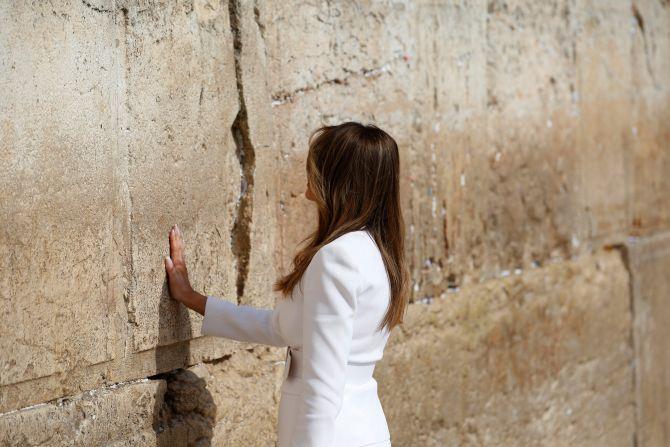 IMAGE: Melania touches the Western Wall. Photograph: Ronen Zvulun/Reuters
Trump is scheduled to meet Palestinian President Mahmoud Abbas on Tuesday.
He has called an Israeli-Palestinian peace agreement 'the ultimate deal', but has been vague about what form it should take.
At a summit in Riyadh on Sunday, Trump called on Arab and Muslim leaders to take the lead in combating Islamist militants, urging them to 'drive them out of this earth'.
Pointing at Iran -- Israel and Saudi Arabia's main foe in the region -- the US President accused Tehran of fuelling the fires of sectarian conflict and terror.
Before meeting Netanyahu, Trump visited the Church of the Holy Sepulchre in Jerusalem where according to Christian tradition Jesus was buried and resurrected.
Trump is also expected to visit the Western Wall, located in the Old City of East Jerusalem, in a private capacity in what would be the first such visit to Judaism's holiest site by a sitting US President.
IMAGE: Ivanka Trump prays as she touches the Western Wall. Photograph: Heidi Levine/Pool/ Reuters
The US President has been widely seen as considerably more supportive of Israel than his predecessor Barack Obama.
He has taken a softer position on the contentious issue of Israeli settlements, suggesting that their expansion rather than their presence might hamper the search for peace.
During his election campaign, Trump had expressed views that seemed to fit neatly with those of the right-wing Israeli government of Netanyahu favouring expansion of Jewish settlements in the West Bank and a tough line towards Palestinian aspirations for independence.
However, after taking charge of Presidency his statements have been rather nuanced on the issue of settlements as well as regarding moving of the US embassy from Tel Aviv to Jerusalem, causing some heartburn among his right-wing supporters here.