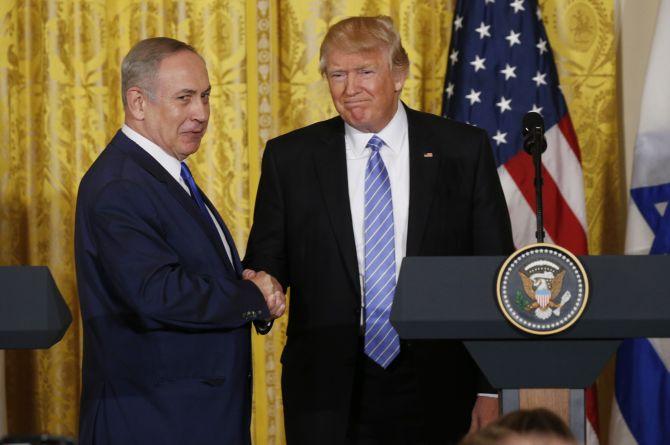 President Donald Trump has signalled debunking United States' long pursuit of a two-state solution to the Israeli-Palestinian dispute, saying he could endorse a one-nation solution if it led to peace in the Middle East, but asked Israel to temporarily stop Jewish settlements.
Appearing at a joint press conference with visiting Israeli Prime Minister Benjamin Netanyahu, Trump hailed the 'unbreakable' bond between the two countries after the bilateral relations nosedived under President Barack Obama.
At their first face-to-face meeting since his inauguration on January 20, Trump appeared warm to Netanyahu and shook his hands several times throughout the conference.
But he politely asked the Israeli head of the government to 'hold back' on settlements in territory claimed by the Palestinians for their future state: 'for a little bit'.
Breaking from tradition and international consensus, Trump said he would be open to 'alternate solutions' that does not necessarily involve a two-state solution to the six-decade-long Israeli-Palestinian conflict.
"It is something that is very different, hasn't been discussed before. It's actually a much bigger deal -- much more important deal in a sense," Trump said.
"I'm looking at two-state and one-state, and I like the one that both parties like. I'm very happy with the one that both parties like. I can live with either one," he said, adding Israelis 'also need to show some flexibility'.
"We'll work something out but, I think a deal will be made... It might be a bigger and better deal than people in this room even understand," he said, without elaborating.
Since 2002, the US has formally backed the two-state solution. But Trump's remarks were the most striking departure for American efforts -- and the central theme of the Oslo accords -- to establish a Palestinian state alongside Israel as part of a permanent Middle East peace deal.
Trump said his administration was looking at moving the US embassy to Jerusalem, but he offered no indication it would happen in near future. Relocating the embassy would signal the American recognition of Jerusalem as Israel's capital.
"As far as the embassy moving to Jerusalem, I'd love to see that happen. We're looking at it very, very strongly."
Netanyahu did not commit to Trump's request for a hold on settlement construction, and instead set two prerequisites for peace with the Palestinians.
"First, the Palestinians must recognise the Jewish state. They have to stop calling for Israel's destruction, they have to stop educating their people for Israel's destruction.
"Second, in any peace agreement, Israel must retain the overriding security control over the entire area west of the Jordan River because if we don't, we know what will happen. We'll get another radical Islamic terrorist state in the Palestinian areas exploding the peace, exploding the Middle East," he said.
Netanyahu also made it clear that Palestinians 'vehemently reject' both the prerequisites for peace.
"The persistent Palestinian refusal to recognise a Jewish state...is the reason we don't have peace," he said.
Netanyahu said he believes the opportunity for peace comes from a regional approach, involving Arab partners in the pursuant of a broader peace with the Palestinians.
On the security challenges that Israel faces from Iran, Trump assured Netanyahu the Islamic republic would never be able to make a nuclear weapon. He also termed the nuclear deal between Iran and world powers 'the worst' agreement ever.
"My administration has already imposed new sanctions on Iran, and I will do more to prevent Iran from ever developing -- I mean ever -- a nuclear weapon," Trump said on Wednesday.
Trump also mentioned the 'unfair and one-sided actions' against Israel at the United Nations Security Council, referring to a resolution condemning Israeli settlements, which had triggered a diplomatic fight between Obama and Netanyahu.
"This is one more reason why I reject unfair and one-sided actions against Israel at the United Nations -- just treated Israel, in my opinion, very, very unfairly -- or other international forums, as well as boycotts that target Israel," he said.
Netanyahu praised Trump's stand on Iran and radical Islamic terrorism.
"Mr President, you've shown great clarity and courage in confronting this challenge head-on. You call for confronting Iran's terrorist regime, preventing Iran from realising this terrible deal into a nuclear arsenal," Netanyahu said.
"You have said that the United States is committed to preventing Iran from getting nuclear weapons. You call for the defeat of ISIS (Islamic State). Under your leadership, I believe we can reverse the rising tide of radical Islam. And in this great task, as in so many others, Israel stands with you and I stand with you," he said.
IMAGE: US President Donald Trump greets Israeli Prime Minister Benjamin Netanyahu, left, after a joint news conference at the White House in Washington, DC. Photograph: Kevin Lamarque/Reuters